i29 Interior Architects, Amsterdam design office, NL buildings photos, Holland studio
i29 Interior Architects
Contemporary Dutch Architecture Practice – Design Studio in The Netherlands
post updated 29 June 2023
i29 Interior Architects News
i29 interior architects News
29 June 2023
Booking.com Amsterdam workplace, Oosterdokseiland, Amsterdam, The Netherlands
Architect: UNStudio ; Lead Interior Architect: HofmanDujardin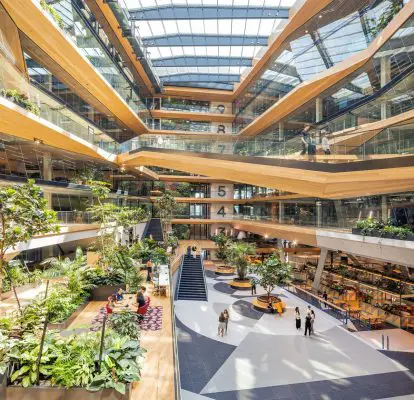 photo : Matthijs van Roon
Booking.com Amsterdam workplace building
21 Oct 2020
Outside In, Hilvarenbeek, The Netherlands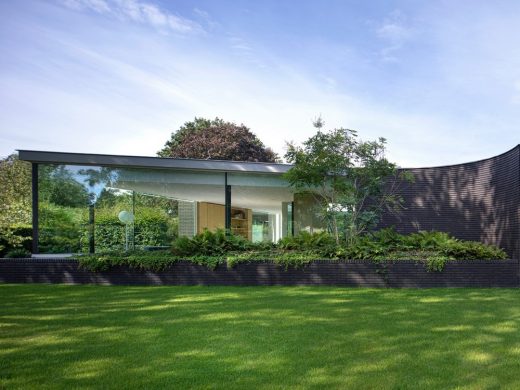 photograph : Ewout Huibers
Home in Hilvarenbeek
This is a generous villa is made for a family of four, allowing for all rooms to be horizontally connected. A sustainable and spacious home that blurs the lines between interior and exterior space. In the center of the living area, a lush green patio is placed and floor to ceiling sliding doors give open views to the surrounding garden and swimming pool.
10 Sep 2020
Tiny Holiday Home shortlisted best building BNA 2020
Tiny Holiday Home is nominated for Best Building 2020 by Dutch Association of Architects BNA:
5 Apr 2019
i29 x Lensvelt in Milan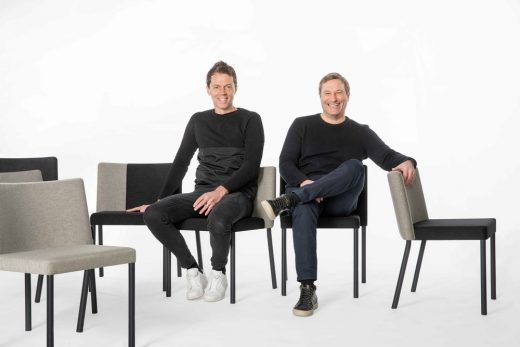 photograph : Jan Willem Kaldenbach
i29 Interior Architects Furniture
During Milan Design week 2019, Lensvelt and Modular present their installation ALL NEW at Ventura Centrale. A range of new products will be presented including the Felix Chair.
26 Feb 2019
Tiny Holiday Home, Vinkeveen, The Netherlands
Architects: i29 interior architects & chris collaris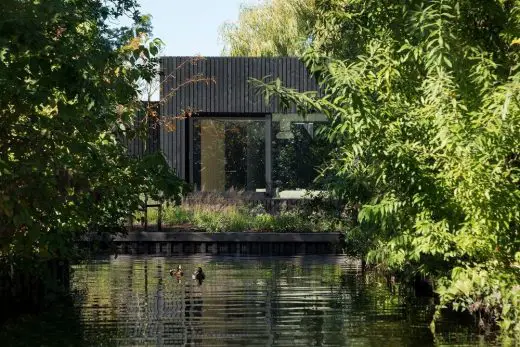 photograph : Ewout Huibers
Tiny Holiday Home, Vinkeveen
In the middle of nature at the Vinkeveense plassen, this Dutch interior architecture office and Chris Collaris designed Tiny Holiday Home. With a footprint of only 55 sqm, this house still has a luxurious feel of space, and all around panoramas to the surrounding nature.
12 Dec 2018
New digital identity
In a world that's more and more virtual, interiors become identities. i29 create brick and mortar experiences that add wow to real life. Dedicated to deliver radically striking and surprising spatial experiences, i29 proudly present our new website and digital identity made by NokNok studio, and a new logo by FRAME.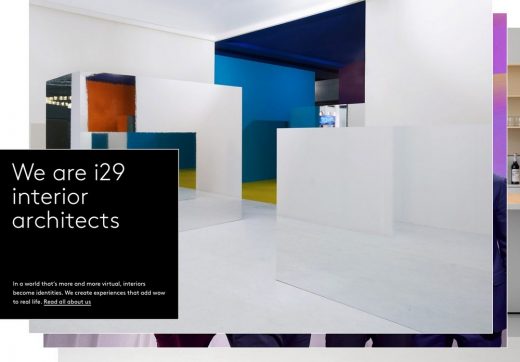 image courtesy of architects
interior designer of the year
Dezeen Awards identifies the world's best architecture, interiors and design, as well as the studios and the individual architects and designers producing the most outstanding work. We are very honored to be awarded 'Interior designer of the Year' during a festive ceremony in TateModern, London. Judges comments: "i29 comes across as an approachable, accessible and relatable studio."
Projects
This Dutch architecture office are currently working on exciting projects such as the new headquarters for Booking.com with Hofman DuJardin & UN Studio architects plus an international team of area designers, the new Men's fashion department for De Bijenkorf Amsterdam, cultural venue Felix Meritis for Amerborgh, residential complex Red7 in Moscow developed by Osnova with MVRDV and more…
2018 was an incredible year. Next to the prestigious Dezeen Award, i29 have been honored and won many awards like the WIN Awards / Best practice of the Year, Best of Year Awards, Architecture Masterprize, INSIDE Festival & FX Awards.
31 Mar 2018
National Museum of Ceramics Princessehof, Leeuwarden, Netherlands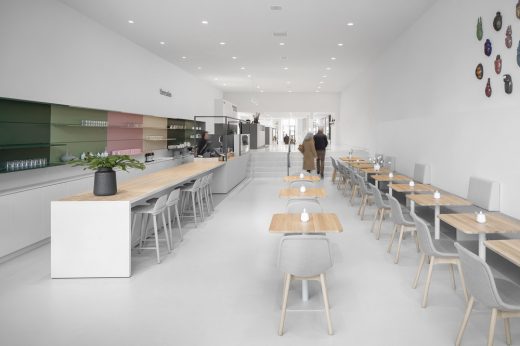 photograph : Ewout Huibers
National Museum of Ceramics Princessehof
Leeuwarden is the European Capital of Culture 2018, and museum Princessehof celebrates its 100th birthday. The building design features an entrance hall including the museum store and tearoom, the museum square and exhibition areas for the vast collections.
10 Nov 2017
Samsonite Showroom, Amsterdam, Netherlands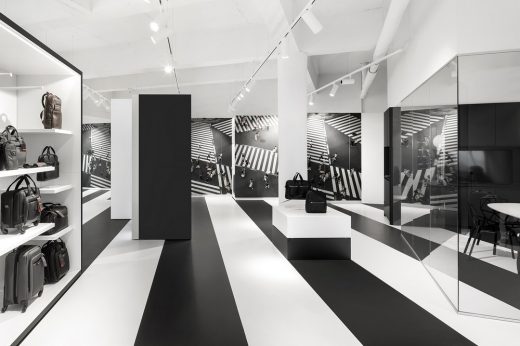 photograph : Ewout Huibers
Samsonite showroom by i29 interior architects
Challenged to design the new Amsterdam Showroom of the international luggage brand Samsonite, this Dutch interior architecture office was asked to reflect on the companies spatial brand identity. The brief was to create an experience that unifies the diversity of the Samsonite Group and it's sub-brands. To create a spatial identity which is fresh, recognizable and consistent, in order to inspire and attract a diverse group of customers.
27 Oct 2017
i29 interior architects selected as winner of 3 German Design Awards
This Dutch interior architects office received three awards at the German Design Awards 2018, including one overall GOLD award. Prizes will only be awarded to projects that truly represent pioneering contributions to the German and international design landscape. The highly esteemed, international jury guarantees this. The German Design Award identifies and presents unique design trends: a competition that advances the design-oriented scene.
Room on the Roof – GOLD Winner German Design Awards 2018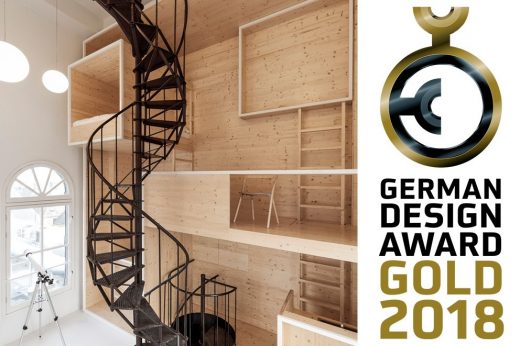 Room on the Roof is selected as overall GOLD winner German Design Awards 2018, in the categorie Interior Design! We worked on this artist in residence project for De Bijenkorf Amsterdam, and already received numerous awards worldwide for the smallest project ever in our portfolio!
Pavilion EH&I – Winner German Design Award 2018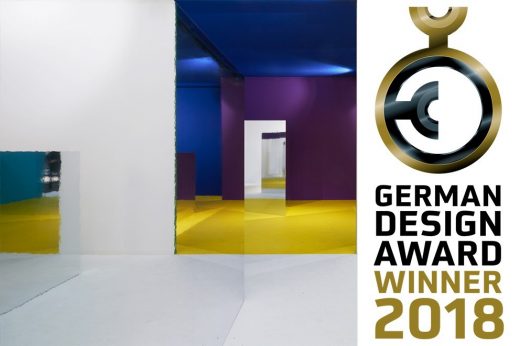 A pavilion for the Dutch magazine Eigen Huis & Interieur. With an architectural installation we strived to make a spatial experience for the visitors that surprises; an environment that should be discovered step by step. This project was selected as winner in the category Fair and Exhibition.
Restaurant De Bijenkorf Utrecht – Winner German Design Award 2018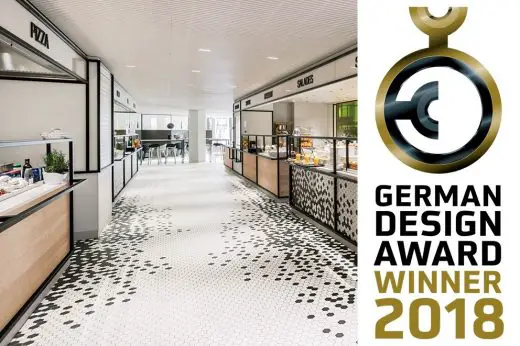 Following up the first successful collaboration, the Artist in Residence Room On The Roof in Amsterdam, this architecture office now realized the design of restaurant 'The Kitchen' for De Bijenkorf Utrecht, a high quality department store offering an extraordinary customer experience. The German Design Council selected the restaurant as winner in the category Retail Architecture!
20 Sep 2017
Dutch National Credit Registration Center, Tiel, The Netherlands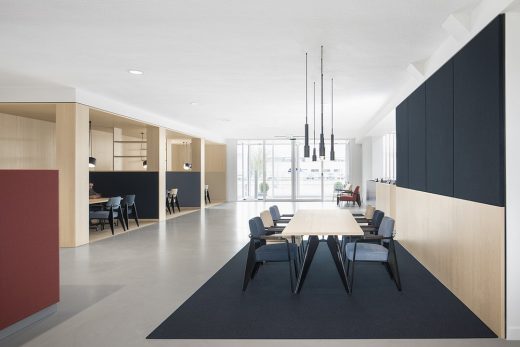 photography : Ewout Huibers
Dutch National Credit Registration Center by i29 Interior Architects
New lobby, meeting area and restaurant for BKR, the Dutch national credit registration center. Dutch citizens visit the center to see their record in relation to mortgages, loans and debts. Our aim was to create an new interior identity that radiates professionalism, accuracy and transparency.
i29 interior architects winner of The Great Indoors Awards 2013
The Great Indoors Award is an international, biennial, interior design award. On Friday, november 15th the winners of the 2013 edition were announced in four categories, with a total prize money of 20.000 EUR. The jury selected 20 nominees, four in each category: Show & Sell, Relax & Consume, Concentrate & Collaborate, and Serve & Facilitate.
This Dutch interior architecture practice at The Great Indoors Awards 2013:


photo © i29 Interior Architects
It is the third time that this Dutch interior architectural office wins this award. In the previous editions of 2009 with office 03 (Gummo), and in 2011 with office 04 (Tribal DDB). We are honored to receive the award again this year with our project social 01. Many thanks to our partners of VMX Architects, who asked us to work on this project together.
From the jury rapport: Social Workplace designed by i29 (NL) A whimsical setting of colour-coded islands enlivens the ordinary interior of an office for the unemployed in Den Hoorn. Spaces separated by colour, instead of by walls, enforce the humane design concept that people should not be placed in boxes. Swaying the jury was i29's use of 'banal elements in an interesting way to create complexity' in a design that 'challenges people to move through the space to discover it'.
www.the-great-indoors.com/2013
i29 interior architects nomination
i29 interior architects nominated for The Great Indoors Award 2013 and The ARC13 Awards
In Maastricht, from 14th – 16th November the fourth edition will take place of the biennial, international interior design competition The Great Indoors Award. An international professional jury awards four prizes with a total value of 20.000,- euro to the most innovative interior design for public and commercial spaces.
The international jury consists of Edouard Francois (Director Maison Edouard François, Paris), Beatrice Galilee (Chief Curator of 2013 Lisbon Architecture Triennale, London), Fabrizio Gallanti (Associate Director Programs at Canadian Centre for Architecture, Montreal), Christien Meindertsma (Designer, Rotterdam) and Lyndon Neri (Founding Partner of Neri&Hu Design and Research Office, Shanghai and Design Republic, Shanghai).
From 271 entries from 39 countries, our project social 01 is nominated in the categorie Concentrate & Collaborate. It has been the third time in a row that i29 interior architects ends as a finalist for this international award, the previous editions we ended up as winners!
home 09 by i29 interior architects:


photo © i29 Interior Architects
Three projects have been nominated this year for the ARC Award 2013, one of them is home 09 by i29 interior architects. The goal of ARC13 is to bring the world of (interior) design, clientship and product design closer together. The award will be given to a project which is realised in The Netherlands or Belgium, and is outstanding in it's succesfull synthesis of practical usage, technique and aesthetics.
Jury members of this year where Peter Dautzenberg (Peter Dautzenberg+partners), Roberto Meyer (Meyer en Van Schooten Architecten), Michiel Hofman (Hofman Dujardin Architecten) and Sander Woertman (de Architect magazine). The winners will be announced during a festive award show in Rotterdam on 26th of November.
Combiwerk, Delft, The Netherlands
Design: VMX Architects + i29 Interior Architects


photo : Ronald Tilleman
Combiwerk Delft
Combiwerk Delft is a Social Workplace (SW) company and offers custom work to people who, due to a physical, psychological or mental limitation, are not able to find a regular job. Besides these limitations, the possibilities and talents are especially looked at. A lot has changed and the emphasis lately has been shifted more to re-integration into the regular work force.
School Panta Rhei, Amstelveen, Netherlands
Design: i29 Interior Architects + Snelder Architecten


photo : Jeroen Musch
School Panta Rhei
In the design for the new accommodations of public school Panta Rhei in Amstelveen (NL) there is a lot of attention on the balance between freedom and a sense of security.
i29 Interior Architects – Key Projects
Major Dutch Buildings by i29 Interior Architects, alphabetical:
Gummo Advertising Agency Office Design, Amsterdam, The Netherlands


photo from architects
Gummo Office
As Gummo were only going to be renting the space on the first floor of the old Parool newspaper building in Amsterdam for two years, i29 convinced Gummo to embrace the mantra of 'reduce, reuse, recycle' to create a stylish office space that would impact as little as possible on the environment or their wallets.
Home 06, Singel, Amsterdam, The Netherlands


photo : i29 interior architects
Singel House
This residence at the Singel, Amsterdam (NL) exists from one open space where several functions have been put into freestanding objects. The kitchen and wardrobe are placed near the entrance and combined into one single volume.
Home 07, Rooseveltlaan, Amsterdam, The Netherlands


photo : i29 interior architects
House in Bloemendaal
This single-family apartment for four people is situated in a stately building in southern Amsterdam. The original structure, with rooms for staff, a double hall and long hallways with lots of doors has been transformed into a spacious, transparent dwelling full of light and air.
Home 08, Frederikstraat, Amsterdam, The Netherlands


photo : i29 interior architects
Frederikstraat Apartment Amsterdam
This small apartment in Amsterdam, NL (45 m2) is completely renovated because of foundation repair. In it's new layout all the functions of the house are placed in two wall units. Entrance hall, wardrobe and kitchen equipment are hidden behind a pinewood wall. On the opposite a second wooden wall of the same material is placed.
Tribal DDB Digital Marketing Office Design, Amsterdam, The Netherlands


photo from architect
Tribal DDB Office
Tribal DDB Amsterdam is a highly ranked digital marketing agency and part of DDB international, worldwide one of the largest advertising offices. i29 interior architects designed their new offices for about 80 people.
More design developments by i29 Interior Architects online soon
Location: Dulvendrecht, The Netherlands
Architecture Practice Information
i29 Interior Architekten studio is based in Amsterdam, The Netherlands.


photograph from i29
Amsterdam Architecture Walking Tours
Comments / photos for the i29 Interior Architects – Amsterdam Design Office page welcome
Website: www.i29.nl