Perot Museum of Nature & Science Texas Building Photos, America Design Project News
Perot Museum of Nature & Science Dallas
New Building Development in Dallas, Texas design by Morphosis Architects, United States of America
Oct 7, 2013
New photos of this amazing building by Morphosis Architects, USA.
Pritzker Prize Laureate Thom Mayne and Morphosis team with landscape architectural firm Talley Associates create "living museum" inspired by nature and science.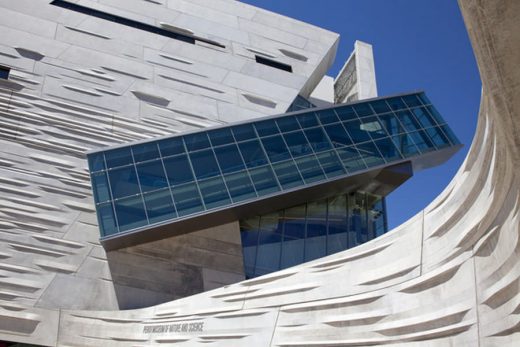 photograph © Kenneth Johansson Photography
Perot Museum of Nature & Science Building
The building, designed by Mayne and his architectural firm, Morphosis, is constructed on a 4.7-acre site at the northwest corner of Woodall Rodgers Freeway and Field Street in Victory Park just north of downtown Dallas. The landscape design, created in conjunction with Dallas-based Talley Associates, serves as an extension of the building design – thoroughly integrated with the programming of space and the overall design character.

photograph © Kenneth Johansson Photography
The 180,000-square-foot structure is 170 feet tall, equivalent to approximately 14 stories high. The overall building mass is conceived as a large cube floating over the site's landscaped plinth (or base). An acre of rolling roofscape comprised of rock and native drought-resistant grasses reflects Texas's indigenous landscape and demonstrates a living system that will evolve naturally over time.

photograph © Kenneth Johansson Photography
The facility's interior includes five floors of public space housing 10 exhibition galleries, including a children's museum and outdoor playspace/courtyard; an expansive glass-enclosed lobby and adjacent outdoor terrace with a downtown view; state-of-the-art exhibition gallery designated to host world-class traveling exhibitions; education wing; large-format, multi-media digital cinema with seating for 300; flexible-space auditorium; public café; retail store; visible exhibit workshops; and offices. Lastly, the building itself will be used as a "living" example of engineering, sustainability and technology at work.

photographs © Kenneth Johansson Photography
Approximately 80 percent – a remarkably high degree – of the building is devoted for public usage.

photographs © Kenneth Johansson Photography
Photos by Kenneth Johansson : kenneth(at)kennethjohanssonphotography.com
17 Sep 2009
Perot Museum of Nature & Science
MUSEUM OF NATURE & SCIENCE UNVEILS SCHEMATIC DESIGNS AND BUILDING MODEL FOR NEW FACILITY AT VICTORY PARK IN DALLAS
DALLAS (Sept. 17, 2009) – Calling it a "living educational tool featuring architecture inspired by nature and science," Pritzker Prize Laureate Thom Mayne and leaders from the Museum of Nature & Science today unveiled the schematic designs and building model for the Perot Museum of Nature & Science at Victory Park. Groundbreaking on the approximately $185-million project will be held later this fall, and the Museum is expected to open by early 2013.
Because the Museum's mission is to "inspire minds through nature and science," the museum design fully embraces both the natural world, such as biology and geology, and the technology and engineering sciences of the manmade world.
"Our goal is to create a facility that inspires awareness of science through an immersive and interactive environment that immediately engages visitors," said Mayne. "We rejected the traditional notion of museum architecture as a neutral background for exhibits. Instead, the new building and the surrounding outdoor areas will become an active tool for science education."
To this end, the site also features landscaping that depicts an abstract cross-section of Texas, from an East Texas-inspired forest of large native canopy trees to the plains of the Texas Panhandle.
The roof deck terrace features native flora of the Texas prairies. Tucked within the landscaping is a large urban plaza – complete with cafe tables, seating and water features — which will be used for gatherings and public events.
Mayne adds that by integrating architecture, nature and technology, the building will demonstrate scientific principals and stimulate curiosity for its natural surroundings.
"The new Perot Museum of Nature & Science at Victory Park will create a distinct identity for the Museum, enhance its prominence and enrich Dallas' evolving cultural fabric," said Mayne. "It's been designed to engage a broad audience, invigorate young minds, and inspire wonder and curiosity in the daily lives of its visitors."
Museum President and CEO Nicole Small said a key goal is to create a museum that is airy and transparent, thus enticing guests to spend the day learning about the world around them.
"By using natural light and large open spaces, we've created an exciting environment that is friendly, accessible and easy to navigate," said Small. "Our hope is that people passing by will look inside the large glass walls on the ground level – see school kids playing in the children's museum or curators installing exhibit – and be drawn inside. And because there will be so much to see and do, we believe they'll want to return again and again."
She adds that people spending time in the plaza and the extensive outdoor spaces will have an opportunity to learn about their natural environment by exploring the interpretive site programming.
The Museum will accommodate foot and automobile traffic coming from Victory Park and the American Airlines Center, West End, Dallas Arts District, Central Business District and Uptown. The building's main entrance is on the plaza side facing west towards Victory Park and the anticipated future second alignment for DART. Also planned is a major event/education entrance on Field Street, to better serve large school buses and tourist groups. A grand staircase is also located on the southeast corner of the site allowing foot traffic from the Woodall Deck Park and Arts District to connect to the Museum. Parking will be available around the building and in nearby lots under the Woodall Rodgers overpass.
Visitors will have easy access by riding DART light rail trains to Victory Station, by traveling on any of the nearby roads or highways, or by using the Katy Trail pedestrian/bicycle paths.
One of the signature features of the Museum is a 54-foot continuous-flow escalator contained in a 150-foot tube-like structure that dramatically extends outside the building. It will take visitors from the light-filled lobby atrium to the museum's top floor. Patrons will arrive at a fully glazed balcony high above the city, with a bird's-eye view of downtown Dallas.
Another signature aspect is the use of the building and the outdoor areas as "a dynamic science lesson and living lab" providing provocative examples of engineering, technology, conservation and more. For instance, there will be a rain-water collection system on the roof and in the parking lots that will be used for working fountains and rooftop water features (only after it rains). The rainwater, channeled into 20,000-gallon collection tanks, can fully irrigate the site for the entire year.
"We've collaborated with Morphosis and the Museum to create an environmentally responsive landscape that seamlessly combines art, natural environment and landform, and technology," said Talley. "We call it nature in an urban fabric."
Over the past 20 months, Morphosis and Talley Associates have worked in tandem with the exhibition designers to create innovative, technologically advanced galleries (designs will be revealed throughout the next year). The exhibit designers are Ralph Appelbaum Associates; Paul Bernhard Exhibit Design & Consulting, Austin; and the Science Museum of Minnesota.
In addition to Morphosis and Talley Associates, the general contractor is Balfour Beatty Construction. The project team also includes Good, Fulton & Farrell, who will serve as both local architect and sustainability consultant and handle the City of Dallas coordination, zoning matters and Fair Park studies. Datum and John A Martin and Associates (JAMA) have been tapped as the structural engineers; BuroHappold will handle mechanical, electrical and plumbing; OVI as lighting designers, and URS (formerly Dallas-based LopezGarcia Group) will provide civil engineering services. Completing the team are Hillwood Development Company as development manager, Terracon to handle Geotech, and DeShazo Tang to handle traffic design and management.
To date, the Museum has almost $125 million in capital committed towards its current goal of $185 million, which will fund the site acquisition, exhibition planning and design, construction of the new building, education programs and an endowment.
Upon completion, the Museum of Nature & Science is expected to emerge as one of the region's premier destinations bringing world-class exhibits to the Dallas/Fort Worth region for millions of visitors to enjoy over the next decade.
"We believe the new Museum will provide an unforgettable experience for our visitors and help them better understand and appreciate the world we share," said Small, "And our hope is that it will inspire young people – and those of any age – to pursue careers in math, science and technology."
Perot Museum of Nature & Science Building information from Morphosis
Perot Museum of Nature & Science Building : Further Information
Morphosis – Perot Museum of Nature & Science Dallas design
Location: Perot Museum of Nature & Science, Dallas, Texas, USA
About the Museum of Nature & Science
The Museum of Nature & Science – the result of a unique merger in 2006 between the Dallas Museum of Natural History, The Science Place and the Dallas Children's Museum – is a non-profit educational organization located in Dallas's Fair Park. In support of its mission to inspire minds through nature and science, the museum delivers exciting, engaging and innovative visitor experiences through its education, exhibition, and research and collections programming for children, students, teachers, families and life-long learners.
The facility also includes the TI Founders IMAX® Theater and a cuttingedge digital planetarium. The Museum of Nature & Science is supported in part by funds from the City of Dallas Office of Cultural Affairs, the Texas Commission on the Arts and EDS. To learn more about the Museum of Nature & Science, please visit natureandscience.org.
Texas Buildings
American Architecture
Comments / photos for the Perot Museum of Nature & Science – Dallas Architecture design by Morphosis Architects, page welcome