Wing Luke Asian Museum, Seattle Building Photo, Architect, Image, US Architecture News
Wing Luke Asian Art Museum, Seattle
New Building in Washington State design by Olson Sundberg Kundig Allen, USA
Oct 14, 2008
Design: Olson Sundberg Kundig Allen Architects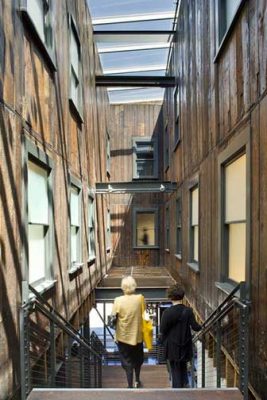 Photos by Lara Swimmer
Wing Luke Asian Museum Seattle
Wing Luke Asian Museum Building
Address: Wing Luke Asian Museum, 719 S King St Seattle, WA 98104-3035, United States
Contact Wing Luke Asian Museum: (206) 623-5124
WING LUKE ASIAN MUSEUM WINS TWO DESIGN AWARDS
26 Mar 2009
Wing Luke Asian Museum, designed by Rick Sundberg, FAIA LEED AP of Olson Sundberg Kundig Allen Architects has received awards in two major national design competitions: a Great Places Award given by the Environmental Design Research Association (EDRA), Places: Forum of Design for the Public Realm, and Metropolis magazine; and the International Interior Design Associations (IIDA) prestigious 36th Annual Interior Design Competition.
The 2009 Great Places Awards honored seven exemplary projects in architecture, planning, landscape architecture, and urban design. Wing Luke Asian Museum received a Place Design award, for a built project that demonstrates excellence as a human environment. The jury praised the skill with which the restoration was completed, especially the way much of the buildings patina was retained. The insertion of new program elements on lower floors and structural members throughout was also well and carefully attended to. The result today is a sensitive setting for the evocation of the immigrant experience and the continued vitality of Asian-American communities in the city.
The other Great Places Award winners were Snohetta AS for The Norwegian National Opera, Oslo, Norway (Place Design); the University of Texas, Dallas Urban Laboratory for Vision 2030: West Dallas Gateway, Strategic Framework Initiative (Planning Award); CJ Lim, Studio 8 Architects for Guangming Sustainable Park, Shenzen, China (Planning Award); Takako Tajima for Resuscitating the Fez River: Procedures to Create New Public Space in the Medina of Fez (Planning Award); University of Minnesota, and Ann Forsyth for Design for Health (Research Award) and Daring to Look: Dorothea Langs Photographs and Reports from the Field, by Anne Spirn; published in 2008 by the University of Chicago Press (Book Award).
Awards will be presented in May at EDRAs 40th annual meeting, in Kansas City, Missouri. Winning projects and commentary will be published in the Fall 2009 issue of Places. The jurors were: David Lake, Principal, Lake/Flato Architects, San Antonio, Texas, Elizabeth Macdonald, Professor of City and Regional Planning and Urban Design, University of California, Berkeley, Rahul Mehrotra, Professor of Architecture, Massachusetts Institute of Technology; Principal, Rahul Mehrotra Associates, Mumbai, India, Lawrence Speck, Professor of Architecture, University of Texas, Austin; Principal, PageSoutherlandPage, Austin, Texas, William Sullivan, Professor of Landscape Architecture, University of Illinois, Urbana-Champaign.
Olson Sundberg Kundig Allen Architects design for the Wing Luke Asian Museum is one of six winning projects in the International Interior Design Associations (IIDA) prestigious 36th Annual Interior Design Competition.
The six winners in the 36th Annual Interior Design Competition were chosen from nearly four hundred projects submitted in the following practice areas: Commercial, Education/Institutional, Government, Healthcare, Hospitality, Residential and Retail.
In addition to the Wing Luke Asian Museum, the other winners were: Greenhouse Nightclub New York, NY (Bluarch Architecture + Interiors), Nishimura Restaurant, Shangri-La Hotel Beijing, CHINA (CL3 Architects Limited); Museum of Tolerance Los Angeles, CA (Cannon Design); Fornari Headquarters Milan, ITALY (Giorgio Borruso Design); Cathedral of Christ the Light (Skidmore, Owings & Merrill LLP). Gallery More North in New York, a gallery/exhibition space devoted to the best of contemporary Nordic art and design, designed by KOKO Architecture + Design was chosen as the winner of the 17th Annual Will Ching Design Competition, which honors outstanding commercial design by firms of five or fewer individuals.
"We were pleased to see so many entries this year from which our distinguished panel of judges selected a globally diverse group of winners representing multiple areas of practice, stated Viveca Bissonnette, IIDA, CID, LEED AP, IIDA Vice President of Communications and Associate at Carrier Johnson + CULTURE. The winning projects range in size and scope but all exemplify IIDAs mission to enhance the quality of life through innovation and excellence in interior design."
Judges for the competition included Suzanne Tick – President, Suzanne Tick Inc.; D.B. Kim – Principal Designer, D.B. Kim Inc.; and Erla Dogg Ingjaldsdottir, Associate IIDA – Principal, Minarc. The judging took place February 28, 2009 in Chicago.
All winning projects not previously published will be featured in the NeoCon issue of Interior Design Magazine, the publishing partner for the competitions. The judges selection for Best of Competition will be officially revealed and all winners will be celebrated at COOL, IIDAs NeoCon Gala to be held Sunday, June 14.
Wing Luke Asian Museum also recently received a Special Merit Award in the Historical Restoration category by ABC (Associated Builders and Contractors).
SEATTLE- Olson Sundberg Kundig Allen Architects have designed the new Wing Luke Asian Museum. The firms design preserves and restores the historic fabric of the East Kong Yick Building and offers new and expanded space to the Wing Luke Asian Museum, a Smithsonian Institution affiliate and Americas premier pan-Asian Pacific American museum. Rick Sundberg, principal of Olson Sundberg Kundig Allen, led the design.
The Wing Luke Asian Museum is a significant addition to Olson Sundberg Kundig Allens portfolio of museums and cultural places, which includes an award-winning renovation of Seattles Frye Art Museum, the Bellingham Art and Childrens Museum (currently under construction), and the Sun Valley Center for the Arts (currently in design). The new Wing Luke Asian Museum, in Seattles Chinatown International District, offers space for community meetings and events, public space for the neighborhood, theatre space for performances and presentations, exhibit spaces for community art and emerging Asian Pacific American artists, family-centered learning environments and leadership development for neighborhood youth.
The Wing Luke Asian Museum raised over $23.2 million for the new building in the biggest fundraising effort in the organization's history. Since the moment our Board set out on a course to create an expanded home for this 40-year old institution, numerous public and private entities as well as hundreds of individuals have made personal investments in the Museums future, said Beth Takekawa, Executive Director of the Wing Luke Asian Museum.We owe a huge thank you to our members and supporters who have responded with overwhelming generosity and encouragement.
The design of the Wing Luke Asian Museum grew out of the original, 1910 multi-story building that served as a social center and living quarters for Chinese, Japanese and Filipino immigrants. Drawing inspiration from the buildings rich history, Olson Sundberg Kundig Allen saved as much of the original building as possible. In addition to building materials such as timbers cut out between floors the character and scale of the building were maintained. On the upper floors, original narrow doorways and corridors and small rooms preserve the intimacy of the original space, and are a perfect venue for the museums immersion exhibits.
This re-use and recycling play an important role in the buildings sustainable strategies. Windows and doors were repaired and reinstalled, fir joists were recycled as stair treads, and fire doors and other no longer functional objects served as inspiration for furniture and works of art. Operable windows and two-story lightwells encourage natural air flow, while transparency between adjacent spaces and floors allow daylight to filter down to the main entry level.
The new building is at once an art museum, cultural museum, and a community center, and the architecture of the building responds to the needs of its diverse users. I think the complexity of the program is what ultimately gives the building its identity and character, said architect Rick Sundberg. When one enters the museum, its a busy, welcoming space. Daylight from the lightwells guides people up and into the building. As one begins to move through the museum, it becomes quiet and the spaces are more intimate. The architecture retreats and the experience of the visitor is of primary importance, said Sundberg. Even though the materials have rough textures, they have a welcoming quality.
Olson Sundberg Kundig Allens project team includes Rick Sundberg, Principal in Charge, Stephen Yamada-Heidner, Project Manager, Martha Rogers, Project Architect, Misun Chung, Job Captain, and Debbie Kennedy, Interiors.
Wing Luke Asian Art Museum image / information from Olson Sundberg Kundig Allen Architects via SGLA 14 Oct 2008
Wing Luke Asian Art Museum Seattle – Further Information on the Building
Tom Kundig, principal of Olson Kundig Architects
Location: 719 S King St, Seattle, WA 98104-3035, USA
Washington Architecture
Seattle Architecture Designs – chronological list
US Architecture Designs – chronological list
Architecture Walking Tours by e-architect
Tom Kundig Architect – Seattle architect
Seattle Architectural Designs
Seattle Architecture Designs – chronological list
Washington Architecture Designs – selection on e-architect below:
Seattle Aquarium Ocean Pavilion
Design: LMN Architects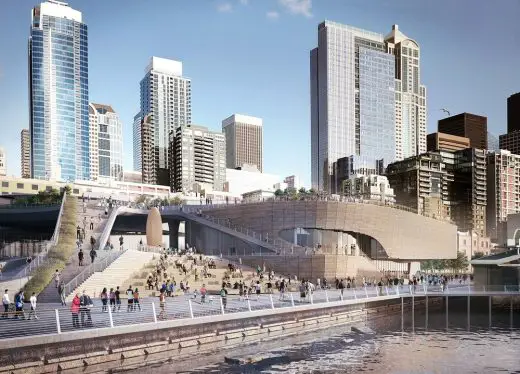 photo : Adam Hunter/LMN Architects
Seattle Aquarium Ocean Pavilion, Washington
Hines Seattle Headquarters Building Renovation, 801 Second Avenue, Norton Building, Downtown Seattle
Design: LMN Architects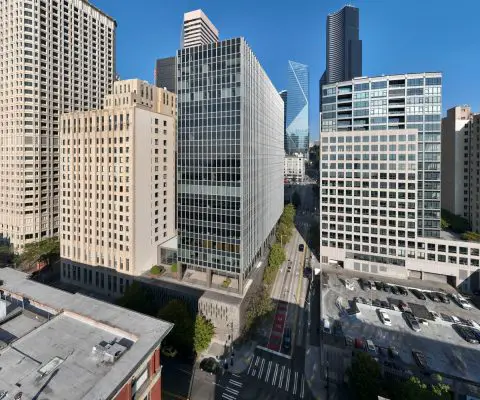 photo © Adam Hunter – LMN Architects
Hines Seattle Headquarters Building
Comments / photos for the Wing Luke Asian Museum Seattle Public page welcome