Le Meurice Hotel Paris, Parisian Luxury Accommodation Building Project, Design News
Le Meurice, Paris : Luxury Parisian Hotel
Luxurious French Accommodation – design by Philippe Starck, France
11 Feb 2010
Le Meurice Paris
Franka Holtmann
The gates of the romantic Jardin des Tuileries are reflected in the glass doors of the doyen of Parisian palace hotels with its breathtaking Grand Siècle decor. We are in the grand foyer of Le Meurice, a diamond in the Dorchester Collection. Situated between Place de la Concorde and the Louvre, for decades this jewel of luxury and refinement has preserved its stunning interior while preparing to take on a touch of modernity.
The spirit of the crowned heads of Europe and the world can still be felt among the precious furnishings and gilded panelling. Now innumerable personalities from all walks of life cross paths in the eternal and oh-so-chic charm of this hotel, nestled under the archways of Rue de Rivoli in the premier arrondissement where history and the contemporary combine. It's now the twenty-first century and a page has been turned as this prestigious hotel comes under the direction of a woman as sparkling as a glass of champagne: Franka Holtmann.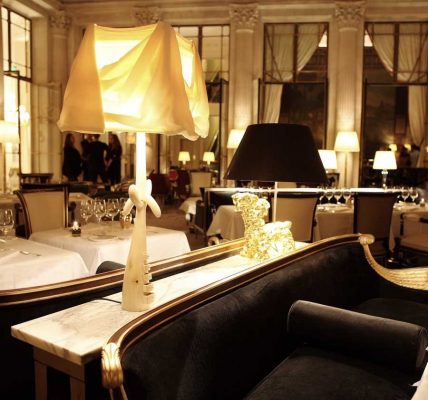 photo courtesy of article provider
This dynamic and audacious manager began her hotel career in the 1980s as a student in Munich. She then left Germany for Paris where she spent five years as sales manager for Le Méridien Étoile before being appointed Sales Director in 1991. Between the two, she added to her experience as Commercial Director at Hôtel Westminster then at Jet Hôtel in Paris while studying marketing and finance at Cornell-Essec.
Franka Holtmann's career would take on a new dimension in 1995. Commercial Director at The Ritz for almost five years, in February 2000 she moved to Avenue Montaigne where she became second-in-command at the Plaza Athénée. After a summer session for managers at INSEAD business school in 2003, she took over the reins at Le Crillon as General Manager until June 2006 when François Delahaye, Director of Operations for the Dorchester Collection, appointed her at the head of Le Meurice. The hotel was caught in a deep slumber, waiting for the good fairy that would bring it back to life. Franka Holtmann knew not to rush headlong into change. Instead she patiently and carefully analysed the mood. Manage while encouraging initiatives, never lose sight of profitability while emphasising quality, synchronise services, activate networks, multiply partnerships and be creative… these were the essential ingredients if magic were to happen from the inside. This was the context in which Franka Holtmann commissioned Philippe Starck to imagine a new atmosphere, one that would exalt Le Meurice's rich past.
Philippe Starck
Philippe Starck constantly seeks ways to bring love and happiness into our lives with objects and environments that light up the everyday. For more than 30 years, this polymorphous and unconventional designer who dreamed of being an astrophysicist or a composer has poured the same enthusiasm into caring for his tribe and «making poetic products and places» so that we, his family and his friends can enjoy a little bit of fantasy in our lives.
As a child, he spent hours under his father's drawing-board, sawing, cutting, gluing, sanding, dismantling toys, bikes, motorbikes and various other objects. Hours spent taking apart and putting together, reinventing the world around him. His father, an inventor of airplanes, gave him the desire to create. His mother gave him a poetic vision of the world, an elegant approach to life that he calls panache. Indeed, it was on his mother's advice that he studied design at Nissim de Camondo in Paris.
Several years and several prototypes later, leading Italian firms were entrusting him with our furniture. François Mitterand asked him to change his life at the Elysée, Café Costes became the café. He made the Royalton in New York and the Delano in Miami, to name but two, the first classics of a new idea of hotels.
Meanwhile, his architectural monsters sprung up around Japan to make him the leading exponent of expressionist architecture.
He has shaken up the traditions and culture of major cities around the world, for example with the Felix restaurant in Hong Kong, the Teatron in Mexico and more recently the Lan and the Volar Club in China, and the Bon in Moscow. End 2006 saw the opening of the Katsuya in Los Angeles, the first in a series of Japanese restaurants which the American press has already singled out as «one of the most exciting restaurants of the past ten years.» Whether the Delano in Miami, the Mondrian in Los Angeles, the Hudson in New York or the Clift in San Francisco, his hotels have brought a new dimension to the American landscape. Over in Buenos Aires, the Faena was named Hotel of the Year while the Fasano, opened in Rio in July 2007, already has the makings of a future classic. In London, the Jean-Paul Gaultier Gallery meets the Sanderson and St Martin's Lane hotels. In Paris, he transformed what was once Marie-Laure de Noailles' private mansion into a dazzling crystal museum and a romantic, luxurious, audacious setting for Baccarat.
When Philippe Starck designs a hotel or restaurant, he pays as much attention to what isn't there as to what is, creating spaces which visitors, the «actors» of these places, will then inhabit and transform. These are spaces which will take the members of his «cultural tribe» out of themselves and, most importantly, towards something better. More architectural projects, currently under way in Europe, China, the Middle East, Mexico and the United States, will create new poles of attraction, pleasure and new encounters.
As well as creating living spaces, Philippe Starck develops his own brands including Starck Eyes with Alain Mikli, Starck Watches with Fossil and Starck Naked underwear with Puma. As artistic director for Virgin Galactic he is contributing to the conquest of space and to making space travel an affordable reality. This homo amphibius satisfies his love of the sea by designing boats, including a 120-metre superyacht with a revolutionary hull. Last September he unveiled his extension for Port Adriano in Palma de Majorca, as well as his Café Racer for Voxane, France's only motorbike manufacturer.
An honest and enthusiastic citizen, Philippe Starck considers it his duty to share his subversive vision for a fairer world, where each of us must contribute to the bigger picture.
Ara Starck
Ara Starck was born in Paris in 1978. After studying at the Ateliers de Sèvres then the École des Beaux Arts in Paris, she was accepted at Saint Martin's School of Fine Arts in London. She continued her studies at the Slade School of Fine Art, from which she graduated with a Bachelor of Arts degree in 2002. After a year in New York exploring and developing her style, Ara Starck returned to Paris where she lives and works.
Ara has always looked beyond the usual confines in both the literal and figurative sense, and sees her preferred format of 4m x 3m canvases as a vital catalyst in her work: ''To work within a framework, to detailed specifications, in search of the tiny crack that might just bring down imposed spatial limits to open up another mental space.
To extend the boundaries of the canvas into a place where the imagination has no limits.'' Through this desire to defy confinements and frameworks, applied to new technologies such as lenticular plastic, Ara gives expression to what she sees as the most complex and poetic subject, which she places at the heart of her work: mankind. Using the artist's traditional tools of oils, brushes and turpentine, Ara Starck creates works of encounter. Her objective is to produce a third matter: an alchemy of the painting that is unique to the artist and the observer.
Ara Starck's work for Le Meurice springs from a rich human encounter between the artist and Franka Holtmann, General Manager of Le Meurice. Seduced by an exceptional personality and by this legendary Parisian hotel, Ara wished to revive the great French tradition of incorporating a work of art into a living environment. Her ceiling-hung canvas for the most French of Parisian palace hotels follows in the tradition of Chagall and Cocteau. Man is at the heart of this exclusive and unique work, brought to life in four acts. Four imagined and imaginary places behind enigmatic curtains that open onto passing figures. A veritable game in which sienna effigies move like phantasmagoria through a world of gold, a sign of wealth and all that is sacred. White signifies the intangible, an invitation to dream.
And so Ara's work reflects the rich life of a space redesigned by her father, Philippe Starck. Beyond this father-daughter dialogue, the spectator will be caught up in this enchanted world played out above their head, while the most perspicacious and curious will be drawn in to become part of it.
Le Meurice Paris : main page with images
Le Meurice Hotel Paris images / information from Philippe Starck
Location: Le Meurice, Paris, France
New Paris Architecture
Contemporary Paris Architecture
Paris Architecture Design – chronological list
Paris Architecture Walking Tours by e-architect
Hôtel Lutetia, 45 Boulevard Raspail, Saint-Germain-des-Prés, 6th arrondissement
Renewal Design: Jean-Michel Wilmotte Architects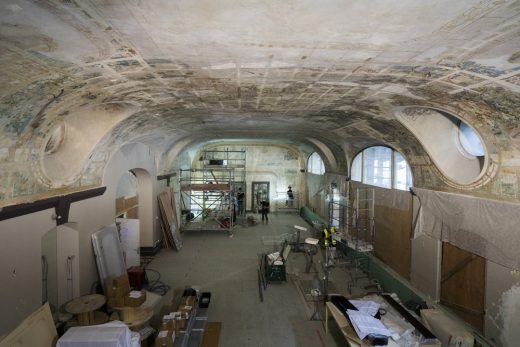 photograph courtesy of architects office
Hôtel Lutetia
Hôtel d'entreprises Binet, Porte de Montmartre district, north-west Paris
Design: AZC Atelier Zündel Cristea, Architects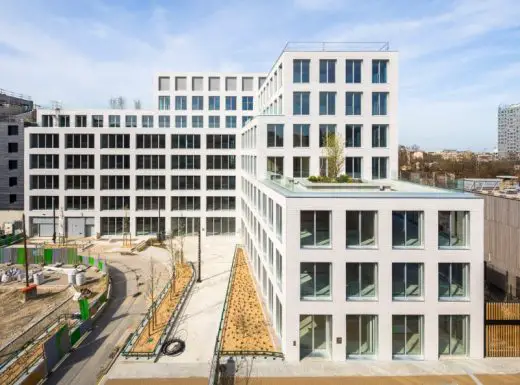 photo courtesy of architects office
Hôtel d'entreprises Binet
Renaissance Paris Wagram Hotel Design
Docks de Paris, Cité de la mode et du design
Jakob+MacFarlane
Cité de la mode et du design
Tour Eiffel
Gustave Eiffel
Eiffel Tower
Comments / photos for the Le Meurice Hotel Paris Architecture page welcome