Gentilly Building Paris, Parisian Design Contest, French Architecture Design Images
Gentilly Building, Paris : Architecture
Architectural Development in France design by ecdm architects
post updated 11 October 2021 ; 16 Mar 2012
Location: Paris
Date: 2012-
Design: ecdm
Gentilly Architecture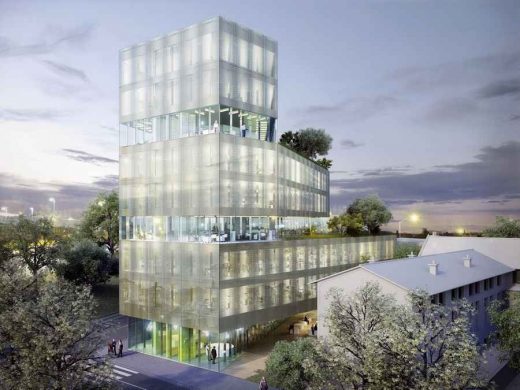 Gentilly Building
English text (scroll down for French):
The project is above all a proposal to articulate 2 territories, 2 urban landscapes separated by the influence of the ring road. This urban fringe context frees up a vast expanse where emptiness is preponderant, where the gaze goes far. This work on the perception and reading of the landscape gives the gable facades a major pivotal role. Whether from the ring road or from the rue de Gentilly, the gables are present, predominant in the interpretation of the building.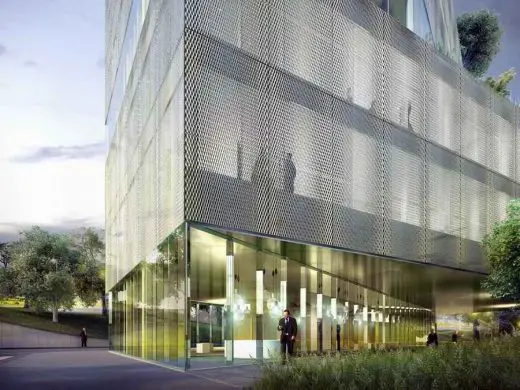 The curvatures of the peripheral and the notion of displacement generate a perspective reading with always at least 2 perceived facades: the building will be seen from afar on its small sides, on its angles. This singular landscape ultimately offers little frontal perception in geometry. ecdm architects therefore wanted to work on the expression of a complex volume to avoid any simple and literal wall effect as we can see when approaching the Porte d'Orléans, but on the contrary to offer a volume and a facade treatment that returns and comes to unify the building on all its periphery.
There is therefore a unity of place generated for a project which must itself generate visual continuity, articulate landscapes, offering a calm image, stretched between two distended territories.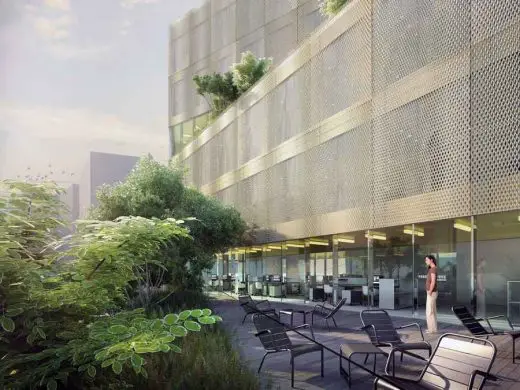 INSERTION IN THE SITE
Our architecture is a continuation of the work of Henri Gaudin. We extend the size and formal complexity of the Ipsos chair, which we write in a contemporary register. The building opens out like a fan to gradually refine while gaining height. Three broad plans largely raised are thus released. The first at ground level is a continuation of the reception area. A large hall approximately 5.50 meters high from the ceiling extends to the south on the alley.
Then 2 successive terraces, one on the 4th level, the other on the 7th level open to the south on Gentilly in continuity with the workspaces. The periphery of the outdoor spaces is delimited by hanging gardens. Each movement of the volumetry stages a horizontal break of one floor, glazed over 1.95 m high.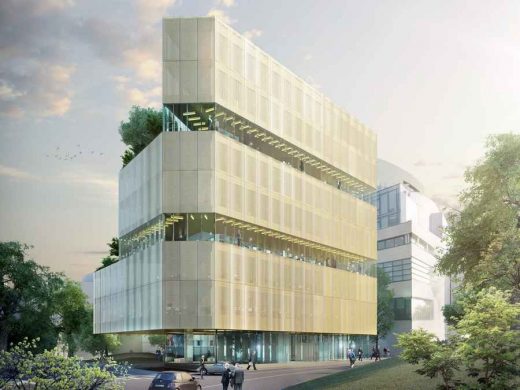 ARCHITECTURAL PARTI
The building is made up of three superimposed volumes, each with its own characteristics.
Resulting from work on the volumetric archetypes of tertiary buildings, the shape of the project asserts a simple, clear, geometrical geometry, facing the large expanses that shape the landscape of the Paris ring road. In a search for rationality, we propose an organization around a single central circulation. This device makes it possible to improve the efficiency of the standard plan, by increasing the useful office space while maintaining a limited number of technical centers, internal travel being reduced de facto. This rationality is reflected in the design of the facades, which strictly expresses a 1.35 m office grid. The expression of the frame is sublimated by work on progressive external sun protection which blurs the reading tracks by creating a moiré effect, giving a kinetic aspect to the whole. This motif unfolds continuously to envelop the building like a screened wallpaper.
The trays all allow great modularity; they were designed in line with the standards of office typologies. Each level is a variation on the 18m archetypes for the first 2 volumes and 12m for the last. This compactness and rationality allow us to have an extremely compact core while presenting a Chambord-type staircase.
The plinth is the building's interface with public space. It houses representation spaces such as the hall and reception, a meeting center, the cafeteria, as well as service areas such as the bicycle storage room, the delivery area and the waste management area. Under the western part is the parking access ramp. The parking lot exit leads directly to the street, integrated into the footprint of the plinth. Hidden by the gradations of screen-printed glass, its visual impact is minimal.
French text:
Gentilly Imeuble
Le projet est avant tout une proposition pour articuler 2 territoires, 2 paysages urbains dissociés par l'emprise du périphérique. Ce contexte de frange urbaine libère une vaste étendue où le vide est prépondérant, où le regard porte loin. Ce travail sur la perception et la lecture du paysage donne aux façades pignon un rôle de pivot majeur. Que ce soit depuis le périphérique ou depuis les rue de Gentilly, les pignons sont présents, prépondérants dans la lecture du bâtiment.
Les courbures du périphérique et la notion de déplacement génèrent une lecture en perspective avec toujours au moins 2 façades perçues : le bâtiment sera vu de loin sur ses petits côtés, sur ses angles. Ce paysage singulier offre finalement peu de perception frontale en géométral. Nous avons donc voulu travailler sur l'expression d'un volume complexe pour éviter tout effet muraille simple et littéral comme on peut voir à l'abord de la porte d'Orléans, mais au contraire proposer une volumétrie et un traitement de façade qui se retourne et vient unifier le bâtiment sur toute sa périphérie.
Il y a donc une unité de lieu générée pour un projet qui doit lui-même générer de la continuité visuelle, articuler des paysages, en proposant une image calme, tendue entre deux territoires distendus.
INSERTION DANS LE SITE
Notre architecture s'inscrit en continuité de la réalisation d'Henri Gaudin. Nous prolongeons le gabarit et la complexité formelle du siège Ipsos, que nous écrivons dans un registre contemporain. Le bâtiment s'ouvre en éventail pour s'affiner progressivement en gagnant en hauteur. Trois larges plans largement arborés sont ainsi libérés. Le premier au niveau du sol s'inscrit en continuité de l'espace d'accueil. Un vaste hall haut d'environ 5,50 mètres sous plafond se prolonge au sud sur la venelle.
Puis 2 terrasses successives, l'une au 4ième niveau, l'autre au 7ième niveau ouverte au sud sur Gentilly en continuité des espaces de travail. La périphérie des espaces extérieurs est délimitée par des jardins suspendus. Chaque mouvement de la volumétrie met en scène une césure horizontale d'un étage, vitrée sur 1,95 m de haut.
PARTI ARCHITECTURAL
Le bâtiment est composé de trois volumétries superposées ayant chacune ses caractéristiques propres.
Résultant d'un travail sur les archétypes volumétriques de bâtiments tertiaires, la forme du projet affirme une géométrie simple, claire, géométrisée, face aux grandes étendues qui façonnent le paysage du périphérique parisien. Dans une recherche de rationalité, nous proposons une organisation autour d'une circulation centrale unique. Ce dispositif permet d'améliorer l'efficacité du plan type, en augmentant les surfaces utiles de bureaux tout en conservant un nombre limité de noyaux techniques, les déplacements internes s'en trouvant de facto réduits. Cette rationalité se reflète dans l'écriture des façades qui exprime strictement une trame de bureaux de 1,35 m. L'expression de la trame est sublimée par un travail sur une protection solaire extérieure progressive qui vient brouiller les pistes de lecture en créant un effet de moirage, conférant un aspect cinétique à l'ensemble. Ce motif se déroule de façon continue pour envelopper le bâtiment à la manière d'un papier peint tramé.
Les plateaux permettent tous une grande modularité ; ils ont été conçus en s'inscrivant dans les standards des typologies de bureaux. Chaque niveau est une variation sur des archétypes du 18 m pour les 2 premiers volumes et du 12 m pour le dernier. Cette compacité et cette rationalité nous permettent d'avoir un noyau extrêmement compact tout en présentant un escalier de type Chambord.
Le socle est l'interface du bâtiment avec l'espace public. Il abrite les espaces de représentation comme le hall et l'accueil, un centre de réunion, la cafétéria, ainsi que les espaces de services comme le local à vélos, l'aire de livraison et le local de gestion des déchets. Sous la partie ouest se trouve la rampe d'accès au stationnement. La sortie du parking débouche directement sur la rue, intégrée dans l'emprise du socle. Dissimulée par les dégradés de verre sérigraphié, son impact visuel est minimum.
Gentilly Building – Building Information
Programme: Tertiaire
Maître d'ouvrage: SODEARIF
Architecte: ECDM
Superficie: 5250 m² SHON
Coût ht: 10,8 M€ HT
Concours: 2011
Gentilly Building images / information from Emmanuel COMBAREL Dominique MARREC Architects
Location: Gentilly, Paris, France, western Europe
New Paris Architecture
Contemporary Paris Architecture
Paris Architecture Design – chronological list
Paris Architecture Tours by e-architect
ecdm architectes : Paris architect office contact details
ecdm – Recent Paris Building Designs
EDF Campus Saclay
EDF Campus Saclay
ZAC Châteaucreux, Saint-Etienne, France
ZAC Châteaucreux
Residence Ladoumegue, Paris, France
Paris Student Housing
Social housing – 108 rue de Picpus, Paris, France
Rue de Picpus Housing
Parisian Buildings
Herold Apartments
Jakob+MacFarlane
Herold Apartments Paris
Pajol sports centre
Brisac Gonzalez Architects
Pajol sports centre
Comments / photos for the Gentilly Building Paris welcome