NEO Bankside London Building, Thames Luxury Flats Photos, English Design Property Images
NEO Bankside, London
Residential Building Southwark: Luxury Flats design by Rogers Stirk Harbour + Partners (RSHP)
3 Sep 2020
Architect of NEO Bankside London – Richard Rogers to Retire
Revisiting key designs by this celebrated London-based architect, with Italian roots:
6 Sep 2016
NEO Bankside Privacy Problems with New Tate Modern Extension
NEO Bankside + Tate Modern Extension Issue
Residents of Neo Bankside luxury flats have complained that the Tate Modern's new public viewing deck is invading their privacy, reports Building Design.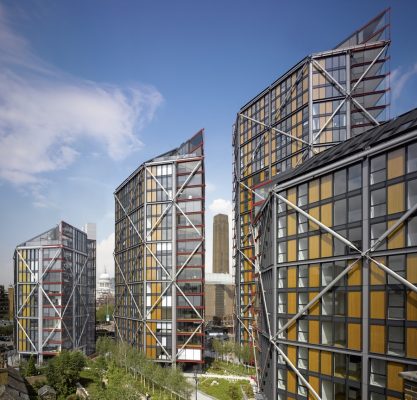 photograph : Edmund Sumner
People living in the Stirling Prize-shortlisted flats next to the Tate Modern's £360 m new Switch House extension have instructed lawyers after complaining that Tate visitors were taking photos of them in their living rooms up to 10 hours a day, seven days a week.
Tate Modern Extension, public viewing deck at top of building, with Neo Bankside flats on left: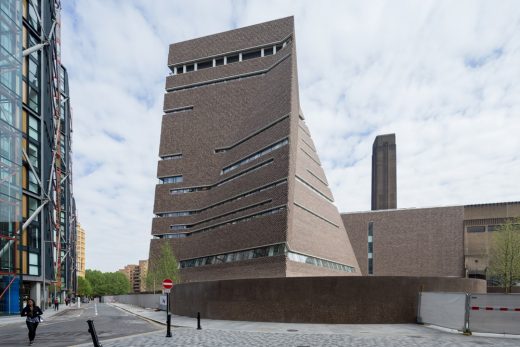 photo © Iwan Baan
Their objections centre on the 10th-floor viewing deck which wraps round the top of the extension designed by Swiss archietcts Herzog & de Meuron, which opened in June, and is just yards away from the Rogers Stirk Harbour-designed building. The staircase and members' room also have direct views into some of the flats.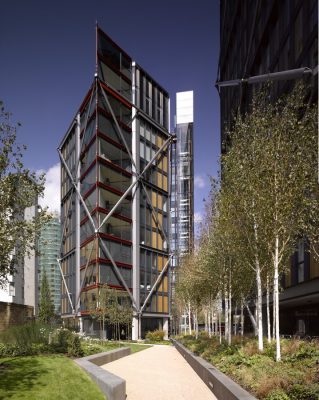 photograph : Edmund Sumner
Residents originally demanded that side of the viewing deck be shut but when Tate refused they asked for screens to be erected to block prying eyes and long-tom lenses. So far the Tate has simply put up signs asking people not to snoop.
Tate Modern Extension: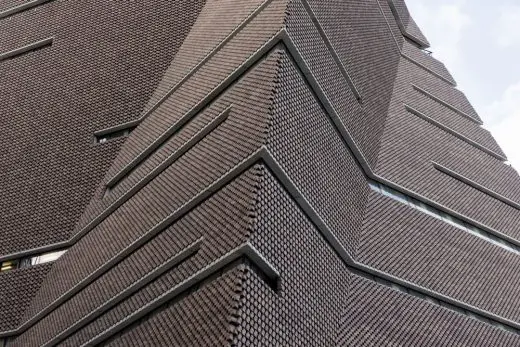 photo © Iwan Baan
A local councillor who is representing residents invited Herzog & de Meuron project architect John O'Mara, Tate directors, Southwark planners and Neo Bankside freeholder Native Land to a meeting on the terrace where she was shocked to see visitors zooming in with their cameras.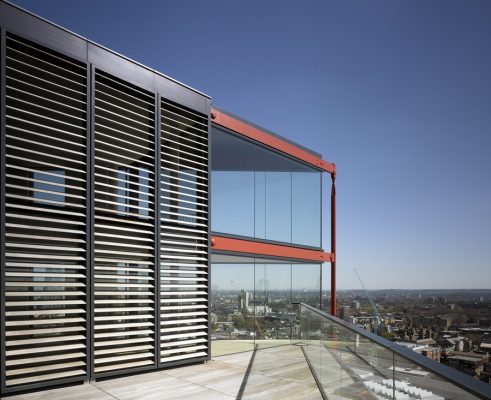 photograph : Edmund Sumner
Residents are having to keep their blinds down and worry about ever being able to sell their property.
Both buildings went through the planning process around the same time, yet the flats were completed some years prior to the gallery extension.
Article in BD: Tate Modern Neo Bankside Privacy issue
14 Oct 2015
NEO Bankside
Design: Rogers Stirk Harbour + Partners, Architects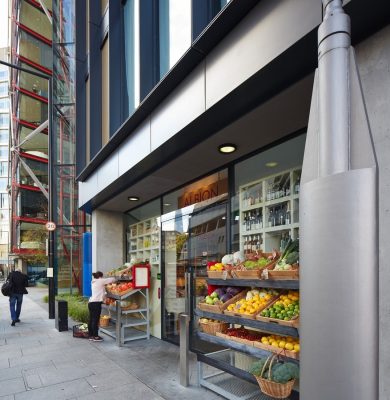 photograph : Edmund Sumner
NEO Bankside 2015 RIBA Stirling Prize Shortlisted
The shortlist for the prestigious 2015 RIBA Stirling Prize for the UK's best new building, now in its 20th year, has been announced. The six exceptional shortlisted buildings will now go head-to-head for architecture's highest accolade, to be awarded by the Royal Institute of British Architects (RIBA) on Thursday 15 October 2015.
New luxury housing towers with exo-skeleton and external lifts on London's South Bank – a well-mannered example of a structurally expressive architecture.
29 Apr 2013
NEO Bankside News
Photos from 29 April 2013:
NEO Bankside photo – exclusive to e-architect – from 23 Sep 2012:
NEO Bankside photo – exclusive to e-architect – from 31 Jul 2011

photo © Nick Weall
5 Apr 2011
NEO Bankside Development News
NEO Bankside Tops Out
Leading support services and construction company Carillion, has celebrated a key milestone in the construction of prestigious residential development NEO Bankside.
Joined by the joint venture developers Native Land and Grosvenor and the scheme's architects Rogers Stirk Harbour + Partners, Carillion hosted a topping out ceremony to mark the development reaching its highest point.
Overlooking the River Thames and St Paul's Cathedral, NEO Bankside is a new £400m world class residential scheme situated immediately adjacent to Tate Modern. NEO Bankside comprises 199 premium residences arranged over four state-of-the-art pavilions set amongst richly landscaped gardens. The pavilions vary in height from 12 to 24 storeys and offer a considered selection of one, two and three bedroom apartments and some duplex penthouses.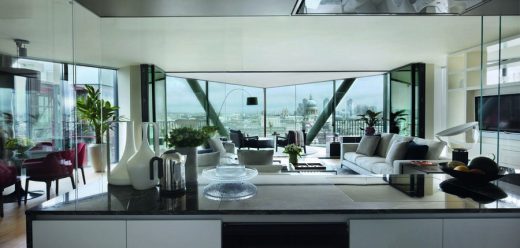 photograph : Edmund Sumner
Carillion Chairman Philip Rogerson said: "We are delighted to have been involved with this project working with Native Land and Grosvenor, with whom we have a long-standing relationship, and are thrilled to see the development reach this landmark point."
Alasdair Nicholls, Chief Executive of Native Land commented: "By starting construction on NEO Bankside in 2009, it demonstrated the confidence that Native Land and Grosvenor has in London's prime residential market. I am delighted that on reaching this key milestone, our confidence has proven well founded as the development has received very high levels of interest. To date, out of the apartments released onto the market, over 70% have been sold."
Peter Vernon, CEO of Grosvenor Britain & Ireland added: "This is an important milestone for this iconic residential development and we are very proud to have played a part in the regeneration of this culturally important part of London. It is a great achievement to have created a new and inspiring place in the capital that appeals both to London and international buyers alike."
Carillion began construction in January 2009 and the development is due to be completed in phases through to 2012.
27 Feb 2011
NEO Bankside Photos
Construction Progress Update Photos by Nick Weall
31 Jan 2011
NEO Bankside Development
Construction Progress Update Photos by Nick Weall
7 Mar 2010
NEO Bankside Building
Construction Progress Update
7 Mar 2010
Construction Progress Update
15 Dec 2009
NEO Bankside in South London
The NEO Bankside Project
NEO Bankside, designed by renowned architects Rogers Stirk Harbour + Partners, is a new a world-class residential scheme situated immediately adjacent to Tate Modern.
Located in Southwark, SE1 (which is now part of Knight Frank's Prime Central London Index) and overlooking the River Thames and St Paul's Cathedral, NEO Bankside is one of the most eagerly awaited residential schemes in the Capital. It will be launched to the market in Spring 2010.
The scheme comprises 197 premium residences arranged over four state-of-the-art pavilions, set among a richly landscaped garden. The pavilions vary in height from twelve to twenty-four storeys and offer a considered selection of residential layouts from one, two and three bedroom apartments to a limited number of prestigious duplex penthouses. Once completed, NEO Bankside will set a new standard for quality residences and service in this vibrant, yet Central London location.
In addition to these premium residences, NEO Bankside will also incorporate 11,000 sq ft of prime retail space and a significant allocation of on and off-site social housing in the heart of London's Cultural Quarter.
Situated in a unique location within London's ribbon of culture, NEO Bankside puts the benefits of the South Bank on the doorstep of its residents, from Tate Modern and the Globe Theatre to the Southbank Centre and Borough Market.
Native Land and Grosvenor acquired the NEO Bankside site from Land Securities in July 2006 in a 50:50 joint venture partnership. In 2008, they secured £170m of funding from Bank of Scotland Corporate to develop the scheme. As part of the planning application, the purchase included the site of the proposed 'Tate Tower', a much-hated 32-storey building that threatened to blot the area.
This Hopton Street site is currently the site offices for NEO Bankside but when the scheme is complete the land will be handed over to Tate to become additional public space for visitors and residents of Bankside to enjoy.
Work on the first phase of a £130 million construction programme began in January 2009 and is set to transform the local area on completion of the whole development in 2012. The start of construction followed off-plan sales to a number of close investor contacts of the developer, well in advance of the formal launch in Spring 2010. The scheme will positively affect the depleted supply of new homes available in London, particularly on the banks of the River Thames
In addition, as a result of starting on site, £1.1m is being provided to the local authority that will go towards local education, training and employment and local healthcare provision
Design Statement
The project defines the edges of its site but is also highly permeable, allowing both residents and visitors access to the landscaped areas via a series of 'green' routes to and from the River Thames, Tate Modern and the South Bank area. The design seeks to integrate the scheme into the wider Bankside cultural quarter creating a significant new area of public realm to which access is restricted only at night for safety and security reasons.
The landscape design creates a series of linear groves which help to define public routes through the development, as well as creating a pocket park which establishes a strong relationship with the area of green space around the neighbouring Hopton Street Almshouses.
The scheme responds to the surrounding architecture of Bankside – particularly that of Tate Modern – in terms of materials used and in a contemporary language which reinterprets the colouration of the local architectural character. The texture of the timber cladding panels and louvres set behind glass helps to give the scheme a warmth and tactility appropriate for a residential scheme.
The materials also respond to the industrial browns and reds of Tate Modern's brick facades. The 'oxide red' colour used for the winter garden structures responds to the dominant red colour of nearby Blackfriars Bridge. The overall design hints at the former industrial heritage of the site during 19th and 20th centuries.
The external bracing system visually expresses the structural systems and engineering involved in the design of the building, making it distinctive and highly legible to passers-by. The structure removes the need for internal structural walls, providing greater flexibility for new layouts in the future. The scheme incorporates scenic glass lifts in transparent shafts that provide a delicate and dynamic counterpoint to the brickwork facades of Tate Modern opposite.
Each pavilion has its own dedicated lobby area for residents and visitors and there is a central concierge dealing with maintenance and servicing issues for the development as a whole. A low, glazed security barrier marks the site boundary with a series of gates for access. These gates are open during the day for residents' and public access. At other times, residents are able to gain access using protected swipe cards. A central, 24-hour concierge service – similar to that offered in a top-level hotel – is also provided for all the buildings in the development.
The residential pavilions are based on small floorplates that help to maximise the amount of daylight reaching the development from every side. Apartments have floor-to-ceiling glazing to a height of 2.6 metres, ensuring optimum sunlight/daylight levels in internal spaces, as well as providing spectacular views across London. Many apartments have timber louvres to protect the privacy of occupants; Juliet balconies or winter gardens with timber floors, ceilings and glazed surrounds provide semi-external extensions of the internal apartment spaces.
All apartments have oak flooring which runs out into the winter gardens. Living areas have been designed with clear lines to create a clean, uncluttered finish. High spec kitchens are fitted throughout and bathrooms have natural stone-clad floors and walls. The design incorporates retail units at ground level, some of which will be occupied by restaurants and cafés with terraces to attract people and encourage activity, particularly during warmer months.
The scheme incorporates a number of sustainable features including a combined heating & power plant; ground source heat pumps for central heating in winter and cooling in summer; and solar water heating from roof panels. Collectively, these three systems provide a proportion of the domestic hot water and space heating requirements of each apartment. Harvested rainwater is used for irrigating the landscaped areas.
When completed, it is estimated that around 10 per cent of the scheme's energy will come from sustainable sources. The design creates a traffic-free public realm at ground level with all residents' parking provided at basement level via an entrance at the rear of the development. Parking spaces for some 92 vehicles are provided as well as secure cycle storage for 96 bicycles. Additionally, each apartment is provided with its own fold-away bicycle for residents' use.
Bankside
Historically, Bankside is one of the oldest settlements in Britain, dating back over 6,000 years. In the 18th century it was known for its manufacturing industries, gardens, and public houses, and in the 19th and early 20th centuries – before the bombing of London during World War II – it was an area of wharves and warehouses. Its rich past boasts William Shakespeare amongst other famous writers and actors as previous inhabitants.
Badly damaged during the blitz and with the industrial decline after the Second World War, the area was largely abandoned until the late twentieth century with the reconstruction of The Globe Theatre and the transformation of the power station into Tate Modern.
Modern Bankside is a cultural hub with a rich heritage and spectacular views over the city where centuries of overlapping development patterns have created a charming 'urban interior'. This quieter area is characterised by its scattered small open spaces and strong local identity. Bankside holds a wealth of cultural institutions and noteworthy sites, among them a reconstruction of The Golden Hinde (Sir Francis Drake's ship), Tate Modern, and the Millennium Bridge, a footbridge that links Tate Modern and all of Bankside with the City of London on the north bank.
Just a stone's throw away from the centre of London, Bankside has rapidly become an established prime London location with residences along the riverside that benefit not only from uninterrupted views over the Thames, the City, or the Houses of Parliament but also from a neighbourhood with plenty of amenities and a real sense of community.
There is a combination of factors that instil confidence in this area of London. Tate Modern being arguably the world's leading contemporary cultural facility, and providing the area with international recognition; the Millennium Bridge providing quick access into the City, which together with a river view, compliments the contemporary feel of the area, and a full range of amenities including the Globe Theatre, The Royal Festival Hall and the famous Borough Market.
Bankside boasts some prestigious residents who already experience and enjoy the area. This is what one has to say about their neighbourhood.
Dr. Jules Wright, Director and Curator of the Wapping project:
"I live in Bankside and so a heartbeat from the cultural centre of the most significant cultural city in the world. From my home I can easily walk to Covent Garden in 20 minutes, I lope to Wapping in 35 minutes; I dash to Borough Market in 15 minutes. I gasp at the beauty of St Paul's dome, I run to the City over Norman Foster's exquisite "wobbly" bridge. I watch the Thames reflect the shifts, changes, complex moods and murmurings of London. I think Dickens, Shakespeare, our history and our future"
NEO Bankside images / information received 151209
NEO Bankside Development – The Project Team
Rogers Stirk Harbour + Partners
NEO Bankside is located on Hopton Street facing the west entry to Tate Modern
Location: Hopton Street, Bankside, South London, England, UK
London Building Designs
Contemporary London Architecture Designs
London Architecture Designs – chronological list
London Architecture Tours – tailored UK capital city walks by e-architect
London Architecture by Rogers Stirk Harbour + Partners – RSHP
Lloyds Building, City of London
Design: Richard Rogers Partnership (now RSHP)


photo © Adrian Welch
122 Leadenhall Street, City of London
Design: Rogers Stirk Harbour + Partners


image : Cityscape
One New Change
Design: Jean Nouvel architect
Chelsea Barracks masterplan
Comments / photos for the NEO Bankside London Architecture design by Rogers Stirk Harbour + Partners page welcome