Horniman Museum London, Forest Hill building, Southern England gardens design, British bandstand photos
Horniman Museum & Gardens
Pavilion Building in Forest Hill, London design by Charles Harrison Townsend ; Walters and Cohen Architects
post updated 15 September 2023
Horniman Museum And Gardens Wins £100,000 Art Fund Museum Of The Year 2022
Horniman Museum and Gardens: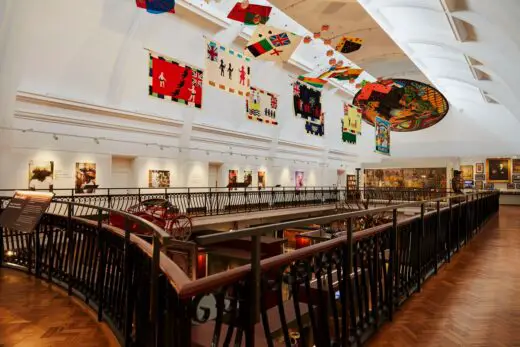 photo © Emli Bendixen
14 July 2022
Horniman Museum & Gardens Grant
Thursday 14th of July 2022 – Horniman Museum and Gardens is announced as Art Fund Museum of the Year 2022 this evening (14 July 2022). Nick Merriman, Director, was presented with the £100,000 prize – the largest museum prize in the world – by DJ and broadcaster Huw Stephens at a ceremony at the Design Museum, London.
Horniman Clock Tower London building: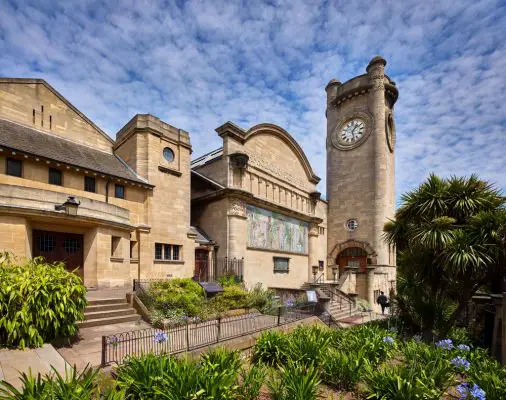 photograph by Andrew Lee, courtesy of Horniman Museum and Gardens
Located in Forest Hill, the Horniman is London's only museum where environment, ecology and human cultures can be seen side by side at a global scale. During 2021, following a period of reflection prompted by the Covid-19 pandemic, climate emergency and the murder of George Floyd, they reimagined the role they could play as a creative hub for their local community.
The result was a transformational Reset Agenda – an ambitious programme focused on re-orientating activity to reach diverse audiences more representative of London. This included embedding a Climate and Ecology Manifesto, from an online club of Environment Champions to the creation of a micro-forest to combat local air pollution. From a takeover of the galleries by children to its youth panel of 14-19 year olds, work experience opportunities and Kickstart apprenticeships, the museum is inspiring the next generation.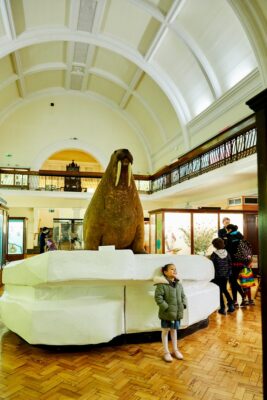 photo © Emli Bendixen
A further focus of the Reset Agenda was the 696 Programme, an interrogation of the power and responsibility public organisations have in supporting local music. Showcasing Black British creativity and placing it at the Horniman's heart, a sold-out festival reached 8000 visitors and nearly 20,000 experienced the related exhibition. The Horniman is also spearheading the collaboration amongst museums through its MAGNET group of organisations sharing collections-based touring exhibitions.
Jenny Waldman, Art Fund director and chair of the judges for Art Fund Museum of the Year, said, 'The Horniman Museum and Gardens has now blossomed into a truly holistic museum bringing together art, nature and its myriad collections. Its values are woven through everything it now does, with a passionate team breathing life and meaning into every object, performance, plant and animal. In many ways it's the perfect museum, and I would encourage everyone to go and experience all it has to offer.'
Dame Diane Lees, Director-General, Imperial War Museums, and judge for Art Fund Museum of the Year 2022, said, 'The Horniman Museum and Gardens are championing the natural environment, commissioning artists and music festivals, to bring the eclectic collections of Frederick Horniman new relevance with diverse communities. They are setting the agenda for how a traditional museum can reinvent itself through powerful ideas.'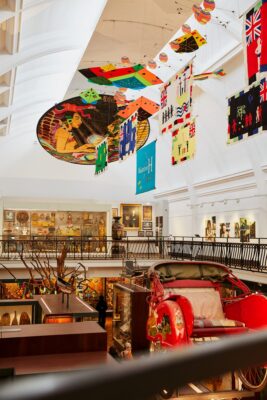 photograph © Emli Bendixen
The winner was one of five finalists. The other shortlisted museums were: Derby Museums, Museum of Making (Derby), People's History Museum (Manchester), The Story Museum (Oxford) and Tŷ Pawb (Wrexham).
Each of the other finalist museums receives a £15,000 prize in recognition of their achievements.
The members of this year's judging panel, chaired by Art Fund Director Jenny Waldman, are: Dame Diane Lees, Director-General, Imperial War Museums; Harold Offeh, artist and educator; Dr Janina Ramirez, cultural historian and broadcaster, and Huw Stephens, BBC Radio 6 DJ and broadcaster.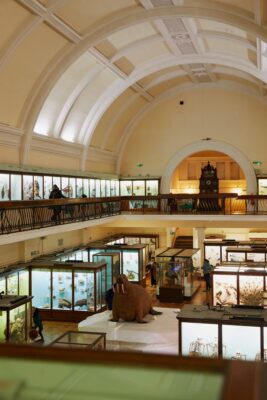 photograph © Emli Bendixen
Art Fund, the UK's national charity for art, awards Art Fund Museum of the Year annually to one outstanding museum. The 2022 edition champions organisations whose achievements tell the story of museums' creativity and resilience, and particularly focuses on those engaging the next generation of audiences in innovative ways. Art Fund Museum of the Year is the largest museum prize in the world.
#museumoftheyear
Horniman Museum & Gardens
100 London Road, Forest Hill
London SE23 3PQ
https://www.horniman.ac.uk
25 May 2022
Horniman appoints Feilden Fowles as lead architect for Nature + Love
Horniman Museum & Gardens Nature + Love
19 Jan 2019
Horniman Museum & Gardens Master Plan
Horniman appoints Studio Egret West for estate Master Plan
The Horniman Museum and Gardens has appointed Studio Egret West (SEW) as its Master Plan architects, to develop proposals for a series of discrete projects to support the development of the south London attraction's estate and properties.
SEW is a growing practice of international architects, urban designers and landscape architects who have delivered a wide variety of successful framework projects over the last 14 years.
Nick Merriman, Chief Executive for the Horniman, says: 'Studio Egret West stood out for us during the tender process because of their extensive experience, their consultative practice, their enthusiasm for the Horniman as visitors themselves, and their creative yet realistic take on what our future could look like. We're excited to work with them to develop a framework for the Horniman.'
The Master Plan for the estate will be vital in delivering the strategic vision for the future of the Horniman Museum and Gardens, which includes attracting a million visitors a year by 2023, engaging audiences in global issues as London's only museum where nature and culture are seen alongside each other, and more closely matching London's diversity in its audiences.
Horniman Pavilion and Bandstand: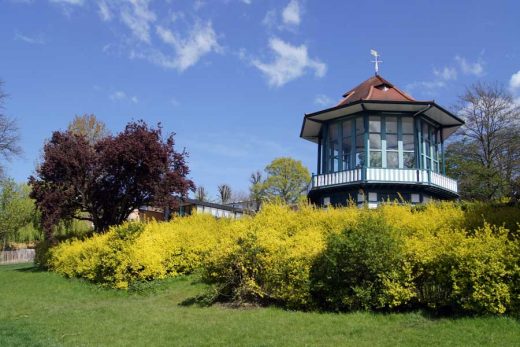 photo : Horniman Museum
Led by Founding Director David West, SEW's team will work in collaboration with specialists from management consultancy Fourth Street, Expedition Engineers who will look at structural engineering and sustainability, and heritage consultant Michael Copeman. SEW have six months to develop their recommendations and hold public consultations, with the results to be presented to the Horniman's Trustees in July 2019.
Horniman Pavilion building: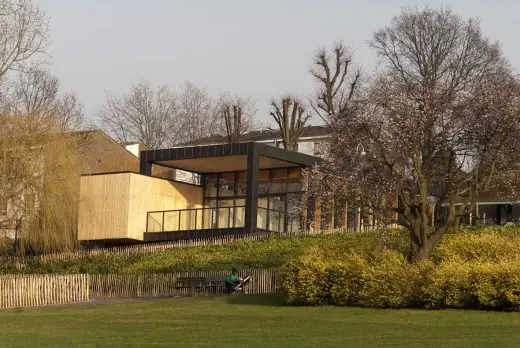 photo : Michael Harding
David West, Founding Director of Studio Egret West, says: 'We are delighted to work with the Horniman, an institution and place that we have much personal affiliation and admiration for. We see so much potential to expand the nature and breadth of the draw of the Horniman Museum and Gardens through carefully considered interventions and programmes within a multi-layered landscape.'
Studio Egret West (SEW) was founded in 2004 and has designed and delivered numerous high quality place making projects through the symbiosis of memorable architecture, strategic urban design and ecology-driven landscape; with the public realm prioritised as the foundation of sustainable communities.
SEW has worked on numerous schemes through the UK and abroad that create a blend of living, learning, working, playing and enterprise. These include: Clapham Library; The Old Vinyl Factory in Hayes; Mayfield in Manchester; New Bermondsey; Millharbour Village in Canary Wharf; Caxton Works in Canning Town; Eastwick and Sweetwater adjacent to the Queen Elizabeth Olympic Park; and the East Croydon Station. egretwest.com
4 Nov 2017
Interactive Installation
'The Imminent Diorama'
13 – 26 Nov 2017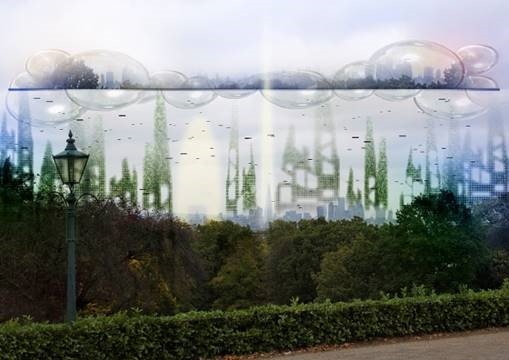 image courtesy of Chloe Nelkin Consulting
The National Trust, the Horniman Museum and Gardens, and Bompas & Parr have announced their winning entries for new interactive installation, 'The Imminent Diorama', which will allow the public to see one of London's finest unprotected views of the city at the Horniman, as it appears now and as it could appear over the next eighty years.
Horniman Museum and Gardens, 100 London Road, Forest Hill, London SE23 3PQ
Monday 13th November – Sunday 26th November 2017
Horniman Museum & Gardens Imminent Diorama Event
28 May 2012
Horniman Museum & Gardens, London
Location: Forest Hill, London, south east England, UK
Horniman Gardens to Re-open after £2.3m Upgrade
Design – clocktower (1901) + bandstand : Charles Harrison Townsend
Design – Gardens Pavilion: Walters and Cohen
Revitalisation of Gardens brings new Display Gardens, a new Pavilion and opens up the spectacular London skyline terrace
On 31 May, the Horniman Museum & Gardens will reopen its 16.5 acre gardens to the public after a major £2.3M redevelopment.
The project, which was masterminded by landscape architects Land Use Consultants, has taken 16 months to complete. It marks an important point in the history of the gardens, which were first opened to the public by Horniman Museum founder Frederick Horniman in 1895. Following decades of piecemeal alterations, funding from the Heritage Lottery Fund and Big Lottery through the Parks for People scheme has allowed all major areas of the Gardens to be improved. The completed project has enabled the layout of the Gardens to be viewed as a whole, revitalised much-loved aspects and strengthened the ties between the Museum's collections and its surroundings.
Horniman Pavilion: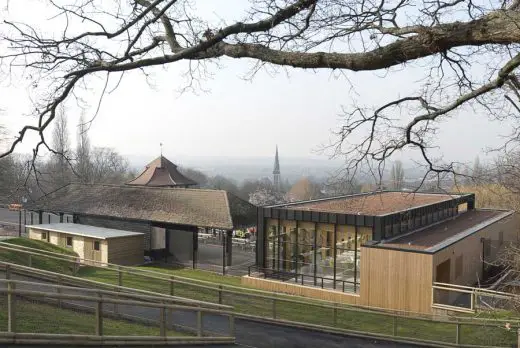 photo : Michael Harding
The most significant new development is the introduction of a Gardens Pavilion designed by Walters and Cohen, which will host school groups, conferences, lectures, and public performances. The contemporary timber building features floor to ceiling windows, a living roof and a spectacular outdoor terrace with views of the London skyline. The building, situated in the heart of the Gardens, will build on the Horniman's educational reputation, giving students close up experience of animals and nature. The Gardens Pavilion is heated by a ground source pump allowing the Horniman to reduce both its carbon footprint and utility costs. The Horniman will develop many more diverse wildlife activities and scientific sessions including pond dipping, fungi walks, mini beasts hunts and landscape painting using the Pavilion and the adjoining nature trail.
Next to the Pavilion, a newly developed Animal Walk will be home to alpacas, goats, sheep, chickens, rabbits and ferrets which will be introduced gradually to the space. Visitors will be able to walk right through the centre of the new area for a close up view of the animals. The Horniman first developed an animal enclosure forty years ago and it has remained one of the most popular parts of the gardens for young visitors, providing a vital connection to the natural world in an urban setting. The new Animal Walk relates to the Museum's Natural History collections, exploring the links between domesticated animals and their wild counterparts. It looks at why people live alongside domesticated animals and how our relationship with animals has changed.
Horniman Pavilion building interior: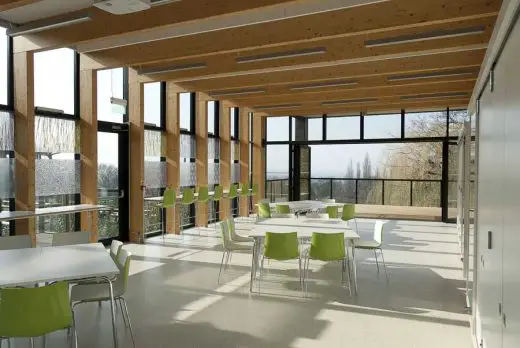 photo : Michael Harding
Across the terrace sits the bandstand, designed by Charles Harrison Townsend, the architect of the Horniman's landmark 1901 clocktower. The bandstand has been given a new lease of life with oak floorboards and the restoration of the original weather vane. The impressive views from the bandstand, which for decades have been masked behind screens, have now been restored, with new glass panels evoking its heyday a century ago and allowing the London skyline to once again become a dramatic, living backdrop to both professional and community music performances.
Alongside the bandstand sits one of the oldest trees in the Gardens, a 300 year old Oak newly revealed by the re-landscaping of the terrace, while opposite sits the Dutch Barn newly restored, with open ended sides as per its original 1895 design, to provide shelter from the elements. The Dutch Barn will also be used as a green room for performers and a picnic space for groups.
Elsewhere, Horniman gardeners and curators have collaborated to redefine the award-winning formal and natural display gardens. Several new gardens have been created to strengthen the links between the interior and the exterior of the Horniman.
The Sound Garden is a brand new musical play area, inspired by instruments from around the world which features a series of immense musical instruments including a xylophone wall, bat pipes, drainpipe drums, and a spiral scraper. The area reflects the Horniman's Music Gallery, which encourages visitors to try out different instruments and experiment with sound and tone.
Sweeping down from the Sound Garden, the Sunken Garden now features a reflection pool surrounded with a palette of plants and flowers used to make dye. Built in 1936 in the Arts and Crafts style, the outer beds are now a showcase for dozens of dye plants grouped according to the colour they produce. In the summer, the central beds will contain species like marigold and dahlia, which produce orange and yellow dye. Inside the Museum are many colourful objects made in many cultures from around the worlds using natural dyes.
The Food Garden celebrates plants from all over the world which thrive in the south London soil and climate and will include tips for growing crops. New labelling traces the international origins of familiar foods, and highlights links to objects in the Museum.
Horniman Museum entrance, 1896: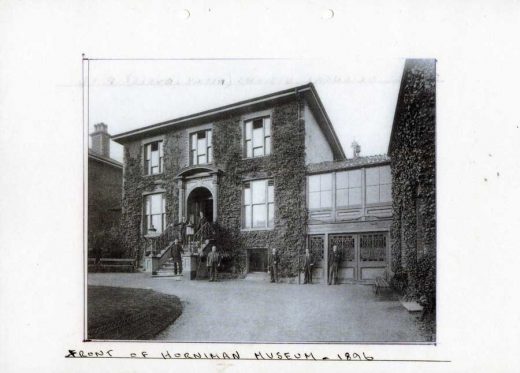 The Materials Garden includes plants used to make a whole range of products, such as the giant reed, whose bamboo-like stems are used to make oboe, clarinet and saxophone reeds; the ornamental Japanese banana, whose stem fibres can be woven into rope, baskets, paper and textiles; and papyrus, used by the ancient Egyptians to make paper. The Garden also features plants used to treat illnesses in different parts of the world, as traditional remedies or in the make-up of modern medicines. Janet Vitmayer CBE, Director of the Horniman Museum and Gardens:
"When the project opens we will be showcasing wonderful new planting displays, many linked to the Museum collections. This is alongside new facilities, including a graceful Pavilion building, a refurbished bandstand, an Animal Walk and a Sound Garden with giant musical instruments.
New activities and events for adults and children are planned and I am delighted that we can offer our public even more ways to explore and enjoy themselves at the Horniman. In 1901 Frederick Horniman formally gave the Museum and Gardens to 'the people in perpetuity' for their 'recreation, instruction and enjoyment'. The Gardens were to be a complement to the Museum and Frederick Horniman requested that the whole gift should be treated as a unity. We feel that with this new project we have truly honoured Horniman's vision and wishes."
Horniman Museum & Gardens – Visitor Information
Horniman Museum & Gardens, 100 London Road, Forest Hill, London, SE23 3PQ
Admission: Free (Aquarium has an admission charge)
Opening hours: 10.30am-5.30pm daily
Further information: www.horniman.ac.uk or 020 8699 1872
Travel: The Horniman is situated on the South Circular Road (A205) in Forest Hill.
It can be reached easily by train to Forest Hill from Highbury and Islington, Whitechapel and Canada Water (on the new London Overground line), London Bridge (13 minutes), London Victoria, Clapham Junction and East Croydon, and by local buses (176, 185, 312, 356, P4 stop outside). There is also limited free parking in surrounding streets.
Access: The Museum and the Gardens are both wheelchair and pushchair friendly with accessible toilets. Limited on-site parking is available for disabled visitors – call 020 8699 1872.
Horniman Museum & Gardens – Background Information
The Horniman Gardens came into being as the result of the philanthropy of tea magnate Frederick Horniman and his son Emslie. In 1868, Frederick bought a villa, Surrey House, on the London Road some 300 yards from Lordship Lane station on the London, Chatham and Dover Railway Line. From opening part of his house as a museum in the 1880's, Horniman was committed to providing access to the local community to his collections of natural, historical and ethnographical artefacts and his gardens as a learning opportunity.
Horniman opened his gardens to the public in 1895 and soon after decided to demolish Surrey House in order to build the Horniman Free Museum. He gave this and the land around his new house, Surrey Mount, some 100 yards further up the hill, to the London County Council in 1901 on two conditions: first that the museum and garden should be free and second that they should be treated as a unity, one supporting the other.
The Horniman Museum opened in 1901 and holds some 350,000 objects. The Horniman has three main collections: Natural History with 250,000 specimens; World Cultures (Anthropology) comprising 80,000 objects and Musical Instruments with over 8,500 instruments. In recognition of their national importance, the Anthropology and Musical Instrument collections have been awarded Designated status.
Horniman Museum & Gardens images / information from The Press Office
Walters & Cohen Architects
23 Jun 2017
Horniman Museum and Gardens' Coombe Cliff Conservatory reopens
Restoration Design Architects: Donald Insall Associates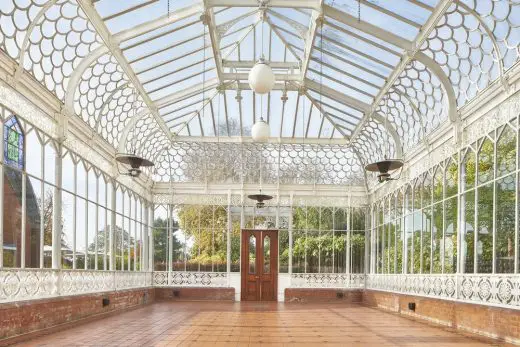 photo © Thomas Erskine
Coombe Cliff Conservatory Restoration, Horniman Museum & Gardens
Location: 100 London Road, Forest Hill, London, SE23 3PQ, England, UK
London Building Designs
Contemporary London Architectural Designs
London Architecture Links – chronological list
London Architecture Walking Tours : walking or bus tours in the capital
Whitechapel Gallery Building, east London
Design: C. Harrison Townsend ; Renewal Design: Robbrecht en Daem with Witherford Watson Mann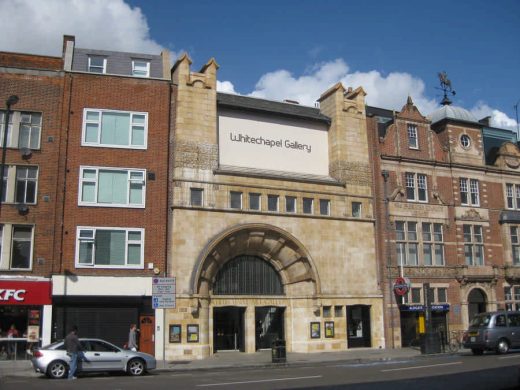 photo © Adrian Welch
Whitechapel Gallery Building
Evelyn Grace Academy, Brixton, south London
Design: Zaha Hadid Architects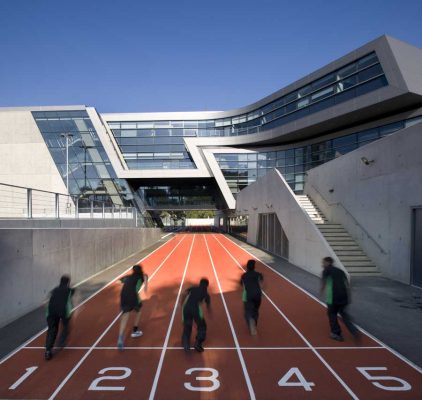 photograph : Luke Hayes
Evelyn Grace Academy
Design Museum, Shad Thames, south London
Design: Conran Roche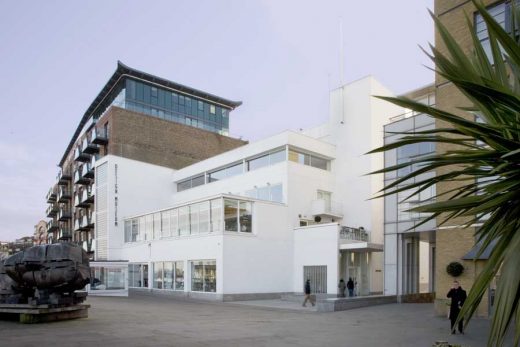 photo © Luke Hayes
Design Museum Building
Comments / photos for the Horniman Museum Building design by Charles Harrison Townsend Architect page welcome.
Website: www.horniman.ac.uk