Shoval Kibbutz Buildings, Negev Desert Architecture, Architects, Israel, Design
Shoval Kibbutz : Buildings
Architecture in the Negev – Israeli Community Design
14 May 2013
Shoval Kibbutz Buildings
founded 1946
Location: northwestern Negev Desert, southern Israel
Kibbutz Buildings in Israel
The key architectural aspect of this kibbutz are the houses by Moshe Safdie from the 1980s, located north of the centre. We ate lunch in the Dining Hall – or Eating Room – then saw a brief presentation on kibbutz designs – before touring the northern parts of the community.
Shoval Kibbutz Dining Hall – exterior – entrance, general view and sunshades


photographs © Adrian Welch
Shoval is a kibbutz in the northern Negev desert in Israel. It is located just west of the Bedouin city of Rahat. The community was founded by Hashomer Hatzair members.
Shoval Kibbutz Dining Hall – interior – mostly used for eating these days ; art class evidence


photographs © Adrian Welch
The kibbutz was founded in 1946 as part of the 11 points operation by a gar'in whose members were of Hashomer Hatzair and immigrants who had survived the Patria disaster. The population of Shoval is about 600 people, 200 of which are kibbutz members. Shoval has two major sources of income; agriculture and plastics manufacturing. Its dairy farm is one of the largest in the area. Shoval kibbutz falls under the jurisdiction of Bnei Shimon Regional Council
Building immediately east of the Shoval Kibbutz Dining Hall:


photographs © Adrian Welch
Shoval has a large area of arable land for growing wheat, barley and potatoes, plus there are several chicken coops on the site itself. A regional high school – Mevo'ot HaNegev – serves pupils of the ages of 12-18 from the kibbutz and the surrounding settlements. The education system in the kibbutz also includes kindergartens. Young students learn in the Nitzanei HaNegev elementary school in Beit Kama.
Kibbutz houses by Moshe Safdie:


photographs © Adrian Welch
The styling is crisp and the landscaping has stood the test of time very well. There are only about ten houses and they are set at the lowest point of the site, north down the hill from the dining hall. The flowing landscape which is so typical of kibbutzes rolls around these homes, but in between are narrow hard-paved areas, with small courtyards. Apparently the courtyards aren't much used at all, with residents preferring to sit in their covered porches.
We didn't manage to get inside a house or speak to a resident, though we were shown round by a resident who lived elsewhere on the kibbutz and he provided some background. Moshe Safdie is best known for his Habitat housing in Montreal (expo 67) but in recent years more associated with major public projects, such as the Holocaust Museum in Jerusalem. The layout and external design of these houses seemed to work well from my point of view but I would be interested to hear opinions of others, such as the residents.
Adrian Welch, e-architect Editor
Modern building adjacent to the dining hall:

Shoval Kibbutz images by e-architect
Adrian Welch – e-architect Editor
Location: Shoval Kibbutz, Israel
Israel Architecture
Contemporary Architecture in Israel
Israeli Architecture Designs – chronological list
Tel Aviv Architecture Walking Tours
Beer-Sheva Architecture
Be'er Sheva Buildings
Be'er Sheva Buildings
BGU University Entrance Square & Art Gallery, southern Israel
Design: Chyutin Architects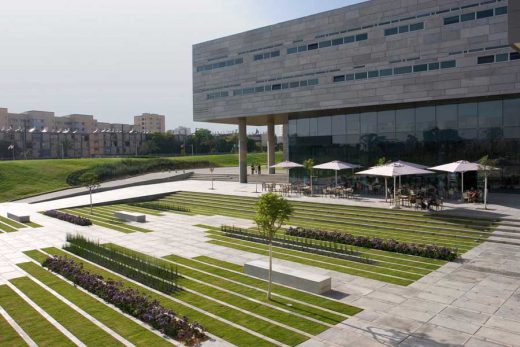 picture from architects
BGU University Art Gallery
University Senate Center Beer-Sheva
Chyutin Architects
University Senate Center Beer-Sheva
Beit Halochem Rehabilitation Center, just southeast of Beer Sheva
Kimmel Eshkolot Architects
Beit Halochem Beer-Sheva
Israel Architecture : news + key projects
Comments / photos for the Shoval Kibbutz page welcome