Rolex Mentor and Protégé Arts Initiative 2014, Architects + Designers News
Rolex Mentor and Protégé Arts Initiative
Architecture + Visual Arts News – Mentoring Artists & Designers
24 Oct 2013
Rolex Mentor and Protégé Arts Initiative News
Rolex Arts Initiative Names Seven Major Artists as Mentors
Olafur Eliasson, Alejandro González Iñárritu, Michael Ondaatje, Alexei Ratmansky, Kaija Saariaho, Jennifer Tipton and Peter Zumthor to mentor promising young artists
Venice, Italy, October 2013 – The Rolex Mentor and Protégé Arts Initiative today announced the seven celebrated 'artists', working around the globe, who will mentor seven young artists in 2014-2015.
Kolumba Diocesan Museum, Germany by Peter Zumthor: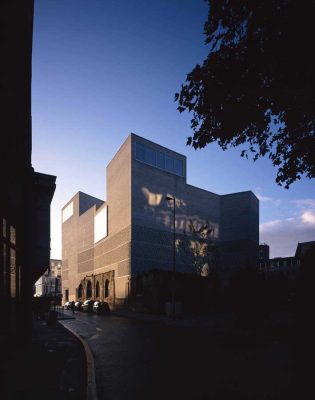 photograph : Hélène Binet
The master artists, who will spend a year in creative collaboration and exchange with an emerging talent in their respective fields, are: Olafur Eliasson (visual arts), Alejandro González Iñárritu (film), Michael Ondaatje (literature), Alexei Ratmansky (dance), Kaija Saariaho (music), Jennifer Tipton (theatre), and Peter Zumthor (architecture).
Harpa, Iceland by Henning Larsen Architects + Olafur Eliasson:


photo Courtesy of Harpa © Hörður Sveinsson
"These artists are all highly respected leaders in their fields," said Rebecca Irvin, head of philanthropy at Rolex. "We are grateful that they have generously offered to nurture a new generation of artists. Over the past 11 years, we have seen remarkable, enduring collaborations and friendships form between mentors and protégés. We look forward to seeing more of this rich creative dialogue."
Peter Zumthor:


photograph : Gerry Ebner
Architecture: Swiss architect Peter Zumthor has gained international renown for his timeless buildings that incorporate his masterful use of materials and light. He was recently commissioned by the Los Angeles County Museum of Art to replace some of the existing structures with a new solar-powered building. In 2009, he won the Pritzker Prize, architecture's highest honour.
Dance: Alexei Ratmansky, currently artist-in-residence at the American Ballet Theatre, is widely recognized as one of the world's most influential and sought-after choreographers. Trained at the Bolshoi Ballet School, his ballets maintain and respect the art form's classical origins, while revitalizing and innovating its storytelling.
Film: Director Alejandro González Iñárritu is acclaimed for his realistic and penetrating films that explore human interaction and connection. His 2006 film Babel, was nominated for seven Academy Awards, including Best Picture and Best Director – the first nomination for a Mexican director.
Literature: Novelist Michael Ondaatje is best known for his lyrical and expressive writing that explores multicultural themes. His novel The English Patient won the Booker Prize in 1992 – the first time a Canadian had ever won.
Music: Finnish composer Kaija Saariaho is known for her brilliant chamber music, orchestral works and operas created by blending traditional acoustic instruments and electronics in sophisticated computer programs. In 2013, she won the Polar Music Award in recognition of her contributions to the field.
Theatre: Jennifer Tipton has revolutionized the role of light in the performing arts, designing for hundreds of theatrical, operatic and dance performances. She has earned numerous prizes in the field, including Obies, Tonys, and the Dorothy and Lillian Gish Prize.
Olafur Eliasson:


photo © Olafur Eliasson
Visual Arts: Danish-Icelandic artist Olafur Eliasson is best known for his large-scale installations and sculptures that employ non-traditional materials such as water and light. In 2003, he represented Denmark at the Venice Biennale.
"These seven new mentors are taking the Rolex programme in exciting new directions," said Irvin. "For the first time, for example, we have a classical composer, Kaija Saariaho, as music mentor; a Latin American director, Alejandro González Iñárritu, as film mentor; a creator of lighting, Jennifer Tipton, as theatre mentor; and Alexei Ratmansky as our first classical ballet choreographer."
The Rolex Arts Initiative has already begun a global search to identify the new protégés. Expert, international nominating panels of influential artists and professionals in each of the disciplines have met to identify and invite young talents to submit applications. Each panel will then recommend three candidates, from whom the mentor will choose his or her protégé. The protégés will be announced in mid-2014 and the mentoring year will begin soon afterwards.
Each mentor will spend at least six weeks, over the course of a year, with his or her protégé. The individual pair will determine the structure, time and place of those meetings. In the past, some protégés have chosen to move to their mentors' cities to allow for more sustained interactions, while others have conducted their relationship by phone and email with regular visits to each other's homes, studios, movie sets or rehearsal rooms. Each protégé receives 25,000 Swiss francs to support his or her participation in the programme. At the conclusion of the mentoring year, each protégé is eligible for an additional 25,000 Swiss francs for the creation of a new work.
The Advisory Board that suggested the 2014-2015 mentors was comprised of: Homi K. Bhabha (India), professor and literary theorist; Jane Campion (New Zealand), film director; Sidi Larbi Cherkaoui (Belgium), choreographer and dancer; Bice Curiger (Switzerland), curator; Zakir Hussain (India), musician; Daniel Libeskind (U.S.), architect; Tom Luddy (U.S.), film producer and film festival director; Peter Mayer (U.S.), publisher; Joseph V. Melillo (U.S.), cultural producer and educator; Mark Morris (U.S.), choreographer; Ben Okri (Nigeria), poet and novelist; Charlotte Rampling, (U.K./France), actor; Esa-Pekka Salonen (Finland), conductor and composer; Gustavo Santaolalla (Argentina), musician and composer; Cindy Sherman (U.S.), visual artist; Do Ho Suh (Korea), visual artist.
The Rolex Mentor and Protégé Arts Initiative is a biennial philanthropic programme created by Rolex to ensure that the world's artistic heritage is passed on from generation to generation, across continents and cultures. Since its launch in 2002, the initiative has built a remarkable artistic community that connects artists around the globe. Some of the world's most distinguished artists have served as mentors.
They are: Margaret Atwood, John Baldessari, Tahar Ben Jelloun, Trisha Brown, (the late) Patrice Chéreau, (the late) Sir Colin Davis, Anne Teresa De Keersmaeker, Brian Eno, Hans Magnus Enzensberger, William Forsythe, Stephen Frears, Gilberto Gil, Sir Peter Hall, David Hockney, Rebecca Horn, Anish Kapoor, William Kentridge, Jiří Kylián, Lin Hwai-min, Toni Morrison, Walter Murch, Mira Nair, Youssou N'Dour, Jessye Norman, Martin Scorsese, Kazuyo Sejima, Peter Sellars, Álvaro Siza, Wole Soyinka, Julie Taymor, Saburo Teshigawara, Kate Valk, Mario Vargas Llosa, Robert Wilson, Zhang Yimou and Pinchas Zukerman.
Further information about the Rolex Arts Initiative is available at rolexmentorprotege.com.
Location: Switzerland
Rolex Learning Center Lausanne
Design: SANAA

photo © Nelson Garrido
Rolex Learning Center Switzerland : main page with images
Rolex Learning Center Building : further information
Photos for the Rolex Mentor and Protégé Arts Initiative page welcome