Olafur Eliasson Designs, Building, Images, Design, Danish Artist, Architecture
Olafur Eliasson Architecture
Architectural Designs + Art – Artist + Designer, Denmark
post updated 29 August 2021
Olafur Eliasson Architecture News
Olafur Eliasson
Olafur Eliasson (b. 1967) studied at the Royal Danish Academy of Fine Arts. He represented Denmark at the 50th Venice Biennale in 2003 and later that year installed The weather project in the Turbine Hall of Tate Modern, London. Take your time: Olafur Eliasson, a survey exhibition organised by San Francisco Museum of Modern Art, travelled to further venues until 2010.

photo © Olafur Eliasson
His solo exhibition Innen Stadt Außen (Inner City Out) opened at Martin‐Gropius‐Bau in 2010, with interventions across Berlin providing a public dimension to the show. Eliasson has engaged in a number of projects in public space, including Green river, carried out in various cities between 1998 and 2001; The Serpentine Gallery Pavilion 2007, designed with the architect Kjetil Thorsen; and The New York City Waterfalls, commissioned by the Public Art Fund in 2008. As professor at Berlin University of the Arts, Eliasson founded the Institut für Raumexperimente (Institute for Spatial Experiments) in 2009.
Olafur Eliasson News
20 Jun 2016
Versailles Waterfall in Paris, France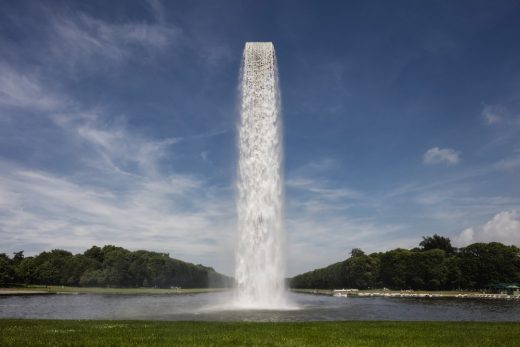 image courtesy of design studio
Versailles Waterfall in Paris
"The Versailles that I have been dreaming up is a place that empowers everyone. It invites visitors to take control of the authorship of their experience instead of simply consuming and being dazzled by the grandeur. It asks them to exercise their senses, to embrace the unexpected, to drift through the gardens, and to feel the landscape take shape through their movement."
24 Oct 2013
Rolex Mentor and Protégé Arts Initiative
Rolex Mentor and Protégé Arts Initiative
Seven celebrated 'artists' who will mentor seven young artists in 2014-15 are announced, including Olafur Eliasson for visual arts.
Danish-Icelandic artist Olafur Eliasson is best known for his large-scale installations and sculptures that employ non-traditional materials such as water and light. In 2003, he represented Denmark at the Venice Biennale.
Latest Architectural Design by Olafur Eliasson
Your rainbow panorama, ARoS, Jutland, Denmark
2011


photo © Ole Hein Pedersen
ARoS building design
Key Architectural Designs by Olafur Eliasson
Harpa – Reykjavik Concert Hall and Conference Centre, Iceland
2011
Harpa Reykjavik Concert Hall facade artwork
Design with Henning Larsen Architects


photos Courtesy of Harpa © Hörður Sveinsson
Harpa's opening celebrations begin May 4, 2011, and run through August 20, 2011 when the building is inaugurated and the façade is illuminated during Reykjavík's Culture Night.
Harpa's façade was designed by renowned artist Olafur Eliasson and Henning Larsen Architects, the building by Henning Larsen Architects and Batteríið Architects, and the performing arts venues acoustics and theater design by Artec Consultants Inc. Harpa is a landmark in the redevelopment of Reykjavík's historic harbour and waterfront area, and a symbol of Iceland's renewed dynamism.

photos Courtesy of Harpa © Hörður Sveinsson
Harpa – Reykjavik Concert Hall – The Façade
The multi-faceted glass façade by this artist in collaboration with the architects is based on a geometric principle, realised in two and three dimensions. Reminiscent of the crystallised basalt columns commonly found in Iceland, the southern façade create kaleidoscopic reflections of the city and the striking surrounding landscape. Natural light is a key element, dramatically altering the transparency, reflectivity, and colours of the facades as the weather and seasons change. The quasi bricks of the south facades contain LED lights in different hues that make Harpa glow long after the sun has set. The brightness and colour of each module can be controlled and adjusted as needed. The assemblage of the façade is already under way and will be completed in late summer 2010.

images © 2007 Portus ehf., Olafur Eliasson, and Henning Larsen Architects
Reykjavik Concert Hall – latest information
Cirkelbroen Copenhagen, Denmark
2009


image : Olafur Eliasson
Cirkelbroen
The internationally acclaimed Danish-Icelandic artist, Olafur Eliasson, has designed a new bridge, Cirkelbroen (the circle bridge) which will create a winding path across Christianshavns Kanal in Copenhagen connecting Christiansbro with Applebys Plads. From 2012, when the bridge is expected to be completed, the city's residents and visitors will be able to run, walk or cycle around Copenhagen's entire inner harbour for the first time.
Olafur Eliasson said: "It is my hope that people will stay on the bridge, use the bridge as a public square. In contrast to the long, straight pier, the winding bridge will reduce speed, turn focus. Rather than offering the fastest possible passage across the canal, the bridge will create small variations in the way we see the city and open for a renegotiation of public space".
Venice Architecture Biennale, Italy
2010
Films of Oliafur Eliasson show in the Arsenale – please note long download times:
Oliafur Eliasson installation 15 MB
Oliafur Eliasson artwork 18 MB
Venice Biennale : 2010 installation by Olafur Eliasson background information
Location: Copenhagen, Denmark, northern Europe
Website: www.olafureliasson.net
Copenhagen Architecture
Contemporary Architecture in the Danish Capital – architectural selection below:
Lynetteholm København – New Copenhagen harbour island
Design: COWI, Arkitema and TREDJE NATUR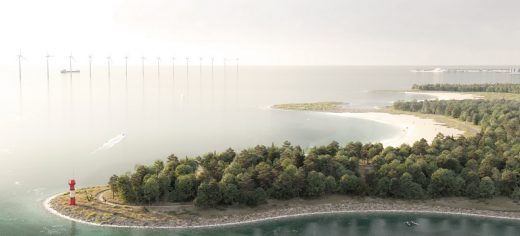 image courtesy of architects practice
Lynetteholm, New Copenhagen harbour island
IZUMI Frederiksberg
Design: PAN- PROJECTS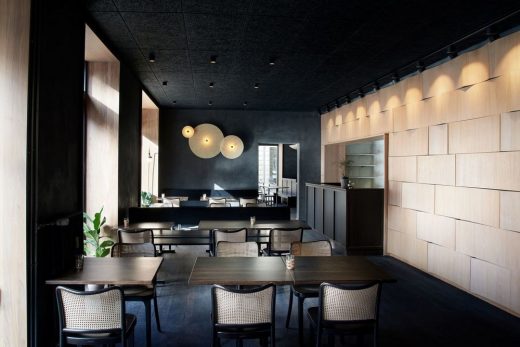 photograph : Yuta Sawamura
IZUMI Frederiksberg
Henning Larsen Architects
Comments / photos for the Olafur Eliasson artist, Denmark page welcome