Budapest walking tours, Hungarian building guides, Hungary architectural walks, City architects visits
Budapest Architecture Tours
Hungarian Architecture Guides – Exclusive City Walks tailor made for groups visiting Eastern Europe by e-architect.
post updated 1 October 2023
Book your tailored city guide on isabelle(at)e-architect.com
Budapest Architecture Tour: Exclusive Guided Walks
e-architect have architectural tour guides in most of the key cities across the continent.
Our Budapest guided tours are all tailored to suit each booking we do not allow for bookings to be joined. Our guided tours in Budapest are all exclusive to each client.
See the stunning new Museum of Ethnography building design by NAPUR Architect: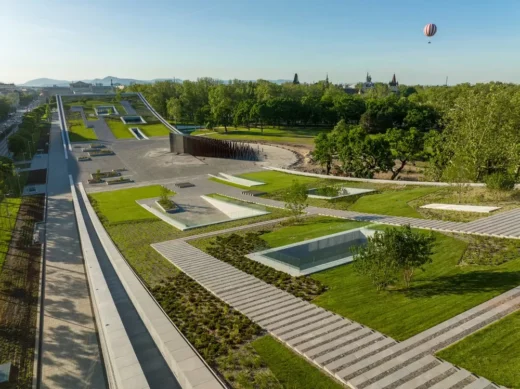 photo © György Palkó
Budapest Architectural Tours
Budapest Architecture – Introduction
Budapest is the capital of Hungary and with about 1.7 million inhabitants. The city straddles the river Danube and is the largest in East-Central Europe and the seventh largest in the European Union. It is the biggest city in Hungary. Budapest became a single city in 1873 when west-bank Buda and Óbuda unified with east-bank Pest.
Paris Court Budapest – building renovation by KROKI and architecture studio ARCHIKON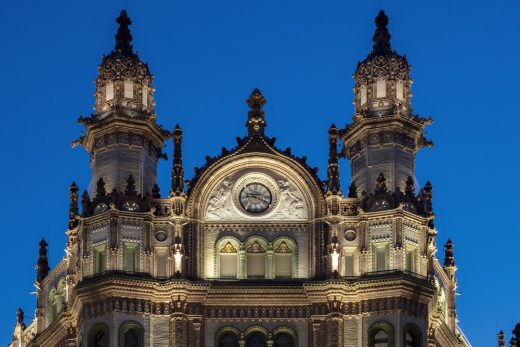 photo : Tamás Bujnovszky
Key historical buildings include the Aquincum museum and ruin garden, Buda Castle, Castle Vajdahunyad, Fishermen's bastion, Former Institute of Ballett (Dreschler Palace). Also worth visiting is the fascinating historical Citadel on the Gellért Hill.
Magyar Autóklub – Hungarian Autoklub Headquarters: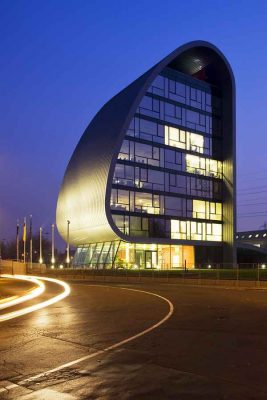 photograph © Tamás Bujnovszky
Other interesting architecture to see includes the Gresham Palace, House of Terror Museum, Hungarian National Museum, Keleti Railway Station, Museum of Ethnography, Museum of Fine Arts and Hungarian National Gallery. There is also some interesting architecture in Városliget, Budapest's oldest public park.
The Duna Arena in Budapest – recently renewed: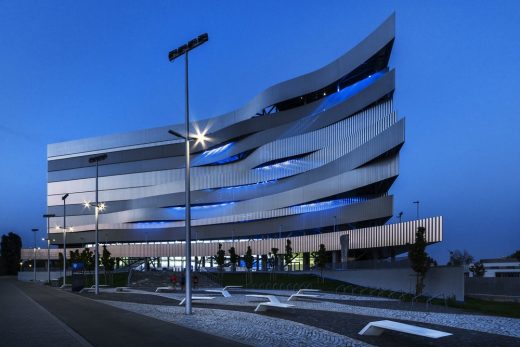 photo © Tamás Bujnovszky
Important contemporary Budapest buildings include ING Headquarters Budapest designed by Erick van Egeraat (a major international architecture office based in The Netherlands), UNIQA Budapest designed by Ferdinand and Ferdinand Architects and the Deák Palota building refurbished by architect Erick van Egeraat.
Budapest M4 Metro Station Buildings designed by Palatium Studio, architects: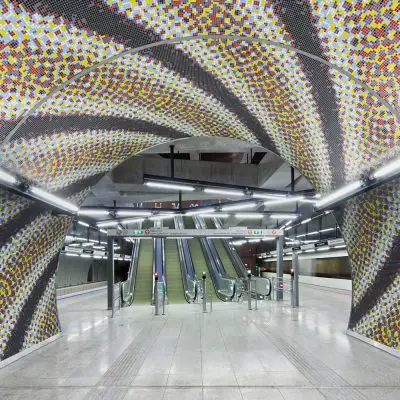 photo © Tamás Bujnovszky
Budapest Walking Tours
Budapest Architectural Tours can be based around your group's preference, The guide can give an overview of the most interesting buildings, or just the key contemporary architecture in the Hungarian capital. Our architecture tour guides can focus on specific building types such as office designs or retail interiors.
New Budapest Architecture : key contemporary buildings in this Hungarian city
Budapest Walking Tours
Contact e-architect for your Hungarian architectural tour: isabelle(at)e-architect.com / mob. +44 (0)7952 149814
Payments must be made in full prior to the architectural tour. To recap, these city walks are for groups only and always need booked in advance. We have a long experience in arranging such walks, stretching right back to the year 2000.
Market Headquarters in Budapest by Schön Architects, Lead architect: Sandor Duzs/ArkTOON: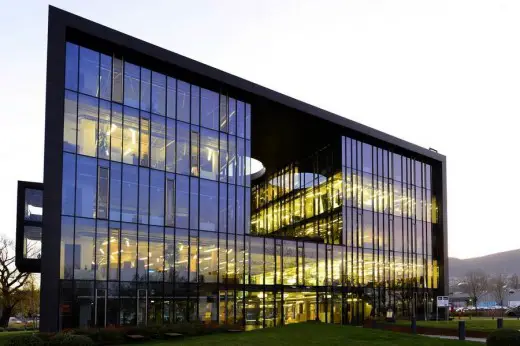 Architecture Walking Tour References – see 11 Jul 2013 for a review from a Budapest visit.
Architecture Tours
e-architect also organise architecture walking tours in other Eastern European cities close by such as Prague (Czech Republic), Bratislava (Slovakia) and Belgrade (Serbia): Architecture Walking Tours
Central European Building Tours
Selection of tailored Central European Architectural Tours offered by e-architect:
Prague Architectural Walking Tours, Czech Republic
Vienna Architecture Walking Tours, Austria
Bratislava Architecture Tours, Slovakia
Hungarian Autoklub Headquarters Budapest Building design by Vikár & Lukács Architects Studio: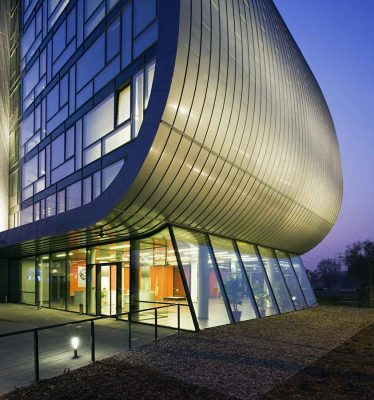 photo © Tamás Bujnovszky
This intriguing design project won an architectural competition for a new iconic headquarter of the Hungarian Autoklub. The main gesture of the building is a ribbon that wraps around the office spaces on seven floors, while articulating a letter 'a'.
Hungarian Buildings
Some further tips for structures to see in this city: Budapest City Hall Building design by the celebrated Dutch architects practice, winners of an international architecture competition ; Hungarian Autoklub Headquarter from 2011, an unusual a-shaped building on a site near the Danube bridge ; finally the UNIQA Budapest, a nine-storey Budapest building, the head office for UNIQA, with 40% of usable floor space let out, in District XIII and named the Vital Business Centre.
Hungarian Building Designs – a recent selection from the e-architect website:
Museum of Ethnography, Liget, building design by NAPUR Architect: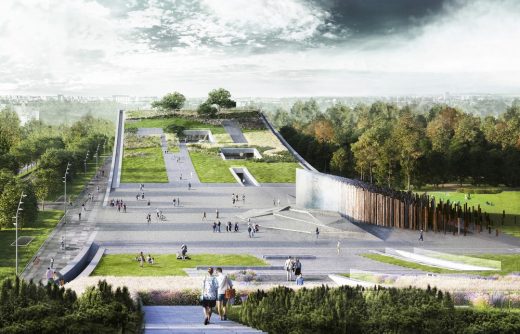 picture : AXION Visual
Museum of Ethnography in Liget Budapest
The multiple award-winning new museum building is part of Europe's largest urban-cultural development. The City Park (Városliget) is not an entirely unknown venue for the Museum of Ethnography, since it was here in 1896, at the National Millennium Exhibition.
New Budapest Bridge, design by celebrated international architectural office UNStudio, from The Netherlands:


rendering : AV-Render.com
New Budapest Bridge
In 2017 the Municipal Government of Budapest announced an international architectural design competition to find the design for a much needed new bridge over the Danube in the post-industrial southern area of Budapest. The design proposal by UNStudio with Buro Happold Engineering was recently announced as the outright winner of the competition.
Paris Court in Brudern House, historic Ferenciek Square building renewal design by KROKI and architecture studio ARCHIKON: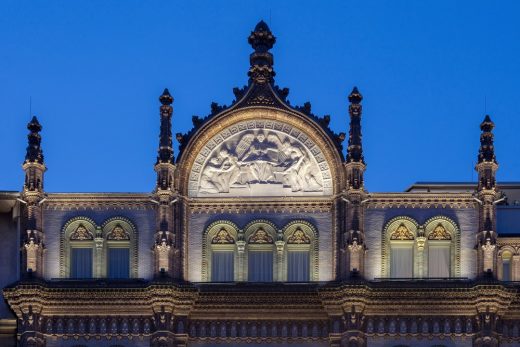 photograph : Tamás Bujnovszky
Paris Court in Brudern House
One of the most ornamented buildings in Europe. A popular location in spy films, the historical building has been renovated, recreating the once-glamourous setting of Budapest's iconic architectural gem.
The Duna Arena building designed by NAPUR Architect Ltd: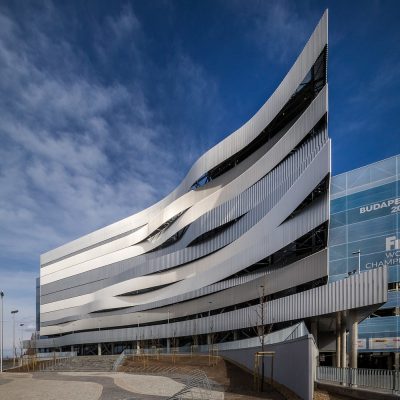 photograph : Tamás Bujnovszky
The Duna Arena
The restoration and modernization of Hungarian swimming pools, including The Duna Arena, as well as expanding the existing pool facilities is a long-standing demand of athletes and the part of the general public devoted to swimming.
Comments / photos for the Budapest Building Tours – Hungary Architecture Guides by e-architect – tailored city walks for ground by prior booking only page welcome