RIBA Awards for International Excellence 2018 Buildings Shortlist, Global Architecture Projects
2018 RIBA Awards for International Excellence
Royal Institute of British Architects: News – Architectural Information
10 May 2018
2018 RIBA Awards for International Excellence News
RIBA reveals the 20 best new buildings in the world and announces the RIBA International Emerging Architect
The Royal Institute of British Architects (RIBA) announces the winners of the RIBA Awards for International Excellence and the 2018 RIBA International Emerging Architect
The 20 new buildings have been selected from entries to the world's most prestigious award for architecture, the RIBA International Prize 2018
The winner of the second RIBA International Prize will be announced in November 2018
The RIBA Awards for International Excellence 2018 have been awarded to 20 exceptional new buildings in 16 countries, ranging from large urban infrastructure schemes to private homes; cultural destinations to civic spaces; educational buildings to places of worship.
Gustavo Utrabo and Pedro Duschenes, founders of Brazilian architecture firm Aleph Zero, are the recipients of the RIBA International Emerging Architect 2018. Their project, the Children Village in Formoso do Araguaia, Brazil, designed with Rosenbaum, is one of the 20 winners announced today.
The Children Village provides boarding accommodation for 540 senior school children at the Canuanã School. Run and funded by the Bradesco Foundation, it is one of forty schools providing education for disadvantaged local children and is the first of their projects to use design to improve the quality of education.
Aleph Zero operates in a range of areas, from the design of furniture, exhibitions, residential and commercial architecture, to urban-scale projects for both public and private sector clients. Constructed in prefabricated and reforested wood, Children Village is a powerful demonstration to the community of the importance of using of natural resources in a rational and sustainable way.
Speaking about the RIBA Awards for International Excellence 2018, RIBA President Ben Derbyshire said: "The RIBA Awards for International Excellence 2018 are a testament to the breadth and quality of architecture being created around the world. These 20 outstanding projects were selected for their architectural ambition, design ingenuity and excellence of execution.
Importantly, they demonstrate the significant and far-reaching contribution that architecture makes to our daily lives. These qualities are exemplified in the inspiring project Children Village by Aleph Zero, who we are delighted to announce as RIBA International Emerging Architect 2018."
Speaking about the RIBA International Emerging Architect 2018, Julia Barfield, Chair of the RIBA Awards Group, said: "It's always a pleasure to be able to recognise and reward emerging talent. We were impressed by the way the architects embraced the question of how architecture can stimulate its users, as well as the surrounding community, in a region rich in natural resources but poor in opportunities, education and economic resources. Aleph Zero are philosophical, reflectful and thoughtful architects who are reinterpreting the Brazilian vernacular using the abundant natural resources that surround the site in an innovative way which inherently promotes both economic and environmental sustainability."
The 20 winning projects announced today form the longlist for the RIBA International Prize 2018; the shortlist of four buildings will be announced in September 2018 and the winner will be revealed in November 2018.
The RIBA International Prize 2018 will be awarded to the most significant and inspirational building of the year. The winning project will exemplify design excellence, architectural ambition and deliver meaningful social impact. The RIBA International Prize is open to any qualified architect in the world.
RIBA Awards for International Excellence 2018
Audain Art Museum by Patkau Architects in Whistler, BC, Canada
Cultural
A beautifully crafted art gallery conceived as a bridge supported on a series of blocks. Using the site and climate constraints to inform the design, the Audain Art Museum exploits its beautiful forest setting.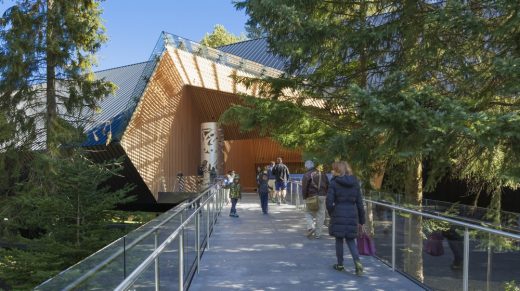 photo © James Dow
Audain Art Museum
BBVA Bancomer Tower by LegoRogers (Rogers Stirk Harbour + Partners and Legorreta + Legorreta), UK and Mexico in Mexico City, Mexico
Corporate
A bespoke headquarters for an international bank. The BBVA Bancomer Tower demonstrates an elegant response to a complicated site, both in terms of its urbanism and its solution to the complexities of tall buildings.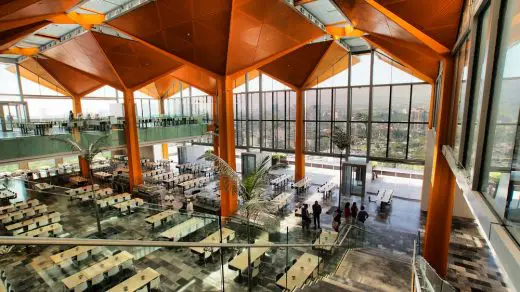 photo © Dolores Robles-Martinez
BBVA Bancomer Tower
Buendner Kunstmuseum Chur by Barozzi Veiga, Spain in Chur, Switzerland
Cultural
A competition-winning scheme from 2011 to extend an art gallery housed in a Palladian 18th-century villa (the Villa Planta), the Buendner Kunstmuseum Chur is an elegant, minimal edifice in the centre of the city.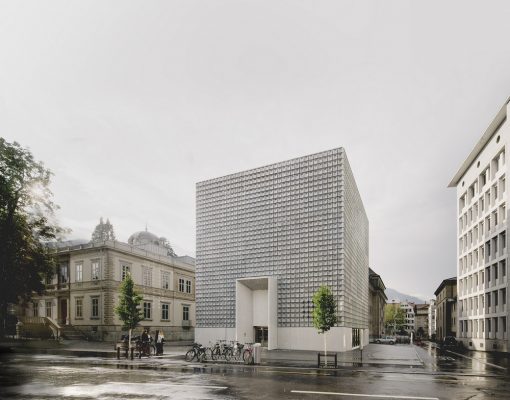 photo © Simon Menges
Captain Kelly's Cottage by John Wardle Architects, Australia in Tasmania, Australia
Residential
A new insertion for a 19th-century residence on an exposed cliff edge on Bruny Island, Tasmania. The finished dwelling offers offers a contemporary interpretation of the original vernacular.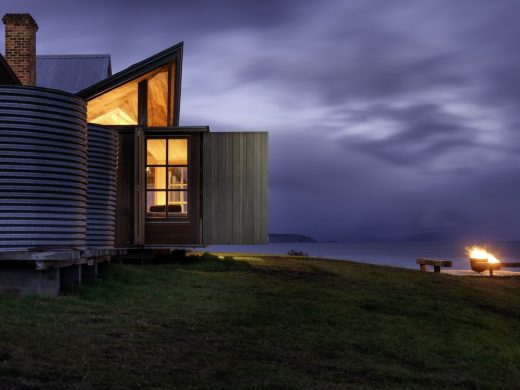 photo © Trevor Mein
Central European University – Phase 1 by O'Donnell + Tuomey, Ireland in Budapest, Hungary
Educational
A part-new, part-refurbished university campus connecting two of four buildings on the site. The design diagram draws upon Budapest's vernacular and sits neatly within the city's sensitive historical context to skilfully knit together several buildings in an internal sequence of spaces and routes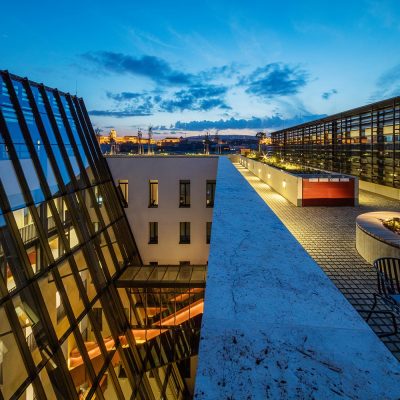 photo © Tamás Bujnovszky
Children Village by *Rosenbaum + Aleph Zero, Brazil in Formoso do Araguaia – Tocantins, Brazil
Educational
An isolated collection of buildings that serve as boarding accommodation for 540 senior school children at the Canuanã School. The charm and peace of Children Village conceals an immersive architectural process of understanding and applying vernacular techniques and materials, which has created an idyllic and home like environment for its young residents.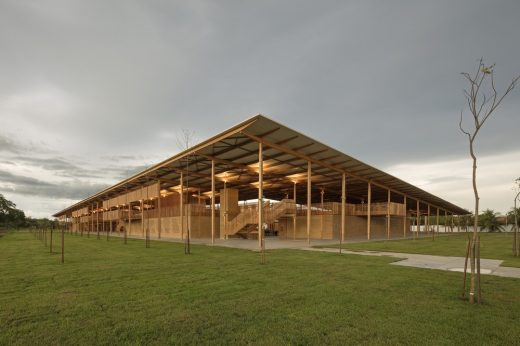 photo © Leonardo Finotti
Lanka Learning Center by feat.collective, Germany and India in Eastern Province, Sri Lanka
Educational
A striking pentangular assembly of buildings creating a 'safe haven' for learning and aligned around a generous and highly flexible courtyard. The Lanka Learning Centre is one of a series of post tsunami and post conflict low-cost facilities funded by donations, that provide opportunity, education and safety to their students.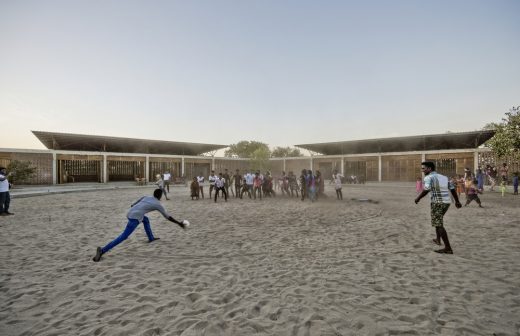 photo © feat.collective
M4 Metro Line Budapest FŐMTERV-PALATIUMUVATERV Consortium with Budapesti Építőművészet Műhely, Gelesz és Lenzsér, Puhl és Dajka, sporaarchitects, VPI Studio, Hungary
Budapest, Hungary
Civic
A new ten station underground line using the 'top-down' method of construction, the M4 Metro Line in Budapest is remarkable partly for its technical achievements, partly for its participatory qualities – the architects who won the brief shared it with their runners up – but mostly for the sheer joy and diversity of the completed stations which offer delight and efficiency in equal measure.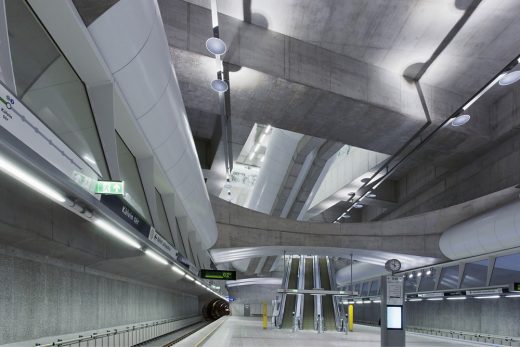 photo © Tamás Bujnovszky
Mount Herzl Memorial Hall by Kimmel Eshkolot Architects in collaboration with Kalush Chechick architects, Israel in Israel
Civic
A memorial situated at the entrance to Israel's National Cemetery. The Mount Herzl Memorial Hall is comprised of a terraced hill; a correspondingly terraced sunken entrance court; and large cave-like interior centred upon an undulating light-flooded chamber, creating a calming and peaceful atmosphere.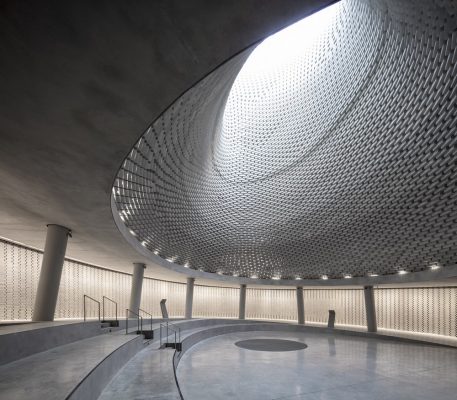 photo © Amit Geron
Musee d'arts de Nantes by Stanton Williams, UK in Nantes, France
Cultural
An elegant and beautifully proportioned alteration and major extension for Nante's Musee d'Arts. The gentle and restrained weaving of old and new within the 1900 Beaux Arts Palais creates a highly coherent and refined facility of real intelligence and craft.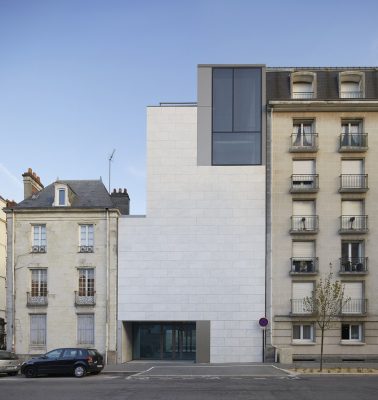 photo © Nick Hufton
Museum Voorlinden by Kraaijvanger Architects, Netherlands in Wassenaar, Netherlands
Cultural
A new 7,000m² museum for contemporary art, sitting within the grounds of an early twentieth century, 'Dutch Arts & Crafts' countryhouse. The roof/screen is the raison d'etre of the design; 115,000 aluminium pipes, all angled away from direct sun, allow an even daylight cascade into the gallery spaces below.


photo © Ronald Tilleman
Sancaklar Mosque by EAA-Emre Arolat Architecture, Turkey in Istanbul, Turkey
Religious
A privately funded mosque built on the outskirts of Istanbul. The Sancaklar Mosque is an uplifting reimagining of a mosque, featuring an unorthodox, contemporary design, and an interior layout which reconceptualises liturgical conventions.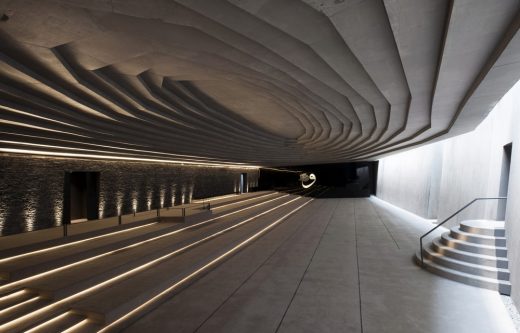 photo © Thomas Mayer
Stavros Niarchos Foundation Cultural Center by Renzo Piano Building Workshop & Betaplan, Italy and Greece in
Athens, Greece
Cultural
Gifted by the Stavros Niarchos Foundation, this project combines the new National Opera House, National Library and park. The diagram of the scheme is formal and dramatic, somewhat related to the nearby Acropolis, with the park rising up over the buildings to provide a summit surmounted by a distinctive floating roof – a new landmark in Athens.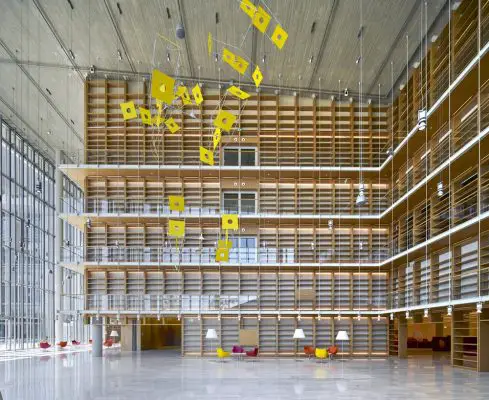 photo © Michel Denancé
Stavros Niarchos Foundation Cultural Center
Studio Dwelling at Rajagiriya by Palinda Kannangara Architects, Sri Lanka in Colombo, Sri Lanka
Residential
A architect's studio and dwelling located on a quiet waterside site in Colombo. Built over four floors, the Studio Dwelling at Rajagiriya is organised on a simple grid with numerous idetails and events combining to to create an ingenious, crafted 'box'.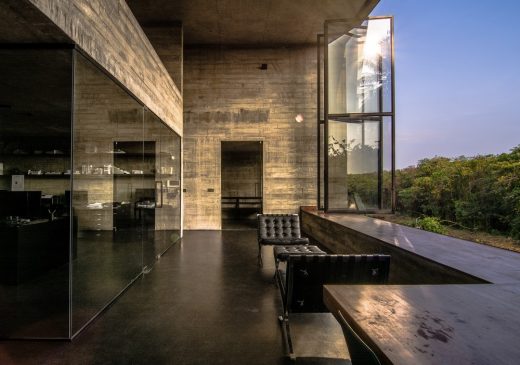 photo © Mahesh Mendis
Tatsumi Apartment House by Hiroyuki Ito Architects, Japan in Tokyo, Japan
Residential
A minimal residence in Japan, the Tatsumi Apartment House is a direct resposne to the needs of a fast paced and dynamic population. There is a compelling logic to the use of a limited amount of space that resolves difficulties and creates comfort and calm.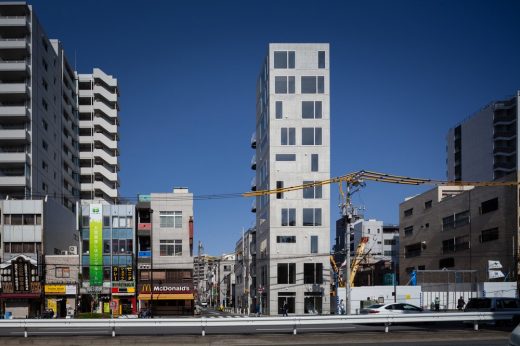 photo © Makoto Yhoshida
The Ancient Church of Vilanova de la Barca by AleaOlea architecture & landscape, Spain in Vilanova de la Barca / Lleida, Spain
Cultural
A 13th-century parish church – partially damaged during the Spanish Civil War – that has been repaired, reconstructed and brought back to life as a much valued community facility for social and cultural use. The sensitive handling of the original building and the creation of a new shell to incorporate a flexible space demonstrates a real craft and care steeped in understanding.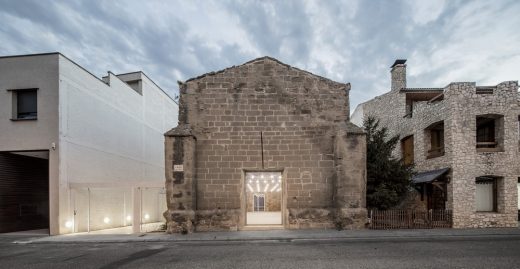 photo © Adrià Goula
Toho Gakuen School of Music by NIKKEN SEKKEI, Japan in Tokyo, Japan
Educational
This virtuoso piece of architecture has an august almost village like quality with its independent teaching spaces, clever accouustic treatments and neat communal spaces. It adroitly allows for flexibility, adaptation and improvisation by its students whilst retaining an order and formality.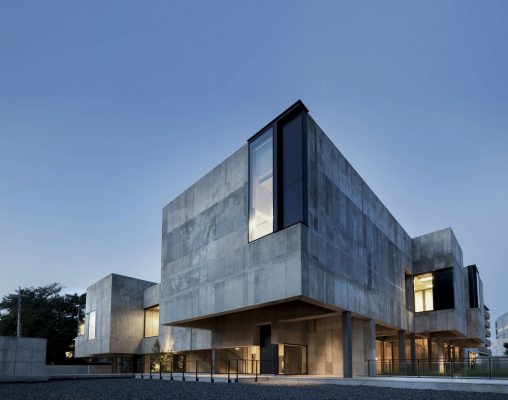 photo © Harunori Noda
University of Amsterdam by Allford Hall Monaghan Morris, UK in Amsterdam, Netherlands
Educational
Two somewhat ordinary buildings have been stripped out, re-purposed and weaved back into the centre of Amsterdam with purpose and conviction. Spanning the canal, the University is both bold and at times restrained, creating new views and routes within and around it.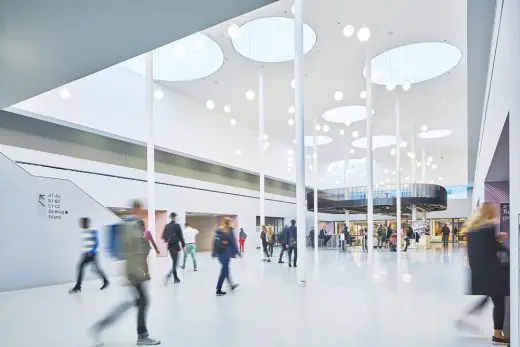 photo © Tim Soar
Vertical Forest by Boeri Studio (Stefano Boeri, Gianandrea Barreca, Giovanni La Varra), Italy in Milan, Italy
Residential
Combining biodiversity with bustling urban life and creating its own micro-climate in the process, Bosco Verticale deals with density and air quality and in doing so creates an architectural botany that is both compelling and striking.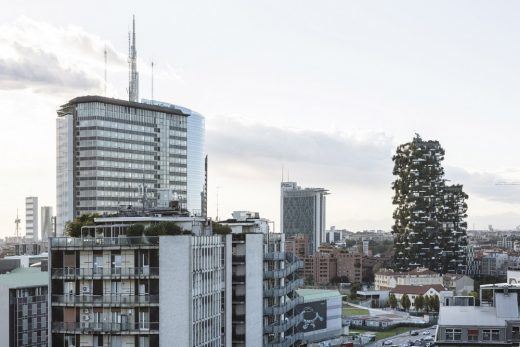 photo © Giovanni Nardi
Xiao Jing Wan University by Foster + Partners, UK in Shenzhen, China
Educational
At 55,000m² this vast campus draws heavily upon the local building material – brick – and does so ingeniously, not only in the way it has been used, but in the effect it generates. Its warmth and character combine to create an overall impression of great style and composure.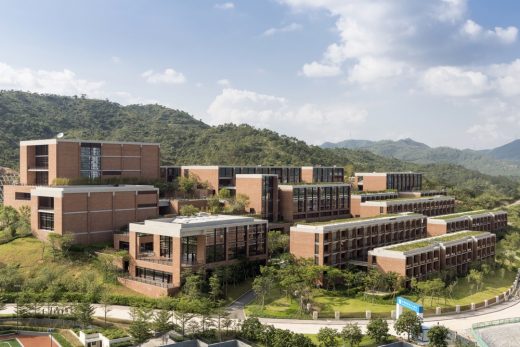 photo © Giovanni Nardi
RIBA Awards for International Excellence 2018 images / information received 100518
RIBA Awards Winners
RIBA Awards Winning Buildings + Architects
RIBA Awards
English Architecture Designs – chronological list
RIBA National Awards Winners in 2018
RIBA West Midlands Awards Winners 2018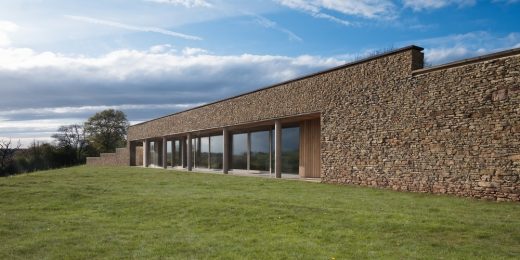 photo © Lisa Lodwig
RIBA Southeast Awards Winners 2018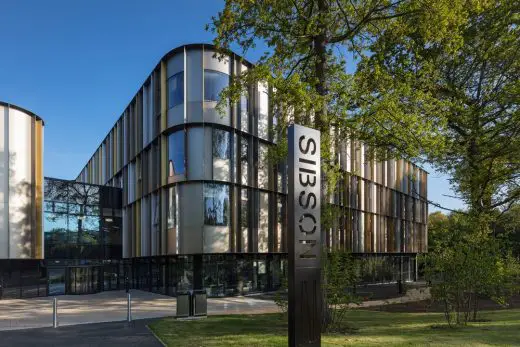 photo © Quintin Lake
RIBA National Awards Shortlists in 2018
Arranged by region, alphabetical:
RIBA East Awards Shortlist 2018
RIBA London Awards Shortlist 2018
RIBA Northeast Awards Shortlist 2018
RIBA Northwest Awards Shortlist 2018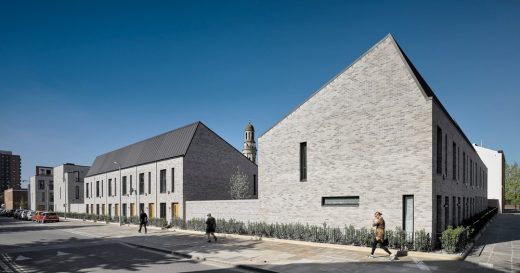 photo © Daniel Hopkinson
RIBA South Awards Shortlist 2018
RIBA Yorkshire Awards Shortlist in 2018
RIBA Awards
RIBA Special Awards Shortlist – Client of the Year award + Stephen Lawrence Prize
RIBA International Awards : Winners


photo : Patrick Bingham-Hall
RIBA Awards – Previous Winners
RIBA Awards 2011


photograph © Tim Soar
RIBA Award Winner 2009 – Scottish winners
RIBA Awards 2008 – winners online
RIBA Awards Scotland 2008
RIAS Award for Architecture – Best Building in Scotland
Comments / photos for the RIBA Awards for International Excellence 2018 – Architecture Prize page welcome