Lubetkin Prize Winner 2013, RIBA Architecture, Buildings Shortlist News
RIBA Lubetkin Prize Winners
Winner + Shortlist – Royal Institute of British Architects Awards
26 Sep 2013
Lubetkin Prize Winner in 2013
Lubetkin Prize Winner for 2013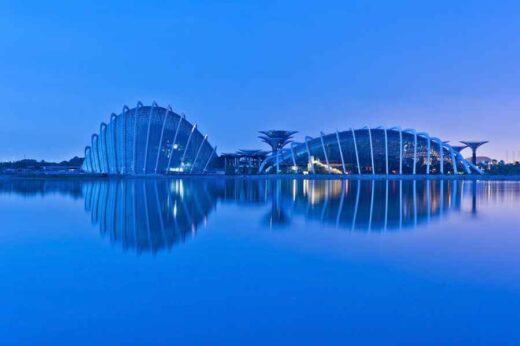 photo © Tan Yew Siong
Cooled Conservatories, Gardens by the Bay, Singapore by Wilkinson Eyre
Lubetkin Prize 2013
Lubetkin Prize Shortlist in 2013
The best new international buildings – RIBA Lubetkin Prize shortlist announced
18 July 2013 – The shortlist for the prestigious 2013 RIBA Lubetkin Prize for the best international building has been announced today (Thursday 18 July). Three exceptional projects – two in Southeast Asia and one in the USA – will be considered for the prize presented by the Royal Institute of British Architects' (RIBA).
The 2013 RIBA Lubetkin Prize shortlist features Via Verde – The Greenway, a highly sustainable and affordable housing development in New York City; Gardens by the Bay by last year's RIBA Lubetkin prize-winning architects, Wilkinson Eyre, which creates 2 hectares of indoor gardens in Singapore within the world's biggest climate-controlled greenhouses; and Zaha Hadid's Galaxy Soho a beautiful new shopping and office complex rising from a new lower-ground public space in central Beijing.
The full shortlist for the 2013 RIBA Lubetkin Prize is:
Cooled Conservatories, Gardens by the Bay, Singapore by Wilkinson Eyre – winner

photo © Craig Sheppard
The biggest climate-controlled greenhouses in the world create an enormous new indoor garden for Singapore This carbon-positive scheme comprises two hectares under glass within a new 54 hectare garden, pushing the boundaries both structurally and environmentally. This is an outstanding example of sustainability in action.
Galaxy Soho, Beijing, China by Zaha Hadid Architects

image : Hufton and Crow
Dynamic new commercial centre that rises from a lower-ground public space in central Beijing. This scheme is civic as much as it is commercial, with well-detailed seating and fountains – yet it also more than pays its way, being fully let before completion. The light and airy public spaces are truly innovative in a sprawling, dense urban context – cities in the West could learn much from this project.
Via Verde – The Green Way, Bronx, New York City by Dattner Architects and Grimshaw

photograph : David Sundberg_Esto
Highly sustainable and affordable new homes, the result of the city's first social housing design competition. With allotments on its roofs tended by residents, and the use of stairs not lifts, this fine scheme shows that good architecture can make us fitter! This project could be the blueprint for New York's future housing.
The winner of the RIBA Lubetkin Prize will be announced on the evening of Thursday 26 September by the RIBA in London.
Speaking today, Angela Brady, RIBA President, said:
'The 2013 RIBA Lubetkin Prize shortlist features three exceptionally innovative projects that meet three very different urban challenges. From the blueprint for New York affordable housing and the creation of an impressive new shopping district in central Beijing to Singapore's new sustainable gardens, these are all extremely clever solutions. These cutting-edge schemes show the leading role that architects play in delivering visionary new thinking about urban issues, and illustrate why UK creative talent has such recognition around the world.'
The jury selecting the shortlist was RIBA President-Elect Stephen Hodder, Alison Brooks, Meredith Bowles, Peter Clegg (visiting jury), Tony Chapman (visiting jury).
13 Oct 2012
Lubetkin Prize Winner
Lubetkin Prize Winner in 2012
Guangzhou International Finance Centre, Guangzhou, China
Wilkinson Eyre Architects


photo © Jonathan Leijonhufvud
Guangzhou International Finance Centre
The slender crystalline form of the Guangzhou International Finance Center is both elegant and clean. Each of the three façades of the curved triangular plan are also gently curved in section, set out asymmetrically with the widest point at a third of the height, tapering to its narrowest point at the top. The building's aerodynamic form reduces the impact of wind at height, thereby reducing the necessary size and weight of the structure.
27 Jul 2012
Award Shortlist 2012
The 2012 RIBA Lubetkin prize winner will be announced at the RIBA Stirling Prize Dinner on Saturday 13 October at Manchester Central.
Lubetkin Prize Shortlist 2012
Guangzhou International Finance Centre, Guangzhou, China
Wilkinson Eyre Architects


photo © Christian Richters
Guangzhou International Finance Centre
for Guangzhou Yuexiu City Construction
One KL, Kuala Lumpur, Malaysia
SCDA Architects
for Waterfront Group
Solaris, Singapore
TR Hamzah and Yeang in collaboration with CPG consultants


photo : Albert Lim
Solaris Singapore
for Soilbuild Group Holdings
Sperone Westwater, New York, USA
Foster + Partners


image : Foster + Partners
Sperone Westwater Gallery
for Sperone Westwater
The award is named in honour of the Georgia-born architect, who worked in Paris before coming to London in the 1930s to establish the influential Tecton Group.
Lubetkin Prize 2011
The 2011 winner was The Met, Bangkok by WOHA
To enter for this prize, the architect must be an RIBA member building outside the EU.
It is awarded to the most outstanding building and is chosen from winners of RIBA International Awards| following visits by a jury of architects.
14 Jul 2009
Award Winner 2009
Bird's Nest – National Stadium, Beijing, China
Arup, Herzog & De Meuron Architekten AG, China Architecture Design & Research Group


photo © Arup_Ben McMillan
Birds Nest Building
Location: UK
RIBA Lubetkin Prize, UK
The prize is named after the world-renowned architect Berthold Lubetkin (1901-1990). Lubetkin's daughter Sasha presented the winning architects with a unique cast bronze plaque, based loosely on her father's design for the Penguin Pool at London Zoo, commissioned by the RIBA and designed and made by the artist Petr Weigl.
The RIBA welcomes Cosentino as sponsor of the reception at which they will launch their new product, ECO. The RIBA also thanks UKTI, partner for the reception.
Winner 2008
Casa Kike, Costa Rica
Design: HGianni Botsford
Winner 2007
Southern Cross Station Expansion, Melbourne, Australia
Design: HGrimshaw with Daryl Jackson Architects
Comments / photos for the RIBA Lubetkin Prize – Winner + Shortlisted Buildings + Architects page welcome