Reißeck Top Terminal Contest, Austrian Building Competition, Design News, Images
Reißeck Top Terminal
Austria Design Competition, Kärnten, Österreich design by Zechner & Zechner
9 May 2011
Reißeck-Höhenbahn
Zechner & Zechner win the Reißeck Top Terminal Competition
English text (scroll down for German):
VERBUND Tourismus GmbH is planning the construction of a new mountain restaurant at 2250m above sea level. The same building is also to house the top terminal for the Reißeck incline railway, as well as information and display areas. The Viennese architects, Zechner & Zechner, have been chosen for the project, from among a field of international competitors.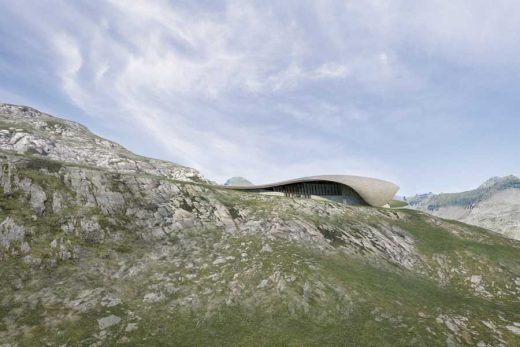 images from Zechner & Zechner
The new top terminal has been interpreted as constructed landscape, which has developed naturally from the topography. The curving lower part of the station follows the contours of the surrounding landscape, and these are accentuated by their stone materiality.
The roof encroaches on the building like a protective overhang of snow. Despite avoiding the usual visual language of alpine construction, this solution has produced a sensitive response to this unique location, and one which also captures the the client's wish to present themselves as an ecological energy producer.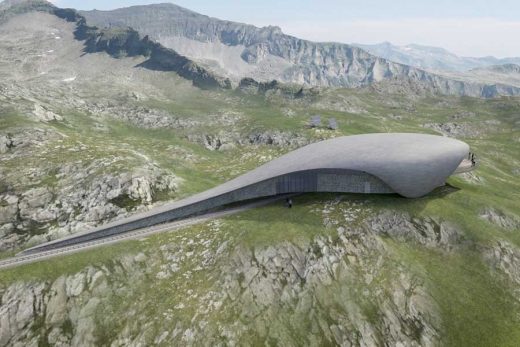 Arrival on the mountain is heralded by a sequence of different rooms. The ground floor, which is integrated into the slope and is closed to the outside world, is reminiscent of caves and tunnels, which intensifies the feeling of freedom when you emerge, or enter the restaurant, with its open design.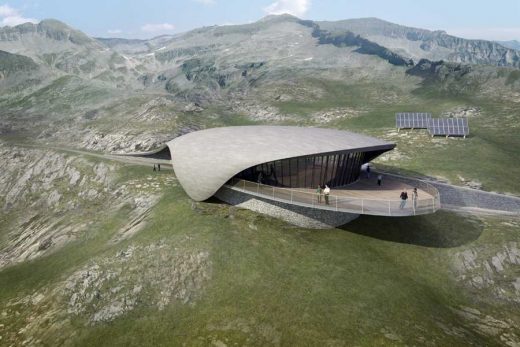 The exposed conditions at this site require a high proportion of prefabrication, as well as an optimum size of building element for transport and assembly. The selection of wood as the main construction material will allow a good balance between these constraints.
Heating and hot water will primarily be provided by solar thermal collectors, which will allow solar energy to provide a large proportion of the building's power.
German text:
Zechner & Zechner gewinnen Wettbewerb Bergstation Reißeck
Die VERBUND Tourismus GmbH plant am Reißeck die Neuerrichtung eines Bergrestaurants in 2250m Seehöhe. Im Gebäude sollen weiters die Bergstation der Reißeck Höhenbahn sowie ein Info- und Ausstellungsbereich untergebracht werden.
Das Architekturbüro Zechner & Zechner aus Wien konnte den internationalen geladenen Wettbewerb für sich entscheiden.
Die neue Bergstation wird als gebaute Landschaft interpretiert, die sich natürlich aus der Topographie heraus entwickelt.
Der Sockel der Station folgt in seinem Schwung den Höhenschichtenlinien des Geländes und unterstreicht dies auch in seiner steinernen Materialität. Das Dach greift wie eine schützende Schneewechte über das Gebäude.
Trotz Verzicht auf den typischen Formenkanon des alpinen Bauens geling durch diese Strategie eine sensible Antwort auf den besonderen Ort, die auch dem Selbstverständnis des Bauherrn als ökologischen Energieproduzenten entspricht.
Die Ankunft am Berg wird durch eine Sequenz von unterschiedlich ausgeprägten Räumen inszeniert. Während das in den Hang integrierte und zum Außenraum abgeschlossene Erdgeschoss Assoziationen zu Höhlen und Tunnels weckt, verstärkt es den Kontrast beim Austritt ins Freie oder ins offen gestaltete Restaurant.
Die exponierte Lage bedingt einen hohen Vorfertigungsgrad sowie eine entsprechende Dimensionierung der Bauteile in Hinblick auf ihren Transport und Montage. Holz als wesentlicher Baustoff ermöglicht es diesen Bedingungen gut zu entsprechen.
Heizung und Warmwasserbereitung erfolgt größtenteils durch thermische Solarkollektoren, wodurch ein hoher Anteil des Energiebedarfs durch Sonnenenergie abgedeckt wird.
Reißeck-Höhenbahn Top Terminal Competition images / information from Zechner & Zechner ZT GmbH
Zechner & Zechner Architects
Location: Reißeck, Austria, central Europe
Austrian Alpine Buildings
Crown Resort Montafon
ATP Architekten und Ingenieure


image from architect
Crown Resort Montafon
Bergisel Ski Jump, Innsbruck, Tyrol
Zaha Hadid Architects


image : Hélène Binet
Bergisel Ski Jump
Alpine Resort Fieberbrunn
ATP Architekten und Ingenieure


photo © Engelhardt/Sellin Architekturfotografie – www.engelhardt-sellin.de
Alpine Resort Fieberbrunn
Austrian Buildings by Zechner & Zechner
ÖBB Corporate Headquarters


image from architect
ÖBB Headquarters
ÖBB Service Centre


photo from architect
ÖBB Service Centre Vienna
Comments / photos for the Reißeck Top Terminal Competition design by Zechner & Zechner page welcome