Steven Holl Architects New York, Building, USA Practice News, America, Projects
Steven Holl Architects Practice News
Contemporary American Architecture Studio
post updated Apr 13, 2021
Steven Holl News
Jan 8, 2014
City in a City: a Decade of Urban Thinking by Steven Holl Architects
Exhibition opening at the MAK Center for Art and Architecture – Schindler House in Los Angeles on January 29, 2014
Sliced Porosity Block in Chengdu: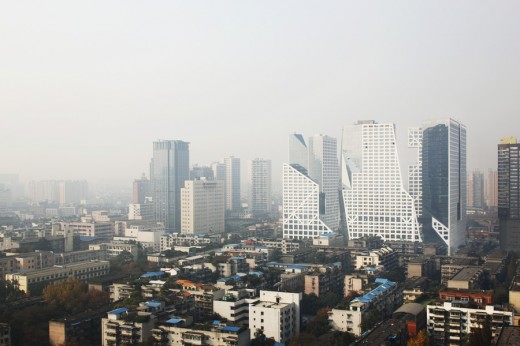 The MAK Center for Art and Architecture at the Schindler House in Los Angeles presents City in a City: a Decade of Urban Thinking by Steven Holl Architects. The exhibition opens with a reception and panel discussion on Wednesday, January 29, and Steven Holl will give a public lecture on Thursday evening, January 30. The exhibition runs through March 9, 2014. https://www.stevenholl.com/
This new exhibition of the work of Steven Holl Architects presents six urban projects in China, designed with particular focus on shaping public space, natural green strategies, hybrid programs, structure and light. Included are three built works: Linked Hybrid in Beijing, Vanke Center/Horizontal Skyscraper in Shenzhen, and Sliced Porosity Block in Chengdu, as well as three yet to be built works: Porosity Plan in Dongguan, Eco-City in Tianjin, and the Qingdao Culture and Art Center. Concept watercolors of each building will be on view along with project models and construction documents. Also featured are short videos of the built works. The exhibition is arranged chronologically from 2002-2013 through the rooms of the Schindler House, making physical the journey through a decade of thinking.
As the office has taken on work of increasing complexity in China, embracing that which could dominate us—the city, infrastructure and overpopulation—has been an important part of the Holl design process. The projects featured in this exhibition offer a study of contrasting and nested scales that acknowledge the city-dweller's ever-morphing perception from micro to macro and back again.
RELATED PROGRAMMING
Wednesday, January 29, 7-9 PM
Opening reception, with panel discussion from 7:30-8:15 PM featuring contributing authors of the new book Urban Hopes: Made in China (Lars Müller, 2013). The discussion will be moderated by Christoph a. Kumpusch. Panelists include Kathy Battista, Kimberli Meyer, Mark Morris, Ryan J. Simons, Anthony Titus and Hrag Vartanian.
Thursday, January 30, 7:30 PM:
Steven Holl will give a lecture in the courtyard of the Schindler House.
Both events are free and open to the public.
For further information, the public may visit MAKCenter.org or call (323) 651-1510.
The MAK Center for Art and Architecture at the Schindler House is located at 835 North Kings Road in West Hollywood. Public hours are Wednesday through Sunday, 11 AM-6 PM. Regular admission is $7/$17 with the guidebook, Schindler By MAK; students and seniors, $6/$16 with book; free for Friends of the MAK Center and on Fridays, 4-6 PM. Parking is available at the public structure at the northeast corner of Kings Road and Santa Monica Boulevard.
Steven Holl Architects Installation, Milan, Italy
4 Apr 2013 – Steven Holl Architects opens INVERSION as part of INTERNI's Hybrid Architecture on April 9 in Milan.
On April 9, Steven Holl Architects will open the installation INVERSION, presented as part of INTERNI Magazine's Hybrid Architecture exhibition event, organized on occasion of the FuoriSalone 2013 in Milan. Steven Holl will lecture in the Aula Magna of the Università degli Studi di Milano at 10am.

images from Steven Holl Architects
INVERSION, shown in the Cortile 700 of the Università degli Studi di Milano, features six void-cut limestone blocks, which frame a sheet of water. The 21 million year old limestone comes from a quarry in Lecce, Italy.
The process, beginning with a 5"x7" watercolor sketch in New York City, which is transformed into a 3D file and then sent to Lecce, required no working drawings.

images from Steven Holl Architects
Measuring 1.2 meters tall and weighing 2500 lbs, each of the six stone blocks is digitally cut with a five-axis CNC mill by the Lecce stone fabricator Pimar. The forms are carved rectangular stone blocks, and the direct reversal as solids.
In the evening they glow like stone lanterns powered with flexible high-powered LED strip tubes provided by iGuzzini lighting company. The stones hover and reflect in a sheet of water with a misting system created by Teuco Guzzini.
As part of the exhibition events, Steven Holl will lecture in the Aula Magna of the Università degli Studi di Milano on April 9 at 10am.
The Architectural League Hosts Steven Holl Lecture at The Cooper Union
Nov 28 2012


image from Steven Holl Architects
Steven Holl will lecture in the Great Hall at The Cooper Union on November 28 at 7:00pm. Hosted by The Architectural League, "Time Light" is dedicated to Lebbeus Woods and will show both early and recent works by Steven Holl Architects. Following the lecture, Steven Holl will be joined in conversation by Sanford Kwinter.
The lecture is co-sponsored by The Irwin S. Chanin School of Architecture of The Cooper Union.
28 Feb 2012
SHA Books News
ARTBOOK @ MoMa PS1 presents
Lars Müller in conversation with Steven Holl
Sunday 4th March, 3-4:30pm at MoMA PS1
Join ARTBOOK @ MoMA PS1 for the launch of NY-based architect Steven Holl's newest books published by Lars Müller. These two luminaries of architecture and design will engage in a conversation about their respective projects as well as the collaborative publishing process. Following the discussion, Holl will sign his two new publications, Steven Holl: Color Light Time and Steven Holl: Scale.
Steven Holl: Color Light Time


photograph from Steven Holl Architects
Steven Holl: Scale


photograph from Steven Holl Architects
Switzerland-based publisher Lars Müller began his career as a graphic designer and has been a partner of Integral Concept, an interdisciplinary design group, since 1996. He started publishing books on typography, design, art, photography, and architecture in 1982 and has since published more than 300 titles. A passionate educator, Müller has taught at various universities in Europe and has been a guest lecturer at Harvard's Graduate School of Design since 2009.
Lars Müller:


photograph from Steven Holl Architects
Considered one of America's most important architects, Steven Holl is recognized for his ability to blend space and light with great contextual sensitivity and to utilize the unique qualities of each project to create a concept-driven design. Holl has been recognized with architecture's most prestigious awards and prizes, and he is a tenured professor at Columbia University's Graduate School of Architecture, Planning, and Preservation. He has lectured and exhibited widely and has published numerous texts including, most recently, Urbanisms: Working with Doubt (Princeton Architectural Press, 2009) and Hamsun Holl Hamarøy (Lars Müller, 2010).
Steven Holl: Scale
$55.00
Steven Holl: Color, Light, Time
$55.00
12 Dec 2011
AIA Gold Medal
Steven Holl Named 2012 AIA Gold Medal Winner
In recognition of his contributions to architecture in both theory and practice Steven Holl has been named the 2012 AIA Gold Medal Winner. The AIA Gold Medal, voted on annually, is considered to be the profession's highest honor that an individual can receive. Steven Holl will be honored at the 2012 AIA National Convention in Washington, D.C.
"What, in my view, especially commends him as a candidate for the Gold Medal," said Harry Cobb, FAIA, founder of Pei Cobb Freed, "is his brilliantly demonstrated capacity to join his refined design sensibility to a rigorously exploratory theoretical project."
Steven Holl, architect:


photograph © Mark Heitoff
Steven Holl stated, "I am grateful, I am still beginning and I consider this award shared with all my collaborators. I feel this award is a positive advocacy to make theoretical explorations and experimental works. I was on the way to my final review at Columbia University when I received the call from Washington D.C. and felt it connected to my teaching and efforts toward education. I remember John Hejduk's statement that teaching is a social contract, and I remain committed to teaching."
The AIA highlighted Steven Holl's "humanist approach to formal experimentation" and his ability to "tackle the urban-scale planning and development conundrums that define success in the built environment throughout the world."
Steven Holl leads Steven Holl Architects with partner Chris McVoy. With each project the firm explores new ways to integrate an organizing idea with the programmatic and functional essence of a building. Rather than imposing a style upon different sites and climates, or pursued irrespective of program, the unique character of a program and a site becomes the starting point for an architectural idea. While anchoring each work in its specific site and circumstance, Steven Holl Architects endeavors to obtain a deeper beginning in the experience of time, space, light and materials.
The phenomena of the space of a room, the sunlight entering through a window, and the color and reflection of materials on a wall and floor all have integral relationships. The materials of architecture communicate through resonance and dissonance, just as instruments in musical composition, producing thought and sense-provoking qualities in the experience of a place. Extending this approach with ecological innovation Steven Holl Architects is recognized for the ability to shape space and light with great contextual sensitivity and to catalyze the unique qualities of each project to create a concept-driven design at multiple scales, from minimal dwellings, to university and museum works, to new hybrid models of urbanism.
"Steven not only improves the built environment, he improves the field of architecture by constantly moving us forward," said Olson Kundig Architects' Tom Kundig, FAIA.
Steven Holl is the 68th AIA Gold Medalist, an award that has previously gone to such prominent architects as Frank Lloyd Wright (1949), Le Corbusier (1961), Louis Kahn (1971), I.M. Pei (1979), and Fumihiko Maki (2011).
American Institute of Architects Gold Medal – AIA 2011 Gold Medal winner
Steven Holl Architects New York and Beijing
Founded in New York in 1976, Steven Holl Architects is an innovative 45-person architecture and urban design firm working globally as one office from two locations: New York City and Beijing. Steven Holl leads the office with partner Chris McVoy, who joined the office in 1993 and was named partner in 2000. Steven Holl Architects has realized architectural works nationally and overseas, with extensive experience in the arts (including museum, gallery and exhibition design), campus and educational facilities, and residential work. The firm has been internationally recognized with architecture's most prestigious awards for quality and excellence in design, and the work has been widely published and exhibited. Most recently completed is the Cité de l'Océan et du Surf with Solange Fabião (Biarritz, France), which opened in June 2011; and the Nanjing Museum of Art and Architecture opens in May 2012.
1 Dec 2011
Steven Holl – New Publication : Horizontal Skyscraper
Steven Holl Architects Presents New Publication : Horizontal Skyscraper
Steven Holl Architects and William Stout Architectural Books are pleased to announce the release of a new book, Horizontal Skyscraper. Richly illustrated with photographs, drawings, and watercolors, the book documents the design and construction of the Horizontal Skyscraper – Vanke Center, which opened in Shenzhen, China in 2009. Horizontal Skyscraper includes texts by Steven Holl, Lebbeus Woods, Yehuda Safran, and Li Hu. William Stout Books will host a book signing event for Steven Holl on December 20th from 5pm to 7pm at 804 Montgomery Street in San Francisco.
Vanke Center Building, Shenzhen, China
Design: Steven Holl Architects, CCDI – China Construction Design International


image from architect
The Horizontal Skyscraper is an innovative example of a large-scale, hybrid use building, which combines living working, cultural and commercial programs while also creating a large public tropical garden. The building hovers above the landscape, freeing it for public use and for a unique scheme of ecosystem restoration. With over 45,000 of the 60,000 square meter site planted and the addition of the building's green roof, the total planted area of the project is roughly equal to the site before development. A conference center, spa and parking are located under the large public landscape. By lifting the building off the ground, the project is both a building and a landscape, a delicate intertwining of sophisticated engineering and the natural environment.
"The Vanke Center is a surreal hybrid—part building, part landscape, part infrastructure," wrote Nicolai Ouroussoff. "It demonstrates what can happen when talented architects are allowed to practice their craft uninhibited by creative restrictions."
Suspended on eight cores, as far as 50 meters apart, the Horizontal Skyscraper's structure is a combination of cable-stay bridge technology merged with a high-strength concrete frame. The first structure of its type, it has tension cables carrying a record load of 3280 tons.
The project employs some of the most forward-thinking sustainable design strategies. It utilizes greywater recycling, rain water harvesting, green roofs, dynamically controlled operable louvers, and high-performing glass. 1400 square meter of photovoltaic panels installed on the roof of the building provide 12.5 percent of the total electric energy demand for Vanke Headquarters. Renewable materials are used throughout the Vanke Headquarters for doors, floors, and furniture.
Steven Holl : main page
Steven Holl – Building News 2010
3 Sep
Steven Holl Receives the 2010 Jencks Award
Steven Holl has been awarded the 2010 Jencks Award: Visions Built at the Royal Institute of British Architects (RIBA): Jencks Award
Urbanisms


picture from architect
Urbanisms Exhibition in Hangzhou : 7 Projects in China by Steven Holl Architects
V&A at Dundee
Studio shortlisted for V&A at Dundee
Steven Holl Architects Receives Two AIA New York Honor Awards
Steven Holl Architects Receives Two AIA New York Honor Awards
Steven Holl Architects Wins Two "Good Design Is Good Business" China Awards
New York City, February 9, 2010 – Steven Holl Architects has received "Good Design Is Good Business" Awards for Linked Hybrid in Beijing and the Horizontal Skyscraper / Vanke Center in Shenzhen. The architecture awards, administered by Architectural Record and McGraw-Hill Construction, recognize a total of 17 buildings in six categories.
Linked Hybrid, won a Best Residential Project Award for "breaking with the usual developer formula of gated communities." The Jury stated, "this complex…invites the entire city to enjoy its public spaces both indoors and out." The project was named Best Tall Building Overall by the Council on Tall Buildings and Urban Habitat (CTBUH).
The Horizontal Skyscraper/Vanke Center in Shenzhen was named "Best Green Project." The Jury celebrated its "sustainable design and construction." The Horizontal Skyscraper is also one of the first LEED platinum rated buildings in Southern China.
Winning projects will be recognized at the Awards Ceremony on March 12 in Shanghai.
Horizontal Skyscraper Book information from Steven Holl Architects 011211
3 Awards at AIA NY Awards – Steven Holl Architects
The three buildings in detail
Linked Hybrid : mixed-use Beijing project


photo : Courtesy Steven Holl Architects, photograph © Shu He
Nelson-Atkins Museum of Art – Bloch building, Kansas City, USA


image : Andy Ryan
Department of Philosophy at NYU interior design, New York


photo Courtesy Steven Holl Architects
SHA Wins Three Awards at AIA NY 2008 Awards
21 Mar 2008
New York City, March 19 2007 – Steven Holl Architects has been awarded three awards for the 2008 Design and Building Type Awards from the American Institute of Architects (AIA) New York Chapter.
The Nelson-Atkins Museum of Art in Kansas City, completed in June 2007, won the Architecture Honor Award for being 'unique and exemplary in its originality'. Previously the addition to The Nelson-Atkins Museum has been honored with several other prestigious awards including the 2008 AIA Institute Honor Award, the New Built Award by LEAF London, the AIA Central States Award for Excellence in Architecture, the AIA Kansas Honor Award for Excellence in Architecture and five AIA Kansas City Awards for Craftsmanship.
For the first time this year, the AIA New York Chapter has established an additional set of awards to recognize quality and advancement in the specialized design fields of Educational Facility Design, Sustainable Design and Urban Design, collectively known as 'The Building Type Awards.' Steven Holl Architects won awards in the first two categories. The NYU Department of Philosophy in New York (completed in September 2007) was awarded in the Educational Facility Design Category, and the Linked Hybrid in Beijing (expected to be completed this year) won a prize for its Sustainable Design.
Steven Holl states: 'We are delighted to see that two of the themes that are most important to our designs of the past decades, sustainability and inspirational architecture for education, have been recognized by the AIA New York Chapter for their quality and creativity.'
The 30,000 square feet interior design for the Department of Philosophy at NYU in an 1890 building at 3-5 Washington Place is organized around a concept of the phenomenal properties of light and materials. A new porous stair, changing its direction slightly at each floor, vertically connects the six-level building through shifting light and shadow and is designed to encourage social interaction.
For the Linked Hybrid, an urban space of eight towers that are linked at the twentieth floor by a ring of public facilities, Steven Holl Architects aims at the highest standards for sustainable design. The pedestrian-oriented combination of public and private space encourages the use of shared resource es and reduces the need for wasteful modes of transit. It is an urban oasis, proving that peaceful, green spaces can exist in an exploding metropolis such as Beijing. An estimated 220,000 liters of gray water from all apartment units will be recycled each day and reused for landscape and green roof irrigation, toilet flushing, and rebalancing pond water. Linked Hybrid's ground source heat pump system, one of the largest in residential construction, is its most groundbreaking innovation. Shouldering 70% of the complex's yearly heating and cooling load, the system is comprised of 660 geothermal wells, 100 meters below the basement foundation.
The winning projects from both the Design Awards and the Building Type Awards will be recognized at the annual Design Awards Luncheon on Wednesday, April 30th. All work will be exhibited at the Center for Architecture, 536 LaGuardia Place. The Design Awards Exhibition runs from Thursday, May 1st through July 2008.
American Institute of Architects New York Awards : info from SGLA 21 Mar 2008
Location: New York City, NY, USA
New York City Architecture Practice Information
Architect studio based in New York, USA
Comment on a recent Steven Holl building
The Simmons Hall building took a regular grid and punctured it with organic voids that added dynamism both to the interiors and to the facade. Colour is a key element in the aesthetic too. For me it reminds me of the postmodern Miami slab block building by Architectonic (?) which punctured slots – rectilinear though – in the regular facade fenestration grid and even included a palm tree in the largest void.
Key Buildings by Steven Holl Architects
Designs, alphabetical:
Bellevue Art Museum, Bellevue, Washington, USA
1997
Berkowitz-Odgis House, Martha's Vineyard, Rhode Island, USA
1984-88
Chapel of St Ignatius in Seattle, Washington, USA
1995-97
College of Architecture and Landscape Architecture – Addition, Minneapolis, USA
1996
Cranbrook Institute of Science, Bloomfield Hills, Michigan, USA
–
D. E. Shaw & Co. Office Building, New York
1992
Fukuoka Housing – Nexus World Kashii : Void Space/Hinged Space, Fukuoka
1989-91
GIADA Shop, New York
1987
Higgins Hall School of Architecture, Brooklyn, New York
1997
Implosion Villa, The Hague, Netherlands
1992
Kiasma Contemporary Art Museum, Helsinki, Finland
1993-98
Loisium Hotel, Langenlois, Austria
2003-05
with Irene Ott-Reinisch + Franz Sam Architects
Medien-Hafen Buildings, Düsseldorf, Germany
–
Frank Gehry, Steven Holl, Ingenhoven Overdiek, Claude Vasconi, David Chipperfield Architects; buildings coming soon by JSK, Jo Coenen, Fumihiko Maki
Nelson Atkins Museum of Art – Extension, Kansas, Missouri, USA
2002-07
Offices, Düsseldorf-Hamm, Germany
1997
Planar House – Cottle Residence, Paradise Valley, Arizona, USA
–
Pool house & sculpture studio, Scarsdale, USA
1980-81
Pratt Institute Higgins Hall – addition, Brooklyn, New York
2006
Residential Complex, Makuhari
1992-96
Sarphatistraat Offices – Housing Corporation Het Oosten, Amsterdam, Netherlands
1996-99
Showroom Pace Collection, New York, USA
1985-86
Simmons Hall – undergraduate residence, MIT, Boston, USA
2000-03
Storefront for Art and Architecture, New York
1992-93
Stretto House, Dallas, USA
1990-92
Turbulence House, New Mexico, USA
–
Y House, Catskill Mountains
1997
Steven Holl Project
Museum of Modern Art: Extension
New York
1997
MoMA
SHA New York buildings in more detail
Storefront for Art and Architecture
–
1996
Steven Holl, Architects designed with Vito Acconci
Pratt Institute Architecture School – Extension: Higgins Hall
–
2005
Design: Steven Holl Architects with Rogers Marvel Architects
new building inserted between two 19th Century buildings
22,500 sqft
More Steven Holl projects online soon
Key SHA Design outside USA
Recent Projects include Cité du Surf et de l'Océan, Biarritz, France
Steven Holl – contributions to Tom Kundig Houses
Major Award
Steven Holl Architects : Swiss Embassy + University of Iowa School of Art & Art History – RIBA Awards 2007 – RIBA International Award
European Hotel Design Award – Loisium Hotel & Spa
Buildings / photos for the Steven Holl Architecture page welcome