Schmidt Hammer Lassen Architects, Building images, Danish studio news, SHL Denmark designs
schmidt hammer lassen architects – SHL
Perkins+Will Danish Design Studio – architecture offices in Copenhagen & Aarhus
post updated 5 November 2023
schmidt hammer lassen architects News
SHL News
5 November 2023
Manchester Metropolitan University Library, Manchester, north west England, UK
Design: Hawkins\Brown + Schmidt Hammer Lassen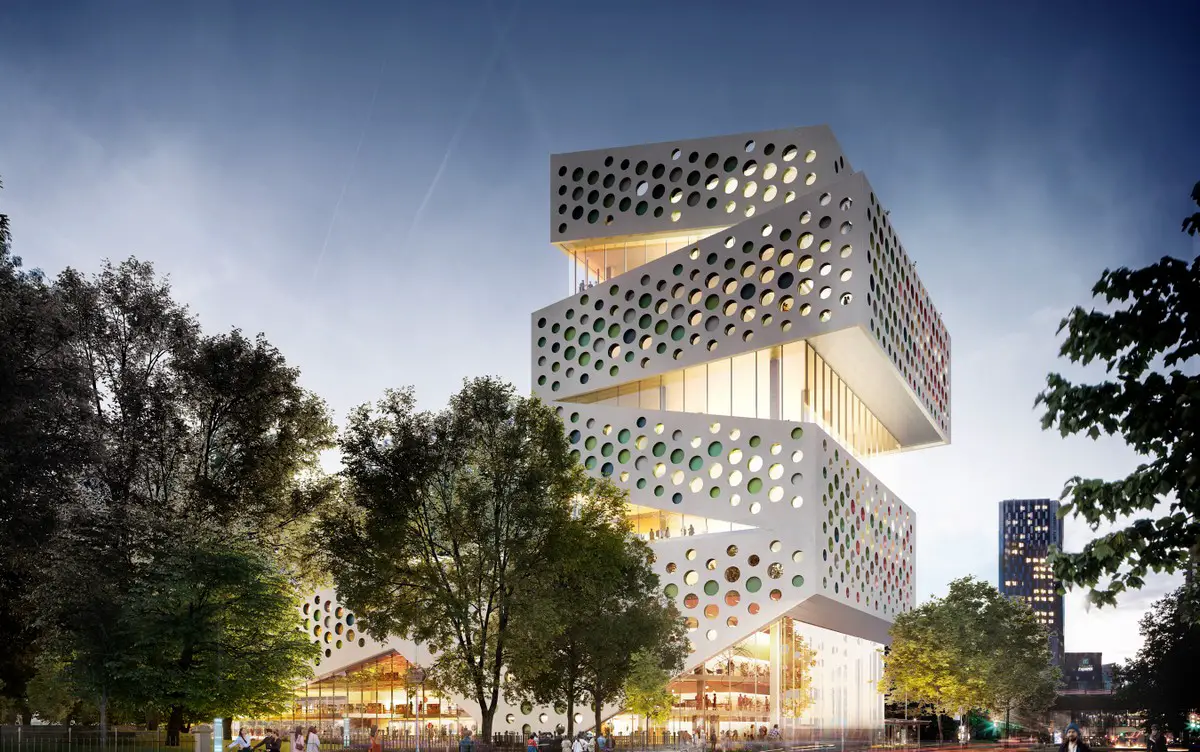 image courtesy of architects practice
Manchester Metropolitan University Library Building
Oct 26, 2020
Commonwealth Pier, Seaport World Trade Center, Boston, Massachusetts, USA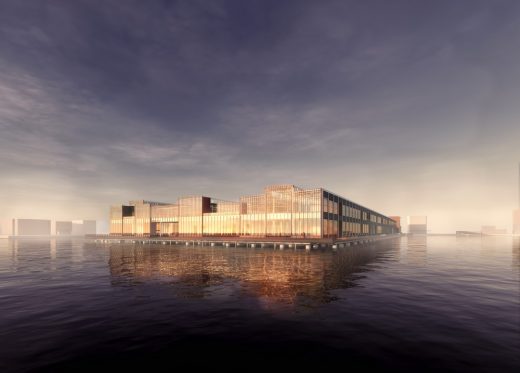 image © Schmidt Hammer Lassen Architects
Commonwealth Pier Boston
Construction has begun on the redesign of Boston's Seaport World Trade Center, an expansive mixed-use development on historic Commonwealth Pier in the city's Seaport District. Designed by Schmidt Hammer Lassen, the adaptive reuse project will introduce new ways to explore and engage with the waterfront.
14 May 2020
Ningbo New Library, China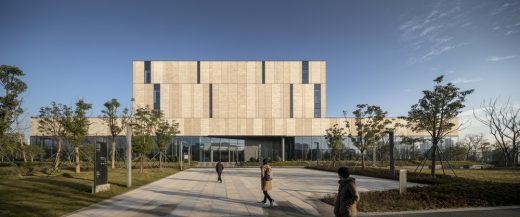 photo : Adam Mørk
Ningbo New Library Building
Located on the edge of an ecological wetland, the new public library in Ningbo is Schmidt Hammer Lassen's first completed library project in China.
8 Feb 2020
New University of Bristol library, Bristol, southwest England, UK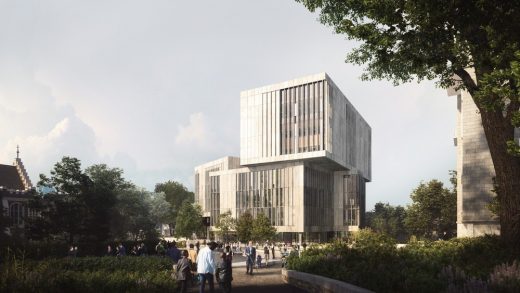 image courtesy of Hawkins\Brown & Schmidt Hammer Lassen Architects
New University of Bristol Library Building News
The University of Bristol has submitted a planning application for its landmark new library, which will transform the heart of its Clifton campus and provide an architecturally significant new building for the city, along with improved external public spaces.
Schmidt Hammer Lassen Architects New Managing Director News
Schmidt Hammer Lassen Architects, Perkins+Will's Denmark Practice, Names Sanne Wall-Gremstrup New Managing Director
COPENHAGEN¬—April 24, 2019—Danish business executive Sanne Wall-Gremstrup has been named managing director of Schmidt Hammer Lassen Architects, Perkins+Will's Denmark-based practice. With more than a decade of management experience in the architecture industry, Wall-Gremstrup is known for balancing high-caliber creative output with financial performance. She brings strong change management, professional services, and marketing skills to the position.
"Working in the Danish architectural industry for the past 12 years, I've witnessed the growth of Schmidt Hammer Lassen, including its merger with Perkins+Will in 2018, so it's great be joining the firm at such an exciting time," Wall-Gremstrup says. "I look forward to advancing the firm's vision and helping the Aarhus and Copenhagen studios achieve their goals in collaboration with my new colleagues, both locally and worldwide."
Sanne Wall-Gremstrup, New Schmidt Hammer Lassen Architects Managing Director: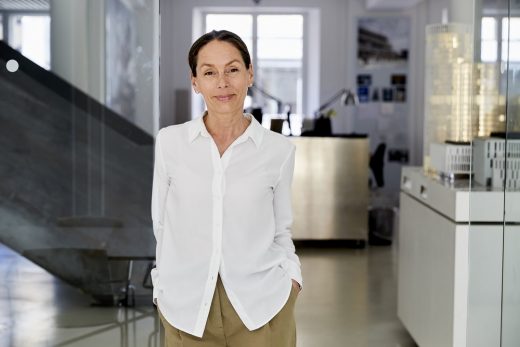 image : Perkins+Will/Schmidt Hammer Lassen
Wall-Gremstrup has more than 15 years of experience as a chief executive officer, having most recently served as the CEO of The Danish Architectural Press, a commercial publishing foundation committed to promoting Danish architecture in Denmark and abroad. Prior to that, she spent seven years as the country manager and CEO for Denmark and Finland at global marketing services company McCann WorldGroup. She also has extensive experience serving as a board member and executive board chairperson over the past 20 years for organizations that include a global architectural firm, a Danish communications agency, and start-up companies.
"The skills and breadth of professional experiences that Sanne brings to the table are impressive, and we're confident that our Denmark practice will thrive under her leadership," says Perkins+Will CEO Phil Harrison.
Wall-Gremstrup's Danish colleagues agree:
"Sanne brings a fresh mix of vast leadership experience to the managing director role," said Kristian Ahlmark, design director at Schmidt Hammer Lassen. "With Sanne at the helm, we are in a prime position for continuing to grow our international profile while deepening our roots here at home."
13 Jun 2018
Solvay Office Building, Brussels, Belgium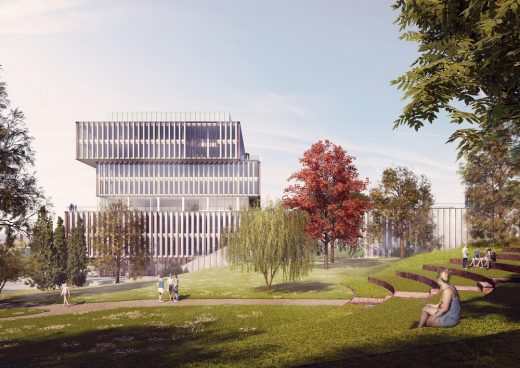 image Courtesy architecture office
Solvay Office Building
SHL wins international competition to design the new sustainable headquarters for global chemical company, Solvay. The forward-thinking, resiliency-minded design of the building and green campus is a hallmark of Solvay's ambitious sustainability objectives.
2 Jun 2018
The Maritime Knowledge Hub, Liverpool / The Wirral, England, UK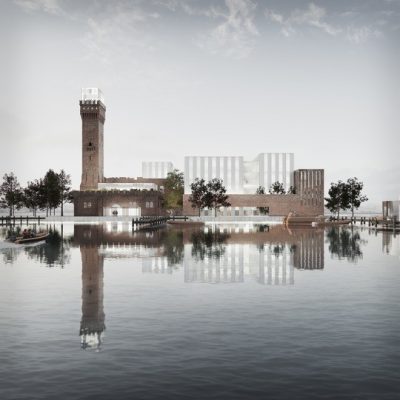 image Courtesy architecture office
Maritime Knowledge Hub at Wirral Waters
The Maritime Knowledge Hub is one of the most important elements of the entire Wirral Waters regeneration project that will transform the left bank of the River Mersey into an internationally recognisable destination.
22 Mar 2018
Kimmel Quarter, Riga, Latvia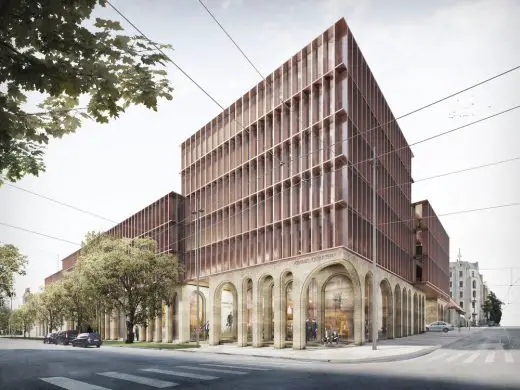 image from architects
Kimmel Quarter Buildings
SHL's competition-winning proposal aimed to revive the brewery site by transforming it into an office building and hotel with public facilities on the ground floor that will bring new life to the area such as a public gym, child care centre, café, spa, food court and convenience store. By creating beautiful, inviting courtyards and plazas that connect old and new, the overall design will create a strong urban expression with a timeless, classic appearance that is also uniquely contemporary.
27 Feb 2018
NIO House, Shanghai, China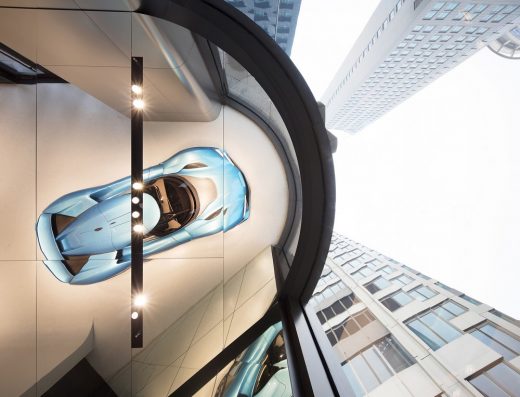 photograph : Raw Vision Studio
NIO House
Danish architectural firm SHL has completed the first phase of NIO House, an unconventional showroom for electric car company NIO in Shanghai. Through simple use of tactile materials such as Douglas fir, satin stainless steel, terrazzo and fabrics, the space intends to pose a question to the user: Can we make the car an extension of the home?
25 + 24 Jan 2018
Schmidt Hammer Lassen bought by Perkins & Will
World-Renowned Danish Design Firm Schmidt Hammer Lassen Architects Joins Perkins+Will
Partnership expands SHL's capacity for international growth; complements Perkins+Will's design philosophy and strengthens the firm's cultural practice
One of Scandinavia's most recognized design firms, Schmidt Hammer Lassen Architects, has joined global architecture firm Perkins+Will in a strategic partnership that extends SHL's international reach and reinforces Perkins+Will's commitment to sustainability and design excellence.
Schmidt Hammer Lassen / Perkins & Will
21 Dec 2017
Sports and Culture Campus, Gellerup, Aarhus, Denmark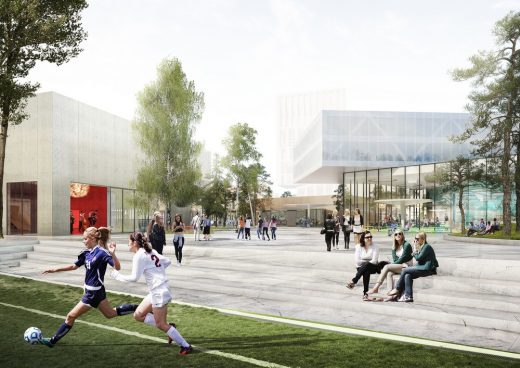 image from architecture firm
Gellerup Sports and Culture Campus
The multi-use community project is a key component of the revitalisation of the Gellerup district, and will become an inspiring, welcoming and open destination for city residents and visitors.
3 Oct 2017
Shanghai Library Building, China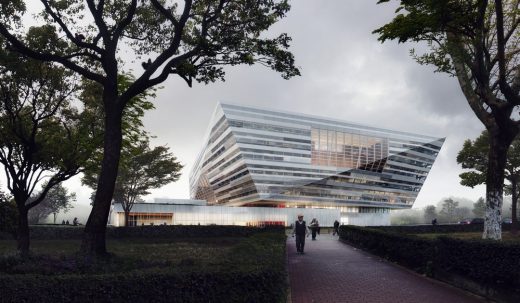 image from architecture firm
Shanghai Library Building by shl
The 115,000 sqm library located in Pudong District – the area of the city known for its iconic skyline, will sit immediately next to Century Park -the largest park in the city spread over 140 hectares.
19 Sep 2017
CaoHeJing Guigu Creative Headquarters, Shanghai, China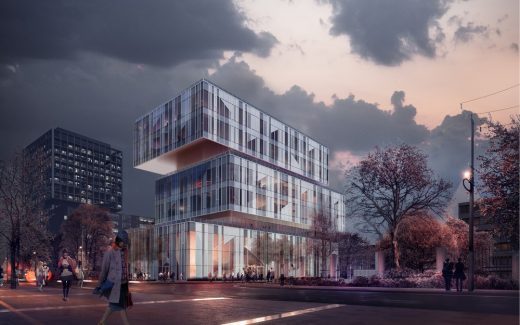 visuals : Beauty and the Bit + Schmidt Hammer Lassen Architects
CaoHeJing Guigu Creative Headquarters Building by shl
The architecture studio's design for the new CaoHeJing Guigu Creative Headquarters in Shanghai has broken ground on Monday 18th September. Developed by government backed CaoHeJing Hi-Tech Park, the project is aimed as CaoHeJing's platform for innovation.
Aug 28, 2017
Monroe Blocks Detroit, Michigan, USA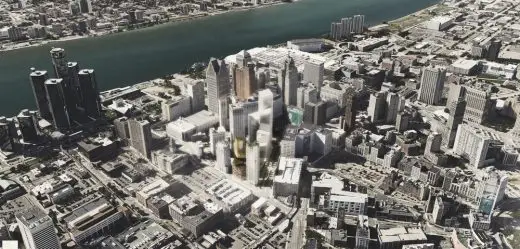 image from architect
Monroe Blocks Development
Located at the center of the spokes that connect greater Detroit, this new development will make an impact far beyond its surrounding context, it will become a destination, an icon for the future development of Detroit. The new development will combine downtown Detroit's first high-rise office tower in a generation with over 480 residential units.
20 Sep 2016
Breiavatnet Lanterna, Stavanger, south western Norway
Design: schmidt hammer lassen architects with SJ Arkitekter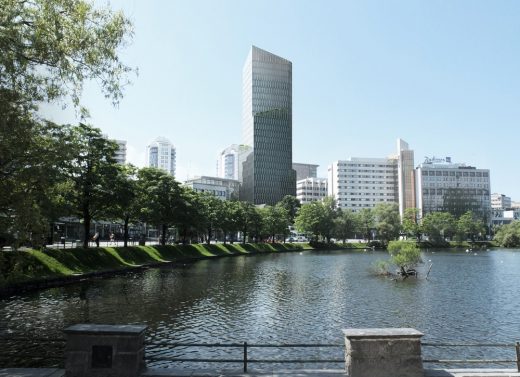 image from architect practice
Breiavatnet Lanterna in Stavanger by shl
This architectural design offers a new public centre; a transformation of the existing park and a new 101-metres tower containing 18,170 m2 of highly flexible space for offices, restaurants, exhibitions and conferences. The ground and top floors will be open to the public ensuring a new unique meeting place in the city.
17 Aug 2016
Cloud Pavilion, Shanghai, China



photograph : Peter Dixie
Cloud Pavilion in Shanghai
In 2013, SHL were commissioned by West Bund to create a series of pavilions as part of the West Bund Biennale of Art & Architecture, curated by renowned Chinese architect Zhang Yonghe, and architecture Professor and curator Li Xiangning.
7 Mar 2016
Clubhouse and Gallery in GaoYao, China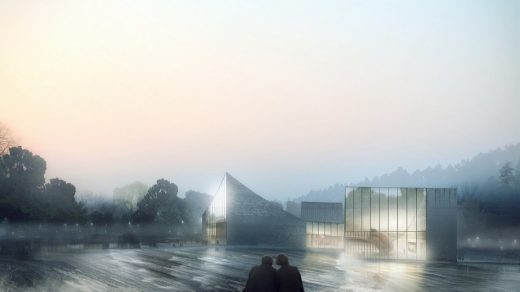 image from architecture office
Clubhouse and Gallery in GaoYao
The project, that sits in the centre of a lake, will act as a pavilion for a new development of exclusive villas at the base of the nearby mountain. The design focuses on space, light, view and programme. The sculptural project was designed in collaboration with a Feng Shu Master to respect angles of approach and its location on the site.
International Criminal Court in the Hague, Holland
International Criminal Court Building in The Hague – 18 Nov 2015 post with completed building photos
On 12 November 2015, the International Criminal Court (ICC), designed by SHL, was formally handed-over its new permanent premises in the Hague, Netherlands. ICC President Silvia Fernández de Gurmendi received a symbolic key from the Courtys construction consortium. The Court will move into its new 54,000 m2 home in December 2015.
2 Dec 2013
schmidt hammer lassen architects wins Sports and Administration Centre
Design: schmidt hammer lassen architects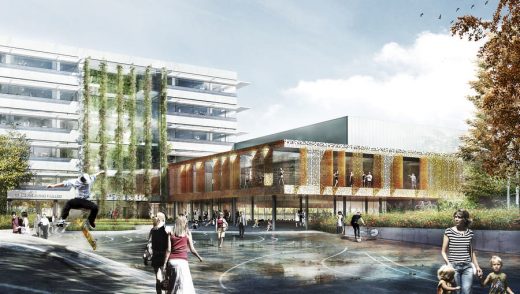 image from architect office
Sports and Administration Centre in Skanderborg, Jutland, Denmark
schmidt hammer lassen architects has, in collaboration with contractor KPC A/S and engineering company Bascon A/S, won the competition to design the new Sports and Administration Centre in Skanderborg, Denmark.
3 Oct 2013
MOE Buddinge Office, near Copenhagen, Denmark


photo : Adam Mørk
The official inauguration of a sustainable office building took place on Friday 27 September 2013 when Danish engineering company MOE opened the doors to their new head office in Buddinge near Copenhagen, Denmark. SHL architects has designed the 7,500-square-metre building organized as one long spiral staircase. The result is a dynamic office environment that creates synergy and encourages movement.
1 Oct 2013 – INGLASS Warsaw 2014 – guest speakers include
– arch. Kristian Lars Ahlmark, SHL Architects, Denmark
9 Jun 2013
New Hospital Hvidovre, Denmark


image from architects firm
New Hospital Hvidovre
SHL architects, in collaboration with aarhus arkitekterne, has been appointed the winner of the competition to design the new extension of the New Hospital Hvidovre. The design for a 30,000-square-metre extension, which comprises an emergency ward, a pediatrics ward and obstetrics and cardiology departments, was so outstanding compared with the other six competition proposals that the jury chose to appoint only one winning proposal to proceed to the second round.
31 May 2013
Green Valley Project in Shanghai, China
Design: schmidt hammer lassen architects with East China Architecture and Design Institute


image from architect
Green Valley Project Shanghai
The Shanghai World Expo in 2010 placed emphasis on the future sustainable development of the formal industrial dockyard area of the city. The Expo event itself transformed this area into a new destination for the city. What remains after the Expo event is over and most of the pavilions are torn down is a strong and well-developed infrastructure with green parks, promenades and cultural attractions. The Green Valley project will mark the heart of the new permanent development of the site.
20 May 2013
Nuuk Correctional Facility Building, Greenland
Design: schmidt hammer lassen architects with Friis & Moltke


image from architects
Nuuk Correctional Facility Building
As part of a Danish design team, SHL architects has won the competition to design the correctional facility Ny Anstalt in Nuuk, the capital of Greenland. The winning design for the 8,000 square metre facility was submitted by a team including Rambøll as full service contractor, architects Friis & Moltke and landscape architects Møller & Grønborg. Ny Anstalt is the first such facility in Greenland.
17 Apr 2013
International Criminal Court, The Hague, The Netherlands – building news


image from architects
International Criminal Court Holland
The ICC is the first permanent, treaty-based, international criminal court established to help end impunity for the perpetrators of the most serious crimes of concern to the international community. It was founded in 2002 and has grown to the present-day size of 122 member countries.
21 Mar 2013
Helsingborg Hospital Building, Sweden


image from architect
Helsingborg Hospital Building
SHL architects has won the competition to design the 35,000 square metre extension to the Helsingborg Hospital in the southern part of Sweden. The competition was won in cooperation with Aarhus Arkitekterne, NNE Pharmaplan and landscape architects Kragh & Berglund.
25 Jan 2013
Cultural Centre and Library in Karlshamn, Sweden


picture from architects
Cultural Centre and Library in Karlshamn
The New Cultural Centre and Library in Karlshamn, Sweden, is designed to gather the city's cultural functions under one roof. SHLarchitects has just won an international competition to design this 5,000 square metre cultural centre. Karlshamn will get a sculptural and flexible building containing a library, an exhibition area, a cinema, a tourist office and a café. It will be the city's new meeting place and will embrace diversity.
6 Dec 2012
IBC Innovation Factory, Kolding, Denmark


photo from architect
IBC Innovation Factory
The IBC Innovation Factory by SHL architects is designed to support new ways of learning. The 12,800 square metres educational building has gone through a total refurbishment and was officially inaugurated by His Royal Highness the Prince Consort of Denmark on 6th December 2012.
26 Sep 2012
Aberdeen University Library Building, Scotland


photo : Adam Mørk
Aberdeen University Library Building
On September 24th 2012, Her Majesty Queen Elizabeth II of Great Britain marked the official opening of the University of Aberdeen New Library in Scotland. The building was won in an architectural competition in 2005 by SHL architects. The 15,500 m² library is a "positive example of how architecture can make a difference". Since the building was put into service there has been a significant increase in the use of the library, and more than 700,000 visitors have entered the building this first year of operation.
20 Sep 2012
Aarhus Library, Jutland, Denmark


image from architecture office
Aarhus Library
schmidt hammer lassen architects and the City of Aarhus have been selected to receive a Best Collaboration Award 2012 for their extensive cooperation in creating the largest public library in Scandinavia: Urban Mediaspace. The Best Collaboration Award, an EU-initiative, rewards the best examples of collaboration between partners from the creative industries sector and local governments in the North Sea Region of the European Union.
27 Jun 2012
New Aalborg University Hospital, Jutland, Denmark


picture from architects
New Aalborg University Hospital
As part of the Indigo Consortium, schmidt hammer lassen architects has won the competition to design the New Aalborg University Hospital in Northern Jutland – a project of € 551.5 million. The new hospital, which is part of a governmental health reform, comprises a 330,000 m2 masterplan with 134,500 m2 hospital buildings and 17,000 m2 for the Faculty of Health Science of Aalborg University.
27 Jan 2012
Schmidt Hammer Lassen – Recent News
Give more – schmidt hammer lassen architects exhibition, Aedes Gallery, Berlin, Germany
3 Feb – 15 Mar 2012
Schmidt Hammer & Lassen Architects : Studio Information
Campus Aarhus N, Jutland, Denmark


image from architect
Campus Aarhus N – 11 Oct 2011
Campus Aarhus N, the latest campus of VIA University College in Denmark, is officially opened by Her Royal Highness Crown Princess Mary on October 11th 2011. The approx 27,000 m2 building, designed by schmidt hammer lassen architects, unifies VIA's healthcare educations previously located different places in Aarhus. The new campus building offers facilities for the six fields of study that support knowledge sharing and synergy between the educations.
7 Sep 2011
schmidt hammer lassen architects opens new office in Shanghai
On the threshold of its 25th anniversary, Danish schmidt hammer lassen architects has expanded activities in Asia by establishing an independent office in Shanghai, China.
The Crystal, Copenhagen, Denmark


photo : Adam Mørk
The Crystal – shortlisted for the LEAF Awards 2011
City of Westminster College, London, UK. 2 Mar 2011


picture from architects
City of Westminster College
Danish Architects Studio
Key Projects by Schmidt Hammer Lassen
Featured Schmidt Hammer Lassen buildings, chronological:
Kolding Hospital Building, Denmark
2010-



image from architect
Kolding Hospital
Central Library Halifax, Canada
2010-


image from architects
Central Library Halifax, Nova Scotia
Munich Hotel Complex, Germany
2010-


image from architect
Munich Hotel Complex
Helsingborg Hotel, Sweden
2010-


image from architect
Helsingborg Hotel & Congress Centre
Thor Heyerdahl School, Larvik, Norway
2009


image from architect
Thor Heyerdahl School
RWTH auditorium complex, Germany
2009-


picture from architect
Hörsaalzentrum Aachen
Hovrätten court buildings, Malmö, Sweden
2009


photograph from architect
Malmö courthouse Buildings
Barking Creative Industries, London, UK
2009-


image from architect
Barking Creative Industries Quarter
Horsens Masterplan, Horsens, Denmark
2009-


image from architect
Horsens Masterplan, Jylland
Amazon Court, Prague, Czech Republic
2008-


picture from architect
Amazon Court Prague, River City
More buildings by SHL architects online soon
Schmidt Hammer Lassen Buildings
Schmidt Hammer Lassen Designs, alphabetical:
ARoS – Aarhus Kunstmuseum, Denmark
2008


picture : Joachim Ladefoged
ARoS, Aarhus
Culture Island, Middelfart, Denmark
2005


photograph from architect
Culture Island Middelfart Building
Deichmanske Library, Oslo, Norway
(2009)


picture from architects
Deichmanske Library competiiton design
Halmstad Library Building, Sweden
2006


photo © Adam Mørk
Halmstad Library Buildingg
Katuaq Culture Centre, Nuuk, Greenland
–


photo : Joachim Ladefoged
Katuaq Culture Centre
Nykredit offices, Copenhagen
–


photo : Joachim Ladefoged
Nykredit offices
Performers' House, Silkeborg, Denmark
2007-


photo : Joachim Ladefoged
Performers House : LEAF Awards 2008
Royal Library Extension, Denmark
1999


building photo © Adrian Welch
Black Diamond – Sort Diamant
Växjö Library, Sweden
–


photo : Joachim Ladefoged
Vaxjo Library Building
Waldorf School Extension, Denmark
2009


photograph from architect
Waldorf School Aarhus, Jutland
Schmidt Hammer Lassen Buildings – no images
Designs by schmidt hammer lassen architects, alphabetical:
Birmingham Library Building, central England, UK
2008-
Schmidt Hammer Lassen one of 7 shortlisted architecture practices
Birmingham Library Competition
Bryggen, Vejle, Denmark
2008
3XN + Schmidt Hammer Lassen architects
Chaucer Buchanan District Centre, north Sheffield, England
2007-
FDE Centre – Training & Conference Centre, Padborg, southern Jutland, Denmark
2006
'The Gardens' housing, Jelling, Denmark
–
MIPIM Architectural Review future projects awards 2008 'Residential' category – highly commended
Holbaek masterplan, Sjælland, Denmark
2009-
Straume mixed-use development, Straume, Norway
2008-
Tian Yi Town district, Wuxi, China
2008-
More architecture / building projects by Schmidt Hammer Lassen Architects online soon
Location: Århus, Denmark
Architect Practice Information
Schmidt, Hammer & Lassen K/S, architects
Danish architecture studio – offices in Århus + København, Danmark
Schmidt, Hammer & Lassen : Aarhus Architect Studio
schmidt hammer lassen architects – further studio information
Schmidt Hammer Lassen chairs : FLAKES chair


picture from SHL architects
Buildings / photos for the Schmidt Hammer Lassen Architecture page welcome
Schmidt, Hammer & Lassen – Website: www.shl.dk