Hillier Architecture, US Architects, America Design Office, Images, Studio Projects
RMJM Hillier : Architecture Office USA
Contemporary American Architectural Practice News and Information
post updated Apr 23, 2021
RMJM Hillier – Latest Design
Irving Convention Center, Texas, USA
Date built: 2011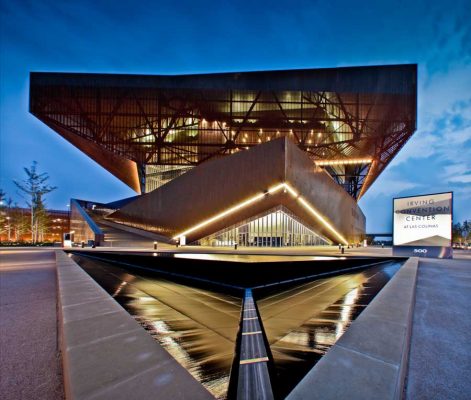 image from architects practice
Irving Convention Center Building
RMJM Hillier – Practice News
RMJM Architects : Fred Goodwin @ RMJM news, 15 Jan 2010
RMJM Hillier to become RMJM
North American Offices of Global Firm to Use RMJM Name
15 Dec 2008
Award-winning architectural firm, RMJM Hillier today announced that the company will now operate under the name RMJM in North America. RMJM Hillier was formed in June 2007 following the merger of RMJM and Hillier Architecture. The RMJM Hillier name was used only in North America while the firm, headquartered in the UK, is still known as RMJM throughout the rest of the world. The new name also coincides with a global rebranding for RMJM including a new logo and website.
"When the merger between RMJM and Hillier took place over a year ago it was anticipated that the US offices would, in time, move to using just the RMJM name," said Peter Morrison, RMJM Group CEO. "Reaching that point now is a real measure of the success of the merger. Since the merger, the US offices have truly become part of the RMJM Group, contributing significantly to projects across the globe. The sharing and collaboration across offices has been beneficial to all."
RMJM was founded in the UK in 1956 by modernist architects Robert Matthew and Stirrat Johnson-Marshall. Hillier Architecture was founded in 1966 by Princeton University alumnus and faculty member J. Robert Hillier.
"The US offices have recently won work in Turkey, Libya, Dubai and China and continue to gain clients in the United States," said Sir Fraser Morrison, CEO, Americas. "With the global reach and connections across RMJM offices worldwide it makes good business sense to use the same name on all the continents we work on. The new combined company has worked extremely well and Bob Hillier has been instrumental to the success of the merger. I want to thank him for his commitment and continued involvement in the firm."
Online information on the US offices will now be incorporated into the www.rmjm.com website, which is being relaunched this month as part of the global rebranding.
RMJM Hillier
RMJM merge with USA's 5th largest practice, Hillier of New Jersey. Hillier Architecture formed in 1966 and have around 350 employees. Most of their buildings are in the US but they designed the GlaxoSmithKline HQ, just west of London
RMJM Hillier Architects : Announcement
Background Information from RMJM 19 Jun 2007:
Overview
J. Robert Hillier founded Hillier Architecture in 1966 in Princeton, N.J. Today it is one of the nation's largest design firms with 300 architects, interior designers, urban designers, landscape architects, and preservationists. The firm has worked on high-profile projects in the United States, Europe, the Middle East, Asia and the Caribbean, and has offices in Princeton, New York, Philadelphia, Washington D.C. and Shanghai. Hillier's culture is rooted in a philosophy of respecting and celebrating the extraordinary differences among people and places, and elevating the ordinary design opportunity to extraordinary design dimensions. It provides services in architecture, interior design, urban design, historic preservation, land planning, and environmental graphic design.
Notable Projects
GlaxoSmithKline Global Headquarters, Brentford, London, England


image from architect
Glaxo Smith Kline building
East River Science Park, New York, New York


image from architect
The 800,000 sf complex in Manhattan will be New York City's first biotechnology park, establishing creative linkages between the city's prominent healthcare and research institutions and revitalizing a section of the city's east side.
Virginia Capitol, Richmond, Virginia


image from architect
This historic preservation project restored Thomas Jefferson's "Temple on the Hill,"
a classical building dating to 1787, and created a modern, underground visitor entrance that seamlessly blends modern and classical forms.
Cornell University Center for Birds and Biodiversity, Ithaca, New York


image from architect
Built of rough cedar and local stone and carefully sited and scaled to blend with its
natural habitat, this 90,000 sf ornithology laboratory was designed to be a state-of-the-art research facility as well as a sophisticated "bird blind."
Duke University-National University of Singapore Graduate Medical School, Singapore


image from architect
A 250,000 sf "vertical campus" housing research offices, laboratories, classrooms, an amphitheater, library, and student lounges, the new medical school will bring
Duke University's research capabilities to Singapore.
Charity Hospital New Orleans
–


image from architect
Gouverneur New York, New York State
–


image from architect
Penn State Student Health Center
–


image from architect
University Medical Center Princeton Hospital
–


RMJM HillierHOK
Princeton House
2007


image from architect
Commonwealth Institute, west London
Grade II* listed : saved from potential demolition 2007
Moscow Skyscraper
46 storey tower, Moscow, Russia
located close to Foster & Partners' 'tallest tower in Europe' proposal
Washington University Building, Missouri, USA
Mitchell Cancer Institute, Alabama, USA
Champalimaud Foundation Cancer Centre, Lisbon, Portugal
Charles Correa Associates with RMJM Hillier & Consiste


image from architect
Champalimaud Foundation
More projects by RMJM Hillier online soon
Location: Princeton, NJ, USA
Hillier Architecture Practice Information
RMJM Hillier had various offices across the globe ;
Hillier Architecture, the previous practice, was based in the USA
MILESTONES
1966 J. Robert Hillier opens Hillier Architecture in Princeton, N.J.
1976 Launch of interior architecture and design practice.
1978 Hillier commissioned to design one of the country's first corporate campuses,
a prototype for Sprint and Capitol One campuses later on.
1981 Hillier becomes one of ten largest architecture firms in the United States.
1988 Philadelphia office opens.
1994 Hillier receives the commission to design and build the 2.5-million-square-foot
Star City Casino, in Sydney, Australia; Hillier opens office in Manhattan.
1996 Hillier receives commission to design the largest corporate campus in the
United States for Sprint in Overland Park, Kansas; office opens in Washington, D.C.
1997 Architectural Record names Hillier one of the best-managed firms in the U.S.
2003 Shanghai office opens.
2005 Hillier receives 14 awards, including three Design Awards from the AIA-New Jersey.
2006 Hillier commissioned to design a new $1.6 billion resort metropolis in the Bahamas; named "Firm of the Year" by the American Institute of Architects – New Jersey Chapter
MANAGEMENT
Architect J. Robert Hillier, FAIA built the solo practice he founded 41 years ago into one of the largest architecture firms in the United States, and a leading international design practice, with 300 people and $70 million in annual fees. Under Bob's leadership, Hillier established itself early on as a leader in the design of corporate and higher education projects. Bob was named "Entrepreneur of the Year" by INC Magazine in 1987, and his firm was named one of the "Best Managed Practices" by Architectural Record. An adjunct professor at Princeton University's School of Architecture, Bob is a frequent lecturer, public speaker and mentor.
Bob will become Deputy Chairman of RMJM's holding company, MJM Group, and will work with its CEO, Peter Morrison, in the interim to integrate the two firms while also playing a role in building the global business.
PRINCIPALS
Martin M. Bloomenthal, FAIA, Principal
Karen K. Blose, Esq., General Counsel
Philip C. Dordai, AIA, LEED®AP, Managing Principal
Thomas K. Fridstein, FAIA, RIBA, LEED®AP, Managing Principal
Nicholas P. Garrison, AIA, OAQ, LEED®AP, Design Principal
Steven K. Gifford, AIA, Managing Principal
Gordon D. Griffin, AIA, Managing Principal
Barbara A. Hillier, AIA, Design Principal
R. Stephen McDaniel, AIA, Managing Principal
Joseph C. Rizzo, AIA, ALA, Principal
Peter Schubert, AIA, Design Principal
Dr. George C. Skarmeas, AIA, AICP, Principal
Ronald C. Weston, AIA, PP, Principal
RMJM Hillier are based in Princeton, New Jersey, USA
RMJM Architect
Architectural Design
Nancy and Rich Kinder Building, Museum of Fine Arts Houston, Texas, USA
Design: Steven Holl Architects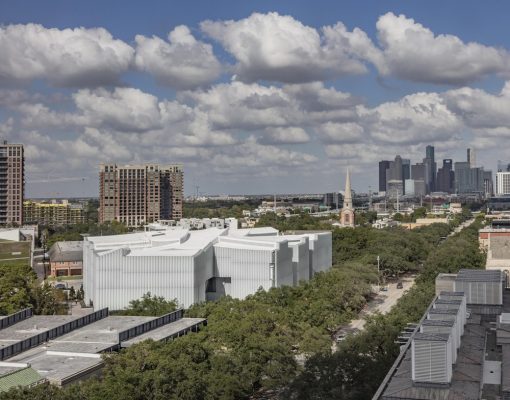 photograph © Richard Barnes, courtesy of the Museum of Fine Arts, Houston
Nancy and Rich Kinder Building Houston
Comments / photos for the RMJM Hillier Architects page welcome