Paul Andreu Architect, Buildings, Images, Paris Design Studio, French Office, China, Photos
Paul Andreu Architects
Contemporary French Architect Practice : Major Architectural Projects
15 Oct 2018
Paul Andreu
Paul Andreu Dies
French architect Paul Andreu has died at the age of 80.
Paul Andreu was a French architect, known for his designs of multiple airports such as Charles de Gaulle Airport in Paris, and multiple prestigious projects in China, including the National Centre for the Performing Arts in Beijing.
He attended a dinner Monday evening at the Centre Pompidou in honor of Tadao Ando, and appeared to be very tired.
In 2004, an airport terminal building at Roissy collapsed, resulting in several fatalities. Andreu was reportedly very upset by the event, and stopped practice for a time.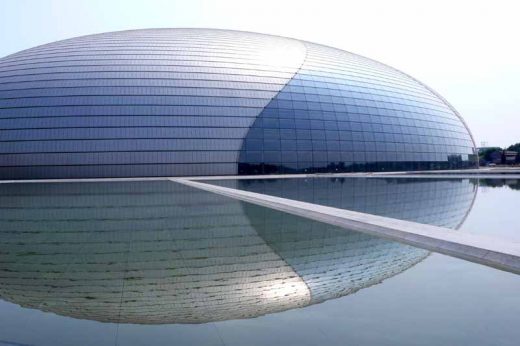 photograph from PAA
Key airport buildings by this French architecture practice include Abu Dhabi International Airport, Dubai International Airport, Cairo International Airport, Brunei International Airport and Orly Airport in Paris.
He managed the construction of the Grande Arche in Paris' La Defense, designed by Johann Otto von Spreckelsen and inaugurated in 1989.
He received the National Grand Prix in Architecture in 1977, and was a member of the Académie des Beaux-Arts.
Text in French form the architecture practice:
Paul Andreu, architecte, ingénieur, écrivain et peintre, est mort à Paris le jeudi 11 octobre 2018.
Il n'avait que 80 ans.
Celui qui fit « beaucoup d'aéroports » livre à 36 ans sa première œuvre majeure, Roissy 1, en 1974.
Sa géométrie circulaire va marquer, pour longtemps, la conception des terminaux du monde entier.
Cet extraordinaire bâtisseur de grands projets est ensuite appelé, après avoir conçu nombre d'aéroports aux quatre coins de la planète, à achever la Grande Arche de la Défense. Il donne ainsi corps au fantastique bâtiment d'Otto von Spreckelsen.
read in full at: Paul Andreu Architect
Paul Andreu Architecte
Paul Andreu Architecte – Key Projects
Key Architecture Developments by Paul Andreu Architecte, alphabetical:
Dubai Airport – Terminal 3 Building, United Arab Emirates
Dates built: 2000-05
Guadeloupe airport – New air terminal, Pointe-à-Pitre, Caribbean
Dates built: 1990-96
Aéroport Guadeloupe Pôle Caraïbes
Guangdong Science Center, Guangzhou – Competition, China
Date built: 2003
Guangzhou Gymnasium, Guangzhou, China
–
Hiroshima air terminal – Competition, Japan
Date built: 1990
Manilla Airport – air terminal, Philippines
Dates built: 1990-99
National Grand Theater of China, Beijing, China
Date built: 2007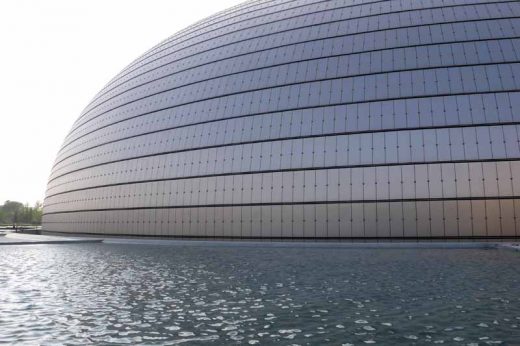 building photo from PAA
Beijing Theatre
Oceanus Project, Macau
–
Oriental Art Center – Concert Hall & Performance Spaces, Shanghai, China
Dates built: 2000-04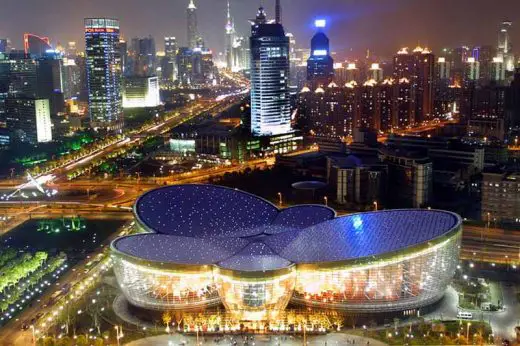 photo from architects studio
Shanghai Oriental Art Center : Chinese building
This is a cultural island in the middle of a lake, located on Chang An Avenue next to the Great Hall of the People and about 500 meters from the Forbidden City. The building is curved, with a total surface area of 149,500 sqm, that emerges like an island at the center of a lake. The titanium shell is in the shape of a super ellipsoid with a maximum span of 213 meters, a minimum span of 144 meters and a height of 46 meters). It is divided in two by a curved glass covering, 100 meters wide at the base. During the day, light flows through the glass roof into the building.
Paris Airport building, Paris, France
–
Technology and Science Enterprising Center, Chengdu, China
Dates built: 2004-07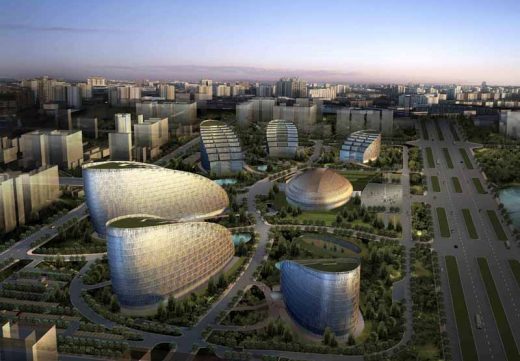 image from architects office
Paul Andreu : Chinese building
More architecture projects by Paul Andreu Architecte online soon
Paul Andreu Architecture : Paris building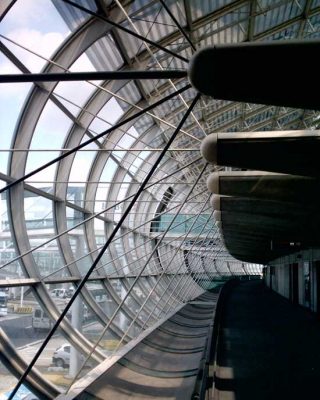 Paris Airport building image © Adrian Welch
Location:2 rue de la Roquette, 75011 Paris, France
Paul Andreu – Practice Information
Paul Andreu Architecte – design studio based in Paris, France
Paul worked as an associate of Danish architect Johann Otto von Spreckelsen on the world-famous Grande Arche at La Défense in Paris (and the National Grand Theater of China enclosed in a titanium and glass shell near Beijing's Tiananmen Square which was inaugurated in December 2007.
A great national design competition was launched in 1982 for the La Grande Arche design as the initiative of French president François Mitterrand. Danish architect Johann Otto von Spreckelsen (1929–1987) and Danish engineer Erik Reitzel designed the winning entry to be a late-20th-century version of the Arc de Triomphe: a monument to humanity and humanitarian ideals rather than military victories. The construction of the monument began in 1985.
In 2008, the architect was hired to design a cultural centre and ticket office in Montreal's new Quartier des Spectacles entertainment district.
He was born at Caudéran (Gironde), in southwest France. He graduated in 1958 from the École Polytechnique and continued his studies at the École des ponts ParisTech, graduating in 1961. He next studied under architect Paul Lamarche in the École des Beaux-Arts, Paris, France, graduating in 1968.
Buildings / photos for the Paul Andreu Architecte page welcome
Paul Andreu Architects – page
Website: www.paul-andreu.com