Miró Rivera Architects USA, Austin Design Studio, Texan Architecture Office
Miró Rivera Architects
MRA Texas: Contemporary American Architectural Practice – US Design Office News
Miró Rivera Architects News
News from US architecture studio of Miró Rivera Architects
Dec 13, 2018
Residence 1446, Austin, Texas, United States of America
Design: Miró Rivera Architects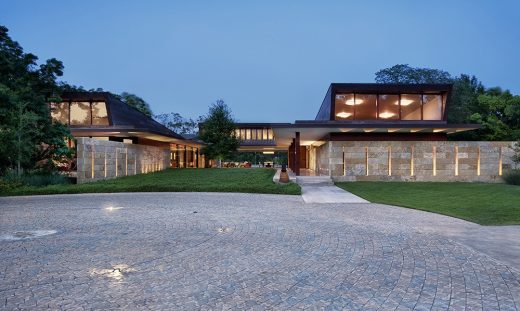 photograph : Paul Finkel, Piston Design
Residence 1446
Situated in a low-lying field adjacent to both a lake and a quiet lagoon, Residence 1446 was the final element of a ten-year master plan that includes a guest house, pedestrian bridge, pool, and boathouse.
Dec 12, 2018
Hill Country House, Wimberley, Texas, USA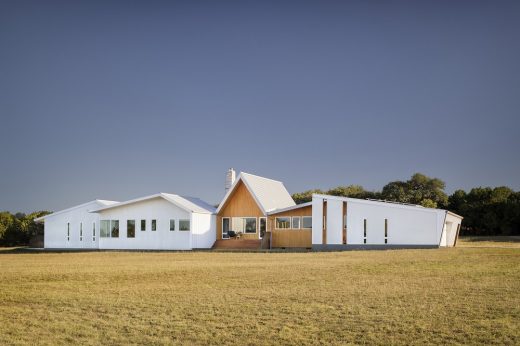 photo : Paul Finkel, Piston Design
Hill Country House, Wimberley
The home's pier-and-beam construction minimizes the structure's footprint on the prairieland setting, which has been kept in its native state.
Dec 11, 2018
World's Best: MRA makes prestigious list
W for Win: Dock sails away with MasterPrize
One of MRA's newest projects, W Dock on Lake Austin, has been named a winner in the "Recreational Architecture" category of The Architecture MasterPrize (AMP). The international awards program recognizes the talents of those "who push boundaries and set new standards, who turn the ordinary into the truly extraordinary and inspire others, today and for generations to come."
Perched in the shallow waters of Lake Austin, W Dock seeks to answer the question: what is the minimum number of elements needed to create a boat dock that is both structurally and aesthetically elegant? The answer is a light, economical structure that is greater than the sum of its parts. View the complete list of winners here.
Hot Houses: Two new residences go viral
This summer the Hill Country House swept the design blogosphere, with features on Dezeen, ARCHITECT, Dwell, Curbed, ArchDaily, Arquitectura Viva, and dozens of other websites. Located in Wimberley, Texas, the project serves as a beacon to show what could be: a self-sustaining modern country home, virtually independent of municipal water and energy.
Meanwhile, the Vista Residence gained its fair share of attention with spotlights on Design Milk, Curbed, ArchDaily, Arquitectura Viva, and Inhabitat among others. Tucked away on a steep site in West Austin, the design of the house captures a sense of exploration and discovery and features a three-story sculptural staircase fabricated from plate steel.
Crossing borders
MRA's work was showcased in Istanbul alongside projects from architecture firms across the globe as part of the Caumme-Paumme symposium, which explored the theme "Borders in Architecture". MRA submitted Yarauvi, our proposal for a floating necropolis in the Dead Sea on the border between Israel and Jordan.
Closer to home, "PERSPECTIVAS dosmil18", an annual exhibition showcasing the work and talent of Latino architects and designers throughout Austin, featured the Westridge Residence by Miró Rivera Architects.
Miró Rivera Architects is one of only 17 firms in North America (and the only firm in Texas) to be included on ArchDaily's list of the world's best architects. ArchDaily is the most visited architecture website worldwide, with over 500,000 daily readers. The list of "World's Best Architects" was selected by a team of international editors.
"Of the thousands of architects whose projects have been selected to be published on our site, we occasionally notice firms whose work stands out. Whether we're drawn to their innovative approach to practice, the role they play in contributing to their local communities, or their generosity, we are eager to display their work as an example, so that others may be inspired to challenge the status quo."
Spreading the word
A conversation with partner Juan Miró is the focus of the latest episode of Design:ED, an architecture podcast that looks into the field from the perspective of industry leaders. Listen on Apple and Google Play.
Meanwhile, Miguel Rivera gave a lecture at Universidad de Puerto Rico, his alma mater, exploring the complex process of bringing ideas to life. And associate Matthew Sturich spoke at the Hill Country Living + Rainwater Revival Festival about the green features of the Hill Country House.
Copyright © 2018 Miró Rivera Architects, All rights reserved.
Visit online at www.mirorivera.com
Jun 29, 2018
AIA Austin awards projects News
MRA received two awards at the AIA Austin Design Awards Celebration: a Design Award for W Dock and an Award of Merit for Hill Country House.
W Dock seeks to answer the question: what is the minimum number of elements needed to create a boat dock that is both structurally and aesthetically elegant? Said juror Roberto de Leon, FAIA: "The W Dock was really quite a beautiful, elegantly executed project. It takes a rather banal program and elevates it to something else."
The Hill Country House, which is virtually independent of municipal water and energy, also received a sustainability commendation. Commented juror Claudia Harari: "It's a very complete project that spans all the aesthetic aspects of integration with the landscape, interpretation of rural architecture, and sustainability."
Living off the grid: Hill Country House
The Hill Country House was 1 of 4 winners at this year's Austin Green Awards. The residence is a model for green living, powered by solar panels, with geothermal climate control, and on-site rainwater collection.
The home is also on the cover of the latest issue of Residential Design magazine. From the article: "This is a house that doesn't upstage the life within; instead, it sets the stage for a myriad of pursuits and experiences…It's all about the humanity it shelters and the landscape it reveals."
Architecture school
Partners Juan Miró and Miguel Rivera took turns as critics for the studios of Mexican architect Tatiana Bilbao, a visiting professor at Yale and Columbia universities.
As part of his own Studio Mexico, Juan spoke to Universidad de Monterrey landscape architecture students about his research on the "landscape vs. compact city."
Life in the fast lane
MRA has paired up with TBG Partners to design signature elements of the new 183 South Expressway Project, a tolled expressway featuring miles of new highway, bicycle lanes, sidewalks, and share use paths.
The project includes a variety of features designed by MRA, including distinctive V-shaped supports for the overpasses, visual screens, vehicular and pedestrian bridges, and precast sound walls.
Connecting with nature
The award-winning architecture of Residence 1446 has been making headlines across the web, with features on popular design blogs including ArchDaily, Contemporist and Dwell.
Forming the centerpiece of a master plan that includes a guest house, pedestrian bridge, and boathouse, Residence 1446 acts as a hub for the entire complex. The design connects to its expansive site through panoramic views and outdoor living spaces.
Parks and recreation
The Republic Square Park Kiosk in downtown Austin is open for business.
Containing a full-service cafe and restrooms, the small structure is the final component of the revitalization of Republic Square, an active, urban green space grounded in rich history that traces back to the birth of the city.
International impressions
Vertical House received a Judges' Commendation in Italy from the Barbara Cappochin International Biennial for Architecture. The prize recognizes projects that reflect architectural design as a "binding objective of our society."
Both Vertical House and Chinmaya Mission Austin received honorable mentions from the American Architecture Prize. The jury selected the top projects from over 1,000 entries.
Hot off the press
The Box House renovation made its print debut in Puerto Rico's Ambiente y Color, while Casa Ithualli was featured in major Mexican newsmagazines Casas & Interiores and Ambientes.
Meanwhile, two MRA projects made the cut for Texas Modern, a compendium of residential projects across the Lone Star State. The book's release received a shout-out from Architectural Digest, which highlighted the origins and evolution of Texas Modernism.
Copyright © 2018 Miró Rivera Architects, All rights reserved.
Dec 22, 2017
Casa Ithualli, Monterrey, México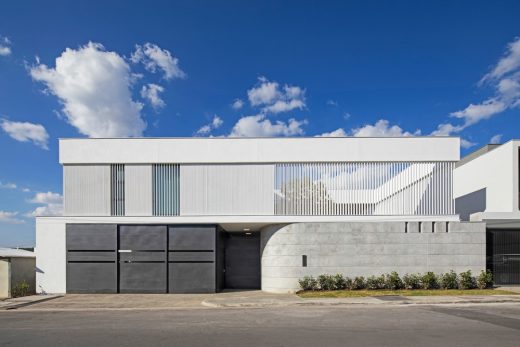 photo courtesy of architects office
Casa Ithualli, Monterrey
Austin, TX, USA – Just in time to grant one lucky winner's Christmas wish, MRA has unveiled its latest project in Monterrey, Mexico: Casa Ithualli is a modern residence that will be raffled off on Friday, December 22 in a nationwide lottery to raise money for college scholarships.
Dec 12, 2016
Awards for Miró Rivera Architects
Eco-friendly: Two projects earn green awards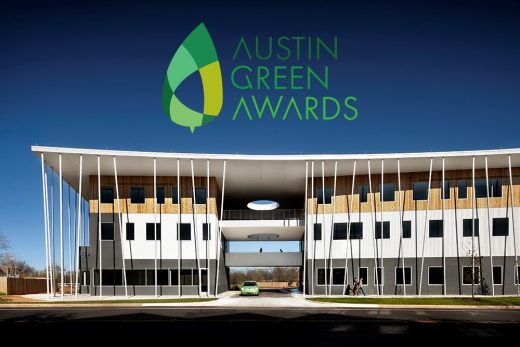 LifeWorks and the AISD Performing Arts Center took home honors at the inaugural Austin Green Awards celebration on November 9. Launched this year by the Center for Maximum Potential Building Systems, the awards are the first program "to specifically highlight the outstanding accomplishments in the broad area of sustainable design and innovation" in Austin. Located in East Austin, LifeWorks has earned a 5-star sustainability rating from Austin Energy Green Building. Designed with Pfluger Architects, the AISD Performing Arts Center anticipates LEED Gold certification.
Best in Texas: MRA accepts top firm award
On November 4, the Miró Rivera team accepted the 2016 Architecture Firm Award from the Texas Society of Architects at their annual gala in San Antonio. Since 1966, TxA has recognized one firm each year that has consistently produced distinguished architecture for at least ten years; it is the highest honor that TxA can bestow upon a firm and its work. "I believe it is their compassion—their humane, even loving approach—that has resulted in such great work. They are proving that…as architects we have the ability and the power to lead the way to a world that is beautiful, relevant and flourishing for all." – Rick Archer, FAIA
In June, Juan Miró traveled to Santiago, Chile to participate in the 2016 International Conference of the Association of Collegiate Schools of Architecture. Juan joined a panel on urban tactics and strategies, presenting a lecture on re-imagining American cities and landscapes.
In addition, Juan Miró and Miguel Rivera served as design award jurors for several AIA chapters—including the Potomac Valley, Baltimore, and Columbus.
After receiving design awards from the AIA Austin and Texas Society of Architects in 2015, Chinmaya Mission Austin has been recognized on the international stage with a 2016 Faith & Form Award for New Religious Architecture. The program was founded in 1978 with the goal of honoring the best in architecture, liturgical design, and art for religious spaces.
Chinmaya Mission Austin was published by South Korea's C3 Journal in a feature on Indian architecture reinterpreted in the 21st century, while Hilltop Residence debuted in Puerto Rico's Ambiente y Color magazine.
Locally, Miguel Rivera was named one of Austin's "most groundbreaking and refreshing architects" by Tribeza, which also included LifeWorks in a photo-essay documenting Austin's coolest buildings as seen by bike.
Nov 14, 2012
Observation Tower at Circuit of the Americas, Austin


picture : Paul Finkel | Piston Design
Observation Tower at Circuit of the Americas Texas
May 16, 2013
Texas Exes Alumni Center, Austin, Texas, USA


photo : Paul Finkel
Texas Exes Alumni Center Austin Building
Sep 11, 2008
Public Restroom, Austin, Texas, USA


picture : Paul Bardagjy Photography
Observation Tower at Circuit of the Americas Texas
More buildings by Miró Rivera Architects online soon
Location: 505 Powell Street, Austin, Texas 78703, USA
Architects Practice Information
Architect studio based in Dallas, Texas, USA
ADDRESS
505 Powell Street
Austin, Texas 78703
PHONE
512.477.7016
Texas Architecture


photograph © MFAH
Dallas Center for Performing Arts
Design: Joshua Prince-Ramus / Rem Koolhaas


photo : Iwan Baan
Wyly Theatre Building in Texas
McNay Art Museum – Jane and Arthur Stieren Center for Exhibitions, San Antonio
Design: Jean-Paul Viguier S.A. d'Architecture


photo : Jeff Goldberg / ESTO
McNay Art Museum Building
American Architecture


photograph © Andrew McRae
Texan Buildings : Forth Worth
Website: USA
Comments / photos for the Miró Rivera Architects, TX – Texas Architecture Practice page welcome
Website: Miró Rivera Architects Texas, USA