Mecanoo Architects, Buildings, Rotterdam, Netherlands, Images, NL Design Office, Photos
Mecanoo Architects, Netherlands
Contemporary Dutch Architecture Studio – Design Practice based in Delft, Holland
post updated 24 January 2023
Mecanoo architecten – Latest Buildings + Designs
Mecanoo Architecture News, chronological:
24 Jan 2023
Villa BW, Schoorl, The Netherlands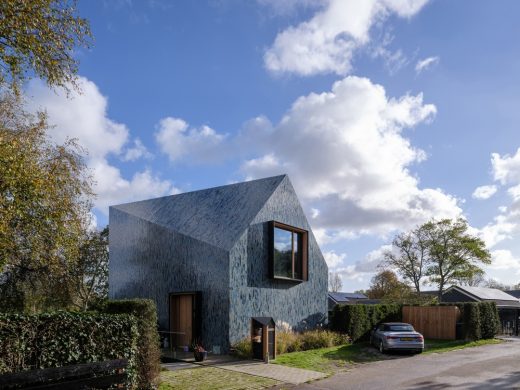 photo : Ossip Architectuurfotografie
Villa BW, Schoorl
Where the rolling dune landscape flows into the lower-lying polder terrain of the hinterland. The naturally sloping landscape embraces Villa BW, with a building volume characterised by a double-curved roof coupled with an unmistakable expression of the facade.
Mecanoo architecten – Building Designs in 2021 – 2022
10 Oct 2022
Brink Tower, Amsterdam, North-Holland, The Netherlands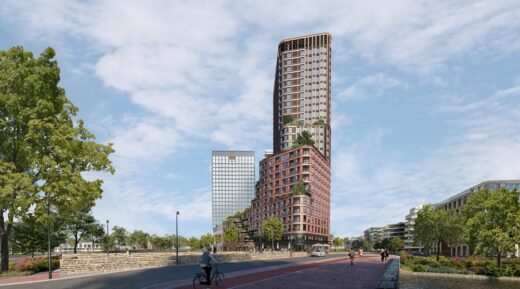 image : Mecanoo
Brink Tower Amsterdam
This green, sustainable, and vibrant vertical neighbourhood with a great diversity of homes will become an eye-catcher in the Overhoeks district skyline of Amsterdam North. The 90-meter-high tower will offer a mixed programme and offers space to live, work, do business and relax in a healthy environment.
14 Jun 2022
Unilever Benelux Headquarters, Rotterdam, The Netherlands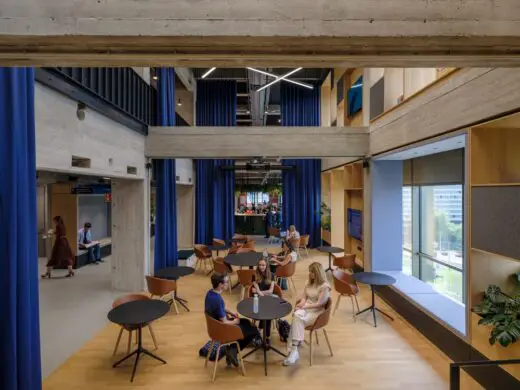 photo © Ossip Architectuurfotografie
Unilever Benelux Headquarters Rotterdam
31 Mar 2022
Natural History Museum Abu Dhabi, Qasr al Hosn Fort, Abu Dhabi, UAE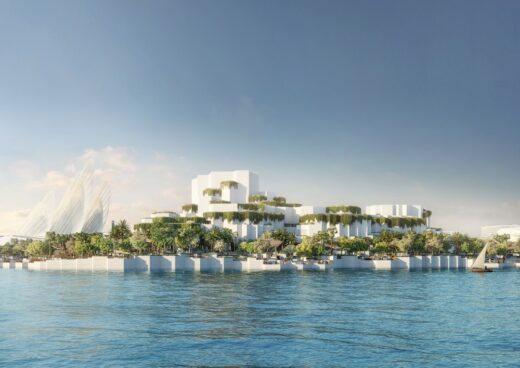 image courtesy of architects practice
Natural History Museum Abu Dhabi
Covering an area of more than 35,000 sqm, lead architects Mecanoo designed the Natural History Museum Abu Dhabi to resonate with natural rock formations, reflecting the museum's goal of improving understanding of and engagement with the natural world. Every element of the design uses geometry as an overriding theme, with pentagonal shapes resembling cellular structures.
18 Feb 2022
World Port Centre, Rotterdam, The Netherlands
Architects: Mecanoo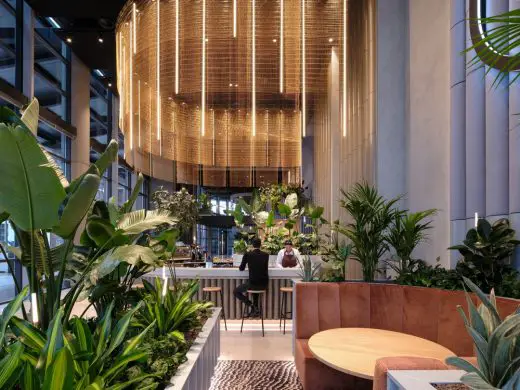 photo : Ossip Architectuurfotografie
World Port Centre
17 August 2021
Mecanoo's National Kaohsiung Centre for the Arts, Kaohsiung, Taiwan, has been awarded in the International Architecture Awards 2020:
International Architecture Awards 2020
Mecanoo architecten Designs in 2019 – 2020
17 June 2020
Hulme Living Leaf Street Housing, Manchester, Northwest England, UK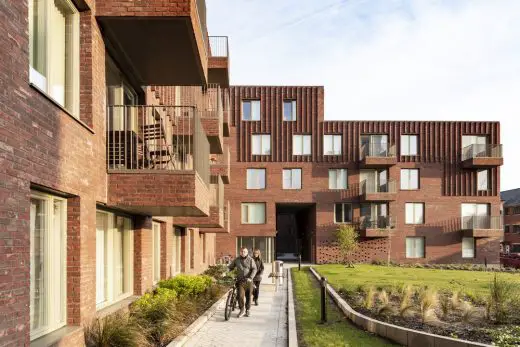 photo : Greg Holmes
Hulme Living Leaf Street Housing
The area around Leaf Street in Hulme, just outside Manchester city centre, has a history of urban renewal. The typical Victorian terraced houses were demolished after World War II to make room for the infamous Hulme Crescents, the largest social housing project in the United Kingdom at the time.
14 May 2020
Masterplan Marktkwartier, Amsterdam, The Netherlands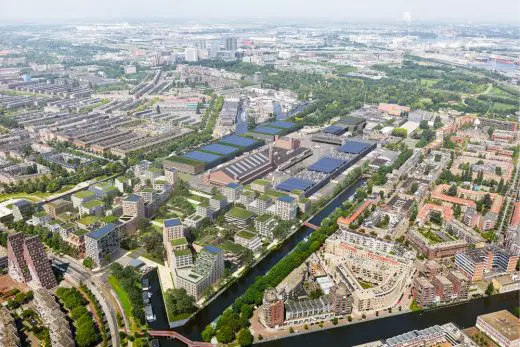 image : Mecanoo
Masterplan Marktkwartier
The Food Center terrain in Amsterdam is somewhat hidden between Jan van Galenstraat and Haarlemmerweg. For decades, shops and restaurants have bought their vegetables, fruit and other food supplies from here. Today, the site is a jumbled ensemble of high fences, shed roofs and a closed gate; it is undergoing a large-scale transformation.
30 Apr 2020
Eddington Housing Development, Cambridgeshire, southeast England, UK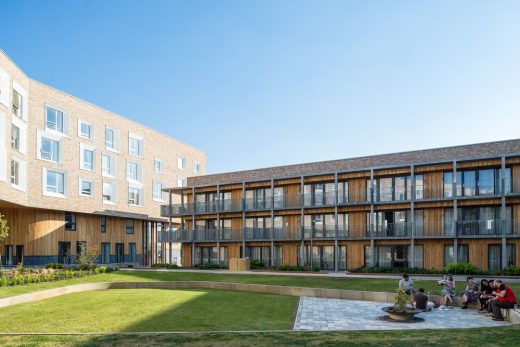 photography : Greg Holmes and Mecanoo
Eddington Housing Development
The Northwest Cambridge Development (NWCD) transforms a 150-hectare site of University of Cambridge farmland into a community with residential buildings, academic facilities, public amenities and open green space.
8 Nov 2019
Konka Tower, Shenzhen, China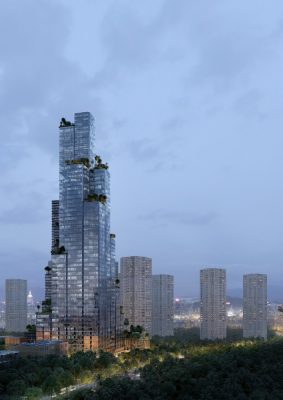 image courtesy of architecture office
Konka Tower Shenzhen
The new Kang Qiao Jia Cheng development will provide an urban regeneration paradigm that is welcoming at street level as well as an imposing icon that fits Shenzhen's skyline.
20 Oct 2019
KAMPUS, Manchester, England, UK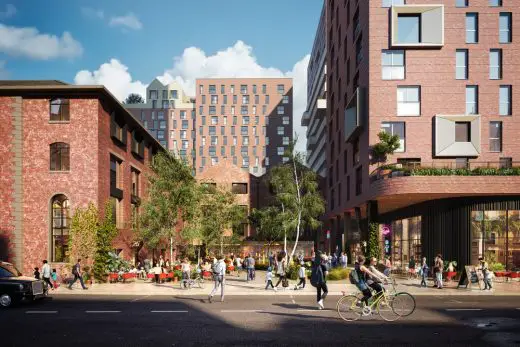 photo © Uniform
KAMPUS
A new neighbourhood located at the former Manchester Metropolitan University campus in the heart of the city.
1 May 2019
Erasmus Campus, Rotterdam, Netherlands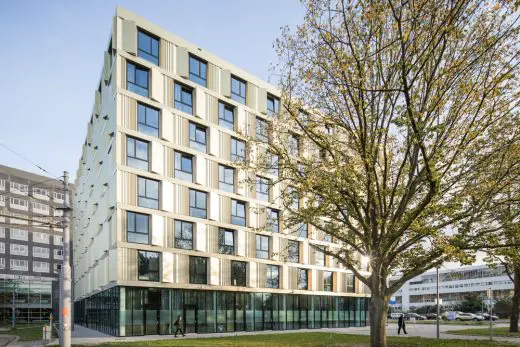 image from architecture office
Erasmus Campus
Rotterdam has a growing demand for student housing. To address this shortage, a student housing complex on a prominent location was sought, at the intersection of Abram van Rijckevorselweg and Burgemeester Oudlaan.
16 Apr 2019
The Grace Towers, The Hague, Holland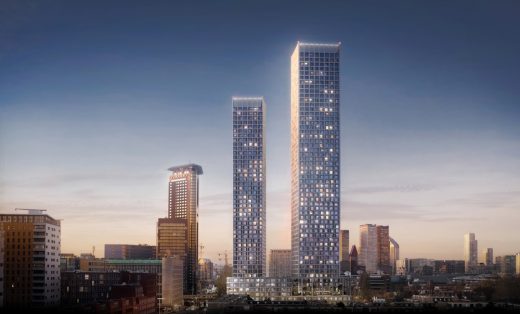 image from architects
The Grace Towers in the Hague
To meet the city's population growth challenge, the municipality is encouraging inner-city densification within the Central Innovation District (CID), a triangular area bound by the city's three train stations.
8 Jan 2019
Qianhai Data Centre, Shenzhen, China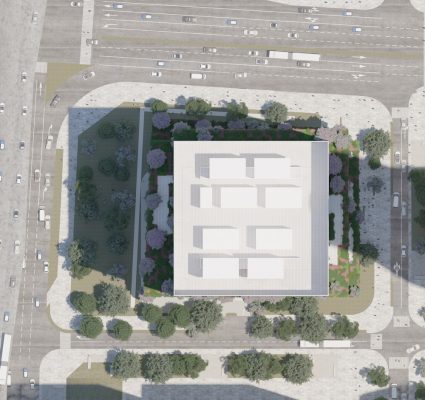 image from architects
Qianhai Data Centre Shenzhen
The aqueduct was a symbol of the development of the Roman Empire, and broadcast antennas have become icons in city skylines. Likewise, data centres are relatively new infrastructural facilities that can substantially contribute to a city's identity.
3 Jan 2019
Glass Villa on the lake, Lechlade, Gloucestershire, Southwest England, UK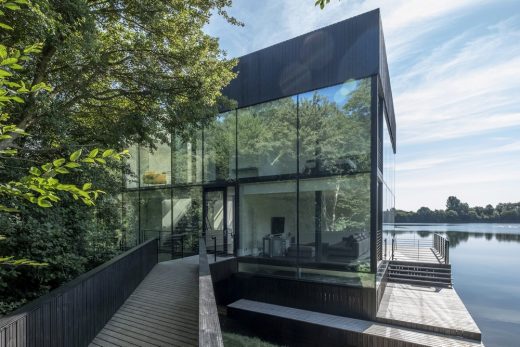 photograph : Blue Sky Images
Glass Villa on the lake, Lechlade
The guiding design principle was to create a house that combines transparency with sustainability, forging a strong relationship between the villa and the landscape.
More
Mecanoo architecten building designs
online here soon
Building Designs in 2017 – 2018
7 Oct 2018
NS Vision interior train of the future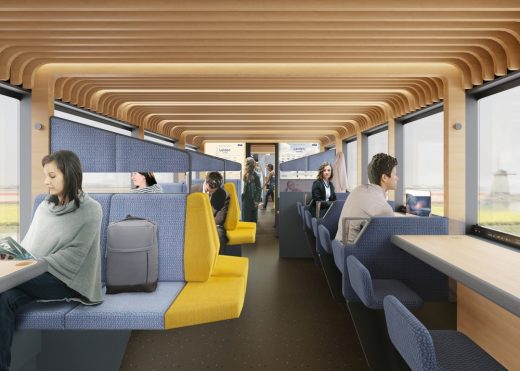 image : Mecanoo architecten
NS Vision interior train of the future
Every year, 373 million travellers spend their time in NS trains. In NS's (the Dutch National Railway Company) future vision for 2025, the train will be more than a means of transport.
21 Sep 2018
Delft City Hall and Train Station Building, The Netherlands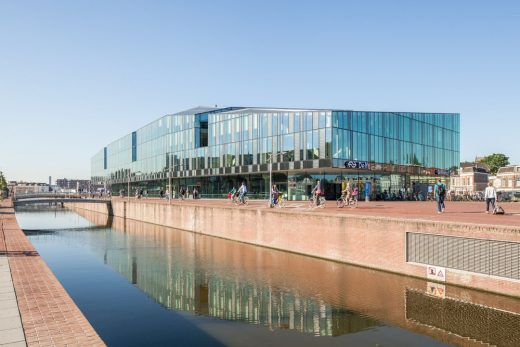 image courtesy of architects
Delft City Hall and Train Station Building
7 Aug 2018
Hoogheemraadschap van Delfland, Delft, The Netherlands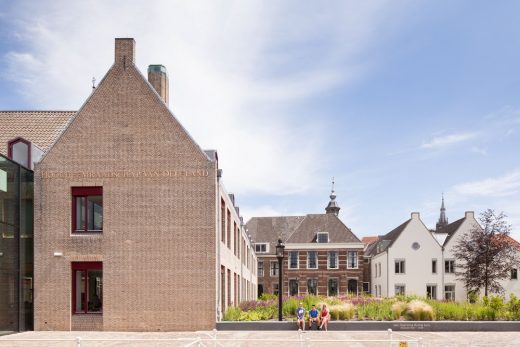 image courtesy of architects
Delfland Water Authority Building by Mecanoo architecten
The Delfland Water Authority is located in a historical building on the Oude Delft: the Gemeenlandshuis. The monumental part was built in 1505 as a house for Jan de Huyter.
12 Jul 2018
Cartesiusdriehoek Blue District, Utrecht, Netherlands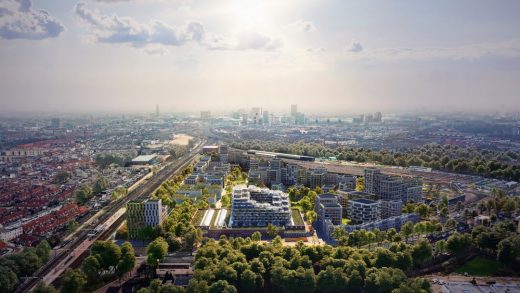 image courtesy of architecture office
Cartesiusdriehoek Blue District Utrecht
The masterplan for this new residential neighbourhood with 2,600 homes, a large central park, a school, a supermarket, catering and various other facilities is inspired by a scientific theory about areas around the world where people live longer, healthier and happier lives, the so-called blue zones.
2 May 2018
Kaohsiung Social Housing by Mecanoo, Kaohsiung, Taiwan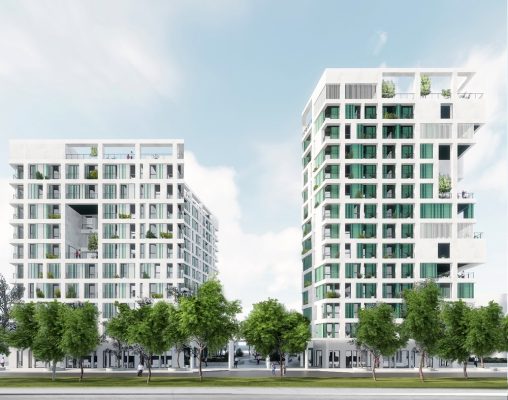 image courtesy of architects
Kaohsiung Social Housing by Mecanoo
Mecanoo's Social Housing philosophy focuses on the development of affordable living spaces defined by flexibility, the right balance of private and communal spaces, mixed housing types, connection with the environment and identity.
18 Apr 2018
Mecanoo: Inspiration and Process in Architecture by Moleskine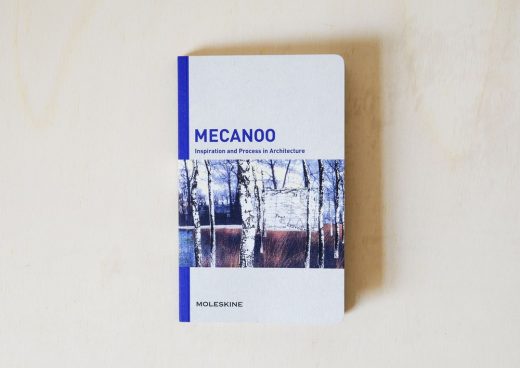 image courtesy of architects
Mecanoo Inspiration and Process in Architecture by Moleskine
Inspiration and Process in Architecture is a series of monographs on key figures in modern and contemporary architecture. It offers the reading of the practice of design which emphasises the value of freehand drawing as part of the creative process.
23 Feb 2018
Kaohsiung Station Building Wins at RTF Sustainability Awards 2017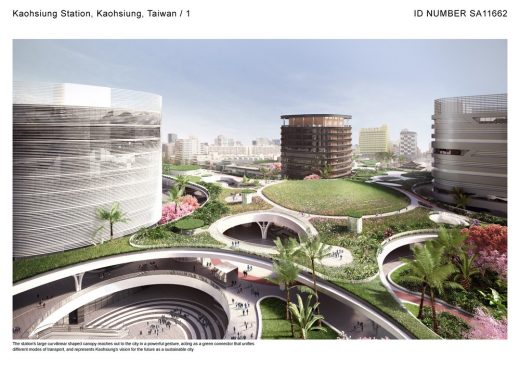 image courtesy of architects
RTF Sustainability Awards 2017 Winner
The new Kaohsiung Station is the crowning achievement of the massive Kaohsiung Metropolitan Area Underground Railway Project, which includes seven subterranean stations along a 9.75 km railway tunnel.
24 Jan 2018
New Palace of Justice in Córdoba, Spain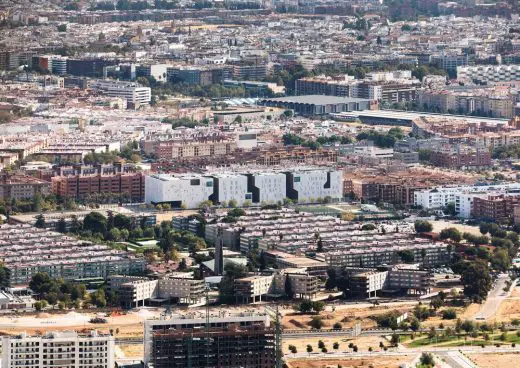 photo © Fernando Alda
New Palace of Justice in Cordoba
The new Palace of Justice in Córdoba is located in Arroyo del Moro which is characteristically dominated by anonymous housing blocks, products of the rapid urban development of 21st century Spanish cities.
23 Nov 2017
Eurojust, Den Haag, The Netherlands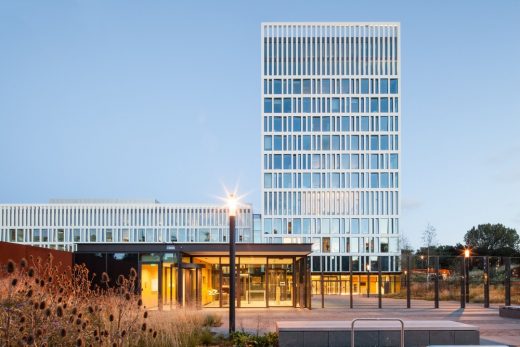 photo from architects office
Eurojust Den Haag
Eurojust is the EU-judicial cooperation unit dealing with cross-border crime. The new headquarters for Eurojust in the International Zone of The Hague were developed together with the Central Government Real Estate Agency, the Ministry of Justice and Security and the municipality. The twelve-storey building has more than four hundred workplaces and accommodates the national representatives of the EU Member States and three non-EU countries, supported by an administrative department.
18 Nov 2017
Stephen A. Schwarzman Building, New York City, NY, USA
Design: Mecanoo with Beyer Blinder Belle, architects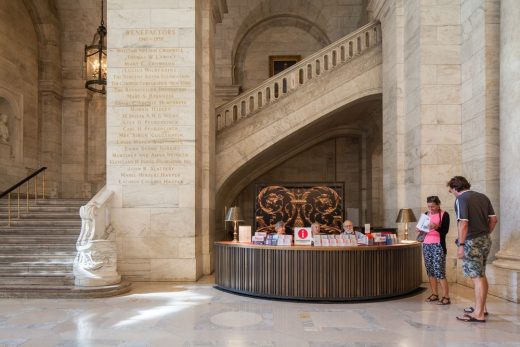 image courtesy of architects
New York Public Library Stephen A. Schwarzman Building
The New York Public Library has unveiled a Master Plan for its iconic Stephen A. Schwarzman Building, one of the nation's leading research libraries, which for over a century has stood as a symbol of open and free access to information and opportunity.
5 Sep 2017
Shenzhen North Station Urban Design Competition, China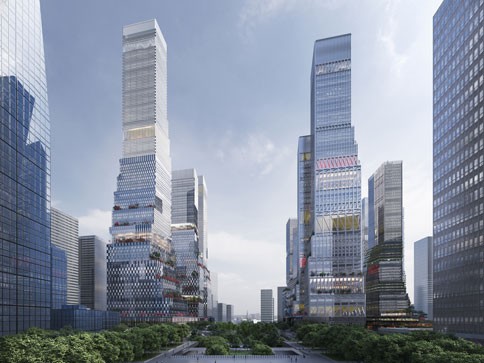 image from architects office
Shenzhen North Station Urban Design Competition
The main buildings of the business district are set around a central urban park and vary in height between 278 and 428 metres.
27 Aug 2017
Mecanoo Appointed for Perth City Hall Renovation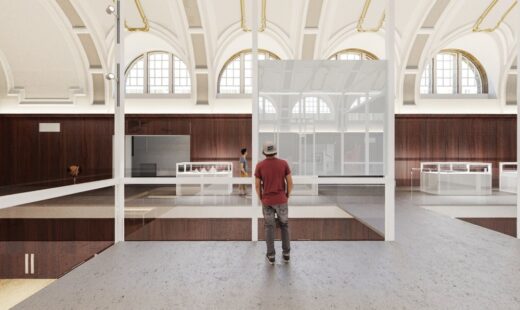 image courtesy of architects office
Perth City Hall Building Renovation
The category B-listed building will be transformed into a cultural facility with exhibition spaces, learning suite, café and retail space.
25 Jul 2017
Namdaemun Office Tower in Seoul, Seoul, South Korea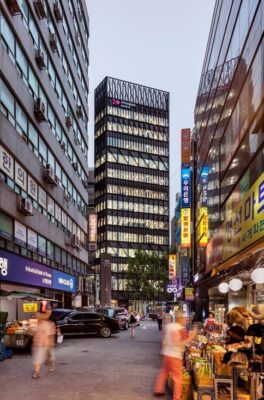 photo courtesy of architects firm
Namdaemun Office Building in Seoul
With its stark linear facade patterns, the Namdaemun Office Building in Seoul stands out from the vibrant market district that surround it. The office tower is Mecanoo's first completed project in South Korea's capital.
23 Jun 2017
Zaans Medical Centre in Zaandam, Netherlands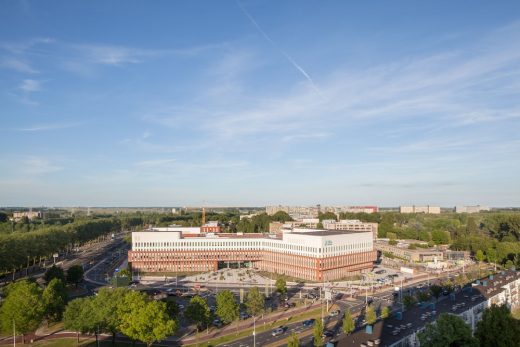 image courtesy of architects
Zaans Medical Centre Building in Zaandam
18 Apr 2017
Perth City Hall Building Revamp, Scotland
Mecanoo is one of five of architects firms competing for the right to redesign Perth City Hall with the building's re-opening scheduled for 2021.
Each has a grand vision for redeveloping the building into a cultural attraction capable of bringing visitors to the city from around the world. Shortlisted architects, alphabetical order:
– Austin Smith Lord
– Hoskins Architects
– LDN
– Mecanoo
– Richard Murphy Architects
Perth City Hall Building Redevelopment
4 + 1 Apr 2017
Grand Gatehouse for Keukenhof by Mecanoo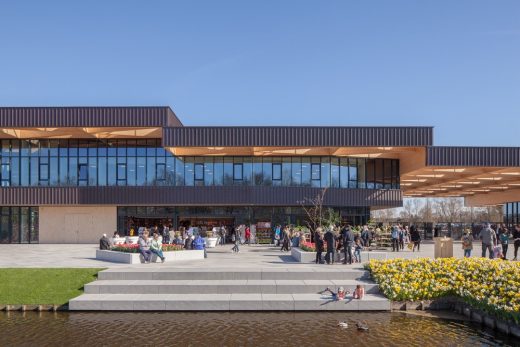 Keukenhof finally has a proper main entrance. Mecanoo designed an elegant gatehouse to welcome the large flows of, mainly international, visitors to the world-famous gardens. The striking timber roof structure of interwoven isosceles triangles provides shelter and creates an ever-changing play of light and shadow.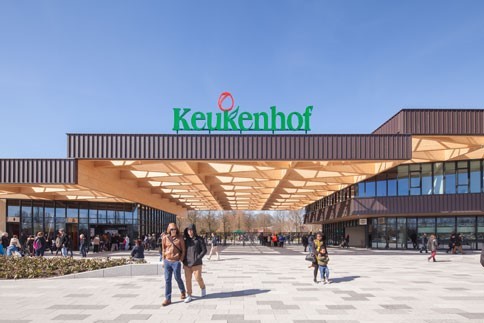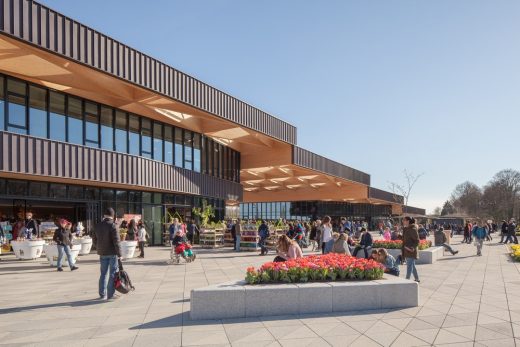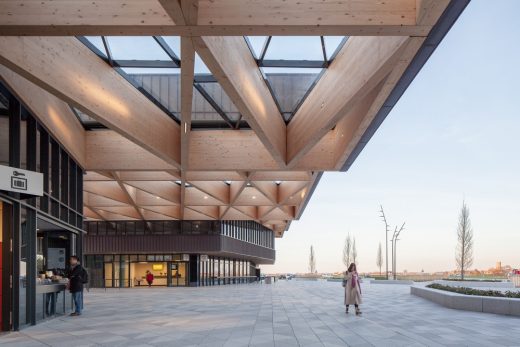 The integral design for the entrance area includes two plazas. A forecourt with wedge-shaped planters leads visitors from the main car park to the entrance. The stepped roof leans on two volumes, forming an impressive gateway to the park. The Grand Gatehouse for Keukenhofhouses public functions such as cash registers, an information desk and retail. Skylights in the roof create a spacious and light atmosphere in the restaurant.
Francine Houben, creative director Mecanoo:
"The gatehouse is the transition between the outside world and the world of Keukenhof and all its flowers. While walking through the entrance, you will see the beautiful Dutch skies above framed by timber triangles. Look down and you will see an intriguing pattern of triangular shadows on the ground. A fence with a tulip motif marks the beginning of a journey of discovery through the most beautiful spring garden in the world."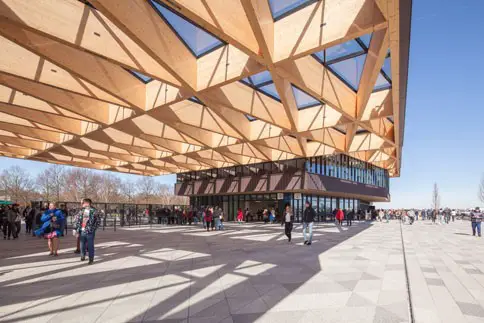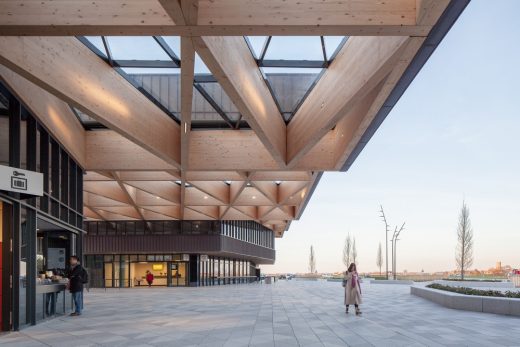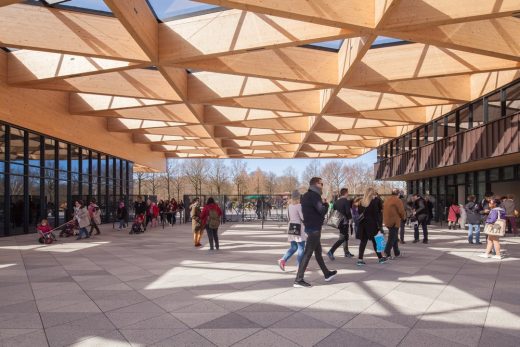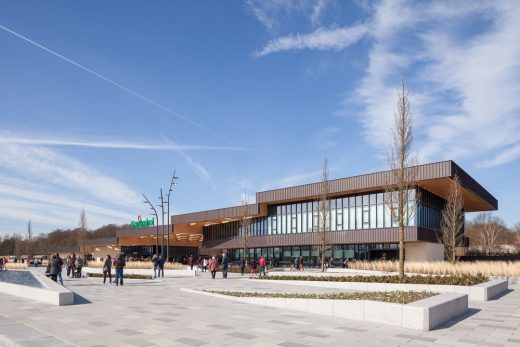 The use of natural materials – wood, copper and brick, lends character to the building without being a distraction from its environment. On a beautiful spring day, the glazed facade can be opened almost entirely, blending the interior with the exterior. Ponds with fountains provide a suitable ambiance for a pleasant day out and sitting on the spacious terraces, visitors are treated to views over the largest tulip field inside the park.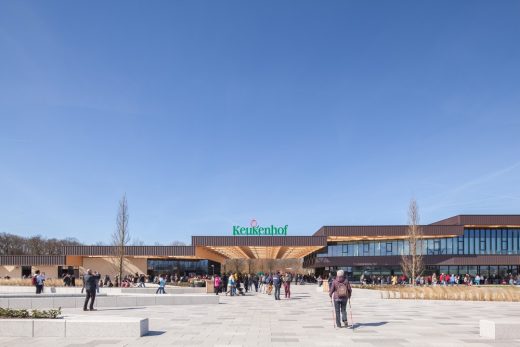 Keukenhof will be open daily this Spring until May 21.
16 + 15 Mar 2017
Mecanoo and Gispen launch modular furniture for learning environments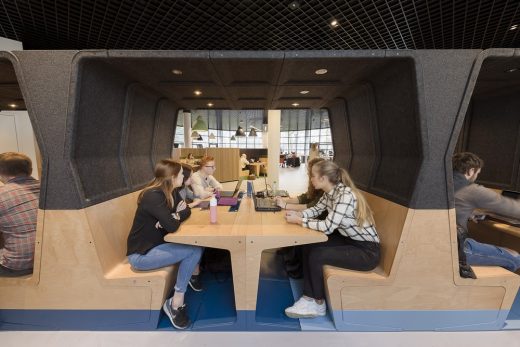 image by architects studio
Mecanoo and Gispen modular furniture
Feb 21, 2017
Mecanoo wins prestigious architecture prize in Boston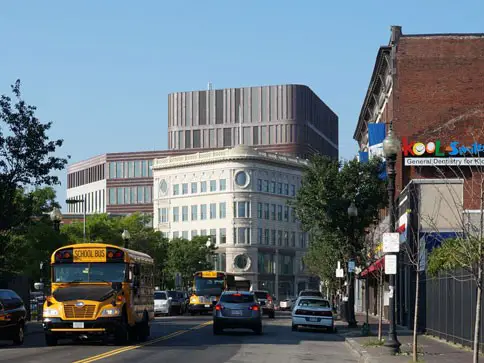 image by architects
Mecanoo architecten, led by Francine Houben, has received the Harleston Parker Medal for designing the Bruce C. Bolling Municipal Building. The Harleston Parker Medal is Boston's most prestigious architecture prize. The project, on which Mecanoo collaborated with local firm Sasaki Associates, also won the People's Choice Award.
More info on Mecanoo Architects soon
Mecanoo architecten Netherlands – news archive for 2016
Location: Oude Delft 203, 2611 HD Delft, The Netherlands, northern Europe
Architects Practice Information
Mecanoo architecten
Founding director/architect : Prof. ir. Francine M.J. Houben
This Dutch architecture studio have offices in Delft (Netherlands) and Birmingham (UK).
Delft Architect : Mecanoo architecten studio contact details
This Dutch architecture practice was founded in 1984.
Erick van Egeraat – Mecanoo architecten former partner
Buildings / photos for the Mecanoo Architects page welcome
Website: www.mecanoo.com