Luis Barragan Architect, Modern Mexico Buildings, Studio, Projects, Houses, Info
Luis Barragán : 20th Century Mexican Architecture
Key 20th Century Mexican Architect Practice, central America: Pritzker Prize–winner
Dec 27, 2017
Luis Barragan News
Sean Scully – San Cristobal exhibition: Luis Barragan Architect Mexico
Works by one of the world's leading abstract artists, Sean Scully will go on show at Luis Barragán's iconic modernist landmark, Cuadra San Cristóbal in Mexico City from 7 February – 24 March 2018.
Curated by Oscar Humphries, Sean Scully – San Cristobal is the first exhibition to be presented at Cuadra San Cristóbal and it is first time the artist's sculptures will be shown in Latin America.
Luis Barragán Exhibition in Mexico City
30 Aug 2016
Luis Barragan Architect – Diamond Ring
Brooklyn-based conceptual artist Jill Magid spent years plotting the perfect proposal, reports the Architectural Record.
On September 9 at the San Francisco Art Institute, Magid will exhibit a 2-carat diamond ring, created by compressing the cremated remains of Mexican architect Luis Barragán.
diamond ring made from cremated remains of architect Luis Barragán: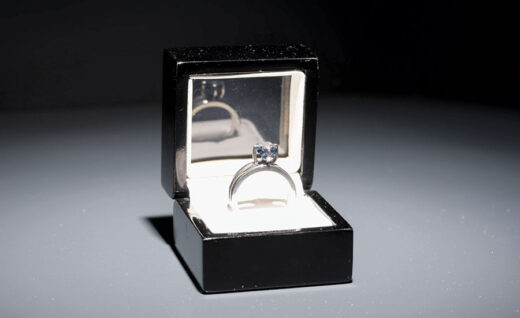 photograph © Kunst Halle Sanky Gallen / Stefan Jaeggi
This will represent her proposal to the owners of his professional archive: open Barragán's legacy to the public.
When the architect died in 1988, his estate was divided between two close business colleagues.
Barragán's library became the museum Casa Luis Barragán—a UNESCO World Heritage Site since 2004.
After Barragán's other beneficiary committed suicide in 1993, the architect's papers, drawings, and photographs archive was sold to Rolf Fehlbaum, chairman emeritus of his family's furniture company, Vitra, and his wife, Federica Zanco, an Italian architectural historian.
The couple shipped Barragán's estate to Vitra's headquarters in Birsfelden, Switzerland, where it has remained ever since, accessible only to Zanco, a few scholars, and an assistant.
Website: Luis Barragán Estate diamond ring
page updated 13 Aug 2016
Luis Barragan Architect – Key Projects
Key Buildings by architect Luis Barragan, alphabetical:
Casa Antonio Galvez, San Angel, Mexico
Date built: 1954
Casa Gilardi, Mexico
Dates built: 1975-77
Casa Luis Barragan, Tacubaya, Mexico City
Date built: 1947
aka Luis Barragan House
Capilla de Tlalpan, Mexico City
Dates built: 1953-60
Cuadra San Cristobál, Los Clubes, Mexico
Dates built: 1966-68
Fuente de los Amantes, Los Clubes
Date built: 1966
Torres Satélite, Mexico City
Date built: 1957
More architecture projects by architect Luis Barragan online soon
Location: Mexico City, Mexico, North America
Luis Barragan Practice Information
Pritzker Prize architects : 1980 Pritzker Prize Laureate
Luis Barragan
1902-88
Born in Guadalajara, Mexico, died in Mexico City, Mexico
Louis Barragán – Education
Engineering Degree: 1924
Barragan's buildings are famous for bright-coloured walls in a simple, planar style presaging European Minimalism of the late 20th century, eg Pawson and Silvestrin. Using water and warm colours the buildings integrate with the outdoors and are popular amongst non-architects too.
Barragán died in Mexico City in 1988
Casa de Luis Barragán is now a Museum to Barragan
La Casa Luis Barragán, construida en 1948, representa una de las obras arquitectónicas contemporáneas de mayor trascendencia en el contexto internacional, como lo ha reconocido la UNESCO al incluirla, en el año 2004, en su lista de Patrimonio Mundial. Se trata del único inmueble individual en América Latina que ha logrado tal distinción, debido a que –como afirma la propia UNESCO en su declaratoria– es una obra maestra dentro del desarrollo del movimiento moderno, que integra en una nueva síntesis elementos tradicionales y vernáculos,
source: http://www.casaluisbarragan.org/
Mexican Architecture


photo : Sara Sackner
Barragan Foundation : Birsfelden, Basel, Switzerland
Architecture Studios – key design offices around the world
Comments / photos for the Luis Barragan Architecture – Famous 20th Century Mexican Architect page welcome