Louis Kahn Architect USA, Modern Building, Studio, Projects, Office, American Works, Houses
Louis Kahn Architect
Key 20th Century American Architecture Practice: US Architectural Information + Images
6 May 2016
Key Louis Kahn Buildings
Yale Center for British Art, Chapel St, New Haven, CT, United States of America
Design: Louis Kahn architect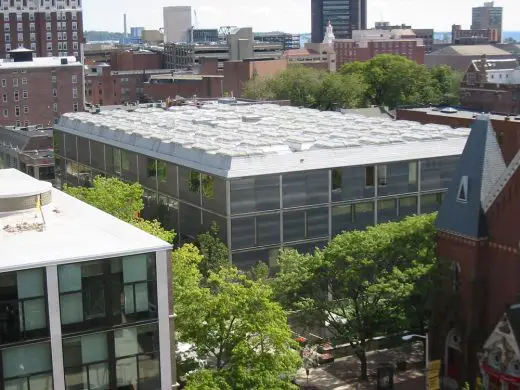 photograph : Public Domain, http://commons.wikimedia.org/w/index.php?curid=1252452
Yale Center for British Art Building
8 Apr 2016
Fine Arts Center, School, and Performing Arts Theater, Fort Wayne, Indiana, USA
Date built: 1959-73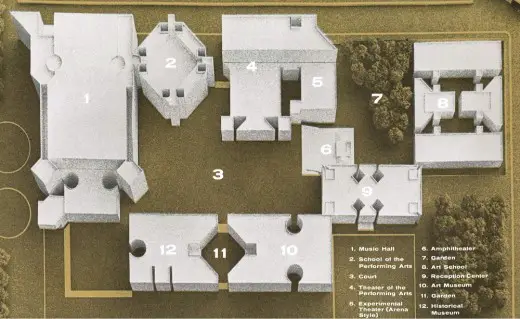 photo courtesy wikimedia commons
Louis Kahn's Fine Arts Center, School, and Performing Arts Theater in Indiana – 8 Apr 2016
Regeneration architect sought.
Phillips Exeter Academy Library, Exeter, New Hampshire, USA
Date built: 1967-72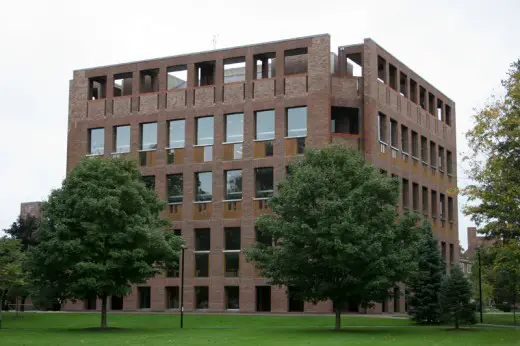 photo by Rohmer at en.wikipedia
Phillips Exeter Academy Library
This building has none of the landscape-integrating prairie horizontals of Frank Lloyd Wright's houses but instead hits you across well-maintained landscape as a massive squat pile of bricks.
Yale University Art Gallery
Design with Polshek Partnership Architects, LLP
Yale University Art Gallery (left to right: Kahn Building, Old Yale Art Gallery, and Street Hall), South Exterior Elevation:


image © Ennead Architects
Yale Art Gallery
On December 12, 2012, the Yale University Art Gallery celebrates the grand opening of the renovated and expanded museum.
Louis Kahn – Key Projects
Major Developments by Louis Kahn Architect, alphabetical:
Erdman Hall Dormitories & Cafeteria, Bryn Mawr, Pennsylvania, USA
Dates built: 1960-65
Esherick House, Chestnut Hill, Pennsylvania
Dates built: 1959-61
Exeter Library, Exeter, New Hampshire, USA
Dates built: 1967-72
First Unitarian Church, Rochester, New York, USA
Dates built: 1959-67
Institute of Public Administration, Ahmedabad, India
Date built: 1963
Kimbell Museum, Fort Worth, Texas, USA
1967-72
National Assembly, Dacca, Bangladesh
1962-74
The decision to build the National Assembly of Bangladesh in Dhaka city was originally made in 1959. The administrators of martial law planned to build the current Sangsad Bhavan as a second seat of parliament of Pakistan on the proposed zone as the second capital, Sher-e-Bangla Nagar.
Kahn was originally selected to design the compound of the National Assembly. He was not charged directly, but the project was put to the public to submit preliminary ideas for the complex and in March 1962 he was awarded the project officially.
source: National Assembly of Bangladesh
Norman Fisher House, Philadelphia, Pennsylvania
1960
Richards Medical Center, Philadelphia, Pennsylvania
1957-61
Salk Institute, La Jolla, California, USA
1959-66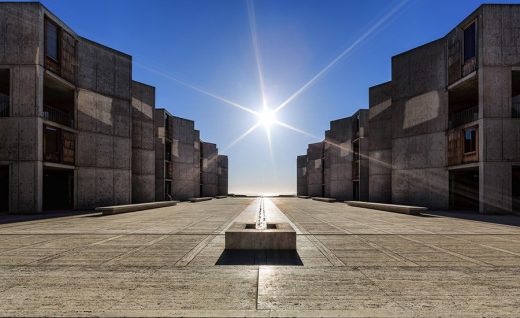 photo provided by architect Alan Dunlop
Salk Institute, La Jolla – Salk Institute for Biological Studies Conference
In 1957, Jonas Salk, developer of the first safe and effective polio vaccine, began his quest to "create a collaborative environment where researchers could explore the basic principles of life and contemplate the wider implications of their discoveries for the future of humanity."
Gifted with 27 acres overlooking the Pacific Ocean by the City of San Diego in 1960, Salk partnered with Kahn to design such a research center. He summarized his aesthetic objectives by telling the architect to "create a facility worthy of a visit by Picasso."
source: Salk Institute
Trenton Bath House, Trenton, New Jersey, USA
1954-59
Yale Center for British Art, New Haven, Connecticut, USA
1969-74
Yale University Art Center, New Haven, Connecticut
1951-53/54
Louis Kahn Residential Architecture – Oct 2016
Location: Philadelphia, Pennsylvania, USA
Louis Kahn Architect Practice Information
Louis I. Kahn
1901-74
Yale University Art Gallery was his first major project
Louis Isadore Kahn – Jewish architect born in Saaremaa, Russia (now Estonia).
Louis Kahn was born Itze-Leib Schmuilowsky in Kuressaare. His family emigrated to the USA in 1905. He lived and worked in Philadelphia, Pennsylvania.
Exeter Library : Brief Review of the Exeter Library building
Teaching
Professor of Architecture: Yale University 1947-57
Dean, Professor of Architecture: University of Pennsylvania 1957-
Education
University of Pennsylvania: Masters Degree 1924
Pupils included Robert Venturi and Moshe Safdie
The architect died in Pennsylvania Station in New York:
The architect died at Penn Station in March 17, 1974, when his briefcase was opened it contained sketches of Four Freedoms Park, on Roosevelt Island in New York's East River.
(source: http://uk.phaidon.com/agenda/design/articles/2015/march/17/what-was-louis-kahn-working-on-the-day-he-died/)
Nathaniel Kahn film released in 2003 called My Architect: A Son's Journey,
Louis Kahn Memorial Park : Pine Sreet, Philadelphia
Louis Kahn Architect – article posted Aug 2016
Hood Museum of Art Building Renovation, Dartmouth College, Hanover
Date built: 1985
Original Building Design: Charles Moore Architect
New Building Design: Billie Tsien and Tod Williams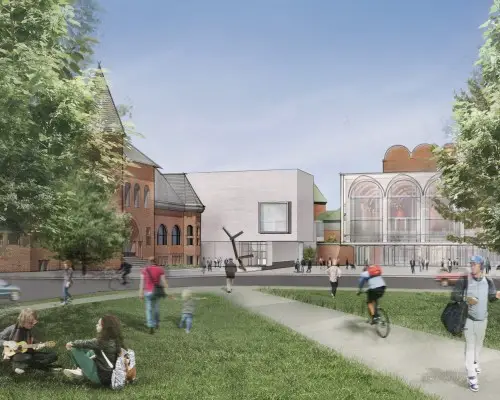 image courtesy Tod Williams Billie Tsien Architects
Hood Museum of Art Building Renovation – Mar 2016
Dartmouth College, Hanover
Louis Kahn : Philadelphia Architect
Louis Kahn protege : Robert Venturi of Venturi Scott Brown
Louis Kahn – Awards
American Institute of Architects Twenty-Five Year Award:
Phillips Exeter Academy Library
AIA Gold Medal : 1971
RIBA Gold Medal : 1972
American Architecture


photo : Peter Aaron
A former pupil is Moshe Safdie who leads an international architecture office from Boston, MA, USA.
Comments / photos for the Louis Kahn Architecture – 20th Century American Architects Practice: page welcome