LIN, Finn Geipel + Giulia Andi Architects, French Design Studio, Photos
LIN Architects : Architecture
Laboratory for integrative Architecture and Urbanism : Buildings
post updated 9 May 2021
LIN Büro für Architektur News
LIN Architecture News, chronological:
5 Feb 2021
Project Gare d'Auteuil in Paris is nominated for Mies van der Rohe Award 2022.
24 Nov 2020
"Halle 6 ouest" wins the award "Équerre d'argent" in the category "Activités".
10 Nov 2020
The project "Halle 6 ouest" in Nantes, has been nominated for the prestigious award "Équerre d'argent" in the category "lieux d'activités".
8 May 2019
LIN receives 2nd prize in the "Horner Geest" competition in Hamburg, DE.
18 Apr 2019
New exhibition opening "Le Laboratoire du logement – Éloge de la méthode" about project "Gare d'Auteuil" in the Cité de l'Architecture et du Patrimoine, Modern and Contemporary Architecture Gallery in Paris.
2 Apr 2019
Conversation with Finn Geipel in the new publication "Designing Change. Professional Mutations in Urban Design 1980-2010" by Eric Firley.
12 Dec 2019
LIN, in collaboration with Lavaland/Treibhaus, Transsolar and Bollinger & Grohmann, receives 1st prize for a new residential district/ housing project with 350 apartments in the "Hafenbahnpark" competition in Hamburg.
13 Nov 2018
Project Bremer Punkt has been shortlisted for the 2018 Heinze Architekten Award.
25 Oct 2018
Finn Geipel will be presenting as part of the series "here + there" at the Faculty of Architecture at the Hochschule München on the 25th of October at 7 pm.
23 Oct 2013
Bremer Punkt will be shown at the Deutsches Architekturmuseum (DAM) in Frankfurt as a part of the exhibition Rhein-Main – Die Region leben.
21 Oct 2013
3Land, Switzerland / France / Germany
3Land Masterplan
This French architecture studio has been selected to develop the masterplan for the tri-national territory of 3Land – Basel (CH), Weil am Rhein (DE) and Huningue (FR).
7 Feb 2013
Strasbourg – Kehl Zollhofareal, France / Germany – international competition win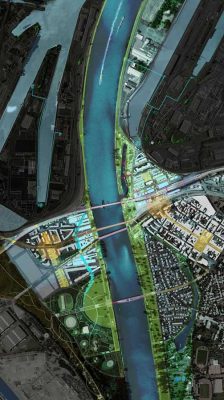 image from architects studio
Strasbourg – Kehl Zollhofareal Competition
Since the early 2000s the two cities have been reinforcing their ties in a process aiming to establish a European transborder metropolis along the Rhine River. The design proposal is at the same time a vision to reunite the two cities/countries around the river and a framework for the urbanization of the site.
25 Apr 2012
ZAC Pajol, Paris, France
Date built: 2012
Design in collaboration with MARS ARCHITEKTEN


photograph : David Boureau
ZAC Pajol
The office space of the ZAC PAJOL is situated in the 18th arrondissement of Paris, in the context of a vast regeneration project for this previously industrial area. The building has been inspired by the tradition of the "HOTEL INDUSTRIEL" and establishes a singular volume which apparent rigidity contrasts with its flexible use, and constitutes a durable structure.
LIN Exhibition
DAM prize for Architecture in Germany 2010 – The 23 best buildings in / from Germany
Cité du Design, Saint-Étienne by this French architecture practice will be showcased within the exhibition. It was open from 29 Jan – 29 May 2011.
Key Projects by LIN
Major Buildings by LIN, alphabetical:
Grand Paris Metropole Douce, France
Date built:2009-
Grand Paris Metropole Douce
Alvéole 14 – Transformation of a submarine base, Saint-Nazaire, France
Date built:-


illustration : Adrian König
Alvéole 14 : French Building Project
Cité du Design, Saint-Étienne, France
Date built:-


image from architect
Cité du Design
Selected Realised Projects
Cité du Design, Saint-Etienne, France, under construction
Alvéole 14, Saint-Nazaire, France, 2007
"Syn Chron" installation – across three cities: Berlin, Bern, Yamaguchi-city, 2005-06
Kleyer House, Oldenburg (Weser-Ems Prize), Germany, 2004
Halle E studio platform, Hamburg, Germany, 2004
Densité +/- 0, exhibition design, Paris, France, 2004
Exhibition space Pavillon de l'Arsenal, Paris, France, 2003
Cornouailles Theatre, Quimper, France, 1999
Workshops École d´Architecture Paris la Seine, Paris, France, 1997
École Nationale d'Art Décoratif, Limoges, France, 1994
Arena canopy, Nimes, France, 1988
Urban development studies by LIN
Coeur d'Orly – Plateforme Aéroportuaire, Paris, France, 2007
Northwest Arc urban planning, Thessaloniki, 2001-03
Bassin Via Flaminia, Rome, since 2001
Central railway site, Munich, 2001-03
Exhibitions
La Biennale di Venezia, Venice, Italy
Architekturgalerie München, Munich, Germany
Institut Français d'Architecture, Paris, France
Netherlands Architecture Institute, Rotterdam, Netherlands
Haus der Architektur, Graz, austria
Centre Georges Pompidou, Paris, France
Museo de Arte Moderno, Buenos Aires, Argentina
Solomon R. Guggenheim Museum, New York, USA
Bienal Internacional de São Paulo, Brazil
La Triennale di Milano, Milan, Italy
More buildings by LIN, Architects, online soon
Location: Berlin, Germany, western Europe
Website: www.lin-a.com/
Architecture Practice Information
LIN architecture offices based in Berlin (Germany) + Paris (France)
Architecture practice led by Finn Geipel + Giulia Andi
LIN
LIN is an agency for architecture and urbanism based in Berlin and Paris. The design studio develops architectural projects as well as urban and landscape projects. Flexibility, open programming, building in context and the minimal use of resources are important issues in the firm's approach, best described as integrative.
Projects continuously involve the participation of an international team of consultants from diverse fields (construction engineering, climate concepts, lighting, philosophy, art, design, urban programming, information design, architectural theory, ecology, urban economy). LIA, a laboratory at the Technische Universität Berlin, is a permanent research platform.
Team LIN LIA
Giulia Andi, Finn Geipel, Wiesje Bijl, Agnès Bommier, Jacques Cadilhac, Susan Draeger, Hans-Michael Földeak, Ulricke Green, Stefan Jeske, John Klepel, Philip König, Jan-Oliver Kunze, Sylvain Néel, Thomas Pilgrim, Philip Rieseberg, Simon-Martin Schultze, Takeshi Tamashiro, Heiko Walth, Simon Wiesmaier, Richard Woditsch, Anna Wozniak, Nele Zareh
French and German Architecture<
Buildings / photos for the LIN Architects – Finn Geipel + Giulia Andi page welcome