LAN Architecture, Architects, Building, Photos, News, Paris Design Studio, Projects, Office
LAN Architecture Paris : Architects Studio France
Contemporary French Architectural Practice
post updated 21 October 2022
LAN Architecture News
LAN Architecture News, chronological:
21 Oct 2022
Rive de Seine tower, between the Gare de Lyon and the Gare d'Austerlitz, Paris, France
Design: LAN – Local Architecture Network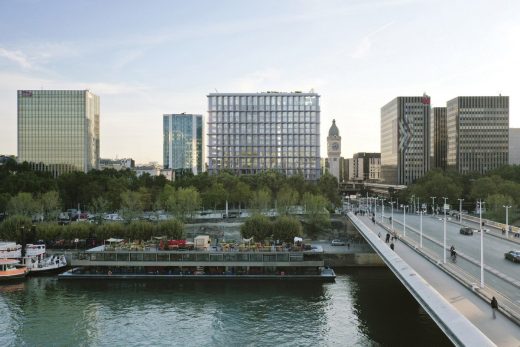 image © LAN
Rive de Seine tower
Extension of the exhibition Paris Haussmann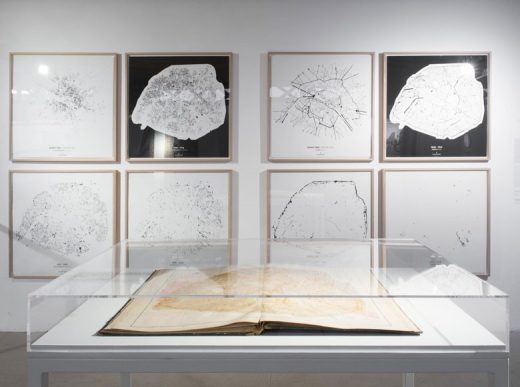 EXTENSION OF THE EXHIBITION PARIS HAUSSMANN
Encouraged by its success, the exhibition Paris Haussmann, a model's relevance is extended until June, 4th at the Pavillon de l'Arsenal in Paris.
AROUND THE EXHIBITION
A bilingual and fully documented publication and a lecture given by curators Umberto Napolitano and Franck Boutté available online are accompanying the exhibition.
LAN Architecture News in 2017
SOCIAL HOUSING EXHIBITION AT THE RIBA
The exhibition Social Housing presented at the RIBA London between 18th April and 29th May, will features, among others, LAN Architecture's project of 79 housing units in Bègles.
POLARIS
NANTES
After documenting the major breakthroughs of Baron Haussmann for the exhibition, photographer Cyrille Weiner has visited the LAN Architecture construction site in Nantes.
MINIMUM SECURITY PRISON
NANTERRE
The construction of the minimum-security prison for French Ministry of Justice has started in Nanterre in November 2016 and will last nearly 16 months.
BAUD CHARDONNET
RENNES
First stone of the eco-neighborhood Baud Chardonnet in Rennes has been laid on February 6th. The mixed-use program will host housing units, retail shops and a chapel.
ARCHITECTS STUDIOS
LAN moves into new offices shortly.
Carré lumière Bègles, Gironde, south-west France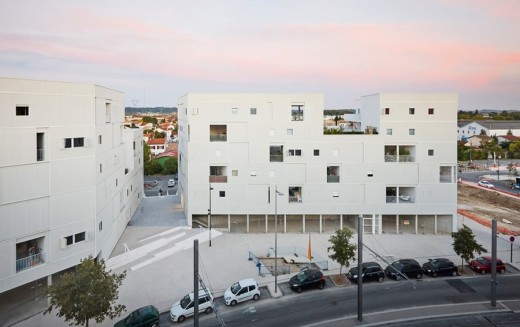 photograph from architects
Bègles Housing
The architects are pleased to announce that the 79 Housing units in Bègles is now completed. The project is designed as an envelope that can double its size tomorrow, and thus, double its density.
An Urban hybrid
Social prototype – with the use of prefabricated industrial façades and built like a parking garage, the proposal by LAN is a fundamental piece in the definition of the public space of this site.
AMC Special issue
First Office portrait – for its first series of office portraits, AMC published an illustrated interview with Umberto Napolitano about this architecture practice. Architecture journalist Margaux Guislain discusses LAN's philosophy and expectations for the future.
Leaf Award 2015 – Euravenir tower in Lille
The Euravenir tower in Lille wins Commercial Building of the Year at the LEAF Awards in London.
Euravenir tower in Lille
21 Oct 2013
Neue Hamburger Terrassen Housing, Hamburg, Germany


photograph : Julien Lanoo
Neue Hamburger Terrassen Housing
The four housing blocks were delivered on an ongoing basis between October 2012 and March 2013, just in time for the inauguration of IBA Hamburg 2013 and the IGS (Internationale Gartenschau, an international exposition devoted to landscape architecture), both of which drew many visitors to the site.
18 Jan 2012
Hotel in Atacama Desert, Chile


picture from architects
Hotel in Atacama Desert
The building consists of a low rise hotel and recreational complex. It measures 32,7m x 144,8m. Spread over three levels and dug partially into the slope it appears to float above the contour lines and is orientated to the west, parallel to the slope with views towards the Salar of Atacama. The principle theme of the project is to generate transitional spaces between outside and inside that reduce energy needs and offer a variety of different situations.
LAN Architecture – Lectures + Talks – SAWSA lecture series, Welsh School of Architecture
17 Jan 2012, Cardiff, Wales, UK
– BERLAGE INSTITUTE, 'The Hidden Meaning of Things: LAN's recent works'
24 Jan, Rotterdam, The Netherlands
– FREIBURGER ARCHITEKTURFORUM
7 Feb, Fribourg, Switzerland
4 Oct 2011
EDF archives centre, Bure, France


photograph © Julien Lanoo
EDF archives centre
18th arrondissement Student Residence, Paris, France
2011


photo : Julien Lanoo
18th arrondissement Housing
"The driving idea guiding our project stems from the challenge of responding to the necessity for urban integration and creating optimum comfort for the residence's occupants in a convivial and intimate environment."
12 Oct 2010
Lille Office Building, France


picture from architect
Lille Office Building
24 Sep 2010
Cardinet-Chalabre Competition, France
LAN Architecture wins Cardinet-Chalabre Mixed-Use competition organized by ICF Novedis to design the block 4.2 of the new Cardinet-Chalabre urban development zone in Paris, France.


image from architect
Cardinet-Chalabre
LAN Architecture – Key Projects
Key designs by LAN Architecture, alphabetical:
486 Mina El Hosn – Tower, Beirut, Lebanon
2009-


image from LAN
486 Mina El Hosn
Bègles housing, Gironde, south-western France
2010-


image from LAN
Bègles housing
Marchesini Company HQ, Saint Mesmes, Seine-et-Marne, northern France
2008


image from LAN
Marchesini building
Mouvaux Housing, Nord, northern France
2010-


image from architect
Mouvaux Housing
Neue Hamburger Terrassen, Hamburg, northern Germany


image from architect
Neue Hamburger Terrassen
More LAN Architecture projects online soon
Location: 25 Rue d'Hauteville, 75010 Paris, France, western Europe
LAN Architecture Practice Information
LAN
Local
Architectural
Network
Paris Design Studio : Contact Details
LAN Architecture, a Local Architecture Network, employs 20 twenty professionals (architects, designers, graphic and 3D image designers, communication and development coordinator, etc.) and works with specialised external consultants. In six years of activity, the agency's work has developed a reputation and won competitions both in France and abroad.
In 2004, LAN Architecture's work was selected by the French Culture Minister for the 'Nouveaux Albums des Jeunes Architectes' (young architects award). Since then LAN has undergone a considerable increase in its activity and the scale of projects on which it works.
LAN Architecture is currently working on 15 ongoing projects and developing its activity in several countries. The team projects, while respecting contextual, programmatic and site specificities continue to explore new fields and create new uses with a strong social and urban involvement. LAN Architecture was founded by Benoit Jallon and Umberto Napolitano in 2002.
Benoit Jallon
Born 18th May 1972 in Grenoble (fr)
Fascinated by the body's structure with its logical organisation, layers and strata, Benoit Jallon first turned to medical studies. However, his need for involvement and creativity soon led him to begin studying architecture. He graduated from the Villette School of Architecture in 2001 with a special mention from the jury. Curiosity and a thirst for knowledge have led him to travel widely, particularly in Italy.
Umberto Napolitano
Born 27th November 1975 in Naples (it)
Umberto Napolitano began his architectural studies in Italy and completed them in France at the Villette School of Architecture where he graduated in 2001 with a special mention from the jury. He rapidly developed a critical approach to the separation between theory and practice.
In parallel with his architectural education, he also worked with a number of architects. His involvement in Franco-American workshops has given his work an international flavour and allowed him to absorb other cultures and skills.
Website: www.lan-paris.com
French Architecture
Comments / photos for the LAN Architecture page welcome