dRMM Architects, de Rijke Marsh Morgan, English Building Photos, Architecture News, Design Office Projects Info
dRMM Architects: de Rijke Marsh Morgan
de Rijke Marsh Morgan – Contemporary Architectural Practice in London, England, UK
post updated 29 May 2022
dRMM News
dRMM Architects News
29 May 2022
Wintringham Primary Academy, St Neots, Cambridgeshire, south east England, UK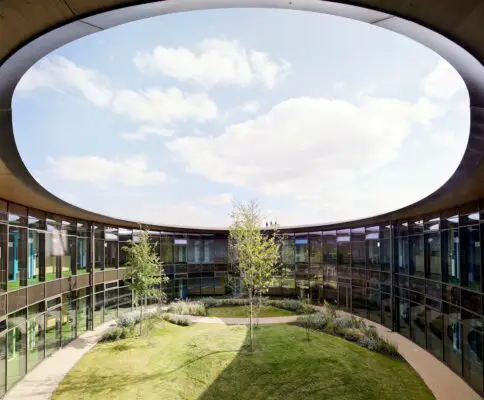 photo : Hufton + Crow Photography
Wintringham Primary Academy St Neots
The school is one of the first pieces of social infrastructure to be built of the new settlement at Wintringham and will eventually sit at the heart of an emerging community. As such this is pioneering building, creating a bold intervention at the centre of the masterplan.
New European studio location and new email address format
dRMM are delighted to share the news that, having won the Neue Schleiermacherhaus project for the Protestant Parish St. Marien-Friedrichswerder, the architecture practice have opened a European studio in Berlin. As a response to developing international identity dRMM have also updated their URL and email addresses.
New email address format
The website URL and email addresses have now changed from drmm.co.uk to drmmstudio.com. Please update your contact records accordingly. Rest assured that emails to the old @drmm.co.uk email address will continue to be forwarded for the next 12 months.
Neue Schleiermacherhaus Berlin design by dRMM Architects: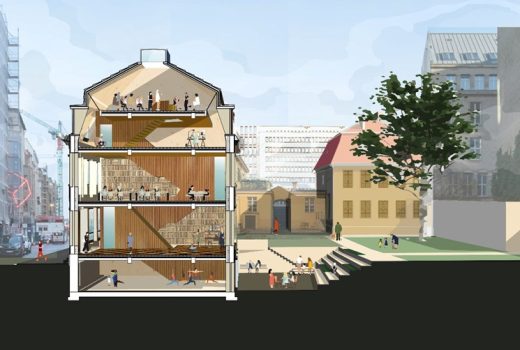 image courtesy of architects practice
Neue Schleiermacherhaus
The Neue Schleiermacherhaus is in a prominent location at the junction of Glinkastraße and Taubenstraße, close to Berlin's Brandenburg Gate. Future home to Deutscher Kulturrat, the Cultural Council of Germany, the splendid 1700s baroque ensemble was destroyed during WW2 and one of the buildings razed, leaving a rupture in one of Berlin's most important historic set pieces.
dRMM's characterful insertion completes the ensemble and creates flexible workspace, events and community facilities for use by the parish and the Cultural Council.
dRMM has worked on a number of projects in Europe, but until now these have been run by the London studio. The new Berlin studio will be led by their three native German Directors; Jonas Lencer, Saskia Lencer and Judith Stichtenoth; and will allow the practice better access to the European market in a post-Brexit era.
Mailing address is:
dRMM Architects
Magdalen House
136-148 Tooley Street
London, SE1 2TU
United Kingdom
10 Apr 2021
dRMM mark 25 years in practice with a new website
2020 marks 25 years in practice for dRMM, and what a year it has been!
In the Spring dRMM announced two new company Directors, now as the year draws to a close, the practice is unveiling a new website.
The architecture practice spent the early part of the year revisiting the dRMM ethos and vision and setting our intentions for the next ten years of the practice.
The architecture studio then spent the (first) lockdown collaborating remotely with Leeds-based agency Rabbit Hole to create a new website which reflects the studio, their work and their thinking. Influenced by the work of seminal Italian designer Massimo Vignelli, Rabbit Hole's restrained designs act as a counterpoint for the exuberance of dRMM's work.
Like many of the studio's architecture projects, it was a genuinely collaborative effort. dRMM worked with writers Matt Morgan and Ann Dingli to refine the website's language, reflecting dRMM's core philosophy and design approach.
A quick tour of the site
Whilst previous iterations of the website have communicated what the practice does, this latest version is more of an attempt to express who they are. The homepage lists six fundamental principals that define the practice.
The Studio page describes their culture, inclusivity, and desire to build a truly representative workplace, whilst the Collaborations page outlines their collaborative processes with clients, consultants and creative minds from around the world.
The new Projects section allows the design firm to tell stories; from the initial challenges and site history, to design-led solutions, construction, and the project's subsequent afterlife and evolution. An 'insights' column, on the right, enables the practice to embellish each project-story with photo galleries, think-pieces, and voices from the dRMM team, clients, and end-users.
Ready to be even bolder
The design of the website is very much in dRMM's mould; practical, design-led, and clear, but with unexpected twists and a touch of joy. It shows the full dimension of our studio – the making, the thinking, the studio culture, and their ongoing contribution to innovation in architecture and construction.
As we transition to a post-pandemic world, this architecture practice is ready to be even bolder and continue their contribution to people, place, and planet.
dRMM architecture News – latest additions to this page, arranged chronologically:
27 Mar 2018
RIBA Northwest Awards Shortlisted Buildings
Maggie's Oldham is one of 9 buildings have been shortlisted for the 2018 RIBA Northwest (Royal Institute of British Architects) Awards; the winners will be announced at an Awards evening at One Fine Day, Liverpool on 16th May 2018.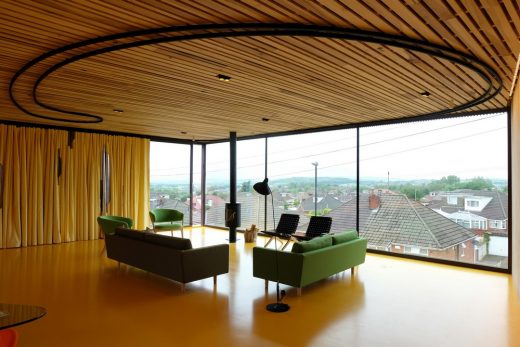 photo © Jasmin Sohi
RIBA Northwest Awards 2018 Shortlisted Buildings
21 Mar 2017
Hastings Pier Renewal Shortlisted for RIBA Southeast Awards 2017
One of fourteen buildings shortlisted for RIBA Southeast 2017 Awards:
Hastings Pier, Hastings: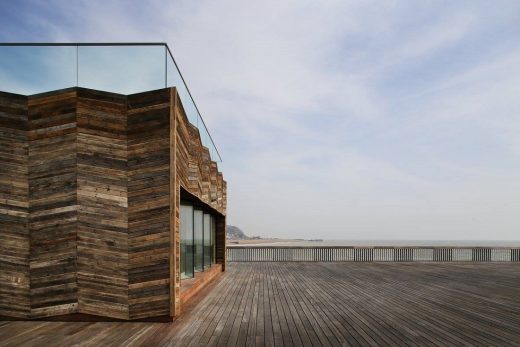 photo : Alex de Rijke
RIBA Southeast Award 2017 for Music and Drama Schools for Brighton College.
27 + 26 Sep 2016
Maggies Centre in Oldham, Manchester, England – World's first building created using hardwood CLT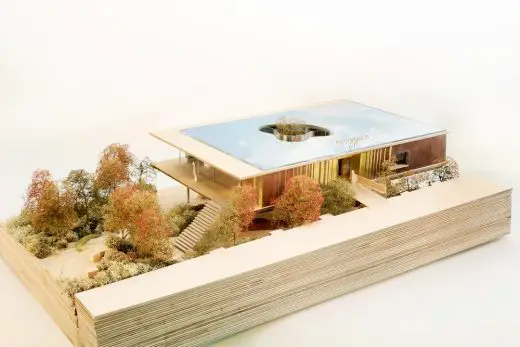 image from architect
Maggies Centre in Oldham
Construction has begun on the world's first permanent building created using hardwood cross-laminated timber (CLT). Designed by architects, de Rijke Marsh Morgan (dRMM) Maggie's Oldham is the first building to utilise the beauty and strength of the sustainable material.
The completed building will have a playfulness and warmth that supports the central aims of the design – to uplift and offer hope to people affected by cancer, and is constructed entirely of American tulipwood CLT.
Trafalgar Place, Elephant & Castle, London, England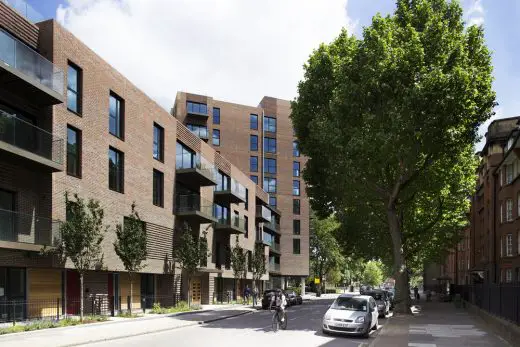 photo courtesy RIBA
A RIBA National Award Winner in 2016 – 23 Jun 2016
dRMM Architects & SEAM Design, London, England, UK
Testbed1 – A Dark Moment
dRMM have been invited to exhibit at the 3rd annual exhibition of Testbed1, curated by Will Aslop and All Design. The exhibition will include a diverse collection of works from painters, lighting designers, furniture designers, video and graphic artists, landscape designers, musicians and architects. dRMM will be collaborating with SEAM lighting designers to recreate Endless Stair in miniature.
Doors open at 6pm at the Testbed1 space in Battersea (33, Parkgate Road, London, SW11 4NP) – by invitation only. Food and drink will be served.
The Endless Stair iPad app is now available from the App Store (search 'Endless Stair'). For additional information and project team credits please visit the Endless Stair page on our website.
9 Sep 2013
Endless Stair, front lawn of Tate Modern, London, England, UK


image from architects
Endless Stair, a towering structure composed of 15 Escher-like interlocking staircases made from American tulipwood CLT, will be showcased at the entrance to Tate Modern for this year's London Design Festival. The official launch will take place on Monday 16th September at the Tate Modern Bankside, invitation only.
17 Jun 2013
St Alban's Academy, Birmingham, Midlands, England, UK


photograph © Edward Shaw
St Alban's Academy
The simple top-lit form has a bi-axial plan, with two interconnected buildings joined by a covered link. Visual and physical connections offer intuitive separation between specialisms and autonomous small-schools. Interiors are spacious, bright and calm, defined by natural materials. Whilst the completed building sits confidently as a simple form within an urban respite of landscape and mature trees, this belies the chequered land ownership which constrained the siting of the building.
Sadie Morgan & Architecture of Necessity, Virserum, Sweden
15 Jun 2013 – Sadie Morgan about The Architecture of Necessity: -Sustainability addressed through social, economic and environmental issues.
Sadie Morgan, founding Director of dRMM, key speaker at WOOD SUMMIT Småland 26-27 June and also a member of the jury for Architecture of Necessity:
What have you found among the contributions to the triennial Architecture of Necessity? The best projects have been condensed into the absolute essentials, regardless of scale, typology or budget. Projects that respond to the changing social and economical environment with inventiveness and joy, that engender pride within their community and respond to the needs of the user. Sustainability addressed through social, economic and environmental issues.
What do you see as the main challenges for the Architecture of Necessity? The main challenges are to make sure that the invention and skills of those designing the 'Architecture for Necessity' become embedded in the mainstream. There are still not enough clients, users and enablers taking advantage of the knowledge and experience of those at the forefront of architectural and engineering innovation in timber.
At WOOD SUMMIT SMÅLAND is architecture and the system change the major theme. What will you focus on as a key speaker? As a practice, dRMM have deployed various innovative structural timber systems for a range of innovative private and public projects since 1995. The lecture presents a case for engineered timber becoming one of the key construction materials of the 21 century, positioning dRMM's contemporary timber projects within an European tradition for the inventive use of wood as the world's oldest, and most modern, construction material.
For more information on the Architecture of Necessity, and how to enter for Wood Summit Småland: www.architectureofnecessity.blogspot.com
dRMM Building News
28 Oct 2010
Hastings Pier Regeneration Scheme, England, UK
2011-
de Rijke Marsh Morgan


photo : Barry Reid
Hastings Pier Regeneration
de Rijke Marsh Morgan are announced today as the winners of the competition to select an architect for the redevelopment of Hastings Pier. Launched in October last year by RIBA Competitions on behalf of Hastings Pier and White Rock Trust (HPWRT), the competition attracted over 50 expressions of interest from architects from the UK and beyond.
approved Nov 2009
Blackpool Wedding Venue, Lancashire, England
2009-


photo : dRMM
Blackpool Wedding Venue
The structure consists of pre-fabricated cross-laminated timber panels manufactured off site. This is clad in golden stainless steel shingles above a plinth clad in stepped concrete blocks containing recycled and phosphorescent glass which catches the light. The project has achieved a BREEAM bespoke rating of excellent, with very low air permeability and maximised access to daylight reducing energy consumption.
Brunel Museum, Rotherhithe, South London
2009-


image from dRMM Architects
Brunel Museum
dRMM's phased strategy includes creating better public realm around the museum, building a spiral cylinder in the airspace above the subterranean shaft as new museum space, and providing a suspended mobile platform as a programmable public access staging to all levels, old and new. dRMM Director Alex de Rijke said, "dRMM's proposal consists of several ambitious sitespecific responses, inspired by the Brunel legacy of inventive lateral design. We also believe that temporary architecture can create long-term benefits."
Clapham Manor Primary School, London, UK
2009


photo © Jonas Lencer
Clapham Manor Primary School
Stirling Prize shortlisted
This polychromatic extension inserted into a tight urban context offers the school a new identity, much-needed learning spaces and an organisational hub, while maximising play space.
Clapham Manor Primary School had become a victim of its own success, having grown from a one to two-form entry. The driver for this project has been to improve the pupils' experience by providing facilities that support both learning and play.
LSE New Students Centre Design Competition, London, UK
2009


image from dRMM Architects
LSE New Students Centre : dRMM architects shortlisted
The new Students' Centre will play a vital role in enhancing the student experience and in furthering LSE's aim of creating a world class estate.
Heygate Estate – rehousing
–
Various architects incl. AOC, dRMM, Panter Hudspith, S333, Sarah Wigglesworth
de Rijke Marsh Morgan – Key Projects
Kingsdale School, Dulwich, southeast London
2004
dRMM : RIBA competition winners
Centaur Street residential project, southeast London
–
Four maisonettes
More architectural projects by de Rijke Marsh Morgan online soon
Architect of the Year Awards 2006 – dRMM win Public housing category
de Rijke Marsh Morgan Buildings
DfES Exemplar School
arb offices, London
moshi moshi, London
Wansey Street, London
Selfridges, London
More dRMM Architecture online soon
Location: London, England, UK
Address: 148 Tooley St, London SE1 2TU, United Kingdom
Phone: +44 20 7803 0777
UK Architects Practice Information
British Design Studio
Alex de Rijke, Philip Marsh and Sadie Morgan founded dRMM, a London-based architect studio of international architects and designers, in 1995.
Now a team of about 25, de Rijke Marsh Morgan takes pride in only carrying out work that is innovative, high quality and socially useful.
dRMM have a track record of creating extraordinary architecture within the standard constraints of the construction industry.
de Rijke Marsh Morgan's radical projects are led by site, client needs, concept and construction, rather than formulaic or style-based decisions.
The dRMM team defines its approach as economy of means, expressive of use, materials and construction: an architecture of 'maximalism'.
London Architect : Practice Listings
About dRMM
de Rijke Marsh Morgan (dRMM) are renowned for creating architecture that is innovative, high quality and socially useful. The studio has pioneered the use of engineered timber since 2000. In 2005 they introduced cross-laminated panel construction to the UK education sector through the award-winning Kingsdale School, demonstrating how CNC-cut structural timber could outsmart its competitors in versatility, building efficiency, and character.
Their landmark project for the London Design Festival 2013, Endless Stair, established the use of hardwood for cross-laminated timber (CLT), validating the structural use of tulipwood – an abundant, relatively inexpensive and sustainable American hardwood – for the first time in architecture. dRMM have designed engineered timber buildings at varying scales, from architectural installations (Endless Stair), temporary structures (MK40 Tower), prototypical projects (Naked House), single dwellings (WoodBlock house), and have introduced the material to larger housing developments (Trafalgar Place), and long span structures (Timber Stadium proposal, 2012 London Olympics).
These projects are a manifestation of dRMM's continuing advocacy of timber as a relevant material for 21st century architecture. dRMM have won numerous awards including the Building Design Architect of the Year 2013-14 and are shortlisted for the 2016 RIBA Stirling Prize. The practice is a London-based, international studio of architects and designers founded in 1995 by Alex de Rijke, Philip Marsh and Sadie Morgan. For further information about dRMM please go to www.drmmstudio.com @dRMMArchitects
British Architecture
Buildings / photos for the dRMM Architects page welcome
de Rijke Marsh Morgan Architects – Website: www.drmmstudio.com