Designed by Erick van Egeraat, Architects Office, Buildings Photos, Studio News
Designed by Erick van Egeraat : Studio
Contemporary Dutch Architecture Practice, Europe: Information + Images
post updated 19 Apr 2021
Designed by Erick van Egeraat News
22 Oct 2012
Drents Museum Extension, The Netherlands – wins 'Best interior' at Dutch Design Awards
Design: Designed by Erick van Egeraat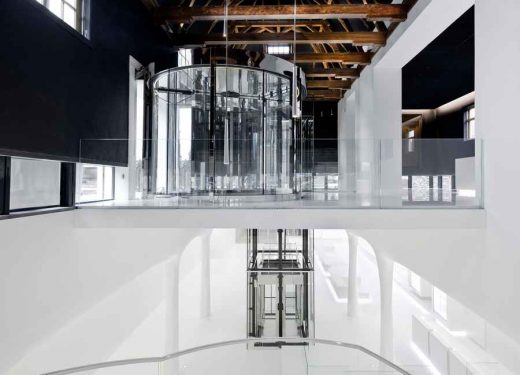 photograph : J Collingridge
Drents Museum
This building in Assen won 'best interior' at the Dutch Design Awards 2012. The award ceremony awarded different architects in the categories communications, free design, product and space. In the last category there is an award for best exterior and best interior. The winners were chosen from over 650 submissions.
20 Jan 2012
Designed by Erick van Egeraat Designs
Erick van Egeraat designs 'Erasmus University College', Rotterdam, The Netherlands
(Designed by) Erick van Egeraat designs the new housing for the Erasmus University College (EUC) situated at the Nieuwe Markt in the centre of Rotterdam. In the former 1923 library building which currently houses the Museum of Education, a new university concept will be implemented.

pictures : (Designed by) Erick van Egeraat
After an intensive study commissioned by City of Rotterdam and the Erasmus University of Rotterdam, the former municipal library building to select a proper building to house the EUC, a city monument from 1923, was chosen to house the future EUC. The design, made by Erick van Egeraat, will display the original qualities of the building.
"The design will be light and fresh, a modern educational faculty in an astonishing monument" tells Erick van Egeraat. The design consists out of five stories and houses a lecture hall, reading rooms, tutur rooms and offices for the staff of EUC. Inside the building, a new atrium will extend up from the ground floor until the new glass roof.
The atrium will provide the interior of the building with daylight and a new central hearth. To conserve the historic value, the original rich interior with its authentic marble and the original stained glass will be restored. The new building will be a magnificent asset for the Erasmus University of Rotterdam and the city of Rotterdam.
The design of the Erasmus University College fits (Designed by) Erick van Egeraat's previous designs in which the focus is on adding quality to inner city issues. The expectancy is to start the construction in July 2012 and to realize the building in September 2013.
20 Jan 2012
'Sumatrakontor&rsquo, Hafencity, Hamburg, Germany
Erick van Egeraat


photo : J Collingridge
Sumatrakontor
At Hamburg Hafencity the brand new ' Sumatrakontor ' by Dutch Architect Erick van Egeraat was officially opened. The 37.000 sq-meter, ten story – multifunctional building houses a variety of inner-urban functions such as; a five-star Hotel, Offices and Conference rooms, retail, high-end housing and an underground parking garage.
Monolith in Lyon, France
2010
Designed by Erick van Egeraat / Combarel-Marrec / Manuelle Gautrand / Pierre Gautier / Winy Maas


image © architects office
Monolith in Lyon
Sberbank University, nr Moscow, Russia
2010-


image © architecture practice
Sberbank University
Moika Krukov, St. Petersburg, Russia
2010-


image © (Designed by) Erick van Egeraat
Moika Krukov St. Petersburg
Dynamo Stadium, Russia
2010-


image © architect firm
Dynamo Stadium
Designed by Erick van Egeraat – Key Projects
News – 2 Jul 2009
RUSSIAN RULING IN INTERNATIONAL COPYRIGHT DISPUTE
On June 26th, the Moscow Court of Arbitration formally validated the decision by the Stockholm Court of Arbitration dating from March 2008 in the case of Dutch architect Erick van Egeraat vs. Russian developer Capital Group Co. over a copyright dispute. The case was much publicized as it dealt with serious copyright issues many international architects face.
At the same time, the favorable ruling of the Stockholm Court set a powerful precedent legitimizing Erick van Egeraats' claim that his former client had unlawfully handed over his design to another architect for re-design without his consent. A Russian Court confirming this international ruling against a Russian company and a major player in the business is to be considered exceptional.

images © Designed by Erick van Egeraat
Erick van Egeraat is very pleased with the decision of the Moscow Court: "this is not only good news for me, but also for my fellow architects. Copyrights are a very important instrument in creating real estate value and indispensable in protecting architects work. Knowing that those rights are properly protected across international borders makes our profession rightfully rewarding!"
Budapest City Hall, Hungary
2008-


Image © (EEA) Erick van Egeraat associated architects
Budapest City Hall : international competition win
Kempinski Hotel River Park Slovakia


image © (designed by) Erick van Egeraat
Kempinski Hotel River Park, Bratislava. 23 Feb 2010
28 May 2009
Városháza Forum
Városháza Forum Budapest : Designed by Erick van Egeraat
News – 19 Feb 2009
IOB and Erick van Egeraat start new company EMEM IOB
Rotterdam, 19 Feb 2009 – Engineering firm IOB and internationally acclaimed architect Erick van Egeraat announce the joint establishment of EMEM IOB (Nederland) BV.
Their new company will focus on the execution of working drawings and documentation for planning permits and tenders for the designs of Erick van Egeraat. To this end, EMEM IOB will work closely together with recently established Designed by Erick van Egeraat; both companies will be housed not far from each other in Rotterdam.
Errol Ooft, director of IOB: 'We were looking for greater challenges to offer our employees. This cooperation with Erick van Egeraat provides just that!' For Erick van Egeraat, EMEM IOB means valuable support for his architect's studio Designed by Erick van Egeraat: 'Especially in the current economic climate it is essential to be able to count on a solid partner who is capable of realizing our ambitious projects.'
In order to achieve efficient and fully integrated designs, EMEM IOB will assist in the design stages of projects with structural and MEP engineering and the calculation of building costs. EMEM IOB can count on the over 160 employees of IOB's engineering offices for the execution of large designs.
Previously:
Dutch Architect Practice Continues
Rotterdam, 4 Feb 2009
Erick van Egeraat announces the continuation of his activities in a new company named Designed by Erick van Egeraat BV.
On January 20th, Erick van Egeraat filed for bankruptcy of his Rotterdam based (EEA) Erick van Egeraat Associated Architects BV. Following this event, Erick van Egeraat yesterday reached an agreement with the Court appointed administrator, Raymond de Bok, to carry on work on all projects.
Both parties are pleased to see that the final obstacles towards a durable solution have now been removed. After having secured the support of several investors, talks about the details of continuation with the parties concerned are currently underway.
The current portfolio contains over 50 active projects. The consequences of the current climate on the financial and real-estate markets demand critical reflection and thorough restructuring. Erick van Egeraat: "This is something I am very aware of and have been working towards for the past year.
On the other hand I can say that I am very happy to have received so many positive and supportive reactions. It is truly comforting to see such a wide variety of clients; partners and colleagues offer their assistance. This has definitely helped to strengthen my confidence in a good outcome of this process."
More Designed by Erick van Egeraat buildings online soon
Location: Rotterdam, Holland
Dutch Architects Practice Information
Portrait Erick van Egeraat:



photo : Attila Dubniczki © Designed by Erick van Egeraat
EEA called in the receivers (in 2009) following major projects being placed on hold.
Law firm De Bok Roijers Gasseling was appointed by the Dutch courts after van Egeraat himself declared the practice insolvent.
23 Oct 2009

building image © from Erick van Egeraat Architects
Dutch Architecture
Buildings / photos for the Designed by Erick van Egeraat Architects page welcome