Caruso St John Architects, UK Building Images, English Design Studio, England Projects
Caruso St John Architecture
Contemporary British Architect Practice: Design Studio in London, England, UK
post updated 6 September 2022
Caruso St John – Recent Design News
Caruso St John Architecture News – latest additions to this page, arranged chronologically:
6 Sep 2022
The Triple Folly, Ebeltoft, Jutland, western Denmark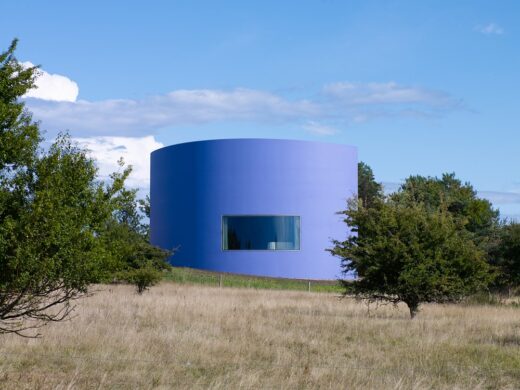 photo : Nic Tenwiggenhorn, courtesy of Kvadrat
The Triple Folly Kvadrat HQ
22 Jun 2017
RIBA Northwest Awards Winners in 2017
Liverpool Philharmonic by Caruso St John Architects – Liverpool, England – Theatre – is one of four winners announced.
2016 RIBA Stirling Prize Winner
Newport Street Gallery, Vauxhall, London, England
Newport Street Gallery in London
19 + 14 Sep 2016
Shortlisting for the 2016 RIBA Stirling Prize + Two Major Projects
CARUSO ST JOHN SHORTLISTED FOR THE STIRLING PRIZE
AND COMPLETE TWO MAJOR PROJECTS THIS AUTUMN
Caruso St John have been shortlisted for the 2016 RIBA Stirling Prize for their Newport Street Gallery, a gallery in Vauxhall for the artist Damien Hirst to show his collection of contemporary art to the public. The Prize will be announced on 6 October 2016.
This autumn also sees the completion of two important projects by the practice, the new Bremer Landesbank in Bremen and the Lycée Hôtelier de Lille in Lille.
Newport Street Gallery – NPSG facade: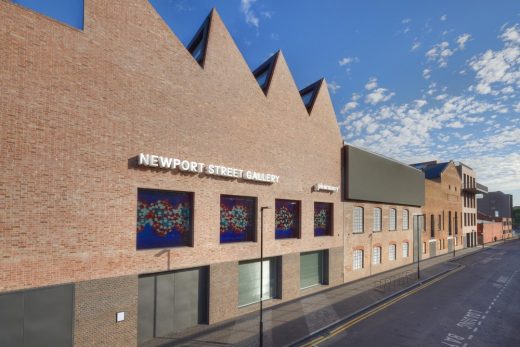 photo Prudence Cuming © Kioyar Ltd
The practice's new head office of the Bremer Landesbank is located in Bremen's historic centre, next to the mediaeval Town Hall and Romanesque cathedral, and a world heritage site. The 25,000 sq m new building provides offices for the bank's 500 staff as well a bank branch on the cathedral square. The facades are made in a dark clinker brick and have a vertical and gothic character, with brick piers and friezes dressing the building in a thick masonry skin. The new building has a large courtyard at its centre, oval in shape, which is open to the public, and from which staff enter the building.
Caruso St John's Lycée Hôtelier de Lille is a new chef's school providing teaching facilities for 1200 students and accommodation for 120 students and staff in a 25,000 sq m building complex. The Lycée is the first step in the transformation of a historically important disused industrial complex, the Fives-Cail-Babcock (FCB) site in Lille. The aim is to make the new Lycée Hôtelier de Lille a rich and vibrant place at the same time as preserving a sense of the site's industrial past. The complex of new buildings are located where the FCB site and the surrounding city meet and accommodate the gymnasium, the student residence and staff housing, uses that naturally bridge between the existing communities that surround the site, and the new communities that will inhabit this new urban quarter.
Newport Street Gallery is the latest gallery designed by the practice which is well known for its many museum and gallery projects including public institutions, commercial galleries, and spaces for artists. Since their first major museum project, the New Art Gallery Walsall, completed in 2000, the practice has completed projects including Tate Britain Millbank, Nottingham Contemporary, Gagosian Galleries at Kings Cross and Grosvenor Hill as well internationally, a new gallery for Downing College, Cambridge and renovated interiors for the Sir John Soane's Museum and the Victoria & Albert Museum's Museum of Childhood.
Newport Street Gallery Vauxhall by Caruso St John
Previously:
Tate Britain Transformation, Millbank, London, England – 24 Jul 2013
Design: Caruso St John


photo from architect
A new Tate Britain will be unveiled on 19 November 2013. The transformation of the oldest part of the Grade II* Millbank building by leading architects Caruso St John marks a significant moment for Tate Britain.
Liverpool Philharmonic Hall Building
15 Jun 2012 – Caruso St John win £10m redevelopment of Liverpool Philharmonic Hall, England.
Museum of Childhood: Refurbishment – V&A, Bethnal Green, east London
2007


photo © Adrian Welch
Museum of Childhood – photographs by Adrian Welch, taken on 17 Sep 2011.
Unusual design with hints of a Postmodern style but done in a simple, restrained way.
Tate Britain, London, UK
2010-


photo © Nick Weall
Tate Britain renewal design : Permission Approval News
Tate has submitted the planning application for an exciting project to transform its original London gallery, Tate Britain. Transforming Tate Britain aims to conserve the beautiful fabric of Sidney Smith's 19th-Century building and carry out a major upgrade to the galleries, enabling Tate to show more of its Collection in conditions suitable for a wider range of art media. The project will remodel and renovate core visitor areas – opening up the stunning domed atrium at the heart of the gallery – while creating much-needed learning studios and public spaces in order to meet growing demand. This phase of Tate Britain's development will span 2010 to 2013 and is budgeted at £45 million, half of which has been raised already.
Chiswick House Gardens Cafe, London, England
2010


photo © Hélène Binet
Chiswick House Gardens New café designed by Caruso St John Architects as part of the £12 million restoration of Chiswick House Gardens in London, a site of international importance both as the birthplace of the English Landscape Movement, and as the setting for one of the most beautiful houses in London. The regeneration of the gardens is a result of many years of campaigning, four years of fund-raising and two years of work on the site.
Caruso St John – Key Projects
Designs by Caruso St John, alphabetical:
Ascona Centre for Tourism & Culture, Switzerland
2006
Architecture Competition win
Barbican Hall: Acoustic Canopy + Ceiling, Barbican centre, City of London, UK
2001
Brick House, London
–
Centre for Contemporary Arts Nottingham – Lace Market, Nottingham, England
2009


image : Hélène Binet
Centre for Contemporary Arts Nottingham building – RIBA Award 2010
Chiswick House Garden Café, west London
2007-
Deepo – gallery proposal, Bus Shed, Cardiff, Wales
–
Escher-Wyss Platz – proposal, Zurich, Switzerland
2007-
Kalmar town square, Sweden
–
Spike Island Studio + Exhibition space, Bristol, Avon, southwest England
2007
Walsall Gallery, England, UK
–
More design projects by Caruso St John online soon
Walsall Gallery building:


building image : Hélène Binet, from RIAS re Convention
Location: 1 Coate Street, Tower Hamlets, London, E2 9AG, United Kingdom
Caruso St John Practice Information
Architect office based in London, UK
London Architects : Studio
Caruso St John led by Adam Caruso and Ian St John
Chiswick House Gardens Cafe:


photo © Hélène Binet
Brick House by Caruso St John Architects was placed in the Stirling Prize 2006 Shortlist 2006.
RIBA Awards 2006:
North London: Gagosian Gallery, Britannia Street, WC1
West London: New classrooms at Hallfield School, London, W2
West London: Brick House, London W2
Architects Lecture Review
Adam presented a delicate figure on the stage as he warmed up and tried to ignore technical hitches. He showed three Caruso St John projects and declared himself to be 'more interested in ideas….once finished you get a bit bored of showing'. As we tuck into the first project it seems that art rather than transport is the aspect of 'Connections' in the Convention title.
Adam gave us plenty of theoretical introspection: 'our work is really interested in construction…I'm not very interested in how a plan works…if it's good nobody really notices…architects use construction to make form'. His introductions to the context of Walsall was blunt but charming – 'in Walsall you come to expect less'. Despite Caruso St John being 'known for doing quiet architecture, dull if you like' the tower plays a rhetorical role in the town.
On construction, Adam stated 'I'm not a fan of suspended ceilings' and referred to a Kahn quote denying buildings with suspended ceilings the title of 'architecture'. More powerful references with the previously-aired opinion that the varied section of Walsall was a 'bit like the Adolf Loos house (Praha) blown up in scale'. He went on to say that the gallery 'concrete is good, you can do it even in England, you just need a good specification and be tough, yeh'. Their precast beam structure to the soffit ingeniously hides the various kit. Adam ended the Walsall section with 'I'm not into touchy feely architecture, I'm into tough architecture'.
Over to Kalmar in Sweden, what we at the Bartlett would call a 'bottom-up' approach, subtle remoulding by Caruso St John of a historic town square. 'Stones come together in an unmediated way' – no edgings; both ideas and craftsmen pushed and commercial builders eschewed.
Finally to the 'deepo' or Depot, a gallery proposal for a Cardiff bus shed. First Caruso St John have created a photographic record and a book. An analysis 'like an atlas' was created for interested artists/curators. Adam used to teach my wife, the last time I saw him I was playing guitar in his Islington house at a student party, so I particularly see him as a teacher more than an architect. Of course you can be both, he is, but Caruso St John exude a thinking that is rooted in theory and discourse, considered buildings on all levels. More Scottish architects should teach at Schools and we may see some further rekindling of spirit.
RIAS Convention – Caruso St John Review by Adrian Welch, architect: 05.05.03
Website: www.carusostjohn.com
Involved in Venice Biennale 2006
Architecture in London
Contemporary Architecture in London – architectural selection below:
London Architect – design firm listing on e-architect
London Architecture : news + key projects
Architectural Designs
Buildings / photos for the Caruso St John Architects UK page welcome