AWP Architects, Paris Design Studio Projects, Exhibition Pictures, French Building News
AWP, Architects, Paris : French Architecture Studio
Contemporary Paris Architects Practice, France Design Firm information and news
post updated 14 Apr 2021
AWP Architects – Latest Designs
Architecture News – latest additions to this page, arranged chronologically:
26 Aug 2013
Architecture Exhibition by AWP, The Hartell Gallery, Cornell University, USA
'vers un climat building (with) the unstable'
26 Aug – 16 Sep 2013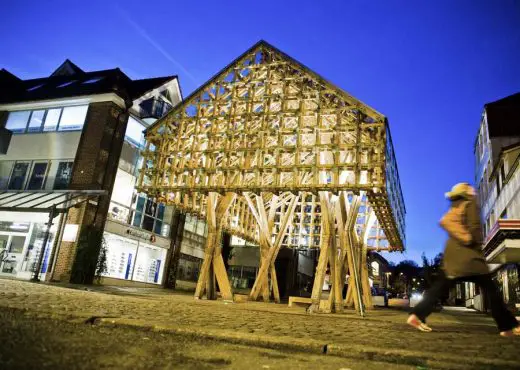 photograph courtesy Atelier Oslo/AWP
AWP Architecture Exhibition Cornell, The Hartell Gallery, Cornell University, USA
The nocturnal face of architecture: how buildings contribute to the urban nightscape
The night is a potent subject: its veil of darkness can hide imperfections and transform appearances. In cities it's both the calm retreat from the bustling day and the beginning of social life, at a different pace.
25 Oct 2012
EPFL Pavilions, Lausanne, west Switzerland
Design: HHF-AWP


image : SBDA
EPFL Pavilions Lausanne
The first stage of the EPFL campus was organized by a potentially infinite spacial and functional grid. But what was meant to be a highly flexible and open scheme turned out to be highly problematic, resulting in mainly backside situations. Most of the later extensions of the EPFL sought to change this urbanistic typology by formulating an end to the endless grid.
8 Nov 2011
Jardins de l'Arche, La Défense, Paris, France


image from architect
Jardins de l'Arche Paris
AWP, Office for Territorial Reconfiguration (Marc Armengaud, Matthias Armengaud, Alessandra Cianchetta), was named in July the general contractor for the landscaping of the public spaces and follies situated at the foot of the Grande Arche. The site, located near the future Arena 92 in the Jardins de l'Arche neighborhood, serves as a space for genuine interchange between La Défense and Seine-Arche. The urbanists at AWP are equally responsible for a guide plan for Defacto that will enhance the urban space of La Défense's business district.
AWP Architects – Recent Design
Follies Poissy, Paris, France
Design with HHF


image © AWP – HHF, Sbda
Follies Poissy
The series of a pavilions with different public functions and programs are part of a future 113 hectare large public green space along the Seine river, in Carrière-Sous-Poissy, at the end station of the RER line A and close the renown Villa Savoye from Le Corbusier. The Park designed by the Paris based landscape architects Agence TER will be a public park and ecological showcase for local residents and a leisure destination for people living in and around Paris.
Major Building
Key Building by AWP agence de reconfiguration territoriale:
The Lantern, Sandnes, Norway
Dates: 2010/11
Design with Atelier Oslo


photograph courtesy Atelier Oslo/AWP
The Lantern Sandnes
This intriguing structure was nominated for the Mies van der Rohe Prize.
The LANTERN project was designed by AWP-Paris and Atelier Oslo and involved a building and surrounding public realm in Sandnes, immediately south of Stavanger, western Norway.
Lantern resulted from 1st prize in an international competition for an urban shelter and the regeneration of Sandnes centre, Norway on the occasion of Stavanger European Capital of Culture 2008.
More projects by AWP Architects online soon
Location: 25 rue Henry Monnier, 75009 Paris, France, western Europe
Paris Architects Practice Information
AWP – architect office based in Paris, France ; AWP – HHF based in Basel, Switzerland.
AWP agence de reconfiguration territoriale
AWP is an award-winning interdisciplinary office for territorial reconfiguration and design. The practice has been established in Paris in 2003 – since then its partners Marc Armengaud, Matthias Armengaud and Alessandra Cianchetta have been working on a wide variety of programmes : architecture, landscape design, strategic planning and urbanism ranging from major large scale public projects to temporary installations both in France and internationally. The practice was awarded the French Ministry of Culture's Prize for Best Young Architects in 2006, and the French Ministry of Transport, Housing and Ecology's PJU urban planning award 2010.
Relevant projects include the Lantern pavilion in Sandnes, Norway, nominated for the Mies van der Rohe Award in 2009, the masterplanning of public spaces and mobility for the 230ha Praille-Acacias-Vernets area, Geneva, the construction of the Evry wastewater treatment plant, France, the sculpture park for the LAM – Museum of Modern, Contemporary and Outsider Art of Lille Metropole, France -, the public realm redesign of Capodichino airport and the Ferro-Gomma Hub multimodal park in Naples, Italy (with RSH-P).
The design firm also curates and designs exhibitions for major cultural institutions and write regularly books and essays. The three partners have exhibited their work and lectured at many architectural venues in Paris, London, Milan, Rome, Barcelona, Beijing, Toronto, Belgrade, Tianjin, Winnipeg, Geneva, Copenhagen, Oslo, Trondheim, Tirana, Lausanne, Montréal, New York and many others places.
AWP office for territorial reconfigurations
NAJA, French Ministry of Culture Award for best young Architects, 2006
Nominated for the Mies Van der Rohe prize, 2009
Profile
AWP ; Alessandra Cianchetta ; Marc Armengaud ; Matthias Armengaud


photographs : Gregori Civera
Strong with a high track of award-winning projects this French architecture studio focuses on an innovative relationship between master planning, landscape architecture, and architecture. Their portfolio of clients includes several european cities, metropolitan and regeneration authorities, cultural institutions and developers. Among their works: the French Pavilion for the Architecture Biennale in São Paulo, Brazil (built 2007), the Lantern pavilion and public realm in Sandnes, Norway (built 2009) the enlargement of a water purification plant in Evry, France (on site, 2003-12) the 230ha strategic planning for the Praille Acacias Vernets sector, Geneva, Switzerland,(2009-ongoing), the public realm redesign for Capodichino airport, Naples, Italy (2009-ongoing).
News
Shortlisted for the following invite competitions:
– Construction of a city hall in Bois Blancs, Lille, France
– Promenade des Anglais waterfront redesign, Nice, France
– Regeneration project of Vauban's Citadel area, Lille, France
– Rhein riverfront redesign, Basel, Switzerland
– Railway station square design, Lenzburg, Switzerland
Book and exhibition "As built" – Lantern project, New York, NY, Oct 2010
This Paris architecture studio curates an exhibition about Paris Metropolitan Night, Pavillon de l'Arsenale, Paris Urban center, 2011
French Architecture
Paris Architecture Walking Tours
Comments / photos for the AWP Architects page welcome
Website -: www.awp.fr