San Francisco houses, SF real estate, Bay Area property, CA residential buildings architects, US home photos
San Francisco Houses : Residences
SF Bay Area Real Estate: New Housing – Californian Houses + Property Developments, USA
post updated August 11, 2023
San Francisco Architecture Designs – chronological list
San Francisco Houses in 2023
Jan 22, 2023
Russian Hill
Design: Levy Art + Architecture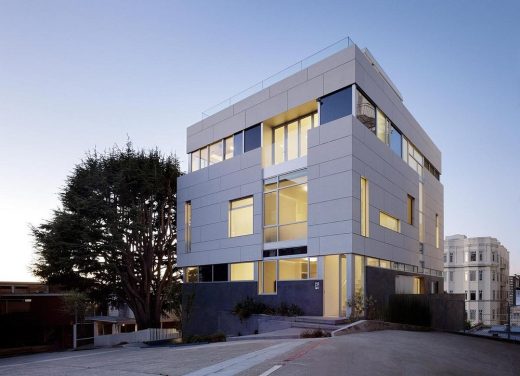 photo : Matthew Millman
Russian Hill Residences
In San Francisco, it is unusual to build from the ground up. Even more rare, in the established and historic area of Russian Hill. This real estate project works in scale with the urban landscape and topography of the west slope.
Jan 2, 2023
Rhode Island Street, Potrero Hill, SF
Design: CMA Development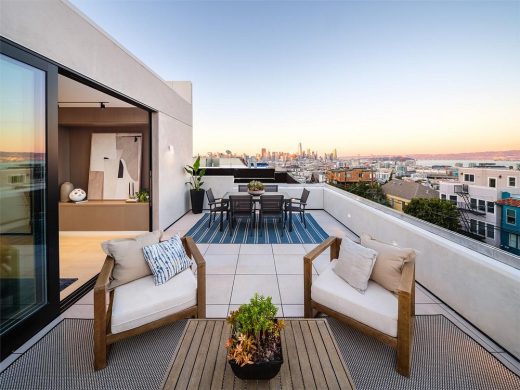 photo : Blake Marvin Photography
Rhode Island Street, Potrero Hill
The Rhode Island Street sits within a quiet residential enclave in industrial Potrero Hill, hosted an old cottage from the 1900s.
More modern San Francisco Houses on e-architect soon
San Francisco Houses News in 2022
SF Houses – latest Bay Area architecture additions to this page, arranged chronologically:
Sep 20, 2022
Michael Taylor's Own Home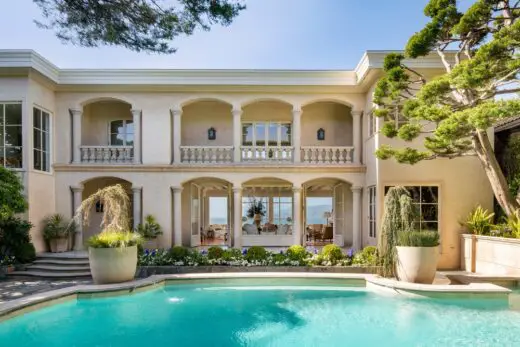 photo Courtesy Compass
Michael Taylor's Own Home
June 16, 2021
Forest House in Martis Valley, near Lake Tahoe, Martis Valley, Truckee, Nevada County, Northeast California
Design: Faulkner Architects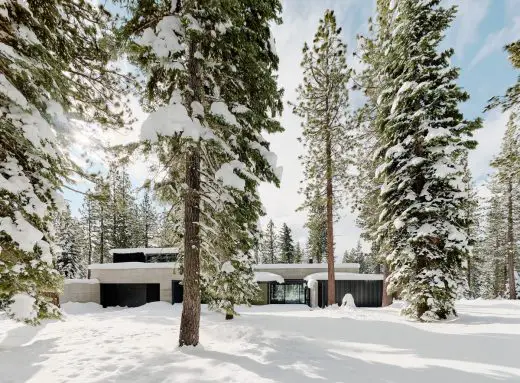 photo : Joe Fletcher Photography
Forest House in Truckee, Nevada County
A luxuriant forest of Jeffrey and sugar pine mixed with white and red fir covers this two acre site at roughly 6,300 feet above sea level in the Martis Valley near the north shore of Lake Tahoe.
27 Dec 2020
Telegraph Hill Residence
20 Dec 2020
Sky Gallery Residence
Oct 27, 2020
House in Woodside, west of Palo Alto
Design: Walker Warner Architects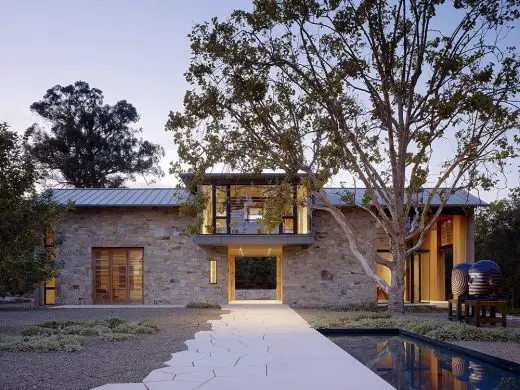 photograph : Matthew Millman
Mountain Wood House, Woodside
The organizing concept for the Mountain Wood House project began as an exploration of separate buildings arranged to create a variety of complementary indoor and outdoor living experiences. Given the rural context of the town of Woodside, regional agrarian compounds and iconic forms were referenced for inspiration, as well as functionality.
Aug 3, 2020
Big Barn, Glen Ellen, Sonoma Valley, Sonoma County, San Francisco Bay Area, Northern California, USA
Design: Faulkner Architects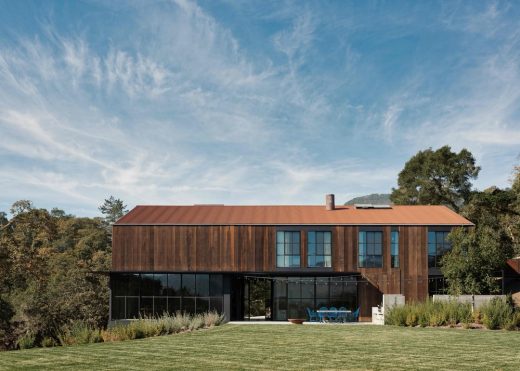 photograph : Joe Fletcher Photography
Big Barn in Glen Ellen
North of San Francisco, in Glen Ellen, a less populated part of the Napa wine country, the culture has been based on agriculture and was named for an original winery. Jack London made this his permanent home here in the early 1900s.
June 27, 2020
Terra Glen Community House San Jose, CA
Feb 1, 2020
HillSide House in California, Mill Valley, Northern California
Design: Zack de Vito Architecture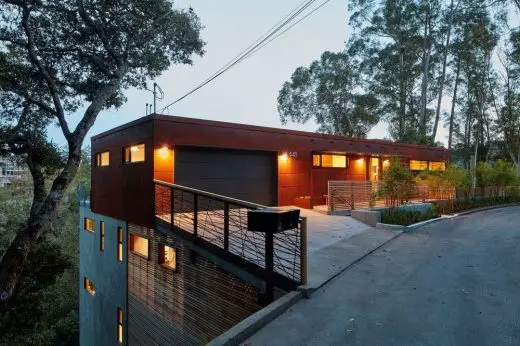 photograh : Bruce Damonte
HillSide House in Mill Valley
The goals for this project were multi-faceted and ambitious- Design a new, modern, sustainable and energy efficient home that had the highest level of craft and attention to detail.
July 4, 2019
New Palo Alto Residence, Santa Clara County
Design: Studio VARA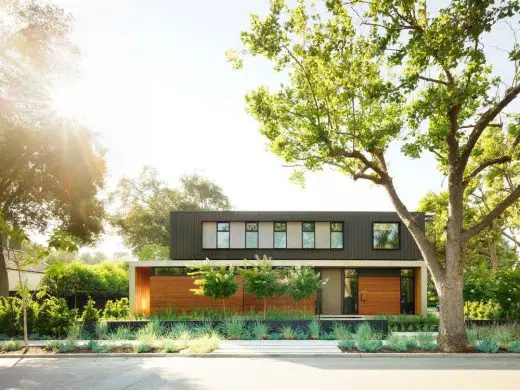 photograph : Matthew Millman Photography
Palo Alto Residence in California
A young couple approached Studio VARA to design a new ground-up residence for their busy family of five on a prominent yet petite corner lot in Old Palo Alto.
July 3, 2019
Kentfield Residence, Sonoma, Marin County
Architecture: Turnbull Griffin Haesloop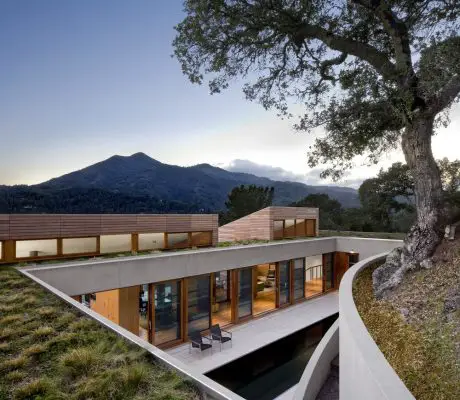 photograph : David Wakely
Kentfield Residence
This contemporary home in Kentfield is sited to engage the undulating hillside and capture the spectacular views of Mount Tamalpais and the San Francisco Bay. A curved retaining wall follows the contours of the hillside and anchors the house to the steep site.
July 2, 2019
Spring Ranch in Hollister
June 22, 2019
Los Altos Hills II House
Mar 12, 2019
The Meadow Home, Portola Valley, San Mateo County
Architects: Feldman Architecture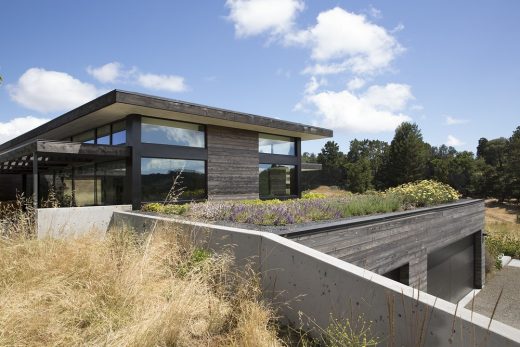 photograph : Paul Dyer
Portola Valley Home
This North Calirfonian home design was inspired by prominent views and beautiful slopes, building a structure on to the landscape to minimize its massing on the originally undeveloped site.
Jan 8, 2019
RidgeView House, Saint Helena, Napa County, North Bay region, San Francisco Bay Area, Northern California, USA
Design: Zack de Vito Architecture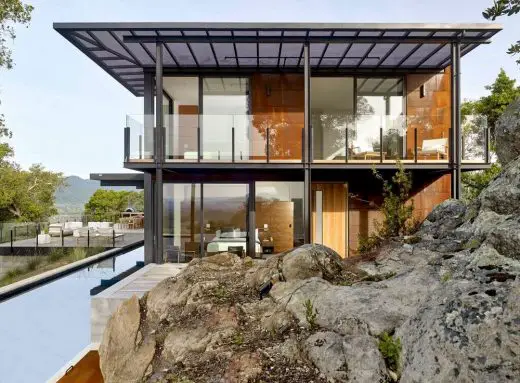 photograph : Cesar Rubio
Saint Helena House
This Napa County house sits atop the western edge of the Vaca Range overlooking St. Helena and the Napa Valley. The new home is perched on a ridge with valley views to the west and forest views to the east, nestled amongst natural rock and native Oak and Manzanita trees.
Jan 7, 2019
HillSide House in Mill Valley
More contemporary San Francisco Houses on e-architect soon
San Francisco Residences 2012 – 2018
May 22, 2018
Laguna Street Residence
Design: Michael Hennessey Architecture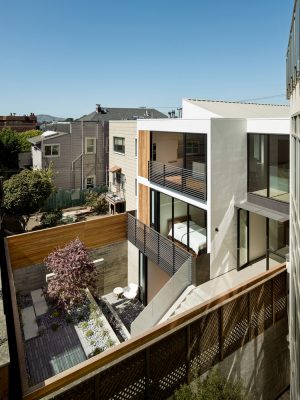 photograph : Joe Fletcher Photography
Laguna Street House
The program for this ground-up, single-family residence is organized in a rational manner in an attempt to create visually simple spaces serving as the backdrop to a family's daily activities.
Mar 2, 2018
Sausalito Outlook, Marin County
Design: Feldman Architecture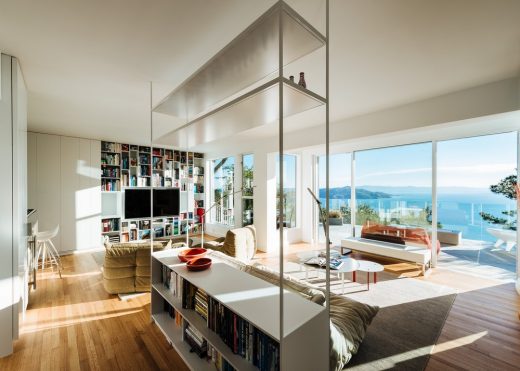 photograph : Joe Fletcher
Contemporary Sausalito House
This is a thoughtfully transformed Sausalito Outlook in Sausalito, California. The home, originally built in the 1970s, was renovated by Feldman Architecture.
Mar 1, 2018
Creekside Residence, Palo Alto, Santa Clara County, CA
Design: Feldman Architecture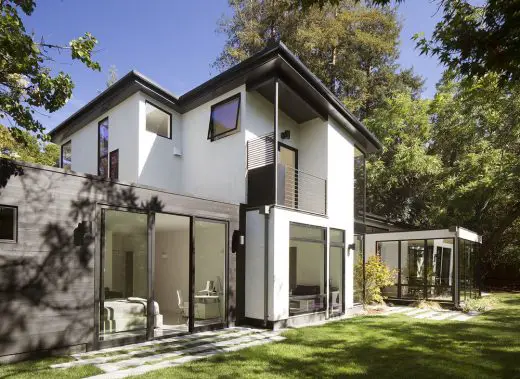 photograph : Paul Dyer
New Palo Alto House
The clients for the Creekside Residence, a pair of Silicon Valley serial entrepreneurs, approached Feldman Architecture looking to create a unique home for work and play for themselves and their three active boys.
Jun 17, 2017
Alamo Square House
Design: Jensen Architects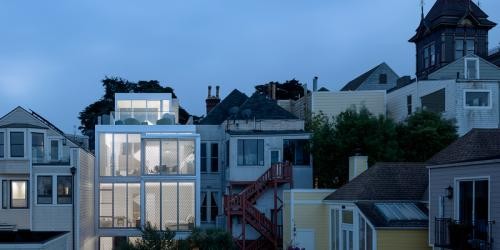 image from architects
Alamo Square House
Upon entering, the house is punctured with light from above and is organized around a sculptural staircase. The form of the stair, a twisted volume, alternates wood-clad solids with light-filled voids. The stair culminates at the roof with sweeping views that connect back to the historic city and the Bay beyond.
Jun 29, 2017
8 Octavia
Design: Stanley Saitowitz | Natoma Architects


photo : Bruce Damonte
8 Octavia
8 Octavia is a gateway building, announcing the new San Francisco at the entry from the 101 Freeway. Each occupant can operate louvers on the building's façade, constantly changing the image of the building.
Jun 28, 2017
OZ House in Atherton, San Mateo County
Design: Stanley Saitowitz | Natoma Architects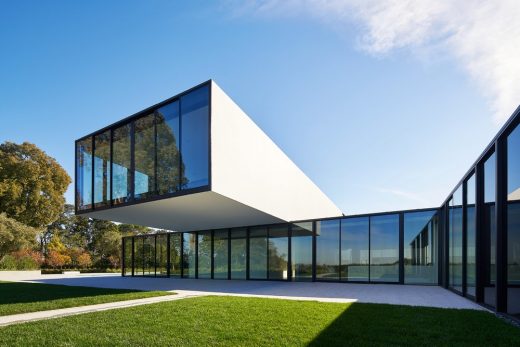 photo : Bruce Damonte
OZ House in Atherton
The site is a hilltop in Atherton, an incorporated town in San Mateo County, California, United States of America. This generous plot is accessed via the winding Ridgeview Drive, ending in a circular cul de sac.
Jun 21, 2017
A-to-Z House
Architects: SAW // Spiegel Aihara Workshop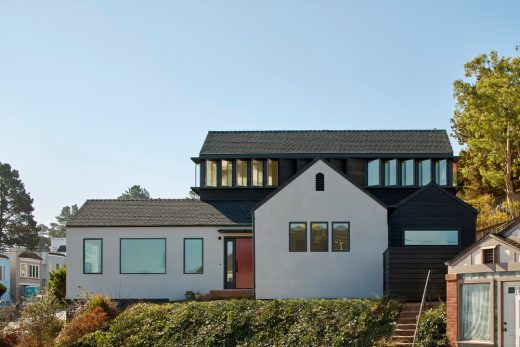 photo : Bruce Damonte
A-to-Z House in San Francisco
A modest home expands through aggregation, multiplying scaled versions of the original A-type pulled along a twisted Z axis. The result is a double offset – a 2nd story structure to capture sweeping views and a voided landscape carved into the hillside. New forms combine with the old, erasing boundaries.
Apr 6, 2017
Choy Residence, 4365 25th Street
Design: Terry & Terry Architecture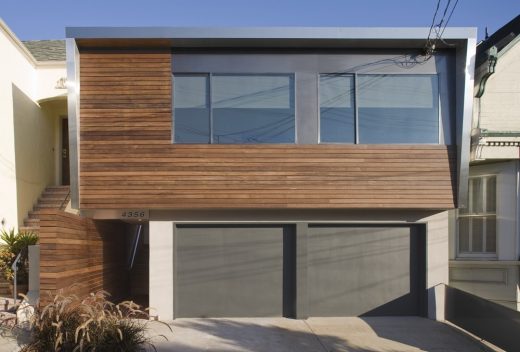 photograph : Ethan Kaplan
Choy Residence in San Francisco
The renovation transformed an existing 1960's house into an open plan modern dwelling. The design for this renovation involved subtracting specific existing walls and parts of the existing roof to let in natural light and improve circulation. This included hollowing out the space at the rear of the house to accommodate an exterior deck and capture views to the north.
Jan 26, 2017
Los Altos Hills II House, CA
Design: Feldman Architecture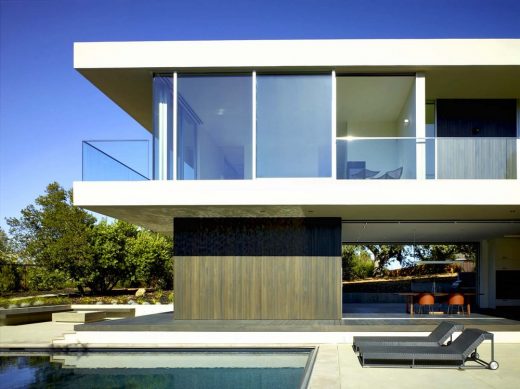 photograph : John Linden
Los Altos Hills II House in California
Anchored into a gently sloping site on a quiet suburban cul-de-sac, this Los Altos Hills home is a bold, modernist composition of simple forms reflective of the client's motivation to create a speculative development for a new generation of homeowner enamored with contemporary architecture.
Nov 10, 2016
Hupomone Ranch, Chileno Valley, near Petaluma, Sonoma County, California
Design: Turnbull Griffin Haesloop, Architects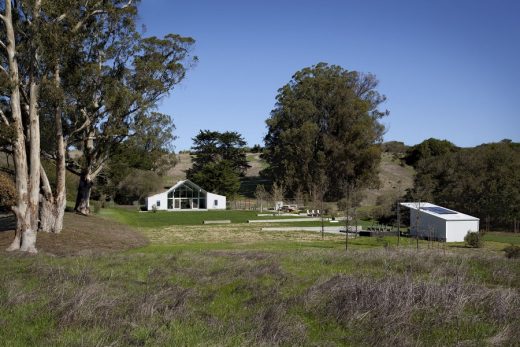 image courtesy of architects
Hupomone Ranch in Chileno Valley
An original 160-acre homestead in the Chileno Valley, three miles west of downtown Petaluma. The ranch had been fallow for over 30 years. The new owners of the property, a young family with three children, wanted to build a barn house that would reflect their commitment to sustainable farming, draw on the natural serenity of the site and build on the sense of place in western Petaluma where farming and ranching are still a part of people's daily lives.
Nov 8, 2016
Glass Wall House, San Mateo, California
Design: Klopf Architecture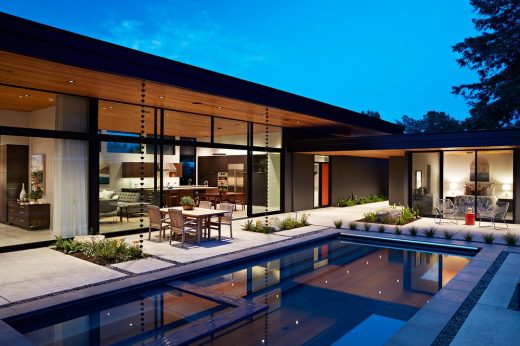 photograph © 2016 Mariko Reed
Glass Wall House in San Mateo
Klopf Architecture, Arterra Landscape Architects and Henry Calvert of Calvert Ventures Designed and built a new warm, modern, Eichler-inspired, open, indoor-outdoor home on a deeper-than-usual San Mateo Highlands property where an original Eichler house had burned to the ground.
Portola Valley Ranch in San Francisco
Feb 23, 2016
Overlook Guest House, Los Gatos, Santa Clara County
Design: Schwartz and Architecture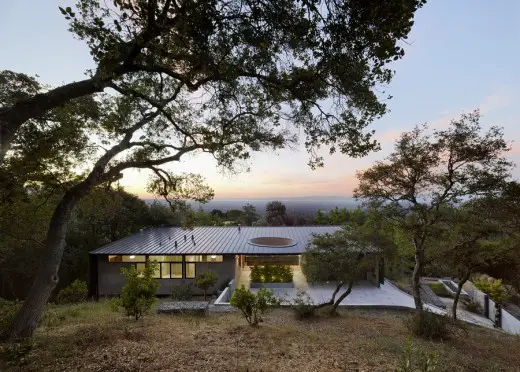 image from architects
House in Los Gatos
Despite an extremely steep, almost undevelopable, wooded site, the Overlook Guest House strategically creates a new fully accessible indoor/outdoor dwelling unit that allows an aging family member to remain close by and at home.
Nov 13, 2015
Fitty Wun House in San Francisco
Design: Feldman Architecture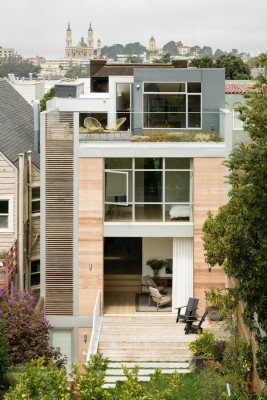 photograph : Joe Fletcher
Fitty Wun House in San Francisco
The unconventional renovation of Fitty Wun transformed this Cole Valley home to reflect the playful personalities of the clients, a couple with three active young boys and a "work hard, play hard" approach to life.
Oct 29, 2015
Bal House, Menlo Park
Design: Terry & Terry Architecture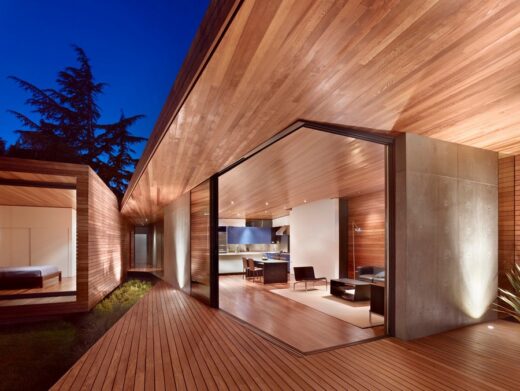 photograph : Bruce Damonte
Bal House in Menlo Park
Conceived for a retired couple, the open and accessible design integrates the living space with the rear garden to create a well-lit domestic extension. Comprised of two floating volumes, the addition formally designates the bedroom to the west and the main (common) space to the east.
San Francisco Residences, arranged alphabetically:
Aptos Beach Remodel, Seacliff State Beach, Aptos, Santa Cruz County, California, USA
Design: Tim Doudna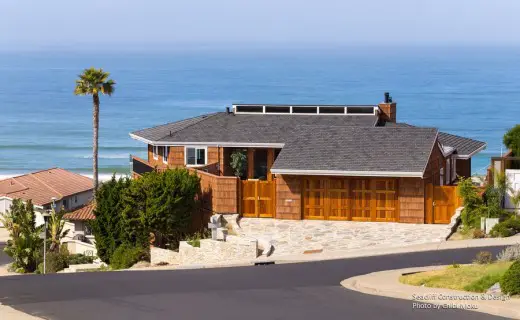 image from architects
Aptos Beach Remodel in California
This Aptos Beach remodel was a unique collaboration of ideas from the homeowner, Seacliff Construction and Design, and architect Tim Doudna.
Palo Alto Residence
Design: Klopf Architecture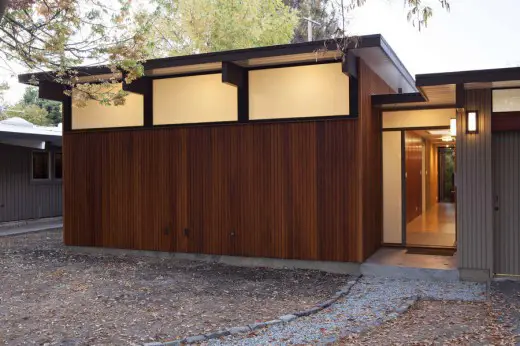 photograph : Mariko Reed
Eichler Palo Alto
Noe Residence in San Francisco
Palo Alto House
Design: Diebel and Company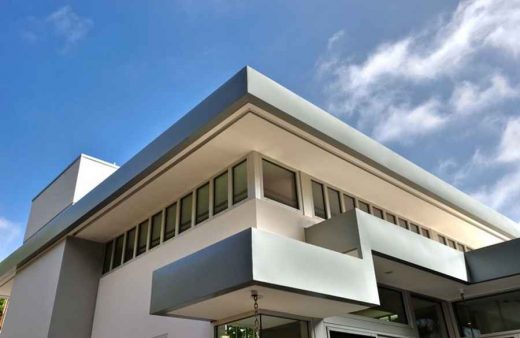 photos : Kevin Ng Photography
Palo Alto House
The home flows among three domains for public and private uses and is planned to take advantage of daylighting and the surrounding landscape. The living and dining room space maximizes the interaction between indoor and outdoor spaces.
We aim to add more residences in this Californian city soon – submissions are welcome.
Location: San Francisco, CA, USA
Architecture in Northern California
San Francisco Building Designs – chronological list
San Francisco Architecture Walking Tours
Barrel House Tavern Sausalito
Design: CCS Architecture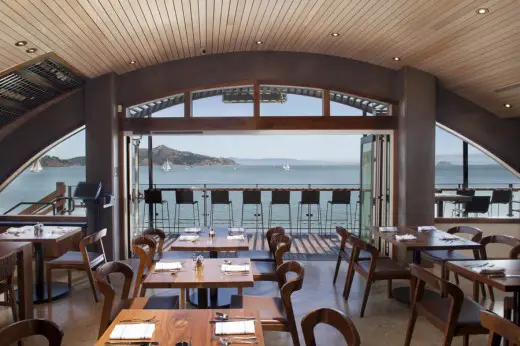 photograph : Paul Dyer
Barrel House Tavern Sausalito
US Architectural Designs
This index page is for residential architecture projects in this California city on the e-architect website
Comments / photos for the San Francisco Houses Information page welcome