Google Complex Mountain View, New San Francisco Architecture, Office Campus Building USA, Architect, Image
Google Bay View Complex, San Francisco
Mountain View Campus Development, Clara County, California – design by BIG + Heatherwick Studio
post updated Mar 20, 2020 ; Mar 4 + 3, 2017
Google Mountain View Campus Designs
Location: Clara County, CA, USA – west side of San Jose, south of San Francisco
Design: BIG + Heatherwick Studio – Bjarke Ingels and Thomas Heatherwick
New Designs for Google Complex in Mountain View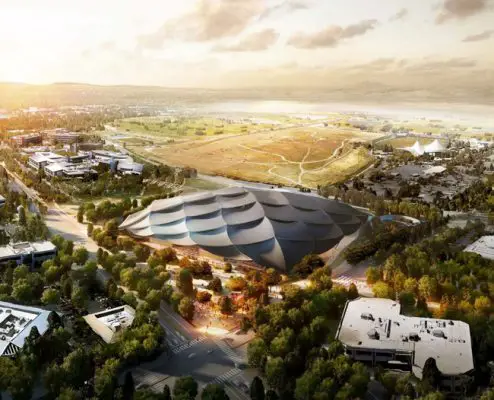 Aerial photos show progress on two google developments:
– Charleston East campus, an extension of its neighboring Googleplex headquarters
– Bay View campus, office and R&D project on the northern edge of Moffett Field
The pair of new buildings will provide over 1 million square feet for Google parent company, Alphabet Inc.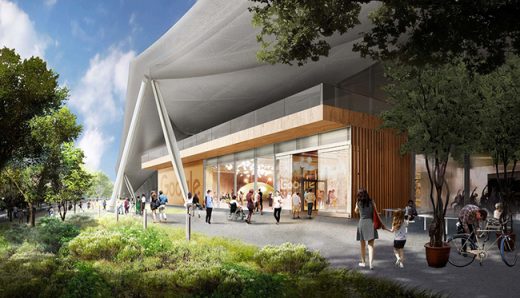 Heatherwick Studio and BIG have released new renderings of the campus in Silicon Valley.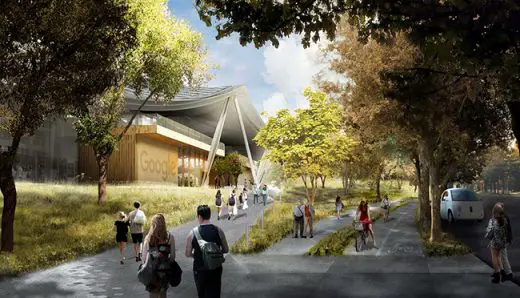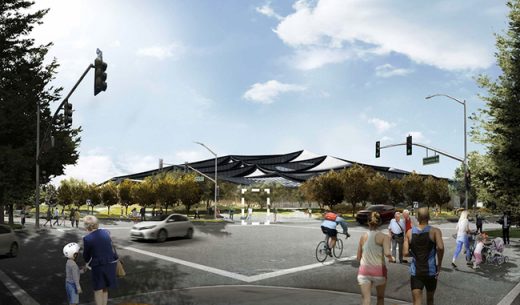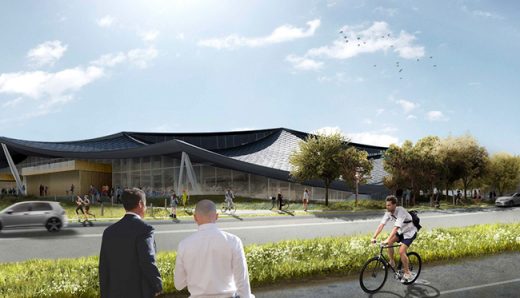 Key elements include a sprawling tent-like roof that will enclose several discrete structures, regulating the internal climate.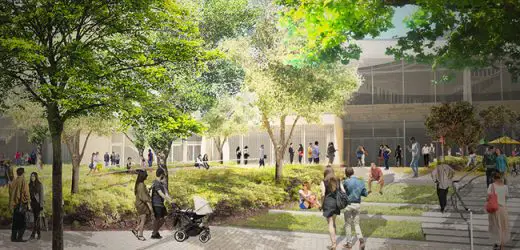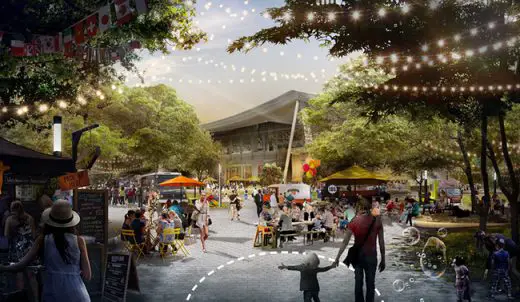 A green loop lined with cafes and shops will thread through several of these pavilion structures.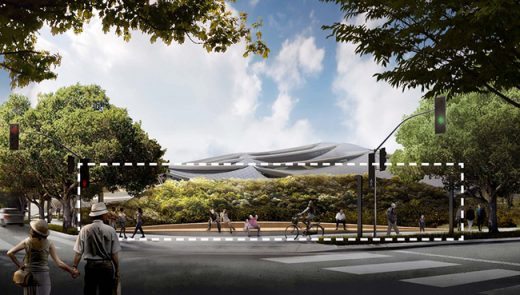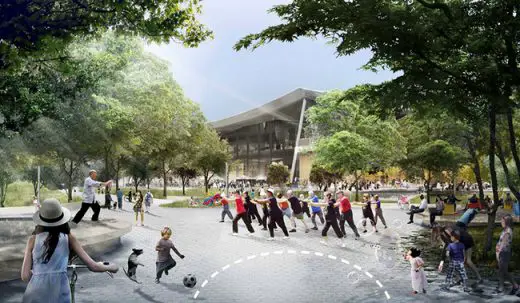 This is one of three major Silicon Valley buildings for household name tech companies: Facebook have a new building design by Frank Gehry, and Apple's donut-shaped HQ by Foster + Partners is nearing completion.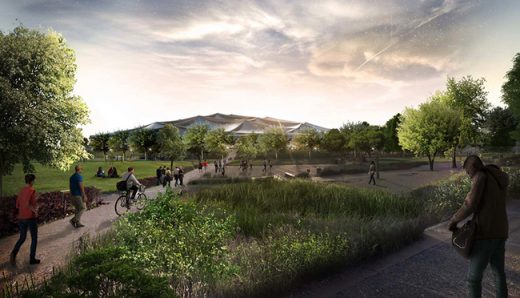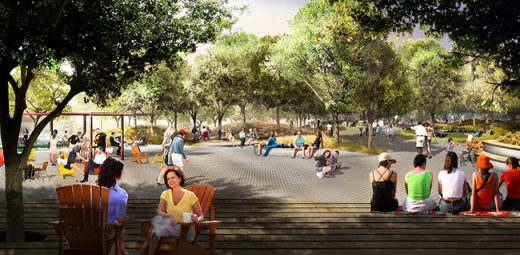 page updated with new images Dec 24, 2016 ; Apr 2, 2015
Google Mountain View Campus
Location: Clara County, CA, USA – west side of San Jose, south of San Francisco
Design: BIG + Heatherwick Studio – Bjarke Ingels and Thomas Heatherwick
Google Complex in Mountain View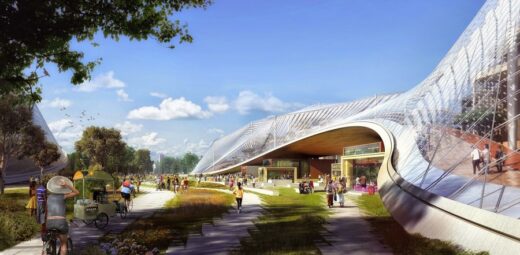 Google Mountain View Campus, California, USA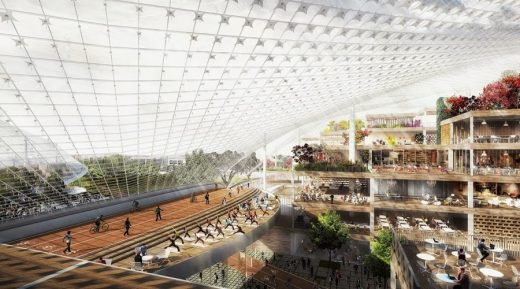 Thomas Heatherwick, Founder and Principal, Heatherwick Studio:
"Heatherwick Studio is thrilled to be working on this exciting project for Google and the community of Mountainview, California.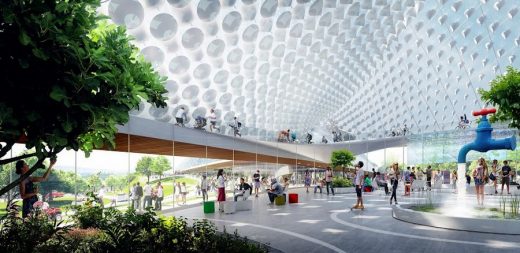 This is an opportunity to not only create a new home for the world's most innovative company, but also to make a vibrant piece of town at the same time as protecting and enhancing the local natural habitat.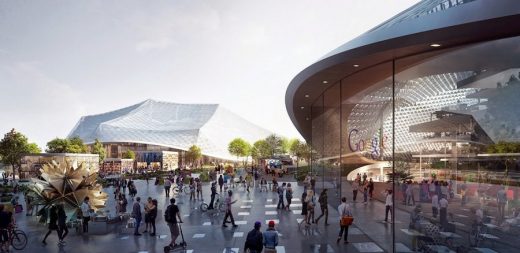 Bringing the design team together from Heatherwick Studio and BIG means we've developed even more exciting solutions that neither would have arrived at alone and we look forward to making them a reality."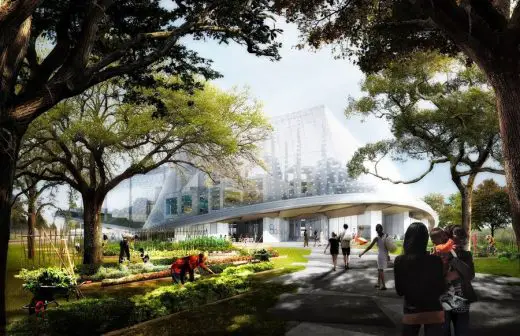 Images courtesy of google
Announcement by David Radcliffe at Google:
"Today we're submitting a plan to redevelop four sites—places where we already have offices but hope to significantly increase our square footage—to the Mountain View City Council. It's the first time we'll design and build offices from scratch and we hope these plans by Bjarke Ingels at BIG and Thomas Heatherwick at Heatherwick Studio will lead to a better way of working.
Google's Proposal for North Bayshore:

Published on 27 Feb 2015 – Vice President of Real Estate Dave Radcliffe and architects Thomas Heatherwick and Bjarke Ingels discuss our proposed Master Plan for our new campus in Mountain View, California. With our proposal, our focus is on creating space for people, nature and ideas to thrive.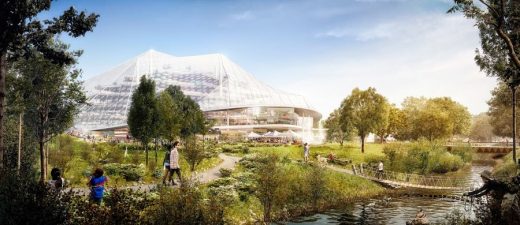 The idea is simple. Instead of constructing immoveable concrete buildings, we'll create lightweight block-like structures which can be moved around easily as we invest in new product areas. (Our self-driving car team, for example, has very different needs when it comes to office space from our Search engineers.) Large translucent canopies will cover each site, controlling the climate inside yet letting in light and air. With trees, landscaping, cafes, and bike paths weaving through these structures, we aim to blur the distinction between our buildings and nature. You get a great opportunity to ride your electric bike through a visually stunning path."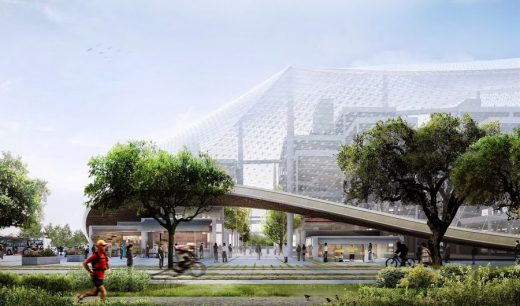 Of course, this project is about much more than just office space; it's about doing more with the local community as well. So we're adding lots of bike paths and retail opportunities, like restaurants, for local businesses.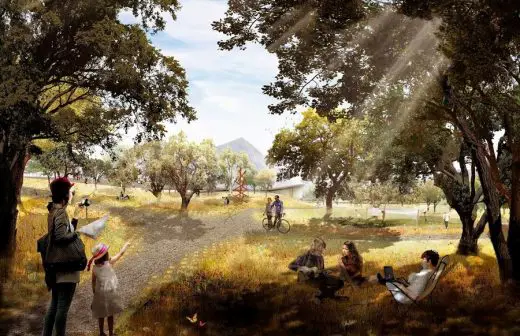 We also hope to bring new life to the unique local environment, from enhancing burrowing owl habitats to widening creek beds. And we're committed to do everything we can to save energy—our recent agreement to offset our energy consumption in North Bayshore with renewable energy includes the development of this proposal.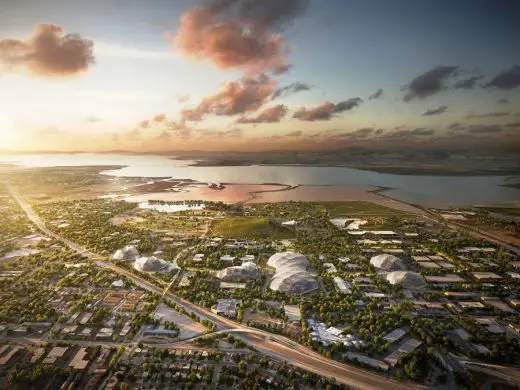 We chose Mountain View for our headquarters 15 years ago because we love the beauty of the bay, the close proximity to great universities, the family-friendly environment and the chance to work in a city at the heart of Silicon Valley. Today, we want to create office spaces that don't just provide a great home for Google, but which also work for the city that has given us so much."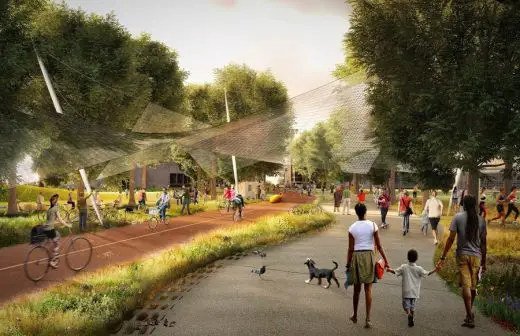 Website: New Google Mountain View Campus – Rethinking office space post by google
Website: Google Mountain View Campus
Google Bay Mountain View Complex – page on later building design by Heatherwick Studio + BIG
Mar 4, 2013
Google "Bay View" Complex
Clara County, CA, USA
Location, west side of San Jose, south of San Francisco
Design: NBBJ
Google Complex in Mountain View Complex
Google occupies some of the most famous offices in the world but not one of the places in which the company's 35,000+ employees work has been built by the company. The core of the "Googleplex," as the headquarters in Mountain View, California, is generally known, consists of a suburban office park once occupied by Silicon Graphics that Google remodeled to suit its needs; in New York, Google occupies and owns the enormous former Port Authority headquarters in Chelsea.
The company's home base in Mountain View has expanded to roughly 65 buildings.

image from NBBJ
For the last year or two, Google has been looking at designing a major new building. In 2011 it went so far as to hire the German architect Christophe Ingenhoven (Ingenhoven Overdiek Kahlen Partner) to design a brand new, super-green structure on a site next to the Googleplex, but that was a false start: the company abandoned the project a year later, when it decided to build in another part of Mountain View, closer to San Francisco Bay, and went looking for another architect.
Now Google has partnered with the Seattle-based firm NBBJ.
Googleplex Headquarters, Mountain View, USA: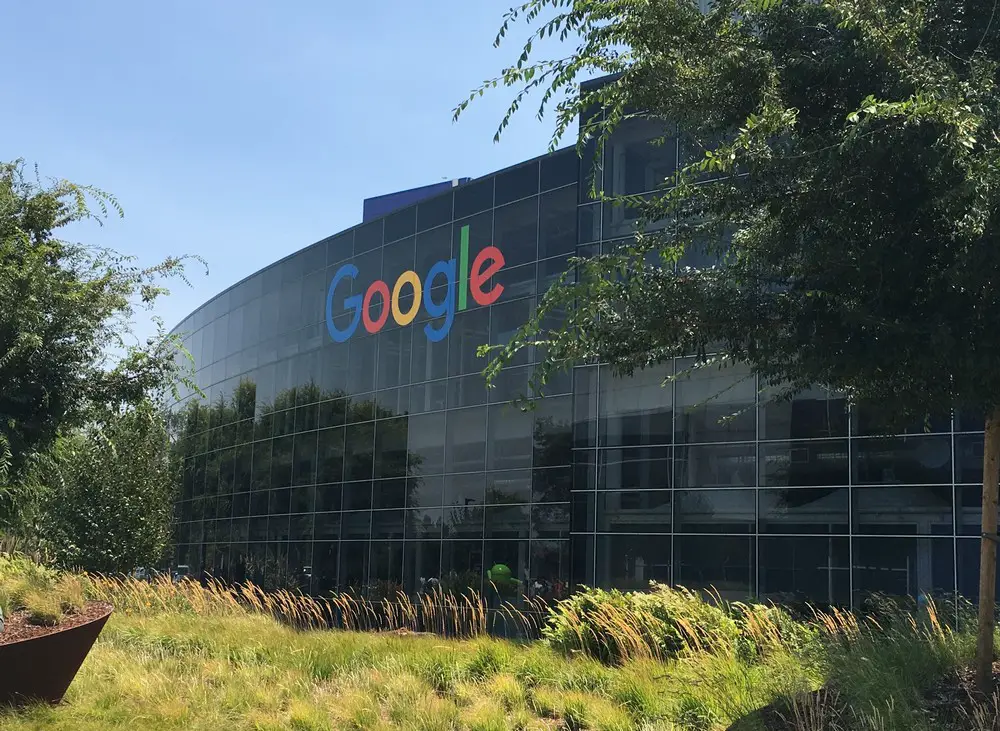 photo By The Pancake of Heaven! – Own work, CC BY-SA 4.0, https://commons.wikimedia.org/w/index.php?curid=77221979
The new campus is called Bay View and consists of nine roughly similar structures, most of which will be four stories high.
The buildings are designed to maximize "casual collisions of the work force." No employee in the 1.1-million-square-foot complex will be more than a two-and-a-half-minute walk from any other.
The building have a mix of private, quiet work spaces – no private offices – and social and communal work spaces, including cafés.
"We started not with an architectural vision but with a vision of the work experience," Radcliffe said. "And so we designed this from the inside out."
Google Bay View Complex images / information from Vanity Fair via NBBJ Seattle
Location: Mountain View, Clara County, CA, USA
California Architecture
Another Silicon Vallery Building on e-architect:
Apple Campus 2, Cupertino, San Jose
Design: Foster + Partners with Arup
Apple Campus 2
Google Mountain View Campus in California – original post
San Francisco Architecture Walking Tours
San Francisco Building Designs
SFMOMA Expansion
Design: Snøhetta
SFMOMA Expansion
Stanford University Law School Building, Palo Alto
Design: Ennead Architects
Stanford University Building
San Francisco International Airport Terminal 2 Renovation
Design: Gensler, Architects
San Francisco International Airport
San Francisco Architecture
Contemporary Jewish Museum, Mission St
Design: Studio Libeskind
Contemporary Jewish Museum San Francisco
Ray and Dagmar Dolby Regeneration Medicine Building, University of California
Design: Rafael Viñoly Architects
Ray and Dagmar Dolby Regeneration Medicine Building
California Architecture : images
American Architecture : major developments + designs
Comments / photos for the Google Bay View Complex page welcome