Rotterdam walking tour, Dutch building guides, Architectural walks Netherlands, Architects, NL city design
Rotterdam Architecture Tours
Dutch Architecture Guides – Exclusive Building Walks in South Holland tailor made for groups.
post updated 5 September 2023
Contact us for a walking guide in The Netherlands: isabelle@e-architect.com
Rotterdam Architecture Tour: Exclusive Guided Walks
Our Rotterdam guided tours are all tailored to suit each booking, we do not allow for bookings to be joined. Our guided tours in Netherlands are all exclusive to each client.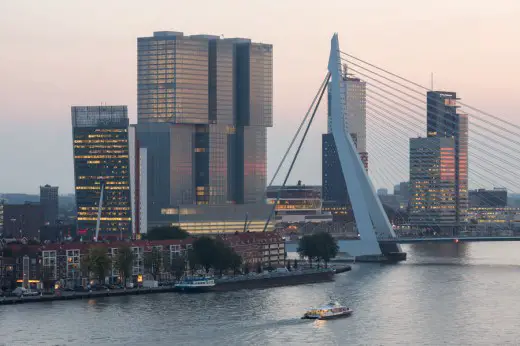 photo courtesy of OMA; photography by Ossip van Duivenbode
Rotterdam Architecture Walking Tours
Should you be planning an architectural trip to South Holland please contact e-architect.
Markthal building design by MVRDV Architects in the city centre: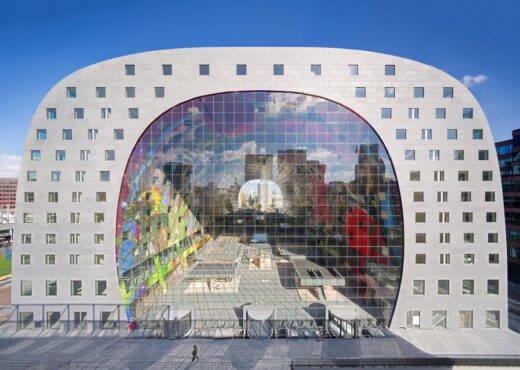 photo © Ossip van Duivenbode
Rotterdam Architecture Introduction
Rotterdam is the second largest Dutch city and not only the major port in The Netherlands but by far the biggest port in Europe. It is located in the west of the country, close to the North Sea. The city has a wealth of good contemporary architecture, all possible to visit on our Rotterdam Architecture Tours.
Timmerhuis in Rotterdam building design by OMA: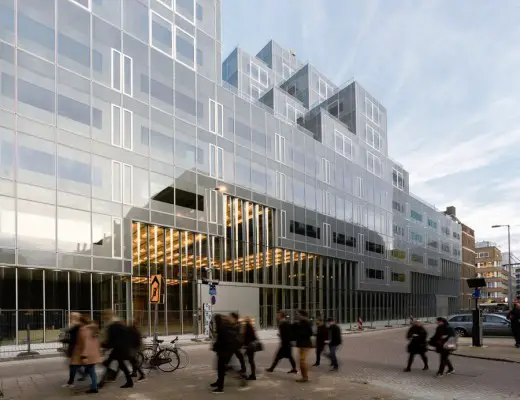 image courtesy of OMA; photography by Sebastian van Damme
Key buildings in this Dutch city are Timmerhuis, MVRDV House, The New Orleans building, Kunsthal Rotterdam, De Rotterdam, B Tower, Nieuwe Luxor Theater, The Red Apple (Wijnhaven Island) and the Didden Village.
Also worth a visit are the stunning Markthal by MVRDV, Timmerhuis project by OMA, the new Central Station, Alsop's CalypSO apartment building and the 150.000m2 'vertical city' De Rotterdam by OMA.
De Rotterdam by Dutch architects OMA: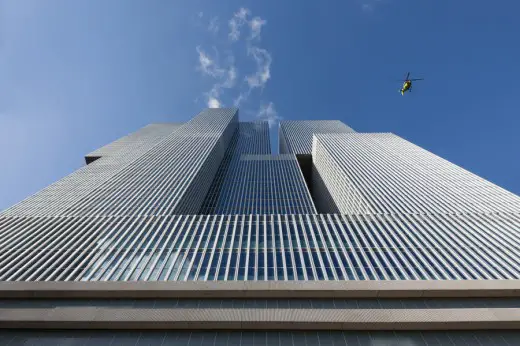 image courtesy of OMA; photography by Ossip van Duivenbode
Famous architects with buildings in the city include OMA, Alvaro Siza, MVRDV, UNStudio, Mecanoo, Wiel Arets Architects, Bolles + Wilson and Erick van Egeraat. Other key architects with work in the city include KCAP Architects&Planners, Atelier Kempe Thill, Claus en Kaan Architecten, Zwarts & Jansma, Monolab Architects, casanova+hernandez architecten, van Bergen Kolpa Architecten, Hans Moor Architects, PEÑA architecture and AFARAI.
Book Mountain Rotterdam building design by architects MVRDV
Please note our architecture tour guide for the city can also take visitors to see the major buildings in Delft, a city slightly to the north with a strong range of contemporary architecture including designs by Mecanoo.
Rotterdam Walking Tours
Rotterdam Architectural Tours can focus on traditional buildings, contemporary buildings or both. We can provide information to build up a good programme, for example if your group is interested in Dutch office buildings we can assist with advising where the key projects are ahead of their visit to Holland.
Architecture in Rotterdam : key buildings in this major Dutch city
Rotterdam Architectural Walking Tours
Contact Isabelle Lomholt to arrange your Dutch architectural tour: mob. +44 (0)7952 149814 / isabelle(at)e-architect.com
Payment must be sent prior to your Dutch architectural tour in order to engage the guide / guides.
Reference:
Oct 17, 2016
I just wanted to say thank you for being such great guides. The two of you were very knowledgeable and were able to answer all the architects taxing questions.
Again, many thanks,
Danielle Mittee, for MSMR Architects
MVRDV House Rotterdam:


photograph © Ossip van Duivenbode
If our Dutch city walking tour inspires you to stay in Rotterdam for longer, or even to move here, make sure you book your accommodation beforehand on HousingAnywhere.
Architecture Tours
e-architect organise architecture walking tours in more cities close to Rotterdam, namely Amsterdam, Brussels and Paris. We also offer bespoke city wals other western European cities such as Copenhagen, Edinburgh, Berlin, London, Glasgow and Barcelona.
European Architectural Tours
Architecture Tours in Europe – relevant selection in countries close to The Netherlands:
Amsterdam Architecture Walking Tours
London Architecture Walking Tours
Recent Rotterdam Buildings
The Podium on Het Nieuwe Instituut roof
Design: MVRDV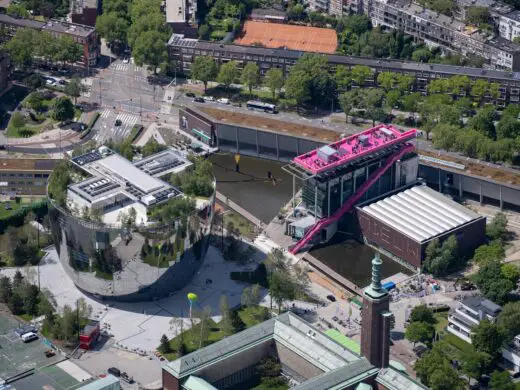 photo © Ossip van Duivenbode
The Podium on Het Nieuwe Instituut roof
The mayor of Rotterdam Ahmed Aboutaleb opened The Podium in a ceremony at Het Nieuwe Instituut. Designed by MVRDV, the 29-metre-high platform makes the roof of the museum accessible via a 143-step external staircase.
Harbour Experience Center
Architects: Kossmanndejong and MVRDV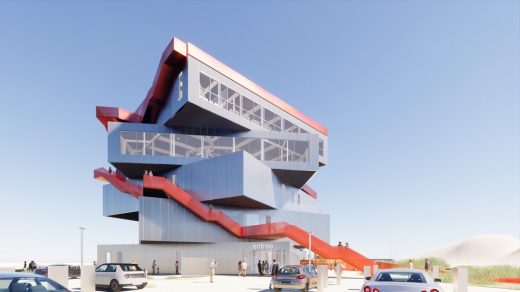 image courtesy of architects practice
Harbour Experience Center, Port of Rotterdam
The Harbour Experience Center is located in a beautiful location – on the border of land and sea. At the end of the Amaliahaven, near the current recreational beach of Maasvlakte 2. The building has been designed by MVRDV architects. Kossmanndejong contributed to the overall concept and will design the exhibitions, experience, and interior.
Rotterdam Rooftop Walk, over the Coolsingel
Design: Rotterdam Rooftop Days and MVRDV, Architects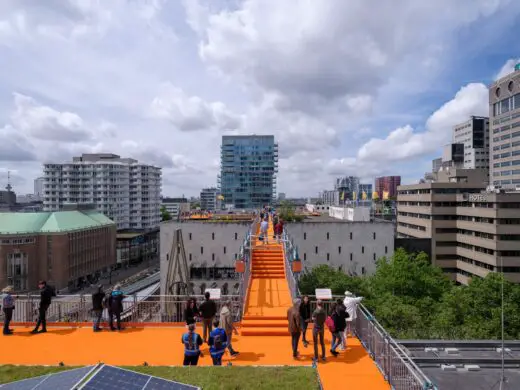 photo © Ossip van Duivenbode
Rotterdam Rooftop Walk by MVRDV
An orange carpet at a height of 30 metres allows the public a different experience of the city – venture across a variety of the city's rooftops. Designed by Rotterdam Rooftop Days and MVRDV, the highlight of this installation is a bridge spanning the Coolsingel, one of Rotterdam's most important streets.
Rotterdam Architecture Month design on the roof of Het Nieuwe Instituut
Design: MVRDV, Architects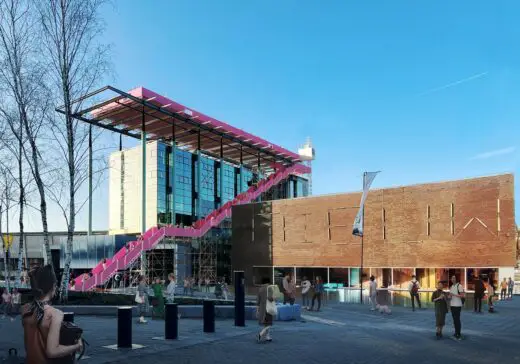 image © MVRDV
Rotterdam Architecture Month
Rotterdam is gaining a unique, temporary vantage point this summer. Rotterdam Architecture Month and Het Nieuwe Instituut are joining forces to build an urban podium on the roof of Het Nieuwe Instituut. The Podium was accessible for free via a lift and a giant staircase along the institute's façade.
World Port Centre
Architects: Mecanoo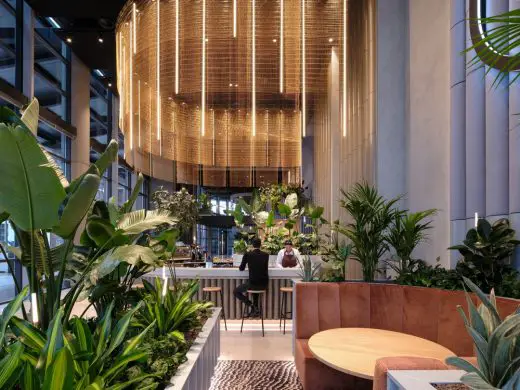 photo : Ossip Architectuurfotografie
World Port Centre
The World Port Centre in Rotterdam (WPC) overlooks the city and surrounding harbour from its prominent location at the far western point of the Wilhelmina pier, next to Mecanoo's iconic Montevideo Tower. Designed by Norman Foster and completed in 2000, the WPC facilities were no longer fit for purpose.
The Bellhop Hotel, Witte de Withstraat
Architecture: local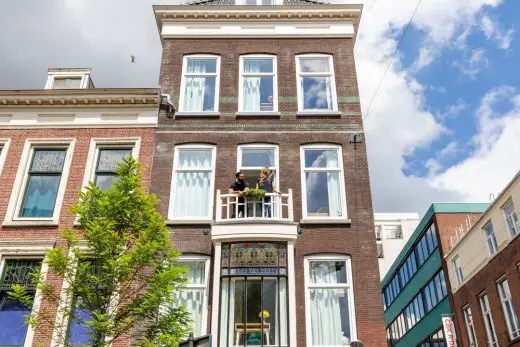 photo : Joey Van Dongen
The Bellhop Hotel
The Bellhop Hotel transforms the typical corridors of a Dutch townhouse into action bands for moving, staying and sleeping inside. The full rehabilitation includes a new basement floor and a new 4th floor with the pitch roof. The project is led by Elida Mosquera and Jerome Picard from local, a new Bergen-Paris based architecture and urbanism studio.
Beukenhof Auditorium and Crematorium
Design: Asymptote Architecture
Beukenhof Auditorium and Crematorium
Theatre Spijkenisse
Design: UNStudio
Theatre Spijkenisse
Eneco Headquarter building – interior design
Design: Hofman Dujardin Architects in collaboration with Fokkema&Partners
Eneco Headquarter Rotterdam
New Orleans – building
Design: Alvaro Siza architect
The New Orleans building
Rotterdam Building Tours : Photographs of key buildings around the city
Rotterdam Architectural Tours : New Dutch Buildings
Rotterdam Architecture Studios
A famous Dutch architect – Rem Koolhaas of OMA
Netherlands Architecture Institute Event
Comments / photos for the Rotterdam Building Tours – Dutch Architecture Guides by e-architect for groups page welcome
Visit Rotterdam, NL