Ericeira House, Waterfront Property Portugal, Portuguese Residence in Mafra
U House, Ericeira, Portugal
New Portuguese Coast Home in World Surfing Reserve – design by Jorge Graça Costa, architect
24 Aug 2012
U House
Location: Reserva Mundial de Surf – Ericeira, municipality of Mafra, western coast of Portugal
Design: Jorge Graça Costa
A sustainable House for a Professional Surfer
English text (scroll down for Portuguese):
The U House located in Ericeira, a World Surfing Reserve, was designed for José Gregório three times national Surf champion and a well known big wave rider, his wife and two daughters.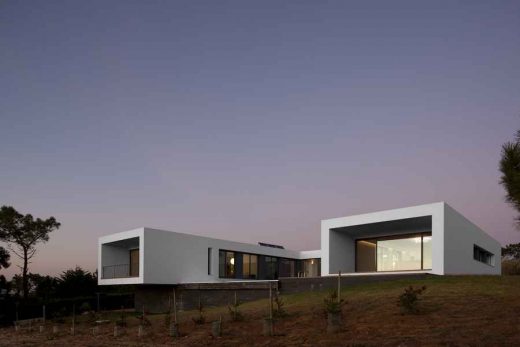 This 300 square meter house occupies a big lot, surrounded by a dense mesh of trees, on top of a hill overlooking Saint Lorenzo Bay. Our mutual interest in sustainability didn't keep us from wholeheartedly embracing modern design. The goal was to avoid green pronouncements, allowing to achieve ascetics and exciting architecture solutions, instead of designing a building fully controlled by superfluous green technologies and merely aggregating raw materials.

photographs : Fernando Guerra, FG + SG
The house design emerges from the inevitability of protection of prevailing winds. The north wind dominant in the summer and the stormy south wind dominant in the winter carrying the rain from the sea. Therefore the central idea was a design based in the reinterpretation of ancient's Mediterranean patio houses, creating a patio sitting on a plateau embraced by two long arms interconnected by a third body, never ignoring the fabulous views to the west even in interior spaces. Abundant glazing brings in natural light while a high performance envelope controls temperatures. Eco-friendly Interior finishes and art work made from recycled materials take place in prominent places in the house.
The numerous sustainable features includes: cork has a primary isolation material, passive design (natural heating and cooling), floor and water heating by solar panels supported by biomass heating, microclimate environment created by the patio and the pool (pool water without chemical treatment) and rainwater harvesting (collected in a preexisting well) for irrigation proposes.
The house's success in harmonizing design, functionality and sustainability is augmented by its livability, extreme comfort and considerable savings in consumption of water and energy. Its humble size and careful design are a testament to the success balance of architecture with a prescriptive performance design.

photographs : Fernando Guerra, FG + SG
Portuguese text:
Casa "U"
A casa "U" localizada na Ericeira (uma recente Reserva Mundial de Surf), foi desenhada para José Gregório tricampeão nacional de Surf, a sua mulher e duas filhas. A casa com uma área de 300 metros quadrados ocupa um grande lote no topo de uma colina rodeado por uma densa mancha de árvores e com vista sobre a Baia de São Lourenço. O nosso interesse mútuo em sustentabilidade permitiu-nos desenvolver uma interessante peça de arquitetura, evitando utilizar meramente tecnologias verdes supérfluas.
O projeto da casa surge da inevitabilidade de proteção dos ventos dominantes. O vento norte predominante no verão e o vento sul dominante no inverno carregando as tempestades do mar. A ideia central de projeto baseou-se na reinterpretação das antigas casas-pátio do Mediterrâneo, criando um pátio sentado num platô abraçada por dois longos braços interligados por um terceiro corpo, nunca ignorando as vistas fabulosas para Poente.
A edificação proposta desenvolve-se num único piso e é constituída por três blocos interligados configurando um "U" formando no seu interior um pátio. O edifício é tipologicamente estruturado numa base tradicional em que os três corpos apresentam utilizações diferenciadas. A zona social situa-se no corpo Sul, o corpo Norte contêm a zona privada, no corpo Nascente está localizada a zona de apoio. A articulação dos corpos propostos resultou da intenção de criar um pátio interior como que formando um claustro com a piscina a poente, demarcado o limite do mesmo. O pátio resultante da volumetria permite criar um microclima de modo a amenizar o clima local. A piscina promoverá no Verão um efeito refrescante através do arrefecimento evaporativo.
Aproveitando o considerável desnível apresentado pelo terreno foi ainda introduzida uma zona de cave localizada por baixo do corpo Norte onde se situam duas zonas não habitáveis distintas, uma zona de estacionamento e uma zona que irá funcionar como zona de arrumos e simultaneamente como área técnica contendo o equipamento para o aproveitamento das águas pluviais e funcionamento dos aparelhos de energias renováveis.
A arquitetura do edifício incorpora estratégias passivas de aquecimento e arrefecimento funcionando em conjunto com soluções a nível de fontes de energias renováveis de modo a incorporar uma estratégia da utilização racional da energia. Recorrendo a estratégias Bioclimáticas e a soluções passivas de aquecimento e arrefecimento é possível promover o conforto térmico dos utilizadores com o mínimo de input energético. Utilizou-se a cortiça como material preferencial de isolamento.
O sucesso do desenho da casa, a sua funcionalidade e sustentabilidade é aumentada pela sua habitabilidade, conforto extremo e uma economia considerável no consumo de água e energia.

photographs : Fernando Guerra, FG + SG
House in Ericeira – Building Information
Name of the owner: José Gregório
Location: Ericeira; Portugal
Site Area: 5.000.00 Square meters
House Area: 300.00 Square meters (House) + 90.00 Square meters (Basement)
Clients brief: Primary residence for a couple and two daughters regarding eco-concerns
Design features: A+ (A plus) classified house by the National Energy Agency
Materials: Ecofriendly materials including cork has a primary isolation material
Architecture: Jorge Graça Costa, Arquitecto
Architecture Collaboration: Rui Rodrigues, Rafaella Gradvohl
Renewable Energy: Natural-Works, Guilherme Carilho da Graça Eng.
Engineering: ACR Engenharia
Photos: Fernando Guerra, FG + SG
Ericeira House for a surfer images / information from Jorge Graça Costa
Location: Ericeira, municipality of Mafra, Portugal
New Portuguese Architecture
Contemporary Portuguese Architecture
Portuguese Architecture Designs – chronological list
Lisbon Architecture Tours by e-architect
Portuguese Houses
Sea Front Villa, Quinta da Marinha, Estoril – Cascais
Design: Arq Tailor, Arquitectos, Lisboa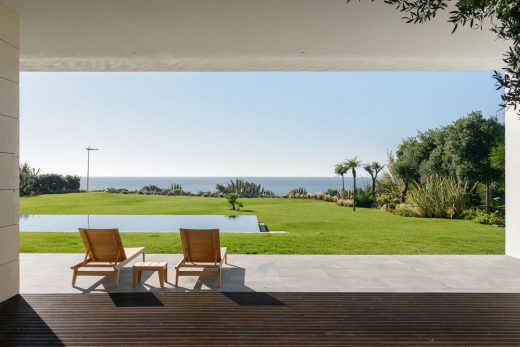 photography © Ricardo Oliveira Alves
Sea Front Villa in Quinta da Marinha
Coimbra – Steinman House, Lisbon
Design: Fran Silvestre Arquitectos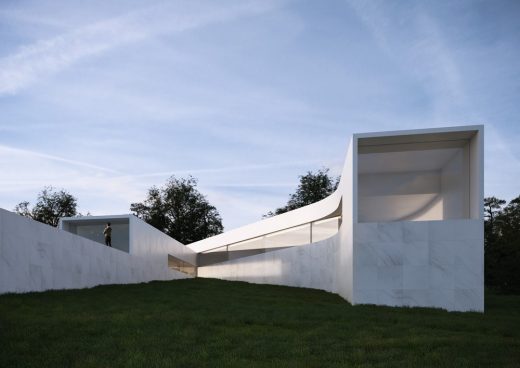 picture from architects office
Contemporary House in Lisbon
DJ House, Carcavelos, near Lisbon, western Portugal
Design: [i]da Arquitectos
House in Carcavelos
Xieira House, Leiria, central Portugal
Design: A2+ ARQUITECTOS
House in Leiria
Casa Possanco, near Lisbon
ARX Portugal Arquitectos
Casa Possanco
House II in Aroeira, Plot 180, Aroeira Golf, Caparica
ARX Portugal Arquitectos
House II in Aroeira
Comments / photos for U House – Ericeira Property page welcome