ZAC Claude Bernard, Paris Residential Design, Parisian Housing Images
ZAC Claude Bernard Housing, Paris
Residential Building France design by Atelier Zündel Cristea architects
26 Mar 2012
ZAC Claude Bernard Paris
Location: north east Paris, France
Design: Atelier Zündel Cristea
English text (acroll down for French):
MIXED-USE BUILDING CLAUDE BERNARD AREA
ZAC Claude Bernard
134-138 boulevard Macdonald – 75019 Paris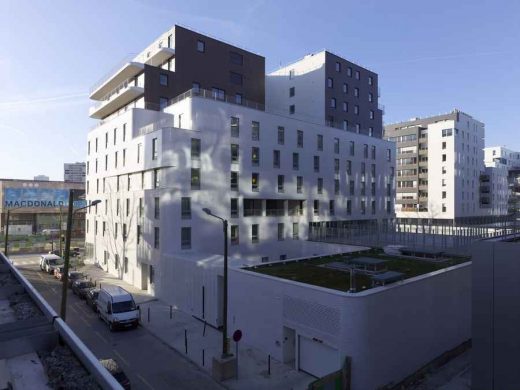 MIPIM Awards 2012 gagnant catégorie 'best residential development'
The operation of this building for residential use (by all ages) adheres to the logic of a stacking of trays.
Business space and the entrance to the retirement home are found on the ground floor, followed by five floors containing the main section of the retirement home, while the top four floors contain privately owned homes. The basement contains parking lots for the residents as well as supplementary annexes of the retirement home: its kitchen, maintenance and storage rooms.
With a length of 43m by a depth of 28m, the trays form vast surface areas that will be entirely filled on the first five floors by the requirements of the project that is the specific configuration of the retirement home. With the project's lowest density on the last four floors, there will be a successive shrinkage of the trays, thus bringing the building into correspondence with Boulevard Macdonald's Local Plan of Urbanism (PLU), and meanwhile providing a generous amount of sunny passageways for the majority of residents. The retirement home on the first five floors forms a compact volume due to the density of the project in this segment of it.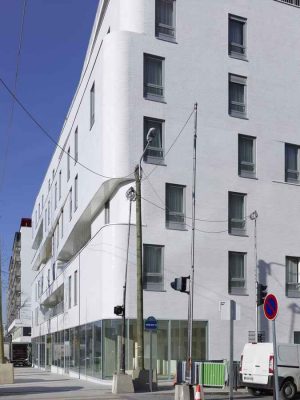 We understood, through a testing of volume, that the subtle allowances certain outer walls contained for unsticking, could result in a rupture in this compactness. The realization of this movement, combined with the employment of paving slabs corresponding to each floor, and the choice of full height windows for each room, put the building back on a human scale. On the south-facing side, the outer walls recede freely to form breaths in the assembled mass, and become a linear set of mezzanines.
In the building's upper part, the movements of the outer walls and paving slabs, combined with a successive shrinkage, signal a change in function.
The complex as a whole demonstrates, through its usage of volume, a superposition of functions.
ZAC Claude Bernard Paris – Building Information
Location: 134-138 boulevard Macdonald, 75019 Paris
Program Mixed-use building : housing, retirement home and retail
Architect: Atelier Zündel Cristea
Client: Meunier Habitat (BNP Paribas) / Axentia / RIVP
Firms: Vinci / Sicra ; Rairies Montrieux sas (briquettes)
Consultants:
Griveau (Structure)
MCI (MEP)
ELAN (HEQ)
Lamoureux (Acoustics)
DAL (Cost planning)
Casso (Fire Safety Engineering)
Surface: 8 859 m² shon
-Residential housing 2 172.5m²
-Retirement home 6292 m² (104 beds)
-Retail 397.4m²
Completion: 2008-11
Cost: 15M € HT
Photos © S.Chalmeau
Constructive system and material: Concrete (walls and slabs), FSC labeled pine (carpentry), enameled briquettes (façade), Trespa® Meteon (cloating of the 4 top floors).
Environmental measures: Exterior insulation with stone wool (15 cm) (minimization of thermal bridging – better thermal inertia), double-glazed wooden carpentry, high performance balanced ventilation, natural lighting (removable sun protection system)
Installations techniques: Vacuum thermal collectors for the production of hot water, heat provided by the CPCU (Compagnie Parisienne de Chauffage Urbain) and geothermal system
Energy performance: 50 kWhep/m² a year (Climate Plan of the City of Paris) ; coefficient Cep 62,1 kWhep/m²
French text:
ZAC Claude Bernard Paris Design
IMMEUBLE MIXTE ZAC CLAUDE BERNARD
134-138 boulevard Macdonald – 75019 Paris
MIPIM Awards 2012 gagnant catégorie 'best residential development'
La ZAC Claude Bernard se situe dans le 19ème arrondissement de Paris, sur un terrain de 3.6ha entre le boulevard Macdonald au sud et le Périphérique au nord.
Quatre îlots de 43X48m, faisant face au boulevard Macdonald, étaient prédéfi nis pour recevoir quatre opérations distinctes de logements sociaux, logements en accession et une maison de retraite.
L'îlot B3 est un immeuble mixte qui empile trois programmes différents : des commerces, une maison de retraite et des logements en accession.
De l'espace urbain, celui qui fabrique la ville, à l'espace plus restreint et intime d'une habitation, la notion «d'habiter » vise à produire sans discontinuité un environnement plus généreux, plus accessible et plus comfortable pour l'être humain.
Le point de départ de notre travail a été d'intégrer la question de la Maison de retraite dans la ville; la défi nir, la décrypter pour en restituer une version évoluée et contemporaine.
Dans ce projet, nous essayons d'intégrer la question de l'habitation, de la hiérarchisation des espaces publics et collectifs, de la qualité de vie à tout âge, afi n de produire un nouveau modèle urbain durable. Le fonctionnement de cet immeuble mixte d'habitation suit la logique de l'empilement des plateaux.
En rez-de-chaussée se trouvent commerces et les halls d'entrée des logements et de la maison de retraite, suivent cinq niveaux compacts occupés par la maison de retraite et quatre derniers niveaux de logements en accession. Le sous-sol est occupé par les parkings des logements et les prolongements annexes de la maison de retraite : cuisine, locaux de stockage et maintenance.
Les plateaux du bloc, d'une longueur de 43m pour une profondeur de 28m, forment des vastes surfaces qui seront entièrement remplies sur les cinq premiers niveaux par les besoins du programme et la confi guration spécifi que de la maison de retraite. Sur les quatre derniers niveaux, la densité plus faible du programme, permet des retraits successifs des plateaux, qui répondent ainsi au PLU côté boulevard Macdonald et procurent des généreuses coursives ensoleillées et plantées pour la plupart des logements.
Notre objectif initial, qui concerne la qualité de vie, la lumière et le confort des habitations, nous a poussés à travailler de manière précise à la répartition des chambres et des espaces communs des deux programmes : maison de retraite et logements.
L'enjeu est de rendre des logements collectifs effi caces et désirables, de produire autour de chacun un espace le plus généreux, le plus accessible et le plus comfortable. Côté sud, les façades reculent librement pour former des respirations dans la masse bâtie qui seront de loggias linéaires.
En partie supérieure, les mouvements des façades et des dalles, combinés avec les retraits successifs, marquent le changement de fonction. L'ensemble montre en volumétrie la superposition des fonctions.
ZAC Claude Bernard Paris images / information from Atelier Zündel Cristea
Location: 134-138 boulevard Macdonald, 75019 Paris, France
New Paris Architecture
Contemporary Paris Architecture
Paris Architecture Design – chronological list
Paris Architecture Tours by e-architect
Paris Housing – Recent Buildings
Social Housing ZAC Claude Bernard, 19th arrondissment
Dietmar Feichtinger Architectes
ZAC Claude Bernard
The building is part of a recently developed area in the North of Paris
Sustainable Dwellings, ZAC Seguin, southwest Paris
MCBAD Colomer Dumont
Sustainable Dwellings Paris
The Flower Tower, avenue de France, ZAC Massena, Paris 13
Maison d'architecture Edouard François
The Flower Tower
Herold Apartments
Jakob+MacFarlane Architectes
Herold Apartment Buildings
Residence Ladoumegue
ecdm
Paris Student Housing Design
Comments / photos for the ZAC Claude Bernard Housing Paris page welcome