Tour Horizons Paris, Boulogne-Billancourt Building, ZAC Seguin rive de Seine Design, Date
Tour Horizons, Paris : Boulogne-Billancourt Architecture
Tower Building in France design by Ateliers Jean Nouvel architects
26 Jan 2012
Tour Horizons
ZAC Seguin rive de Seine, Boulogne-Billancourt, Paris, France
Design: Ateliers Jean Nouvel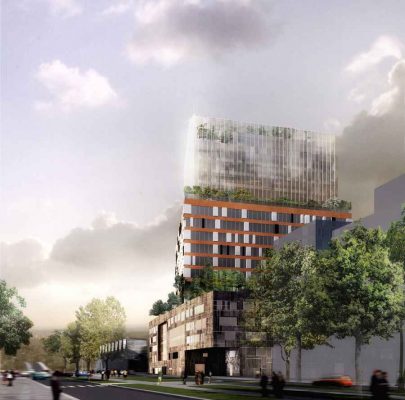 images © Ateliers Jean Nouvel
Tour Horizons Building
English text (scroll down for French):
Horizons, a building designed by Jean Nouvel, the result of an innovative partnership between Hines, developer and Gecina, investor. Hines, a private international real estate group, developer through its HEDF fund and Gecina, one of the leading private real estate investors in France, signed in July 2006 an agreement for the acquisition upon delivery of an office building with a surface area of of 38,600 m²: the "Horizons" building. Its design was entrusted to the visionary architect Jean Nouvel following a competition organized with 4 internationally renowned architectural firms: Valode et Pistre, Massimiliano Fuksas, Kohn Pedersen Fox and Ateliers Jean Nouvel.
The "Horizons" building is the most important project of the Hines and Gecina partnership, which involves the development of nearly 90,000 m² of innovative office space destined to become benchmarks in Ile-de-France. Indeed, sharing values of excellence, Hines and Gecina have put their know-how and their knowledge of the business world at the service of new challenges: promoting increased flexibility, attracting and encouraging talent, giving meaning to their activity.
After the delivery in 2007 of the Pyramidion project, an office building in La Défense today leased to the pharmaceutical company Schering Plow, Hines and Gecina continued their collaboration with a new office program, called "Made for People", intended for large companies. This operation is being developed on an exceptional tertiary site in Boulogne-Billancourt: the new Ile Seguin-Rives de Seine district, the historic site of the former Renault factories.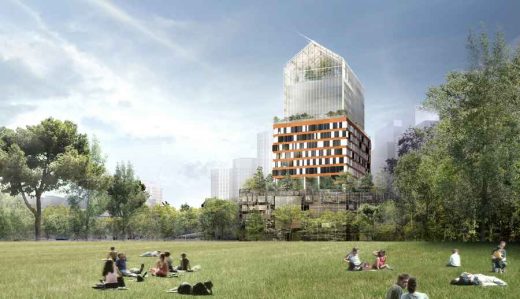 The real estate program 'Made for People'
Horizons spearheading a four-building real estate program
The real estate program covers 4 office buildings with a total area of over 80,000 m². For their design, Hines and Gecina called on some of the most talented architects in the world:
The Angle
Jean-Paul Viguier
Khapa
Foster + Partners and workshops 234
Anthos
E. Naud + L. Poux
Horizons
Jean Nouvel workshops
• Jean Paul Viguier for Angle – 12,000 m² of offices, delivered in April 2008 – 720 people
• Foster & amp; Partners for Khapa – 20,800 m² of offices, delivered in July 2008 –1,200 people
• E.Naud + L.Poux for Anthos – 10,050 m² of offices, delivered in March 2010 – 620 people
• Jean Nouvel for Horizons – 38,600 m² SHON of offices, under construction – 2,500 people These achievements illustrate the strategy implemented by Hines and Gecina to create innovative buildings, adapted to demanding standards of the 21st century, paying particular attention to energy consumption and the environmental footprints of buildings.
In addition, this program responds very precisely to the needs of companies by making office real estate a new tool for management and institutional communication.
The 'Made for People' Concept
Work organization models and employee expectations are changing rapidly. By relying on sociological studies of changes in the world of work, Hines and Gecina wanted to provide a concrete response to this societal change. The aesthetics and prestige of the places, the location, the proximity and diversity of services, the fluidity and modularity of the spaces are elements that today matter on a daily basis for employees and can influence their collective performance.
Hines and Gecina are providing a concrete response to this societal change through the creation of workspaces that place the individual at the heart of the real estate project and meet the new performance objectives of managers.
Thus, the Made for People buildings combine:
-an architectural signature,
-environmental performance,
-a strategic location,
-a stimulating environment.
By improving working conditions and creating real living spaces, through flexible and communicating spaces, integrating many services (catering, fitness room, lounge area, shops at the foot of the building, etc.), the workplace becomes the support for collective performance and individual aspirations.
"At a time when transversal cooperation and operation in project mode are essential to the smooth running of companies, the impact of the organization and the fluidity of spaces should not be neglected. The investments made by a company in level of the framework and the working environment therefore not only contribute to a clear improvement in working conditions but also act as a support for recognizing the expectations of the individual ". Fabrice Traversaz *, company sociologist.
* Fabrice Traversaz is a researcher at CNRS, member of LISE (interdisciplinary laboratory of economic sociology). He specializes in corporate culture and the impact of working conditions on employees.
The "Horizons" building is the most emblematic achievement of the "Made for People" program.
Horizons, an innovative architecture imagined by Jean Nouvel
Horizons reflects a conviction shared by Hines and Gecina that aesthetics, respect for the environment and an entrepreneurial vision can be combined.
Designed by the visionary architect Jean Nouvel, Horizons is a building of 38,600 m² net floor area (36,400 m² of useful office space and 1,000 m² of shops) made up of a stack of three separate buildings and a succession of landscapes plants. The treatment of the facades is different in each part to adapt to the orientations and variations of the sun and the view, offering a unique experience wherever the user is located.
A concept of "no tour"
These characteristics led the architect to define his project as a "non tower" as opposed to office towers whose plan is
identical from the first to the last floor and whose only variable is the height. Once inside the building, the organization of space and the relationship with the environment is radically different depending on where you are. Erasing the usual perceptions of towers, each of the three buildings offers an experience where each space is different.
Horizons thus offers a new vision of work through its unique architecture. The very concept of "no tower" developed by Jean Nouvel revolutionizes the traditional codes of commercial real estate: by introducing through the 3 facades a unique relationship with the surrounding landscape, it calls into question the notion of hierarchy, since it offers all users what is essential: light, sight and space.
A true "rewrite" of the office building where the work environment is designed to support collective performance and the recognition of the diversity of individual aspirations, Horizons is the expression of an architectural bias in the service of the project. the company.
"The role of the architect in society is that of an interpreter of its great movements. Listening to the trends and historical, cultural, social and environmental changes of his time, his mission is to transcribe them into a poetic language.
So Horizons offers a new vision of the office building, it is a concept of "no tower", it is rather a stratification, a stacking, pretext to invent terraces, fictitious horizons, to contrast, revealing differences: diversity, interference with nature, remote dialogues with the Saint-Cloud hill, revealing the intention to live somewhere, differently from one's neighbor. The individual who works here is not considered a number, Horizons was designed in the hope that architecture translates respect for everyone and can give those who live it small pleasures, lights, views, framing; pleasures often forgotten or considered superfluous. It's not much, but combining pleasure and work is too rare today. "
Jean Nouvel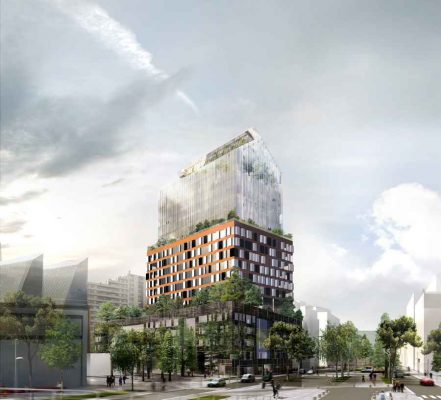 French text:
Tour Horizons Paris
Horizons, un immeuble conçu par Jean Nouvel, fruit du partenariat innovant de Hines, promoteur et Gecina, investisseur. Hines, groupe immobilier international privé, promoteur au travers de son fonds HEDF et Gecina, un des premiers investisseurs immobiliers privés en France, signent en juillet 2006, un accord pour l'acquisition à la livraison d'un bâtiment de bureaux d'une surface de 38 600 m² : l'immeuble « Horizons ». Sa conception est confiée à l'architecte visionnaire Jean Nouvel suite à un concours organisé auprès de 4 cabinets d'architecture de renommée internationale : Valode et Pistre, Massimiliano Fuksas, Kohn Pedersen Fox et Ateliers Jean Nouvel.
L'immeuble « Horizons » constitue le projet le plus important du partenariat Hines et Gecina qui porte sur le développement de près de 90 000 m² de surfaces de bureaux novateurs voués à devenir des références en Ile-de-France. En effet, partageant des valeurs d'excellence, Hines et Gecina ont mis leur savoir faire et leur connaissance du monde de l'entreprise au service de nouveaux défis : favoriser la flexibilité accrue, attirer et encourager les talents, donner du sens à leur activité.
Après la livraison en 2007 du projet Pyramidion, immeuble de bureaux à la Défense aujourd'hui loué à la société pharmaceutique Schering Plough, Hines et Gecina ont poursuivit leur collaboration avec un nouveau programme de bureaux, baptisé « Made for People », destinés aux grandes entreprises. Cette opération est développée sur un site tertiaire d'exception à Boulogne- Billancourt : le nouveau quartier Ile Seguin-Rives de Seine, site historique des anciennes usines Renault.
Le programme immobilier « Made for People »
Horizons, fer de lance d'un programme immobilier de quatre immeubles
Le programme immobilier porte sur 4 bâtiments de bureaux totalisant une surface de plus de 80 000 m². Pour leur conception, Hines et Gecina ont fait appel à des architectes parmi les plus talentueux au monde :
L'Angle
Jean-Paul Viguier
Khapa
Foster+Partners et ateliers 234
Anthos
E. Naud + L. Poux
Horizons
Ateliers Jean Nouvel
• Jean Paul Viguier pour l'Angle — 12 000 m² de bureaux, livré en avril 2008 –720 personnes
• Foster & Partners pour Khapa — 20 800 m² de bureaux, livré en juillet 2008 –1 200 personnes
• E.Naud + L.Poux pour Anthos — 10 050 m² de bureaux, livré en mars 2010 – 620 personnes
• Jean Nouvel pour Horizons — 38 600 m² SHON de bureaux, en construction – 2 500 personnes Ces réalisations illustrent la stratégie mise en oeuvre par Hines et Gecina pour créer des bâtiments innovants, adaptés aux standards exigeants du 21e siècle, portant une attention particulière aux consommations énergétiques et aux empreintes environnementales des bâtiments.
De plus, ce programme répond de façon très précise aux besoins des entreprises en faisant de l'immobilier de bureaux un nouvel outil de management et de communication institutionnelle.
Le concept « Made for People »
Les modèles d'organisation du travail et les attentes des collaborateurs sont en pleine mutation. En s'appuyant sur des études sociologiques de l'évolution du monde du travail, Hines et Gecina ont souhaité apporter une réponse concrète à cette mutation sociétale. L'esthétique et le prestige des lieux, la localisation, la proximité et diversité des services, la fluidité et la modularité des espaces sont des éléments qui aujourd'hui comptent au quotidien pour les salariés et peuvent influencer leur performance collective.
Hines et Gecina apportent une réponse concrète à cette mutation sociétale à travers la création d'espaces de travail qui placent l'individu au coeur du projet immobilier et répondent aux nouveaux objectifs de performance des managers.
Ainsi, les immeubles Made for People conjuguent :
-une signature architecturale,
-des performances environnementales,
-une localisation stratégique,
-un environnement stimulant.
En améliorant les conditions de travail et en créant de véritables lieux de vie, à travers des espaces flexibles et communicants, intégrant de nombreux services (restauration, salle de fitness, coin lounge, commerces en pied d'immeuble…), le lieu de travail devient le support de la performance collective et des aspirations individuelles.
"A une époque où la coopération transversale, le fonctionnement en mode projet sont indispensables à la bonne marche des entreprises, l'impact de l'organisation et de la fluidité des espaces n'est pas à négliger. Les investissements consentis par une entreprise au niveau du cadre et de l'environnement du travail contribuent donc non seulement à une amélioration nette des conditions de travail mais agissent aussi comme support de reconnaissance des attentes de l'individu". Fabrice Traversaz*, sociologue de l'entreprise.
*Fabrice Traversaz est chercheur au CNRS, membre de LISE (laboratoire interdisciplinaire de sociologie économique). Il est spécialisé dans la culture d'entreprise et l'impact des conditions de travail sur les salariés.
L'immeuble « Horizons » est la réalisation la plus emblématique du programme « Made for People ».
Horizons, une architecture novatrice imaginée par Jean Nouvel
Horizons témoigne d'une conviction partagée par Hines et Gecina qu'esthétisme, respect de l'environnement et vision entrepreneuriale peuvent se conjuguer.
Dessiné par l'architecte visionnaire Jean Nouvel, Horizons est un édifice de 38 600 m² SHON (36 400 m² de surface utile de bureaux et 1 000 m² de commerces) composé d'un empilement de trois bâtiments distincts et d'une succession de paysages végétaux. Le traitement des façades est différent dans chacune des parties pour s'adapter aux orientations et variations du soleil et de la vue, proposant une expérience unique quel que soit l'endroit où l'utilisateur se trouve.
Un concept de « non tour »
Ces caractéristiques ont conduit l'architecte à définir son projet comme une « non tour » par opposition aux tours de bureaux dont le plan est
identique du premier au dernier étage et dont la seule variable est la hauteur. Une fois à l'intérieur du bâtiment, l'organisation de l'espace et le rapport à l'environnement est radicalement différent en fonction de l'endroit où l'on se trouve. Effaçant les perceptions habituelles des tours, chacun des trois bâtiments offre une expérience où chaque espace est différent.
Horizons propose ainsi une nouvelle vision du travail par son architecture singulière. Le concept même de « non tour » développé par Jean Nouvel révolutionne les codes traditionnels de l'immobilier d'entreprise : en introduisant par les 3 façades une relation unique avec le paysage environnant, il remet en cause la notion de hiérarchie, puisqu'il offre à tous les utilisateurs ce qui est essentiel : la lumière, la vue et l'espace.
Véritable «réécriture» de l'immeuble de bureaux où l'environnement de travail est pensé comme support de la performance collective et la reconnaissance de la diversité des aspirations individuelles, Horizons est l'expression d'un parti pris architectural au service du projet de l'entreprise.
« Le rôle de l'architecte au sein de la société est celui d'un interprète de ses grands mouvements. À l'écoute des tendances, des mutations historiques, culturelles, sociales et environnementales de son époque, sa mission est de les retranscrire dans un langage poétique.
Ainsi Horizons propose une nouvelle vision de l'immeuble de bureaux, c'est un concept de « non tour », il s'agit plutôt d'une stratification, d'un empilement, prétexte à inventer des terrasses, des horizons fictifs, à contraster, à révéler des différences : diversités, interférences avec la nature, dialogues à distance avec la colline Saint-Cloud, révéler l'intention d'habiter quelque part, différemment de son voisin. L'individu qui travaille ici n'est pas considéré comme un numéro, Horizons a été conçu dans l'espoir que l'architecture traduise le respect de chacun et puisse donner à ceux qui la vivent des petits plaisirs, de lumières, de vues, de cadrages ; plaisirs souvent oubliés ou considérés comme superflus. C'est peu de chose mais lier plaisir et travail est aujourd'hui trop rare. »
Jean Nouvel
Tour Horizons Paris – Building Information
Title: N°652 Boulogne – Billancourt – HORIZONS
ADRESSE : ZAC Seguin rive de Seine Boulogne-Billancourt, France
MAITRISE D'OUVRAGE : Hines France
DATES : Concours : 2006 ; Livraison prévisionnelle avril 2011
ARCHITECTE: Ateliers JEAN NOUVEL
STRUCTURE DE CREATION ARCHITECTUALE : David Fagart
CHEF DE PROJET : Xavier Leplaë
ARCHITECTES : Arnaud Brichet, Vincent Chaigneau, Grégoire de France, Matt Grady, Alain Gvozdenovic, Freddy Laun, Yves Rouby, Nathalie Sasso, Andrés Souza Blanes y Cortés, Martin Tegaldo, Nabila Zerrouki
STAGIAIRES : Marion Delqueux, Marie de Guillebon, Sébastien Lutzelschwab, Utte Rinebach, Antoine Rouzeau
GRAPHISME : Rafaëlle Ishkinazi, Eugénie Robert, Natalie Saccu de Franchi, Elise Taponier
DESIGN INTERIEUR : Amandine Chezeau, Jérémy LeBarillec, Sabrina Letourneur, François Zab
PAYSAGE : Rémy Turquin
IMAGES DE SYNTHESE : Benjamin Alcover, Georges Batzios, Julien Cottier, Mizuho Kishi
LUMIERE : Odile Soudant, Mathieu Gabry
INTERVENTIONS ARTISTIQUES :
INGENIEURS :
Maitre d'oeuvre d'exécution: Arcoba
Structure : Terrell international
Fluides: Barbanel, Hilson & Arcora
Façades: Arcora
Ascenseurs: AH Conseil
Restauration: G Sir
HQE: H. Penicaud
Acoustique: Lasa
CONSULTANTS :
Sécurité incendie : Apex
Espaces verts: Ingénieurs&paysages
Bureau de contrôle : Socotec
TYPE DE MISSiON : Privée
PROGRAMME :
Bureaux : 37,500 m²
Commerces :1,100 m²
Crèche : 1,400 m²
SURFACE SHON : 40,000 m²
BUDGET : 110 000 000 € hors crèche
MAQUETTE : Jean-Louis Courtois
Tour Horizons ZAC Seguin rive de Seine images / information from Ateliers Jean Nouvel
Location: Boulogne-Billancourt, Paris, France
New Paris Architecture
Contemporary Paris Architecture
Paris Architecture Design – chronological list
Paris Architecture Tours by e-architect
Paris Buildings by Ateliers Jean Nouvel – Selection
Fondation Imagine
Ateliers Jean Nouvel / Valero Gadan
Fondation Imagine Paris
Musée du quai Branly
Musée du quai Branly
The Philharmonie de Paris
Philharmonie de Paris
Fondation Cartier
Jean Nouvel + Emanuel Cattani et Associés
Cartier Foundation Paris
lnstitut du Monde Arabe
Institut du Monde Arabe
Paris Architecture – Towers Selection
Tour Signal
Jean Nouvel
Tour Signal
Pont de Sèvres Towers
Dominique Perrault
Pont de Sèvres Towers Paris
The Phare
Morphosis, Architects
The Phare Paris
Sustainable Dwellings, ZAC Seguin, southwest Paris
MCBAD Colomer Dumont
ZAC Seguin Buildings Paris
Comments / photos for the Tour Horizons Paris – ZAC Seguin rive de Seine Tower design by Ateliers Jean Nouvel architect page welcome