28 Social Housing Units, Parisian Apartment Homes, French Real Estate Development Photos
28 Social Housing Units in Courbevoie
Courbevoie Residential Architecture Development in Paris design by Koz architectes, France
19 Aug 2020
28 Social Housing Units, Courbevoie
Architects: Koz architectes
Location: Courbevoie, Paris, France
28 Social Housing Units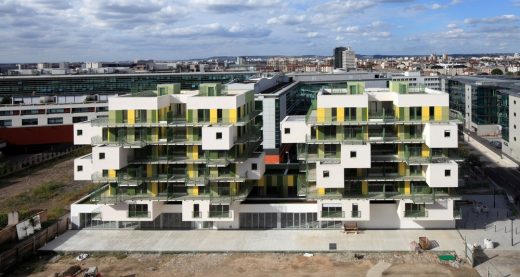 In 2007, Groupe 3F and the Courbevoie Town Council launched a competition for a social housing project on the last remaining plot in the urban development zone of Les Fauvelles. The instructions given to the teams were as follows: « the project must present new approaches for social housing in densely occupied urban settings». The proposal was selected over those offered by SOA Architectes and LAN Architecture.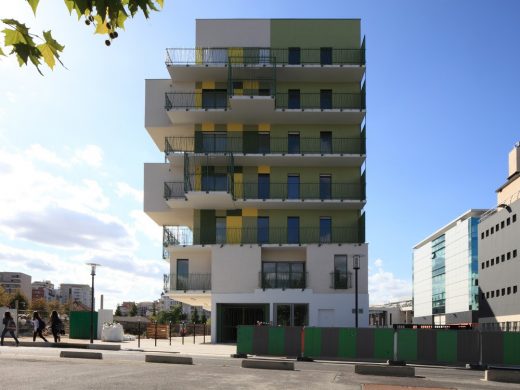 The right response to the right question
From the start, the exercise involved defining the intrinsic qualities of individual housing, with a view to adapting them to collective living. Four such qualities seemed to us to be essential:
Flexibility
Flexibility is the key strength of individual housing: you do as you please in a house, and you feel fully "at home". You can change how you use bedrooms and living areas as your family grows, and depending on the lifestyle and hobbies of each family member: the spare room becomes a nursery when a new child is born, a small bedroom is converted into an office.
Altenratively, a growing teenager moves into the bedroom next to the living room because he prefers to be separate from the sleeping area used by the rest of the family, a wall is knocked down to make an open-plan kitchen, you can put a green house in the garden or play music in the garage.
You can walk around it
Being able to walk around the outside of a house gives people a particular sense of belonging. But circumnavigability also involves the presence of various kinds of external features: front lawns, courtyards, gardens, terraces, etc.
A house is supposed to be unique
It looks different from the others; you can recognize it when you look down the street; you can point it out. It is individual, and it also has an individualizing effect that strengthens one's sense of belonging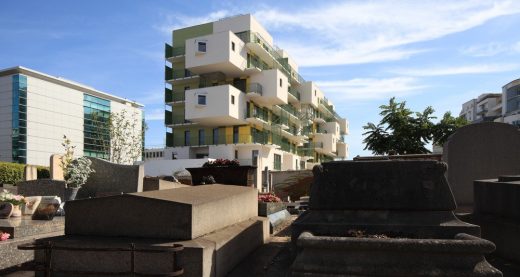 In a house, you have neighbours
Your neighbours remain for a long time, and with them you gradually form bonds: you chat over the hedge, you do each other favours, your children play together. Neighbours build a relationship of mutual trust.
Once this initial exercise had been carried out, our aim was now to apply these 4 cardinal virtues of the individual house to a collective housing project. The building forms part of the urban development zone called Les Fauvelles in Courbevoie, a stone's throw from the skyscrapers and frenzied activity of the La Défense business district. All around, the 12-storey residential buildings in the Faubourg de l'Arche development zone form both a skyline and an urban clearing. Behind it stands a building belonging to a French car manufacturer.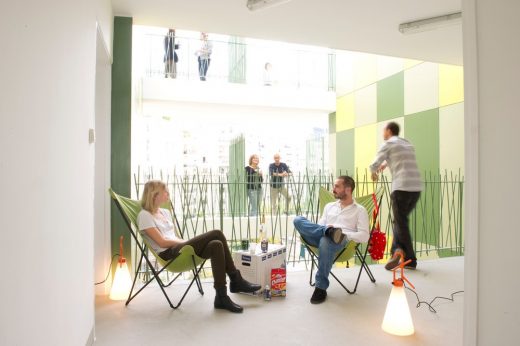 The project consists of two units with rather undefined outlines, further blurred by the criss-crossed green strengthening rods that have been used as sculptural guardrails for the various walkways and loggias. Opting for two buildings instead of one enabled us to increase the surface area of the façades, to give an enhanced feeling of transparency, to ensure a variety of orientations and views, and also to get closer to the more intimate qualities of use and scale characteristic of individual houses. Both units are built on a sculpted base and stand out against the sky like a pair of funny giants reaching out to each other.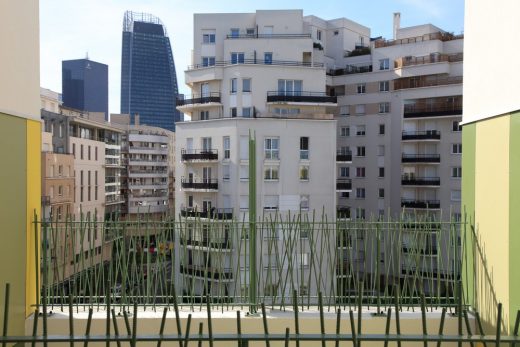 Quality of use
The key feature is that flats with at least 4 rooms have a white cantilevered cube affixed apparently at random to the façade. This contains a room "plugged into" the living room whose use can change according to the desires and changing size of the family unit. Its partition wall is not load-bearing and can be removed with the agreement of the owner (and who knows, maybe in 50 years the tenants will have become the owners). This extra room gives the living space flexibility and elasticity.
All the flats have a triple aspect and living rooms all have two aspects; most are corner rooms. All rooms including bathrooms have natural light. Underfloor heating has been used, and the wood and aluminum window surrounds are fully watertight.
Every flat has its own loggia, an outside space that has a ready-made screen (reminiscent of the reed screens often used on balconies in France) for added privacy: the space can be used as a greenhouse, a conservatory, a DIY workshop, a fitness area, etc. This freely usable space can be used in a similar way to a basement, an attic or a courtyard: features that are generally characteristic of individual houses.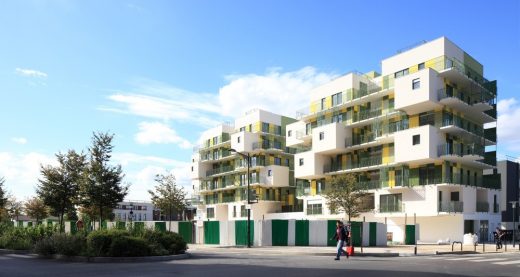 Circumnavigability
Private walkways run round the apartments and are directly accessible from all rooms, including the bedrooms and kitchen. This means you can walk round your 'house', take strategic shortcuts, play hide-and-seek, and play tricks on people. Access to each apartment is via a wide suspended open-air landing that affords views of the entire volume of the living space. This means that the building has a number of different exterior spaces (loggias, balconies, and landings), which increase the usable surface area and give residents the impression of living in the open air, with uninterrupted vistas of western Paris.
Individualisation
Each flat is instantly recognizable from outside; the buildings have different outlines, volumes appear loosely structured, and the stepped, irregular shapes have an almost random feel.
Neighbourliness
Behind the design of these residential units lies a firm belief in sociability. Each landing serves two units (except on the first floor, which is given over to small flats) hoping that they will extend their social life on the concrete boardwalk that gives access to the staircases and hosts a flower shop and a small scale kindergarten ; landings are very large (10 sq m, three times the usual size) and thus can easily be used in a variety of ways. Because they are set well back, any items placed on the landings will not affect the integrity of the la facade or the building's overall appearance.
28 Social Housing Units, Paris – Building Information
Architects: KOZ architectes
project manager: Elsa Junod
Client: Groupe 3F
Chef de Projet: Stéphanie Demeure dit Latte
Structure: EVP Ingénierie
fluides: Cferm
Economist: Cabinet Ripeau
Acoustic: Peutz
Sustainability: Bio-concept
Location:
Zac des Fauvelles,
75-83 avenue de l'Arche
ilot B 23
92 400 Courbevoie – France
Entreprises
Gros oeuvre: KILIC
Ravts: Fernandes
Facade: Fernandes
Frame: Bourgogne couverture
Etanchéité: SAS
Windows opening: S.T.B.A
C.M.B.
Walls: FARIA
Floor / paintings: DE SOUSA
Metal work: Atelier De Pierre
Services: A.C.P.C
Electricity: Paternoster
Lift: OTIS
Schedule
Concours: mai 2007
Construction time: 20 month
Completion: septembre 2010
Project
28 housing units
Surfaces
Floor area housing: 2 378,00 m2
Floor area retail: 440 m2
28 housings: 8 F2, 10 F3, 7 F4, 3F5
28 parking places
Cost
4 356 734,66 € HT
housing: 3 806734,66 €
retail: 550 000,00 €
No demolitions
Key points
The complex comprises 28 apartments, a shop, a business premises and a basement for parking. Reinforced concrete structural system. Coloured high-density laminated panels. Rain-water collection, planted roof, heated flooring, external wood/aluminium joinery, loggia and private walkways for all apartments.
Environmental quality
THPE RT2005: 70 kwh/m2/year; systematic exterior insulation, including parapet; thermal bridge breakers; heated flooring; natural lighting of all rooms and stairwells; double or even triple orientation, corner living room; maximization of glazed surfaces; air permeability tested in accordance with Effinergie requirements.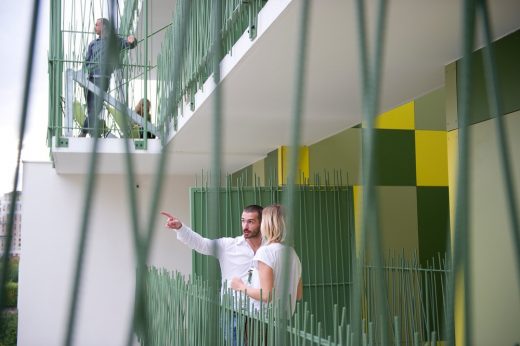 About KOZ:
KOZ architectes was founded in 1999 by Christophe Ouhayoun and Nicolas Ziesel, both of whom:
– graduated from the Paris-Belleville School of Architecture ;
– lived in the USA when they were children;
– are well-versed in 3D imagery and urban cultures;
– and are completely at home in the debate about managing climate change priorities in the urban environment.
KOZ is a founding member of the PLAN01 Architects Collective, created in 2001 with the Atelier du Pont, Bocabeille-Prégo Architectures and Philéas agencies. With PLAN01 they founded PLAN02, an in-house eco-design engineering office providing real time feedback and orientations for social and environmental responsibility in their projects.
KOZ creates non-typical, friendly and sensitive buildings that redefine public spaces and emphasize the diversity of their uses. KOZ champions architecture that is aware of context and creates surprise and "added value" in terms of function, by making use of residual areas that are easily adapted to stimulate the imagination of local residents, users and visitors.
KOZ regularly carries out wide ranging assignments, including project management, site management, auditing, signage, and furniture Work is organised in accordance with the tenets of precision and autonomy, placing value on skill and creativity. The team is made up of 8 to 12 persons – architects, computer graphics designers, liaison officer and manager. Everyone is involved in information coordination and participation in decision-making throughout the project.
KOZ makes good use of the synergy and experience of the PLAN01 agencies in a 600 sq m workspace on the Paris Right Bank.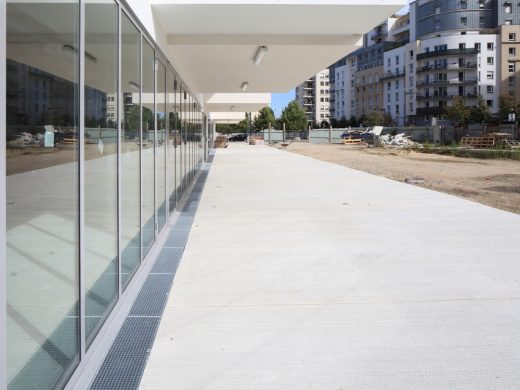 Photographer © Guillaume Grasset and Jean-Baptiste Pellerin
28 Social Housing Units in Courbevoie, Paris images / information received from Koz architectes
Location: Paris, France
New Paris Architecture
Contemporary Paris Architecture
Paris Architecture Design – chronological list
Architecture Tours in Paris by e-architect
Paris Residential Buildings
Residential Architecture in Paris
AME-LOT Student Housing
Architect: Stephane Malka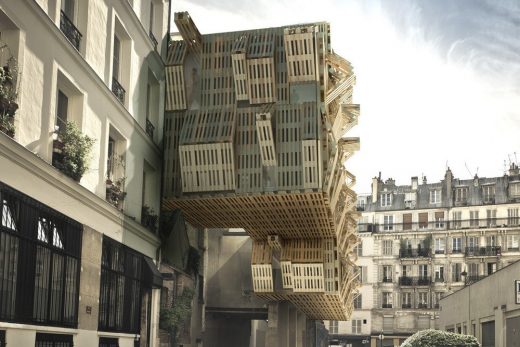 photo : Laurent Clément / Tristan Spella / MALKA ARCHITECTURE 2011
AME-LOT Housing
UNIC Residential Paris, Clichy-Batignolles, 17th arrondissement
Design: MAD Architects with Biecher Architectes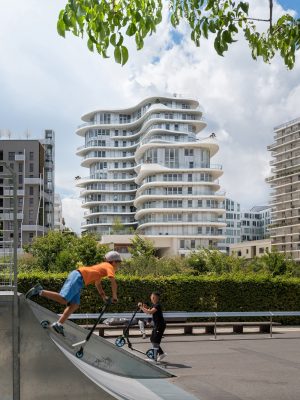 photo : Jared Chulski
UNIC Residential Paris
Famous Paris Architecture
Musée du Louvre, Ie
Design: various architects
Louvre Museum Building
La Basilique du Sacré Coeur, Montmartre, XVIIIe – Sacred Heart Church building
Paul Abadie Architect
Sacré Coeur Paris
Le Bon Marché, Saint-Germain-des-Près, 7th arrondissement
Design: Louis-Charles Boilleau and Gustave Eiffel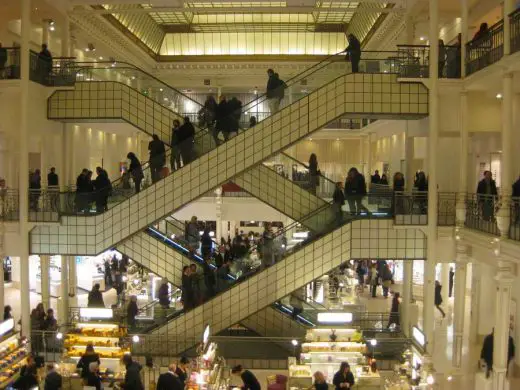 photograph © Adrian Welch
Parisian Department Store
Paris Buildings : buildings listed alphabetically
Comments / photos for the 28 Social Housing Units in Courbevoie, Paris – page welcome