Blackpool Building, Development, England, Architects, Pictures, Designs
Blackpool Buildings : Architecture
Lancashire Architecture, northwest England, UK
Blackpool Architecture News
Blackpool Architectural News
6 Sep 2018
New Lancashire Constabulary West Division Police Headquarters
Design: McBains Architects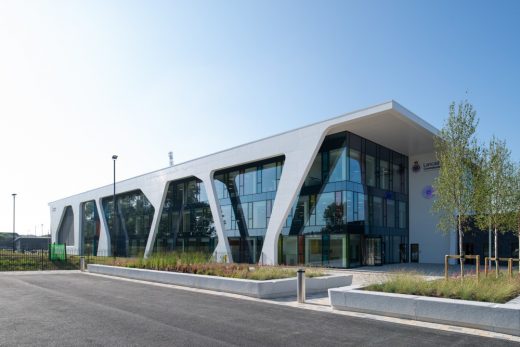 photograph : Christian Smith
Corian fits the bill to clad the new Lancs Constabulary HQ
Modern policing comes with a complex set of challenges and thus demands facilities that can accommodate those evolving needs. When Bonny Street Police Station, an ageing 1971 structure near the Blackpool waterfront was no longer fit for purpose, careful thinking was required in planning for a new building.
Lancashire Constabulary – New HQ in Building Blackpool
LANCASHIRE CONSTABULARY'S NEW DIVISIONAL HQ REACHES COMPLETION
New building includes one of the UKs largest custody suites with innovative design to provide more secure environment for officers and those in custody.
The first opportunity to see the new state-of-the-art Lancashire Constabulary divisional police headquarters in Blackpool, Lancashire comes as new images of the building, which has just reached completion, are released today.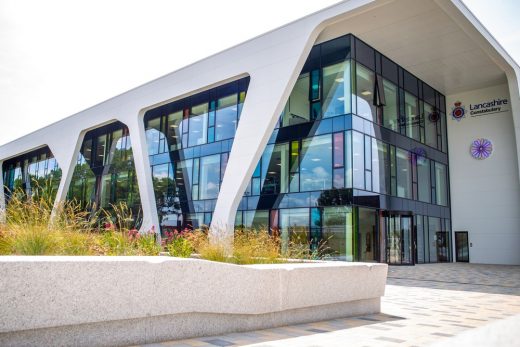 image courtesy of architects
The facility – which sits on a 10,000 square metre site on the outskirts of Blackpool, near the M55 motorway, and designed by leading property and construction consultancy McBains – will serve as the new headquarters for the police force's West Division, and house one of the largest custody suites in the UK.
Work on the three-story facility, which has cost in excess of £20m, commenced in 2015, with McBains providing architecture, mechanical, electrical, and civil and structural engineering support to the building's main contractor, Willmott Dixon.
The new facility will replace the West Division's existing base on Bonny Street, and, courtesy of its design, will provide staff with a more efficient work environment. This has been achieved through subtle design solutions, which reduce floor space and that provide flexibility for the constabulary's ever-changing operational requirements.
The site's 42-cell suite exemplifies this. It is housed in a semi-circular precast concrete building and is served with an abundance of natural light. By positioning the main custody desk centrally, with the cell corridors radiating out, the suite also serves to guarantee custody officers a line of sight to each cell corridor. The custody suite, with the natural light and view of each corridor is not only designed to help officers but also improve the well-being of those being held in custody.
The building reached Practical Completion on 19 June 2018, and staff are set to move across from the Bonny Street base in the coming weeks.
Mark Baseby, Director at McBains who oversaw the project, said:
"It's great news for Lancashire Constabulary and the wider community that officers will start moving into the new state-of-the-art headquarters over the next few weeks.
"The external appearance of the building takes its cues from Blackpool and the vibrant seaside environment with the use of colour and form derived from the sea and sand. The internal central atrium space is known as the Promenade.
"The essence of the scheme is the interface of three contrasting building types and fusing them together in an efficient and flexible way. This will provide an improved environment for staff and detainees, while delivering important efficiencies for the force."
Matt Horn, Chief Superintendent of the Lancashire Constabulary, said:
"The new West Division Police Headquarters is a massive improvement to the facilities we had at Bonny Street, which were very dated and simply no longer fit for purpose.
"These new facilities ensure we are well placed to deliver our service to communities, from an operating centre that delivers a modern working environment for our staff who work so hard to keep the area safe."
Tony Whitehead, Enabler for the Ministry of Justice, who recent visited the new headquarters, said:
"McBains and Willmott Dixon have delivered a building to be proud of – a well-designed and well-constructed police base that effectively combines imaginative concept with careful attention to detail.
"The building represents a step-change in police accommodation, and will surely help strengthen staff well-being, service delivery, and the image of the Lancashire Constabulary in the community."
McBains is a consulting and design agency specialising in property, infrastructure and construction. It has operations in the UK, Europe and the Americas. More information is at: www.mcbains.co.uk
McBains Cooper provided architecture, mechanical, electrical engineering and civil and structural engineering support to the building's contractor, Willmott Dixon, via the SCAPE framework.
13 Dec 2017
Blackpool's first five-star hotel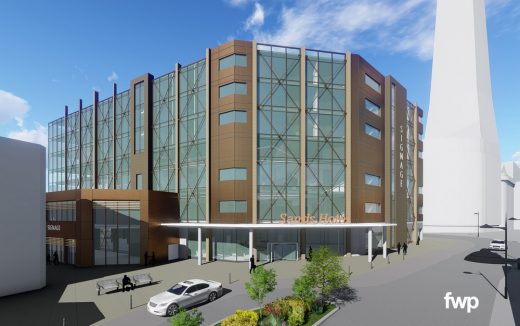 image from architect
Blackpool Five Star Hotel Building
Leading structural engineering specialist TRP Consulting has been appointed to work on the creation of Blackpool's first five-star hotel which will be built in the shadow of the resort's iconic Tower.
TRP Consulting specialises in providing civil, structural and environmental engineering consultancy services and will be using all its experience to help deliver the striking new hotel on the famous Prom.
28 Sep 2016
Blackpool Tower Building
Blackpool Tower launches trial to cut water and energy use
Blackpool Tower building: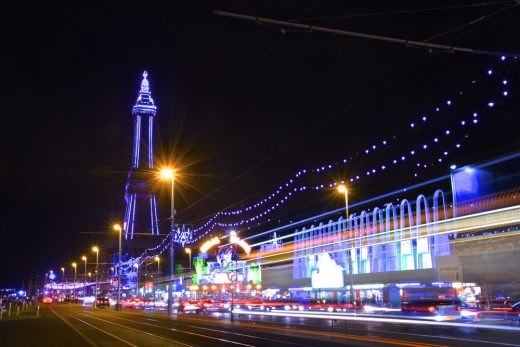 28 September 2016 – Merlin Entertainments has appointed Minimise Solutions to complete a three-month water and energy efficiency and compliance review of the iconic Blackpool Tower.
The famous tower in Northwest England was built in 1894 and is 158m high.
The trial will run until October 2016, when a full report analysing all data will be provided by EEVS Insight, the UK leader in IPMVP measurement and verification services.
As part of the trial, Minimise Solutions has installed a real-time granular monitoring system. This has been linked to both water and electricity meters and is monitoring and collecting data from specific circuits, facilities and equipment.
The system will collect data from across the entire estate, which incorporates five attractions: The Tower, The Tower Eye with the associated SkyWalk, The Tower Ballroom, The Tower Circus and the Tower Dungeon. It also includes a 4D cinema and is home to a wide range of places to eat and shop.
Under the trial, Minimise will monitor existing lights, providing the information needed to inform the cost profile and identify potential savings that could be achieved by upgrading to energy efficient LEDs.
Boiler optimisation opportunities will be reviewed and washroom water and energy use will also come under scrutiny, with toilet flushing and hand dryer data captured in key areas.
Reducing water and energy consumption in high use washroom areas represents a real opportunity for Merlin. To inform washroom efficiencies, Minimise has installed a number of new water and energy efficient products across the site. These include an Energy Efficient Hand Dryer and three waterless urinals.
Data from these new systems is also being captured by the Minimise Monitoring System to provide Merlin Entertainments with comparative data at the end of the trial.
Compliance
As well as water and energy efficiency, the Minimise team is also reviewing water management and compliance with a specific focus on legionella. Minimise will consider current compliance regimes across the estate, identifying whether remote monitoring and recording could be used to drive improvements and improve facilities management productivity.
The trial runs from July to October 2016.
Background:
Minimise Solutions is part of Minimise Group
Minimise Group helps organisations become more sustainable, increase profitability and meet environmental, corporate and legislative targets. We offer an integrated range of technologies, products and services that include energy efficiency, energy measurement and verification, water management, sustainability consulting and project financing. www.minimisegroup.com
About the Blackpool Tower
Completed in 1894, the 518 feet Grade I listed Blackpool Tower is one of the Britain's most iconic seaside landmarks. Following a major refurbishment by Merlin in 2011, the Blackpool Tower is home to five Merlin attractions:
• The Blackpool Tower Eye with its breath-taking SkyWalk, 4D cinema experience and magnificent views above the promenade
• The Blackpool Tower Dungeon
• The Blackpool Tower Circus
• The Blackpool Tower Ballroom
• Jungle Jim's, the indoor children's soft play centre
Blackpool Architecture
This small city is a popular tourist resort on the Irish Sea in the north west coast of England
Key Buildings / Architectural Projects, alphabetical:
Blackpool Civic Hub – international competition winner
2007-
Design: leit-werk


image from architect
Blackpool redevelopment – competition
St John's New Horizon for ReBlackpool
£3.5m
Space adjacent to St Johns Church and the Winter Gardens
Blackpool Wedding Venue
2009-
Design: dRMM Architects


image from architect
Blackpool Wedding Venue
Blackpool – Wind Shelter
2006
Design: McChesney Architects with Atelier One
Tallest Buildings in the city:
Blackpool Tower
1894
158m high
observation / entertainment building
This structure is the 16th tallest free-standing structure in the UK at the time of writing (2014).
Walter Robinson Court
1972
64m high
residential building
More Blackpool architecture projects online soon
Location: Blackpool, Lancashire, Northwest England, UK
Blackpool Architecture Designs
Contemporary Blackpool Buildings
Blackpool Pleasure Beach


photos © Adrian Welch, Oct 2007
Lytham St Annes church:


photos © Adrian Welch, Oct 2007
Lytham St Anne's – Apartments, west Lancashire
Date built: 1999
Stephen Hodder Architects
Lancashire Rainforest Project – Proposal
2006-
Studio Libeskind
Blackpool Central Corridor transformation
Northwest English Architecture
Contemporary Lancashire Buildings
Morecombe Bay: Lancashire Architecture Competition
Lancashire Architecture welcome
Buildings / images for the Blackpool Building – Lancashire Built Environment page welcome