Docks Quay Rambaud Lyon, Building, Architect, Image, French Architecture, News
Archipel Restaurant, Pavilion 8 : Lyon Architecture
Contemporary Development, France – design by Odile Decq Benoît Cornette
14 Sep 2008
Docks Quay Rambaud
Location: Lyons, southern France
Date: 2008
Design: Odile Decq Benoît Cornette

Image © Odile Decq – Labtop
Lyons Restaurant
PAVILION 8
Between the two rivers, Rhone and Saône, the renovation of the docks is starting a new story: the bank for arts. New programs dedicated to the culture, to relax and to walk keeping the link and the imaginary with the industrial history of the site.
Except the recon version of the ancient building the new one, the pavilion, takes in account the aerial steel structures.
Suspended on a huge three dimensional to structure on three big steel columns, the volume of the pavilion is organised in two superimposed parallelepiped volume, not totally perpendicular. The vertical atrium is senographying the internal movements through the whole building. Seen from underneath when passing by along the river, under the huge canopy of the top volume its basement is lighted through a glass floor. In doing that, the inside is taking part of the outside and the vertical dimension of the inside building is connected with the horizontal promenade of the riverbank.
The glass facades are the result of a collaboration with the artist, Felice Varini. He has inserted in the laminated glass four points of views to the city taken from the top of the building. These black and white photos play an ambiguous game between opacity, representation and transparency.
The belvedere
In approaching many harbours tall architectural elements such as cranes or lighthouse give us a signal. The particular situation of the river peninsula, between Rhone and Saône Saône, is a strategic place for city development observation. We have proposed to the city a belvedere. Designed as a balloon on the top of a steel structure, it will create a special place for events, a lounge bar and a panoramic restaurant opened to the city and the landscaped mountains beyond. The city has decided to build it.
PAVILION 8, DOCKS QUAY RAMBAUD
CLIENT: RH'NE SA'NE DEVELOPMENT
SURFACE: 11000 M2
COSTS: 20 M€
MISSION: Competition, winning project en progress
SITE: Docks quay Rambaud, Lyons, France
PROGRAM: Offices and cultural equipment program
DATES: Competition at the end of 2005. Starting on site December 2008
Docks Quay Rambaud Lyons images / information from Odile Decq Benoît Cornette
Archipel Restaurant, Lyons, France
CLIENT: RH'NE SA'NE DEVELPPPEMENT
SURFACE: 700 M2
COSTS: 6,5 M €
MISSION: Direct commission
SITE: Docks Quai Rambaud
PROGRAM: Construction of a restaurant on a 5 floating bubbles
DATES: Studies 2007
L'ARCHIPEL
LES DOCKS, QUAI RAMBAUD
Situées l'extrémité de la presqu'ile des Docks, les bulles de l'Archipel viennent compléter, tels des points de suspensions, l'ensemble urbain que constitue le projet Lyon-Confluence.
Les formes rondes et ludiques contrastent avec l'architecture ´terrestre', soulignent la force monumentale et le dynamisme des volumes parallélépipédiques des bureaux qui le surplombent.
La matérialité de ces bulles se transforme selon les fonctions qu'elles contiennent. Détachées du quai, elles évoluent de l'opaque au transparent, du dense l'évanescent…on s'attendrait presque les voir lentement dériver pour rejoindre le Rhône.
L'Archipel est un restaurant constitué de cinq bulles connectées les unes aux autres.
Pour y accéder, le promeneur arrivant sous le porte-faux colossal du pavillon 8 a deux solutions qui s'offrent lui : soit il emprunte la passerelle longeant le quai soit il prend un ascenseur en forme de bulle s'enfonant dans le sol. Arrivé au niveau de l'eau, il entre dans une bulle, noire et opaque.
A l'intérieur de cette bulle d'entrée, une sphére semble en suspension. Elle abrite un vestiaire et des sanitaires.
La bulle noire joint deux bulles: la premiére en inox contient la cuisine, la seconde, enveloppée d'une résille, est la salle du restaurant. Cette derniére est elle-mÍme connectée la bulle café constituée de la mÍme résille.
Les intersections des bulles constituent les seuils entre les différentes fonctions:
– entre la bulle noire et la cuisine, c'est la porte de service.
– entre la bulle noire et la salle du restaurant, c'est un simple passage entrecoupé de structures.
– entre la cuisine et la salle, c'est un comptoir permettant d'entrevoir la magie qui se joue en cuisine.
– entre le restaurant et le café, c'est un bar.
Le café peut également servir d'extension au restaurant.
Des terrasses, constituées de la mÍme résille, prolongent le restaurant et le café qui s'étendent aux beaux jours au dehors, formant ainsi une sorte de réseau cellulaire.
Détaché de cet ensemble, le salon privé est lui aussi prolongé de sa propre terrasse. Il est raccordé la bulle noire par un tunnel transparent. L'enveloppe du salon est animée d'une spirale, alternant l'opaque et le transparent, révélant ce point de contact entre la matiére, l'air et l'eau tout en assurant une certaine intimité.
L'Archipel est restaurant d'entreprise midi; le soir et le week-end il s'ouvre au public. Il peut également recevoir des séminaires, des soirées privées, servir de lieu de conférences etc.
Trois types d'embarcations viennent compl é é ter l'Archipel. Noire mais transparente, leur bulle est profilée pour fendre l'eau. Elles évoquent les bateaux rapides remontant les fleuves de Lyon.
La plus petite, profilée, est pour quatre personnes au maximum, c'est l'embarcation privée. La seconde est pour une douzaine de passagers, c'est le bateau taxi. La derniére, plus trapue, est deux niveaux. Elle peut transporter 70 personnes, c'est un bus. Toutes trois sont constituées sur le mÍme principe: une forme dense en verre noir posée sur les bases d'une coque existente.
L'Archipel est ainsi constitué d'une série d'îlots immobiles que sont les bulles du restaurant, du bar, du salon privé, mais aussi d'éléments animés et mobiles que sont les embarcations qui en font partie intégrante. La somme de ces bulles forme une unité: un b'timent capable de se répandre, de se propager, de se disperser. C'est un corps unique dont les éléments détachés sont les navettes, les estafettes, les escortes.
Docks Quay Rambaud Lyon images / information fromOdile Decq Benoît Cornette
Location: Quai Rambaud, Lyon, France
Lyon Buildings
Contemporary Lyon Architecture
Lyon Architecture Designs – chronological list
Perrache-Confluence Substation Extension
Design: rue royale architectes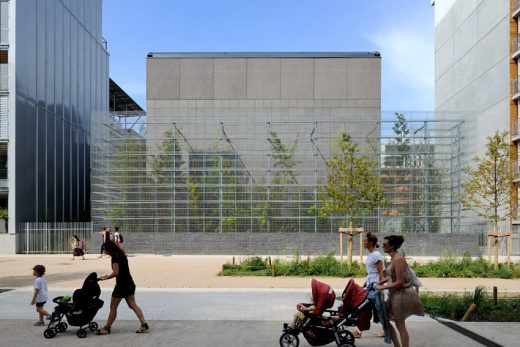 photograph : Studio Erick Saillet
Perrache-Confluence Substation Extension
Block 32 Development, La Duchère
Design: Tectoniques Architectes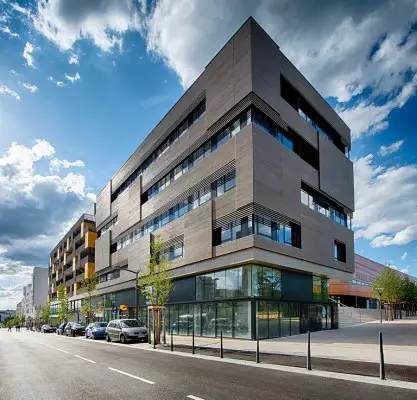 photograph : On Stage
Block 32
Le Monolithe
MVRDV architects
Le Monolithe Lyon
Hotel de Region Rhone Alpes
Architect: Atelier Christian de Portzamparc
Lyons Building : Hotel de Region Rhone Alpes
Buildings / photos for the Archipel Restaurant & Pavilion 8 Lyons Architecture page welcome