Cloud House Gospel Oak, Peter Morris Architects London, Camden Building News, Property Design Images
Cloud House in Gospel Oak, London
11 July 2020
The Cloud House Building News
Design: Peter Morris Architects
Peter Morris's The Cloud House Wins Approval
This month, Camden Council agreed planning permission for The Cloud House by Peter Morris Architects in Gospel Oak, North London.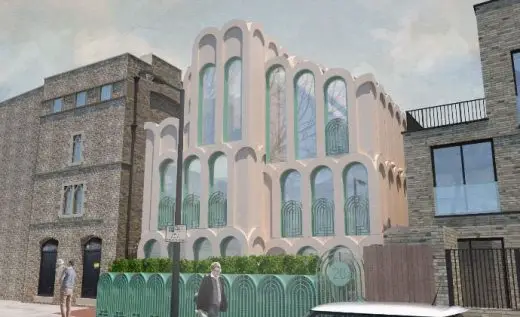 The scheme is made up of two three-storey homes within one development, collectively called The Cloud House, due to the cloud-shaped roof on its East side.
Peter: "The goal was to create a building that would bring joy and delight to the neighbourhood – something that would feel like a surprising treat for anyone who came upon it – as well as to create a beautiful home for my family to live in, alongside one for another family to buy."
Gospel Oak is historically an area of architectural innovation, and the street where the building is to be constructed is one that has a range of architectural styles within it, and isn't in a conservation area, so Camden agreed that a flamboyant design would be appropriate here.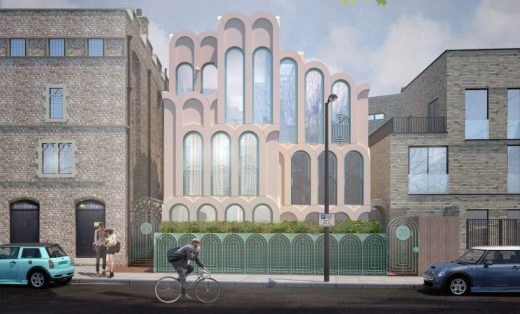 Peter: "The house is to be pale pink and covered in arches – some people say it looks like a mosque, others say it looks like a blancmange! It is thoroughly curvy, with scalloped balustrades and very tall arched windows in pale green frames. It takes its cue from the neo-gothic arches of the Grade 1 listed St Martin's Church opposite, and then modernises and simplifies those arches to make them the building's dominant decorative feature. It also takes its spirit of eccentricity from St Martin's, which Pevsner called 'the craziest of London's Victorian churches' – and the castle-like school next door, which is Grade 2 listed."
The Cloud House is all about colour, fun and exuberance – it has a plunge pool on the roof. It's a building with its roots more in post-modernism than in the white-walled subtlety of modernism, and could potentially one day be seen as part of 'The New London Fabulous' movement, written about recently by Katrina Burroughs in The Sunday Times, even though that term hadn't been coined when it was designed.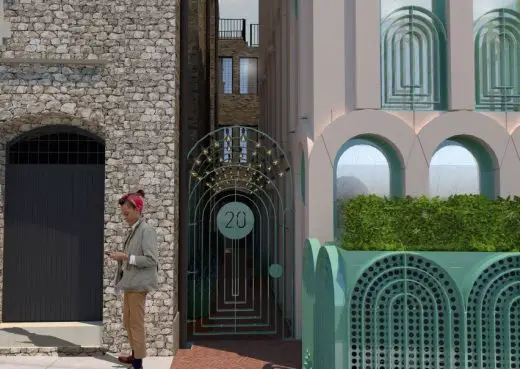 In Peter's own words: "It is every architect's dream to build their own home. And to be able to build something as special as this, in an amazing location in North London, so close to Hampstead Heath, is something I never imagined we'd be able to do. I've always been a dreamer, and like to believe that anything's possible – so even though this building is unconventional, we've worked closely for three years with Camden's planning department, and have shared plans with our neighbours who've been unbelievably kind and supportive, and we are thrilled now to have received our permission. We hope The Cloud House will become a real landmark for the area."
THE ARCHES
Peter: "I know it's not generally a very fashionable idea in architecture, but I love the idea that a building can be decorated on its outside as well as on its inside. The arches on The Cloud House mostly aren't structural, but their decorative sculptural quality informs the whole look and feel of the building. Once I'd had the idea of exploring the arch shape which appears both in the interiors and exteriors of the Grade 1 listed St Martin's Church opposite, it made sense to modernise and simplify that shape and then use it unapologetically, absolutely everywhere. The eccentricity of the church – named by Pevsner 'the craziest of London's Victorian churches' – definitely helped too, as it allowed us to transport that spirit of architectural fun across the road to our site."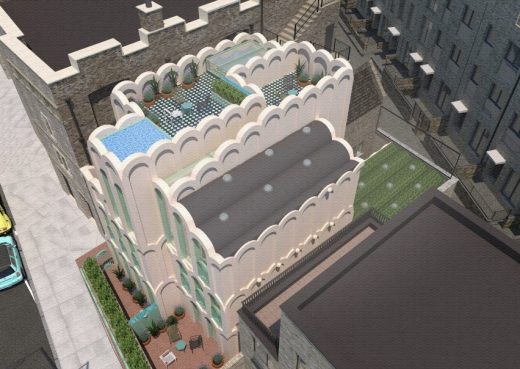 THE PROCESS
Peter: "More than three years ago, when I first began the drawings, I started to play around with the pattern of arches – I staggered them, cut them in half in places, doubled them in size in others. Some were solid, others became glazed. I added circular windows in various spots. The decision not to flatten the top of the arches was key, as that created the curves in the balustrades. For the house on the East side I extruded these to create a barrel-vaulted roof, stepping downwards towards the neighbours' house. The shape ended up looking like a cloud, so that's how the name came about. The design happened like a game of consequences. Each decision changed the design, but at every stage the house grew curvier and prettier, and managed to reinforce the original concept, which was to create a joyful building that would surprise and delight."
THE COLOURS
Peter: "The buildings in the street range from red brick to yellow brick, with various buff tones in between, not least in the ragstone facade of the school next door and the church over the road. It isn't a street with just one colour, so the choice of pale pink render with a yellowy hue complements the other buildings, without trying to match them. Once we'd chosen the pale pink tone, it felt right to pair it with pale green metalwork – they're colours that I've always loved, and they remind me of our honeymoon in Miami."
THE CONTEXT
Peter: "Context is a word that can be misunderstood in architecture. Of course you should always think carefully about the local and wider context of anything you're building, but being contextual doesn't mean you have to copy what's gone before, and can't make something fresh. The Cloud House is very much a product of its context, and Gospel Oak, where it sits, has historically been a place of architectural innovation. I wouldn't advocate this design on a Georgian terrace or a Regency crescent, but this particular street is architecturally very eclectic, with no single dominant style, except that all the buildings are tall, ranging from three to eight storeys in height. Replacing a small two-storey cottage and an empty plot beside it with two three-storey homes, within The Cloud House, will unite the streetscape. It should fit in well."
THE INTENT
Peter: "I like fabulous spaces that are a joy to look at and a pleasure to inhabit – buildings that make you feel good, and prompt a smile. I think that spaces that make you feel a little bit like you have to be on your best behaviour can of course be wonderful, but this was about making a home for my family – a place for laughter and creativity and daftness. I crave more diversity in design."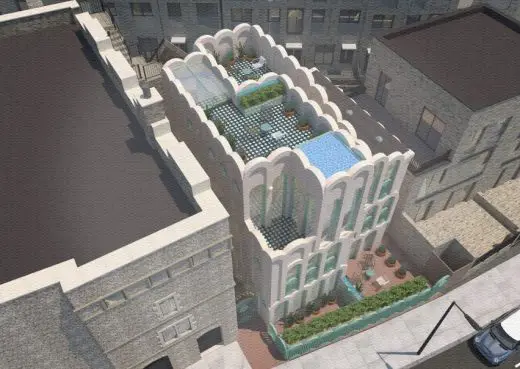 THE INTERNAL ARRANGEMENT
Peter: "There are two houses, each with three storeys. The larger one, on the West side, has four bedrooms, with two on the ground floor and two on the first floor. The smaller one, on the East side, has three bedrooms, all on the ground floor. Both have been conceived as upside down houses, with living spaces higher than the bedrooms and bathrooms. The larger house has a South-facing terrace on the second floor, leading off its single kitchen/living/dining space, as well as a bigger terrace on the roof itself, which will have a plunge pool. The smaller house – which has its kitchen on the top floor, and a living room on its middle floor – has a roof terrace on top too, as well as a South-facing front garden at ground level."
THE INTERIOR DESIGN
Peter: "The arch shapes will continue inside the house. In addition to the arched windows, all internal doors will be pocket doors within arched openings, and there'll be barrel-vaulted ceilings in various places across the two houses, which will look particularly dramatic in the double-height second floor space in the East house with the cloud-shaped roof. The interior design scheme will echo the colour and spirit of the outside. The floors will be pale blue poured resin, there'll be pink and white marquee stripes running across the walls and ceilings, and the kitchens will be emerald green with black and white terrazzo worktops."
The Cloud House Gospel Oak images / information from Peter Morris Architects London
Location: London, England, UK
Buildings in the UK Capital City
London Architecture News – key property updates for the UK capital
London Architecture Links – chronological list
London Architecture Walking Tours by e-architect
Morden Wharf, Greenwich Peninsula, south east London
Design: OMA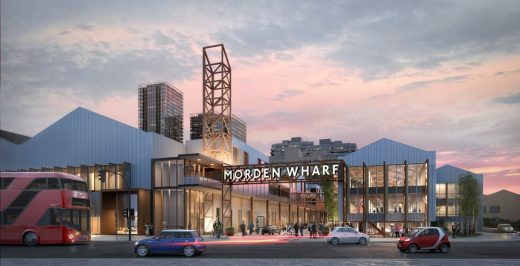 image : Pixelflakes
Morden Wharf Development
Clippings, Shoreditch
Design: HUT Architecture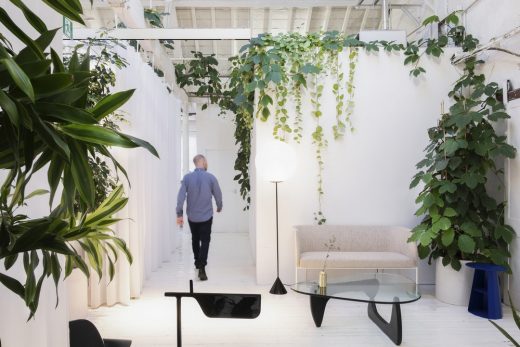 photo : Emanuelis Stasaitis
Clippings Office Building
Eastern Yards, Bankside, London SE1
Design: Make and PLP Architecture



image courtesy of architects office
Eastern Yards on Bankside
60-70 St Mary Axe
Design: Foggo Associates Architects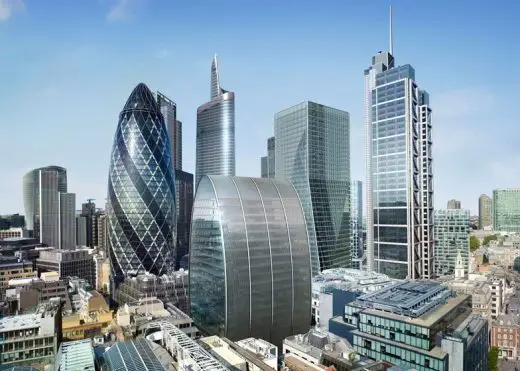 image courtesy of the architects
60-70 St Mary Axe
London Skyscraper Buildings – alphabetical list
Comments / photos for the Cloud House Gospel Oak Building – Peter Morris Architects News – page welcome