East Thiers Station, South of France, 007 Nice Home, French Luxury House, Architecture Photos
Iconic Nice, Gare Thiers-Est Building News
1 September 2021
Location: East Thiers Station, Nice, southern France, western Europe
Design: Studio Daniel Libeskind ; interiors: Maurizio De Iasi, MDI architecture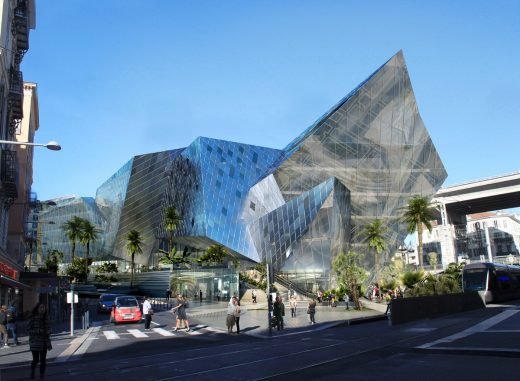 English text (scroll down for Italian):
East Thiers Station Nice, South of France
Based in Nice, on the French Riviera, the ICONIC also speaks Italian.
The interior spaces of the 100-million-euro mega-construction project, designed by archistar Daniel Libeskind, will be signed by the Italian architect Maurizio De Iasi of MDI architecture, with headquarters in Paris and Nice.
The building will house the new headquarters of the Hilton and the offices of the "Les Agences de Papa" start-up, listed on the French stock exchange, a real estate company managed by Frédéric Ibanez, Nicolas Fratini and Claude Li, for which the architect Maurizio De Iasi will sign the project.
Over 6000 square-meters inspired by technological innovation and modernity, with a strong focus on eco-sustainability, thanks to the use of BDM and HQE certifications. Flexible spaces that will favour exchanges and interactions among the various work groups, a start-up incubator, as well as a rooftop for podcast productions and business communication.
Italian architect Maurizio De Iasi of MDI architecture: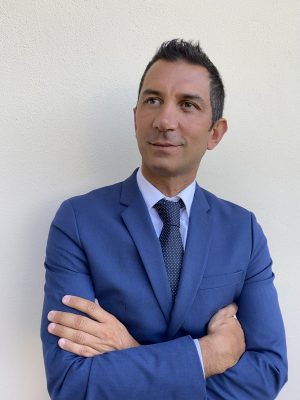 To carry out the work, the architect, Mr De Iasi, chose exceptional Partners like ESA Engineering, Agilité Solutions and Zatti Interiors.
Architect De Iasi said that: "These three very solid companies, carefully selected by me, will accompany me in this wonderful experience. ESA, a former consultant for Armani, for the LVMH group of which Louis Vuitton is a part, offers system design and engineering services with a particular focus on sustainability, thanks to its integrated multidisciplinary approach. The Franco-English company Agilité, – continued De Iasi – is one of the most reliable construction companies in Europe in this sector, with which I have already worked and which boasts experience with customers such as Booking, Apple, Mozilla, Deloitte. Finally, the Italian Zatti, already a partner of MDI architecture, is a leader in luxury interior design and bespoke furniture. Its achievements include collaborations with the Yacht Club, Fairmont and numerous other restaurants in Monte Carlo.
With this project – says architect De Iasi – we will give shape to a visionary idea of office architecture, capable of anticipating the needs of new working models. It will be an opportunity to create an unrivalled high-quality space in which entrepreneurial dynamics prevail and in which to live, work and collaborate."
MDI architecture by Maurizio De Iasi is present on the international market and accompanies important entrepreneurial projects in the development and successful growth thanks to its dynamic team of professionals.
Daniel Libeskind Architects, New York City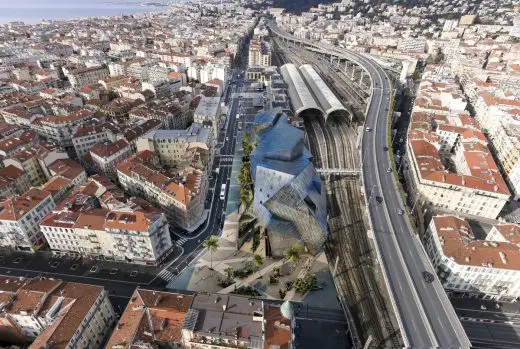 DATE: 2017-
STATUS: Under construction
CLIENT: Compagnie de Phalsbourg
BUILDING SIZE: 20,000 sqm
ARCHITECT OF RECORD: Fevrier Carre Architectes
STRUCTURAL ENGINEER: OTEIS
MECHANICAL ENGINEER: ITF
ELECTRICAL ENGINEER: ITF
PLUMBING ENGINEER: ITF
LANDSCAPE ARCHITECT: Jean Mus
Italian text:
Iconic Di Nizza
"Iconic" Di Nizza: Il Complesso A Forma Di Diamante Progettato Da Daniel Libeskind Porta Anche Una Firma Italiana Nel Cuore Della Costa Azzurra
MDI Architecture di Maurizio De Iasi ha scelto Agilité Solutions Italia, ESA Engineering e
Zatti Interiors come partner per la realizzazione del progetto
L'edificio, di oltre 6.000 mq ispirati all'innovazione tecnologica e alla modernità, ospiterà la nuova sede dell'Hilton Hotel e gli uffici della start-up quotata alla borsa francese "Les Agences de Papa".
Milano, 1 settembre 2021 – Parla anche italiano l'ICONIC di Nizza in Costa Azzurra. Gli spazi interni del complesso da 100 milioni di euro, progettato dall'archistar Daniel Libeskind, saranno firmati dall'architetto italiano Maurizio De Iasi di MDI Architecture, con sede a Parigi e Nizza, che ha scelto Agilité Solutions, Zatti Interiors e ESA Engineering come partner per la realizzazione del progetto.
L'edificio ospiterà la nuova sede dell'Hilton e gli uffici della start-up quotata alla borsa francese "Les Agences de Papa", società immobiliare gestita da Frédéric Ibanez, Nicolas Fratini e Claude Li, per la quale l'architetto Maurizio De Iasi siglerà il progetto.
Oltre 6.000 mq ispirati all'innovazione tecnologica e alla modernità, con una forte attenzione all'ecosostenibilità, grazie all'impiego delle certificazioni BDM e HQE. Spazi flessibili che favoriranno gli scambi e le interazioni tra i vari gruppi di lavoro, un incubatore di start-up, con un rooftop destinato alle produzioni podcast e alla comunicazione di impresa.
La Business Unit italiana di Agilité Solutions gestirà tutte le attività di coordinamento lavori in qualità di General Contractor. Il termine dei lavori è previsto per luglio 2022.
"Si tratta di tre realtà molto solide che ho selezionato con cura – ha commentato l'architetto Maurizio De Iasi. ESA, già consulente per Armani e per il gruppo LVMH di cui fa parte Louis Vuitton, offre servizi di ingegneria e progettazione impiantistica con un'attenzione particolare alla sostenibilità, grazie al suo approccio multidisciplinare integrato. La società franco-inglese Agilité Solutions, con la quale ho avuto già modo di collaborare – ha continuato De Iasi – è una delle imprese di costruzioni più affidabili d'Europa. Vanta esperienze con clienti come LinkedIn, Booking, Mozilla, Deloitte. Infine l'italiana Zatti, già partner di MDI Architecture, è leader dell'interior design di lusso e dell'arredamento su misura. Tra le sue realizzazioni figurano interventi nello Yacht Club del Principato di Monaco, oltre al Fairmont ed altri prestigiosi hotel, spa, ristoranti e lounge bar di Montecarlo.
Con questo progetto – ha concluso De Iasi – daremo forma ad un'idea visionaria di architettura per gli uffici, capace di anticipare le esigenze dei nuovi modelli di lavoro. Sarà uno spazio senza eguali, in cui prevarrà la dinamica imprenditoriale. Un luogo in cui lavorare, collaborare, ma soprattutto un luogo in cui vivere."
"Lavorare a questo progetto " – ha spiegato Maria Luisa Daglia, country manager Agilité Solutions Italia – "sarà una sfida emozionante e stimolante per tutto il nostro gruppo di lavoro. Siamo molto lieti di poter affiancare un team di professionisti di altissimo livello, che progetterà e realizzerà il nuovo Headquarter di una Società Immobiliare rivoluzionaria e in grande espansione."
MDI Architecture
MDI Architecture è presente sul mercato internazionale, accompagnando importanti realtà imprenditoriali nello sviluppo e nella crescita di successo, grazie al suo team dinamico di professionisti. Oltre ai servizi di progettazione e di direzione dei lavori, la società ha sviluppato forti competenze anche nel settore del retail italiano ed estero.
Maurizio De Iasi, fondatore di MDI, forte della sua esperienza trentennale di impresa che lo ha portato in passato alla creazione di società di alto profitto, nel 2017 decide di trasferire le sedi operative di MDI in Francia e di continuare la sua attività in campo internazionale.
Agilité Solutions
Agilité Solutions è una società di costruzioni paneuropea con Headquarter a Parigi e sedi a Milano, Londra e Lussemburgo, in grado di supportare la crescita e l'espansione dei suoi clienti in tutto il continente, fornendo soluzioni di allestimento chiavi in mano.
Come General Contractor offre un'ampia gamma di servizi: dalla consulenza iniziale per lo space planning, all'allestimento degli interni alla valutazione di fattibilità. Agilité Solutions gestisce il progetto in ogni sua fase, fornendo competenza tecnica su qualsiasi aspetto specifico, grazie ad una rete di professionisti di alto livello esperti nello space planning, nella progettazione e nei servizi di costruzione, con particolare riferimento ai settori office, retail & hospitality. Tra i clienti più importanti annovera Mozilla, Singapore Airlines, The Instant Group, Five Guys, Fred Perry e JD Sports.
East Thiers Station in Nice, South of France images / information received 010921
Location: East Thiers Station, Nice, France
New Buildings in Nice
Nice Architectural Projects
Multimodal Hub in Nice
Design: mateo arquitectura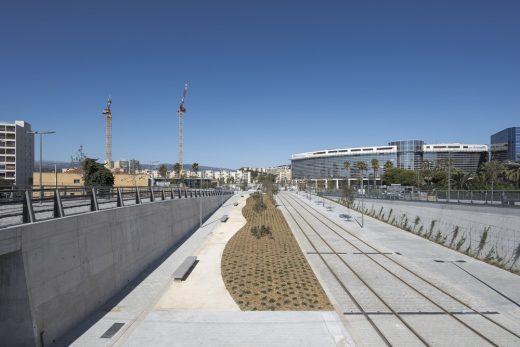 photo © Aldo Amoretti
Multimodal Hub Nice
Multimodal Hub – Grand Arénas
Design: mateo arquitectura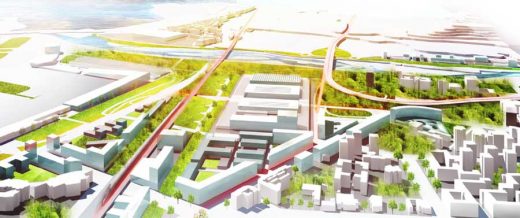 image from Mateo Arquitectura
Grand Arénas Nice
Sean Connery's South-of-France Villa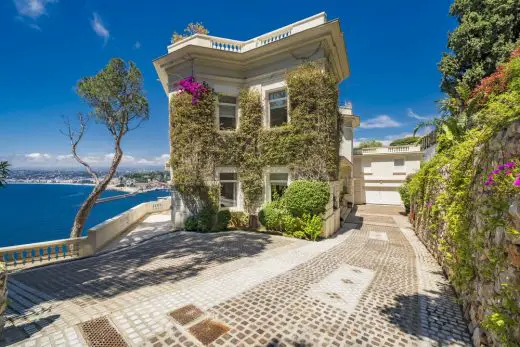 photograph : Knight-Frank
Sean Connery's South-of-France Villa in Nice
Multimodal Centre Nice Tramway
Design: Marc Barani / Atelier Marc Barani
Multimodal Centre Nice Tramway
New Buildings in France
French Architectural Projects
French Architecture Design – chronological list
French Architect Offices – design firm listings
Paris Architecture Tours by e-architect
Comments / photos for the Iconic Nice, Gare Thiers-Est Buildings, South of France design by Studio Daniel Libeskind page welcome