Curve Leicester Theatre, Performing Arts Centre, Building, Architect, Development
Curve Leicester Building
Leicestershire Architecture: First Completed English Project by Rafael Viñoly Architects, UK
post updated 27 August 2021 ; 9 Mar 2009
Curve – Leicester Theatre & Performing Arts Centre
Date built: 2007-08
Design: Rafael Vinoly Architects
Address: 60 Rutland St, Leicester LE1 1SB
Phone: 0116 242 3560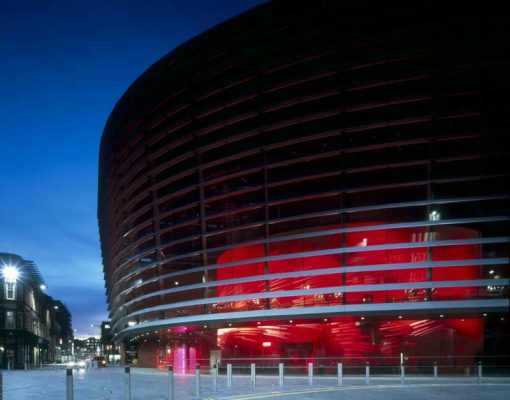 Photos by Peter Cook/View, released 2009
Curve Leicester Performing Arts Centre
CURVE THEATRE LEICESTER WINS RIBA REGIONAL AWARD
21 May 2009
Rafael Viñoly Architects' first completed project in the United Kingdom has today been awarded a prestigious Royal Institute of British Architects (RIBA) Award for the East Midlands region. Curve Theatre located in the heart of Leicester's Cultural Quarter opened to critical acclaim in November 2008.
Designed in close collaboration with Leicester Theatre Trust and Leicester City Council, Curve is a cutting-edge performance space that turns the typical theatre configuration 'inside out' by exposing the production, construction, craft and technical components of theatre making to passers by. Curve blurs the lines between on-stage and off-stage and seeks to integrate performances into the public areas of the building and the life of the city itself.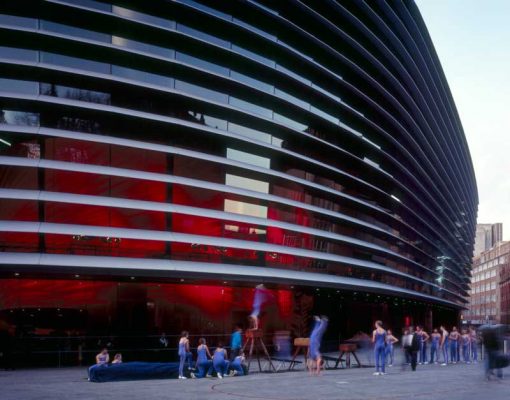 A cornerstone for regeneration of the St George's Conservation area, in the heart of Leicester's Cultural Quarter, the £61 million project contains an auditorium with up to 800 seats and a studio which seats up to 400 screened behind a four-storey glazed and louvered curtain wall. The theatre's design offers up possibilities for both traditional and unconventional uses of space enabling a wide variety of performance configurations to meet the community's diverse cultural needs.
The RIBA judges commented: "It has achieved a new level of ambition in theatre design. This venue is attracting world class theatre productions due to its ground breaking idea of turning the typical theatre configuration inside out."
Cllr. Ross Willmott, leader of Leicester City Council said: "We commissioned a world-class architect to design a world-class performing arts centre that would not only provide Leicester with an iconic venue, but that would, we hoped, also act as a catalyst for regeneration. Winning this RIBA regional award is a great honour and suggests that we got it right."
Ruth Eastwood, Chief Executive of Curve Theatre added: "We are delighted that Curve Theatre has won this prestigious award. Curve is a building of which the people of Leicester, Leicestershire and beyond can be proud and I am thrilled that, so far, over 90,000 of them have visited since it opened in November last year. We have produced and hosted a wide range of events from cutting edge drama, to sumptuous musical theatre, via circus and work for children – all delivered in the unique space and style that is Curve."
RIBA Awards are given for buildings that have made a substantial contribution to the local environment. The building now goes through to the next stage of this national competition to find the RIBA Stirling Prize Building of the Year, announced in October.

Photos by Peter Cook/View released 2009
Leicester's new 'inside-out' theatre is unveiled
Rafael Viñoly Architects complete first building in the United Kingdom


Photograph : Will Pryce/Arcaid. Courtesy Rafael Viñoly Architects
'Curve' is Rafael Viñoly Architects' first completed project in the United Kingdom. It is an innovative, democratic building that respects Leicester's history, whilst helping to redefine its future.
The £61 million project is the result of a close collaboration between the design team, Leicester Theatre Trust and Leicester City Council. The cutting edge design turns the typical theatre configuration 'inside out' by exposing the production, construction, craft, and technical components of theatre to the public, integrating all aspects of performance into the life of the city and making it truly inclusive and accessible. For the very first time audiences and passers-by will be engaged in the actual process of theatre-making, behind the scenes.
An anchor for the redevelopment of the St. George's Conservation Area in Leicester, the heart of the Cultural Quarter, the theatre features a four-story glazed and louvered curtain wall. Hung from a vast truss spanning the site, the glass hits the ground without interruption from structure, offering a continuous and unobstructed 4m high window revealing the two main audience volumes, a 750-seat main auditorium and a 350-seat studio, and the production and administrative facilities behind.
Conceived as islands within a public foyer, a central stage sits at street level between the two coloured volumes, and a system of metal shutters enable the creative team to place the audience in a variety of configurations, creating possibilities for either conventional or technically more ambitious theatre production and design. The continuum of stage, foyer and street at one level allows for clear visual connection between audience, actor and the public, and offers up possibilities for both traditional and unconventional uses of the space to meet the community's diverse cultural needs.
No distinction is made between front and back-of-house; double-height workshops and production spaces feature glass walls that expose production activities and make them a visible part of the spectacle. A café is located at street level to attract visitors throughout the day and during the non-performance hours.





Photographs : Will Pryce/Arcaid. Courtesy Rafael Viñoly Architects
An L-shaped brick volume along the north and west elevations contains dressing rooms, rehearsal spaces, production facilities, the ticket office, a recording studio, a kitchen, Leicester Theatre Trust's offices, and support spaces. Tiers of balconies at upper levels overlook the foyer, giving physical and visual connections to staff, performers, and the audience from the top to the bottom of the building's volume that activate a dramatic, engaging space.
"Curve is an extraordinary contribution to the regeneration of Leicester," says Rafael Viñoly. "This could not have been if it weren't for the vision of the people involved. They were interested in this notion of a theatre being an inside-out experience, something in which the production has an interest and value as well as the performance itself."
This view has been endorsed by the leader of Leicester City Council, Councillor Ross Willmott. "We wanted a world-class building that sets a marker for where we are going as a city. Curve is just that: it states clearly and powerfully the ambition we have for our city."
Paul Kerryson, Artistic Director of Leicester Theatre Trust says: "Curve's completion has seen the culmination of unparalleled expertise, ambition and dedication, and we are delighted to have a brand new home which will enable us to push the boundaries of twenty-first century theatremaking."
Curve Leicester Theatre images / information received 281208
Leicester Theatre Architects :Rafael Vinoly Architect
Capacity: 902

image from Rafael Viñoly Architects
Rafael Viñoly Architects
Rafael Viñoly Architects PC is a critically acclaimed international practice headquartered in New York, with offices in London and Los Angeles. Founded in 1983, and now employing over 200 architects and support staff, the firm provides comprehensive services in architecture, master planning, and interior design for new facilities and renovations. Its many successes include the Howard Hughes Medical Institute Janelia Farm Campus (Ashburn, Virginia), the Tokyo International Forum (Tokyo, Japan), the Kimmel Center for the Performing Arts (Philadelphia, Pennsylvania), and the Mahler 4 Office Tower (Amsterdam, The Netherlands).
Rafael Viñoly, the firm's principal, has practiced architecture for forty-five years in the United States, Latin America, Europe, Asia, Africa, and the Middle East. Driven by the conviction that the essential responsibility of architecture is to elevate the public realm, his work has been recognized in the world's leading design publications and by numerous prestigious awards. He is a Fellow of the American Institute of Architects, an International Fellow of the Royal Institute of British Architects, and a member of the Japan Institute of Architects.
Leicester Theatre Trust
Leicester Theatre Trust (LTT) is the independent charitable organisation that will run Curve, located on Rutland Street in the city centre. Curve is the magnificent new home for theatre and the performing arts in the heart of Leicester's Cultural Quarter. It is an ambitious project that has brought together the creative team of Leicester Theatre Trust and the architect to create a space which makes theatre inclusive and accessible – truly symbolised through a glazed, transparent façade which can demonstrate the very heart of theatre-making as far out as street level.
Leicester City Council
Leicester City Council is responsible for all local government services within the city of Leicester. It has encouraged and supported a wide range of regeneration activity in Leicester over the last few years, with 2008 seeing the culmination of a number of projects, including a £350m shopping and leisure complex as well as Curve. The new theatre sits at the heart of the city's rapidly-developing cultural quarter and will be supported by a new digital media centre in 2009.
Curve – Funding partners
Principal capital funding partners for Curve are Leicester City Council, Arts Council England, East Midlands Development Agency, The European Union, Leicestershire Economic Partnership.
Address: 60 Rutland St, Leicester LE1 1SB, England, UK
Phone: 0116 242 3560
Leicestershire Buildings
Leicestershire Buildings – Selection
Leicestershire Architecture Designs
Loughborough Design School
Design: Burwell Deakins Architects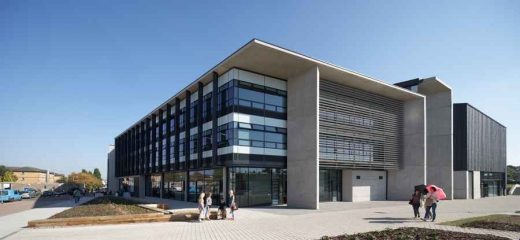 photograph : Hufton+Crow
Loughborough Design School
Leicester Engineering Department Building Renovation
Design: Berman Guedes Stretton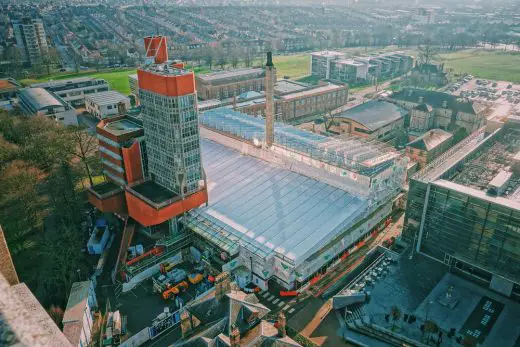 picture : University of Leicester
University of Leicester Engineering Department
Leicester Market Food Hall Building
Design: Greig & Stephenson
Leicester Market Food Hall
English Architecture
Contemporary Architecture in England
English Architecture Design – chronological list
Rafael Viñoly Architectural Designs
Buildings by Rafael Viñoly Architects
Comments / photos for the Leicester Theatre & Performing Arts Centre Architecture page welcome