High Desert Test Sites Structure, HDTS Building, Mojave Desert Project, Joshua Tree NP
Yucca Crater Mojave Desert Design
Yucca Crater Design, Joshua Tree National Park, California design by Ball Nogues Studio, USA
13 Oct 2011
Yucca Crater
High Desert Test Sites
Design: Ball Nogues Studio
Yucca Crater design: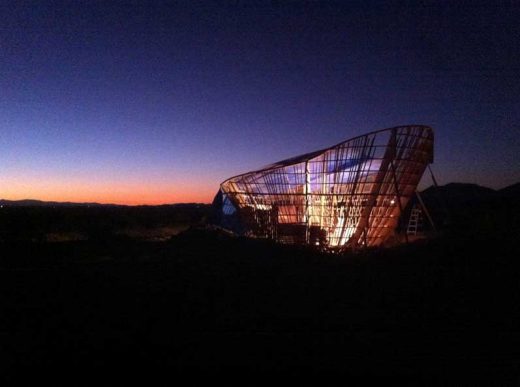 picture : Courtesy Ball-Nogues Studio
Located on Iron Age Road east of the town of Joshua Tree, Yucca Crater is a synthetic earthwork that doubles as a recreational amenity. This monumental basin stands 30 feet from rim to low point. Rock climbing holds mounted on the interior allow visitors to descend into a deep pool of water.
Yucca Crater expands on concepts borrowed from land art, incorporating the prospect of the abandoned suburban swimming pools scattered across the Mojave. Ball-Nogues have re-imagined these interventions in the landscape through a method of production where the tools of fabrication transform to be become objects for display in their own right.
The structure was originally the formwork used to construct another Ball-Nogues work, Talus Dome, in which more than 900 boulder-sized polished metal spheres were assembled to appear as a monumental pile of gravel. The two projects were "cross-designed" such that the method of production used in the first (Talus Dome) has become the central aesthetic for the second (Yucca Crater).
This approach integrates concept, aesthetics, and production, inviting viewers to reconsider their relationship to art by-products while repositioning them within an alternative economic and geographic domain.
The Yucca Crater project is located about 16 miles East of the 29 Palms Airport on Ironage Road in Wonder Valley.
16 Aug 2011
Yucca Crater Building
High Desert Test Sites
Design: Ball Nogues Studio
Each fall High Desert Test Sites invites artists to create experimental projects adjacent to California's Joshua Tree National Park. This year HDTS invited Ball Nogues Studio to create a structure in a remote region of the Mojave Desert.
This presents a unique opportunity to draw upon an unfettered landscape at a grand scale. Expanding on theories developed by earthwork artists, our project, entitled Yucca Crater (working title), will re-imagine these concepts through new methods of production linked to our cross-disciplinary artistic, architectural, design and fabrication practice.
As an engineered oasis and climbing structure, Yucca Crater will stand 24 feet tall, towering above the desert plane. Positioned along the slopes of its interior shell, rock-climbing holds will make their way into and out of 8 feet of water. Heated with solar power and pumped through a wind powered turbine, the cavernous pool awaits climbers and weary desert travelers.
Yucca Crater proposal + process:


pictures : Courtesy Ball-Nogues Studio
This elevated crater and its aquatic basin are a nod to the abandoned suburban swimming pools scattered across the Mojave. While the piece is decidedly man-made, it recalls the works of the land art movement by using materials at hand to construct the final product. By this, we mean that the massive structural formwork of the project is the by-product of another Ball Nogues work: Talus Dome.
Situated along the embankment of a freeway in Edmonton, Alberta, Talus Dome is an enormous mound constructed of stainless steel spheres. The elaborate formwork we will use to assemble Talus Dome is a feat of design and engineering in its own right. Our plan is to repurpose the formwork for High Desert Test Sites to become Yucca Crater.
This unique approach utilizes our artistic waste stream to create a public artwork in its own right. It is an important aspect of the project as it addresses a critical point in our understanding of the environment today— the need to eliminate waste and encourage re-use. Upon completion of the Talus Dome in Edmonton this summer, the formwork will be transported to California's high desert. There, we will invert the structure and transform it into Yucca Crater, an artificial aquatic land mass both incongruous to and reminiscent of the Mojave Desert.
Yucca Crater construction:


photos : Allison Porterfield
We need the support of donors to make this project happen (please visit www.unitedstatesartists.org/project/yucca_crater). Transporting and repurposing a structure of this scale will be a great undertaking. It will require support from those interested in enriching the California landscape with ecologically minded and imaginative architecture. Our goal is to maximize the use of material and to convert the solar and wind resources naturally available. Funds will provide transportation, delivery of water, liner materials, hand holds for climbing, assembly equipment, paint,lumber, water filtration, a Savonius (wind) Turbine and lighting (solar powered).
Yucca Crater materializes the surreal — echoing and contrasting the earth through architecture. Its dramatic silhouette reconfigures the landscape while welcoming physical interaction from viewers. Rather than passively observe the art, visitors will be encouraged to climb and descend the walls of Yucca Crater for a moment of respite in the cool, tranquil pool below. As a contributor to High Desert Test Sites, Ball Nogues Studio is eager to illuminate the California desert.
Construction photos:


photos : Allison Porterfield
Yucca Crater images / information from Ball Nogues Studio
Location: Mojave Desert, southeastern California / southern Nevada, USA
Ball-Nogues Studio Designs
Ball-Nogues Studio Designs – Selection
Spock's Block's – Temporary Spatial Installation in Bordeaux, France
Spock's Block's Bordeaux
Unseen Current and Echoes Converge, USA / Italy
Ball-Nogues Studio Installations
Ball Nogues Studio Installation in China
Ball-Nogues Studio Exhibition, New York City
Solar Plant Towers, Mojave Desert, California
Design: RAFAA architecture & design
Mojave Desert Towers
Architectural Concept Designs – Selection
Vertical Strip – A Hanging Tower
American Architecture – Nevada Selection:
City Center
Design: various architects
Las Vegas building
Mondri and Elano Hotels
Design: Julien de Smedt Architects
Comments / photos for the Yucca Crater page welcome
Website: www.highdeserttestsites.com