Wuxi Grand Theatre China, New Chinese Building, Finnish Design
Wuxi Grand Theatre, China : New Building
Chinese Arts Venue Development design by PES-Architects, Finland
24 Aug 2012
Architect: PES-Architects
Wuxi Grand Theatre Building

image : Jussi Tiainen
Wuxi Grand Theatre
Introduction
Finnish Design is internationally renowned for its concepts of clear and functional style, which meet the needs of the users from a long-term perspective. The first large scale example of Finnish design in China was completed by the opening of the Wuxi Grand Theatre in April 2012. Its design was not only a question of architecture, but the whole design – from functional program to interior design, landscape design, theatre technology, lighting and acoustic design – was controlled by the PES-Architects' team.

image : Jussi Tiainen
Normally in Finland the architect holistically designs important public buildings from the client's first thoughts to the interior design details and is in charge of coordinating the works of all special consultants. Professor Pekka Salminen, the founder of PES-Architects, and his design partner, architect Tuomas Silvennoinen, want to promote this type of "Design Thinking" in China.
Their argument is, that without a head designer with an overall understanding and knowledge of the entire design and construction process, the criterions for sustainable development cannot be realised. Time shows the long-lasting values of architecture. This is particularly important and acute in China, which is the largest construction site in the world and where all building projects are realised with astonishing speed.
Wuxi Grand Theatre
In 2008, PES-Architects won the first prize in the invited international architectural competition for Wuxi Grand Theatre. The other competitors were established and well-known practices from Germany, France, Japan and Denmark.
The main idea of Wuxi Grand Theatre is based on its location. The manmade peninsula on the northern shore area of Taihu Lake and the highway bridge nearby make this location comparable to that of Sydney Opera House. Due to this location the building is an impressive landmark, rising up to a total height of 50 meters like a big sculpture from the terraced base. Its eight gigantic roof wings stretch far over the facades, giving the building a character of a butterfly, while protecting the building from the heat of the sun.
The architectural concept is unique: inside the steel wings are thousands of LED lights, which make it possible to change the colour of the wings according to the character of the performances. This is possible, because the underside of the wings is covered by perforated aluminium panels. Another special feature is the "forest" of 50 light columns, each 9 meter high, which start from the main entrance square, support the roof of the central lobby and continue outside of the lakeside entrance into the lake.
There is a strong Chinese feature that runs throughout the whole building: the large scale use of bamboo which is both a traditional and a modern Chinese material. Recently new methods for the production and use of bamboo have made it possible to cover the Main Opera Auditorium with over fifteen thousand solid bamboo blocks, all individually shaped according to acoustic needs and architectural image.
There is also a material with a Finnish character: almost twenty thousand specially designed glass bricks cover the curved wall of the opera auditorium in the lakeside lobby. Finnish nature, lakes and ice, were the architectural inspiration.
Earlier references of PES-Architects international projects include St Mary's Concert Hall in Germany and Helsinki-Vantaa Airport in Finland. In China, a mix-use 192m high-rise building in is currently under construction in the city of Chengdu, the result of a first prize in an international architectural competition in 2009.
To emphasize the experience of being 8 years in China design and construction market, PES-Architects in Autumn 2011 opened the Chinese design company PES-Architects Consulting (Shanghai) Co. Ltd.
Samaranch Memorial Museum Tianjin – Building Information
Architecture and interior design: PES-Architects
Project: Wuxi Grand Theatre
Address: to the North of Jinshi Road, North bank of Lake Li, Taihu New City, Wuxi, P.R.China
Client: Office for the Important Urban Projects in Wuxi /Fan Chun Yu, Zhou Jian
User: Wuxi Culture and Art Administration Center
Floor area: 78,000 sqm
Year of completion: 2012
Start of design: 2008
Competition: Jun 2008
Credits
Architects:
Competition, 2 phases:
– PES-Architects: Pekka Salminen and Tuomas Silvennoinen (main designers), Tristan Hughes, Jouni Rekola, Michael Bossert, Heikki Riitahuhta, Tomi Laine, Miguel Pereira, Emanuel Lopez, Elina Modeen, LaiLinLi, Fang Hai
– UDG: Sun LiYang, Gu ZhiPeng, Guan XiaoJing
SD-, DD- and CD-phases:
– PES-Architects: Pekka Salminen (project leader and chief designer), Martin Lukasczyk (project architect/ project manager), Elina Modeen (project manager China), LaiLinLi (project manager China), Fang Hai, Julia Hertell, Tristan Hughes, Vesa Hinkola, Willem-Anne van Bolderen, Miguel Pereira, Nicholas Capone, Marcelo Diez, Jani Koivula, Heikki Riitahuhta, Tomi Laine, Yang Yue
– UDG: Zhang Min, Guan XiaoJing, Teng Xu
Interior design:
– PES-Architects: Pekka Salminen, Martin Lukasczyk, Kai Lindvall, Satu Ristola
Landscape design Finland:
– Maisemasuunnittelu Hemgård: Gretel Hemgård, Vilja Larjosto
Landscape design China:
– Feiscape, Shanghai
Structural design Finland:
– Vahanen Group: Matti Haaramo
Structural design China:
– Shanghai Institute for Architectural Design and Research SIADR, Shanghai
HVAC design Finland:
– Climaconsult: Harri Ripatti
HVAC design China:
– SIADR, Shanghai
Lighting design Finland:
– Valoa Design: Roope Siiroinen, Marko Kuusisto
Lighting design China:
– Enjoy, Shanghai
Acoustic design Finland:
– Akukon & Kahle Acoustics: Henrik Möller, Ekhard Kahle, Thomas Wulfrank
Acoustic design China:
– Zhang Kuiseng, Shanghai
Stage design Finland:
– Akukon: Henrik Möller, Janne Auvinen
Stage design China:
– SBS, Beijing
Other participants:
– Bamboo: Yrjö Kukkapuro, Fang Hai
– Space programme: Finnish National Opera/ Timo Tuovila
– Special glass bricks: Tapio Yli-Viikari and Kirsti Taiviola (Aalto University), Niu Fanzheng, Lu Ye
– Glass column consulting: Glaston: Pekka Nieminen
Local partners:
– Shanghai Institute of Architectural Design and Research Co. SIADR (DD and CD phases)
– Gold Mantis, Suzhou (interior design DD and CD phases)
– United Design Group Co.Ltd. UDG, Shanghai (competition phase and SD phase)
Material suppliers:
– Bamboo interiors: Dasso Co, Hangzhou
– Roof material: Rheinzink Co, Shanghai
– Glass elevations: Pilkingtong Co, Shanghai
– Glass Bricks: SIP Pengli Visual Mastermind & Design Co. Ltd.
Contractors:
– Construction administration & client: Office for the Important Urban Projects in Wuxi/ Fan Chun Yu, Zhou Jian
– Construction supervision: Zhejiang Tiangnan Project Management Co. Ltd
– Main construction company: China Construction 3rd Engineering Bureau/ CSCEC
– Steel structure construction: Jiangsu Huning Steel Mechanism Co. Ltd
– MEP: China Construction Industrial Equipment Installation Co. Ltd
– Stage machinery: SBS Bühnentechnik GmbH/ SBS Stage Equipment Technology (Hangzhou) Co. Ltd
– Stage machinery supervision: ENFI
– Acoustics: Huisitong Acoustic Technology Enineering Co. Ltd
– Stage lighting: Hangzhou EKO Light
– Facades: Wuxi Jingcheng Curtain Wall Engineering Co. Ltd
– Interior construction: Gold Mantis, Decoration Co. Ltd. of China Construction 3rd Engineering Bureau, JiangSu XinHuaDong Construction Decoration Engineering Co. Ltd, Hua Ding Construction Decoration Engineering Co. Ltd
– Landscape construction: Shanghai Landscape Construction & Design Co. Ltd, Yixing Hydo-Engineering Co. Ltd
– Building automation: ZheDa Innovation Technology Co. Ltd
Wuxi Grand Theatre Building images / information from PES-Architects
I dunno but whilst I was impressed by the organic nature of some of the exterior skin, I found the interiors just a bit grim. Great technological achievement in the construction but where is the soul, and what happened to colour?
Anthony Sully
Location: Wuxi, People's Republic of China
New Wuxi Buildings
Wuxi Architecture
Wu Duo Menswear Shop
Designers: CROX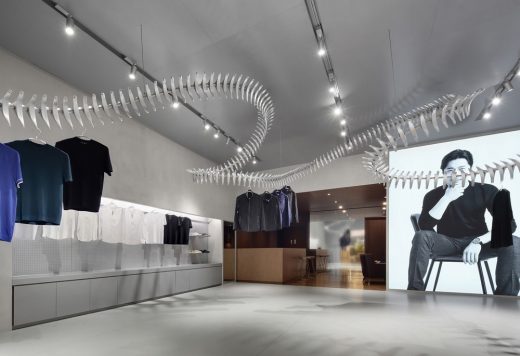 photo : ingallery
Wu Duo Menswear Shop Wuxi
Wuxi Hualuxe Hotel Building in Jiangsu
Architect: BLVD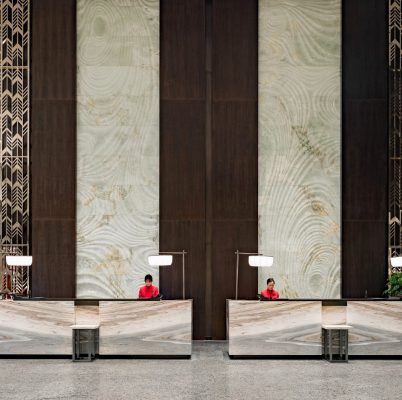 photo courtesy of architects office
Wuxi Hualuxe Hotel Building in Jiangsu
Super Tall Tower
Design: John Portman & Associates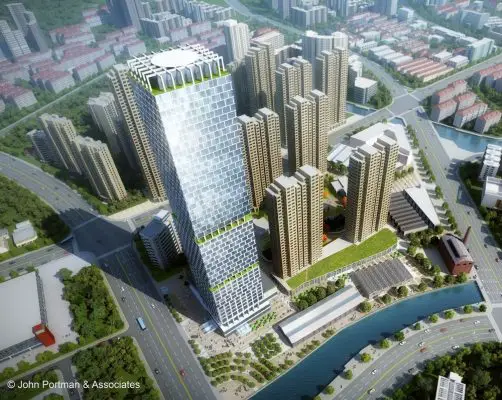 image courtesy of architecture office
Super Tall Tower in Wuxi
Wuxi Mansion of Canal Residential Development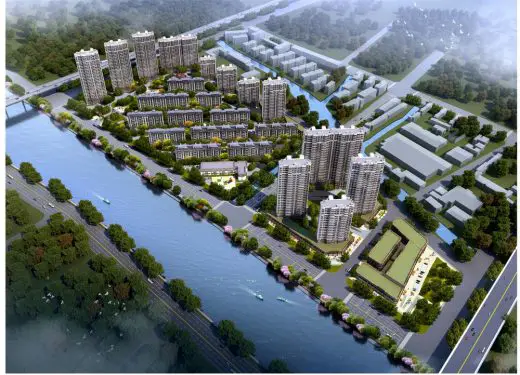 picture from BRE
Wuxi Mansion of Canal Design
Lan Kwai Fong Wuxi
Design: Benoy


image from architect practice
Lan Kwai Fong Wuxi
Architecture in China
China Architecture Designs – chronological list
Chinese Architect – Design Practice Listings
Beijing Architecture Walking Tours
Tianjin R&F Guangdong Tower
Goettsch Partners
Tianjin R&F Guangdong Tower
Tianjin Xiqing District County Elementary School
Vector Architects
Tianjin Xiqing District County Elementary School
Tianjin West Railway Station
von Gerkan, Marg and Partners Architects (gmp)
Tianjin Railway Station
Pan Long Gu Valley Conference and Exhibition Centre, Ji County
Atelier 11
Tianjin Building
Comments / photos for the Wuxi Grand Theatre Building design by PES-Architects page welcome