Modernist Building, François Lévy Architect, Architecture Article, Design
Modernist Architecture : The Plane and the Frame
Architecture Discussion – article by François Lévy
6 Mar 2012
The Plane and the Frame
One of the narrative threads of Modernist architecture since its seminal stages has been a preoccupation with the plane—witness Rietveld's Schröder House of 1924, preceded by his 1917 chair. In this week's collection of projects, these planar tendencies in particular and Modernism in general are still very much in evidence and serve as a useful interpretive perspective, even if they have in some cases lost some of the purity of the house in Utrecht.
Similarly, the complementary gesture of the framed view, by no means exclusive to Modernism, too is a helpful interpretive device. Many of these projects demonstrate that while the strictness of the Modernist manifesto has been relaxed, its architectural vocabulary has been so thoroughly absorbed that by now it is almost unconsciously and inevitably expressed.
MediaCorp Buona Vista, Singapore
Maki and Associates / DP Architects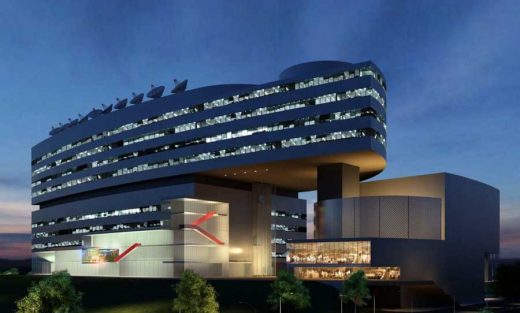 picture from TM
Although on a large scale, Maki Associates and DP Architects' MediaCorp Buona Vista at Singapore's Mediapolis development suggests a dialect of the Corbusian vocabulary: a machined yet somewhat sensually curved mass raised on a piloti at one end almost unconsciously articulated with ribbon windows. Even the roof's receding curved parapet and array of mushroomlike satellite dishes could be seen as a vague nod to the Unité d'Habitation. At the very least, this is a "machine for broadcasting".
The Upper House Hong Kong
Swire Hotels Awards news, China


image courtesy of Swire Hotels
In contrast, Swire Hotels' Upper House and Opposite House in Hong Kong speak Modernism with a Miesian lilt. Strict gridded planes of the latter's façade hint of the planar orthography of the project's interiors, whose sumptuous if severe surfaces could be grandchildren to the Barcelona pavilion's rich marbles, onyx, and travertine. There's even a reflecting pool, albeit as an interior space.
Ruhr Museum Building, Essen, Germany
Ahlbrecht Felix Scheidt Kasprusch


photo : Deimel & Wittmar
Ahlbrecht Felix Scheidt Kasprusch's Ruhr Museum in Essen, Germany is compositionally all about the plane—even to the point of being rather mannered in its resolution of co-planar or corner material changes. Rigorously gridded glass planes encounter an equally severely 'calpinage' of dark concrete revetment at outside corners or in the same plane, and as a result tectonic considerations of massing and structural expression recede as notions of surface and planar composition advance.
Mop House, Kuwait
AGi architects


photograph : Nelson Garrido
In the Mop House in Kuwait, so-called because of its tight spiral arrangement around a captive courtyard, one can also see the planar influences of early Modernism. Despite its sensual curvature, AGI architects' project owes more than a little of its lineage to the Villa Savoye, in spite of the absence of Le Corbusier's sublimated Palladianism. Here framed views are skillfully employed to provide visual communication between spaces while simultaneously creating privacy buffers.
Belsize Park Property, London
Andy Martin Architects


photo : Nick Rochowski
Andy Martin Architects' adaptive reuse of a former mechanics garage in Belsize Park, London is a composition of sliding and pivoting glass planes, rigorously gridded structural glazed tile walls, and controlled planes of cool white.
Shift Housing, Cremona, Italy
AquiliAlberg


photograph : Fabrizio Marchesi
Another project that one might interpret as an exercise in planes and controlled, framed views, Shift Housing in Cremona, Italy by AquiliAlberg, takes as its formal conceit the folded plane and shifted mass.
Casa Lomas Altas, México D.F.
López Duplan Arquitectos


photograph : Hector Armando Herrera
Claudia López Duplan's renovation of a roughly 30-year old house west of Mexico City is another example of Modernism's planar influence. The architect's projects are predominantly or exclusively interiors, and these like Casas Lomas Altas display skillful use of framed views and framing planes.
NOMA Lab, Copenhagen, Denmark
GXN


photograph : Adam Mørk
And speaking of framing, 3XN's recent interiors for NOMA Restaurant's food labs in a Copenhagen former warehouse is an exercise in inserting modular work units within a preserved timber frame and load-bearing masonry. The project was especially challenging due to the historical status of the building, whose protected exterior could not be modified in the least. Here 3XN adapted permutations of a repetitive grid and a kit of parts to furnishings and fittings.
In all these projects, like much of contemporary architecture, the tenets of Modernism are so pervasive as to be nearly invisible, or at the very least not overtly acknowledged. There may be other architectural agendas served—be they phenomenological, sustainable, or regional to name a few—but throughout architecture today runs the invisible thread of Modernism, the plane and the frame.
François Lévy

picture from architect
François Lévy is a registered architect and sometime university lecturer in Austin, Texas, USA. His recent book, BIM in Small-Scale Sustainable Design (http://t.co/TQCudgo), draws upon his advanced degrees in architecture and architectural engineering to guide designers in the use of Building Information Modeling for the sustainable design of skin-load dominated buildings.
Architectural articles by François Lévy for e-architect:
Architectural Legibility and Didacticism – Aug 2011
Architectural Beauty – Apr 2011
BIM in Small-Scale Sustainable Design
François Lévy


image by François Lévy. ©2011 John Wiley & Sons
BIM in Small-Scale Sustainable Design
Location: Austin, Texas, USA
Architecture Articles
Architecture Context : article by Trevor Tucker. Sep 2010
Resisting Boredom : article by Joyce Hwang. Jan 2011
Sizing Identities : article by Sergio López-Piñeiro. Jan 2011
Sustainable Buildings – Building Issues : article by Adrian Welch
Comments / photos for the Modernist Building – 'The Plane and the Frame' Article page welcome