J.P. Morgan Library Building, Disability Access Design, Mobility, RPBW Architects
J.P. Morgan Library and Museum Access Design
New York City Architecture by Renzo Piano Building Workshop – article by Joel Solkoff, Jul 15, 2013
Jul 5, 2016
J.P. Morgan Library and Museum Building New York City
J.P. Morgan Library and Museum Building in New York City
J.P. Morgan Library and Museum building image from 29 Jun 2016 © Adrian Welch: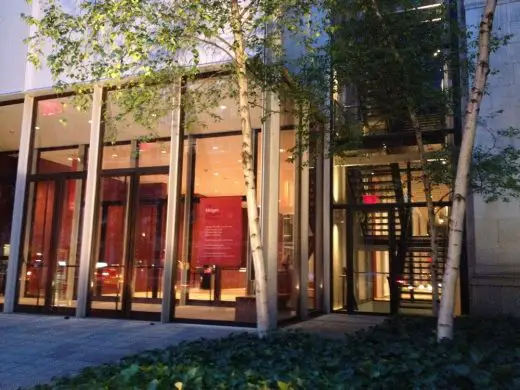 Dec 20, 2013
Video with Joseph Mizzi, President of Sciame – link to YouTube
e-architect presents Joseph Mizzi, President of Sciame, known as "the king of New York City Construction Companies." In Part 4: Mizzi continues the exclusive e-architect video series detailing Renzo Piano's first New York City project The Morgan Museum and Library.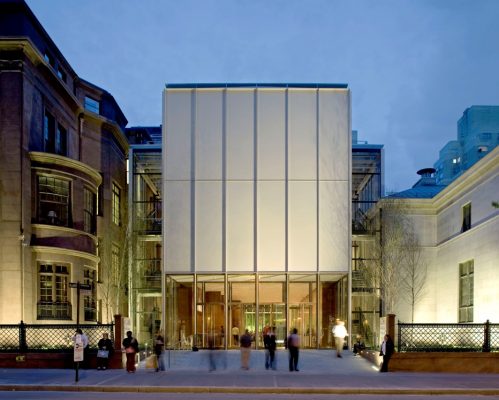 Interviewer Joel Solkoff began the series detailing Renzo Piano Building Workshop's Creative Design for the Morgan.
In this informal video, Joseph Mizzi begins the process of describing his work with Renzo Piano, the importance of construction companies being sensitive to the design goals of architects, and technological advances in the building industry. Stay tuned to e-architect uk for more.
Jul 15, 2013
Disability Access at the J.P. Morgan Library and Museum
Disability architecture
Analysis of Renzo Piano's creative theme for his first New York commission
"The Magnet," 1911 Punch Magazine cartoon: the magnet of Morgan's fortune pulls the world's art treasures to New York:


permission to publish granted by the Morgan Museum and Library
(Please click on images for larger sized pictures).
Why did it take New York City so long to recognize that Renzo Piano is a good architect?
After decades of work throughout the world, after winning the highly respected Pritzker Award in 1998, it was not until five years later that Piano began work as a creative architect on a project in New York City.
What is wrong with New York?
After all, the Pritzker Prize's stated goal was: "To honor a living architect or architects whose built work demonstrates a combination of those qualities of talent, vision, and commitment, which has produced consistent and significant contributions to humanity and the built environment through the art of architecture."
Why did New York wait five years after Piano received the Pritzker to recognize an architect who had masterminded the controversial Pompidou Centre completed when Piano was 40 years old in 1977?
The Centre contains the largest museum for modern art in Europe.

photo : Michael Hierner
Piano's first New York commissioned work arrived at Renzo Piano's Building Workshop office in Genoa, Italy in the form of J.P. Morgan Director Paul Spencer Bayard's hasty arrival. Bayard pleaded with Piano for the second time to accept the Morgan commission. Bayard was in a difficult situation. The Morgan Board of Directions had authorized an architectural commission. Major New York firms competed.
Piano was asked to compete but he refused saying that he does not submit to competitions anymore. Then the Board refused to accept any of the plans the New York architects had presented. After considerable begging on Bayard's part, early in 2003 Piano agreed to fly to New York and look the site over.
Piano had never been to the J.P. Morgan Library, a Beaux Arts classic designed by McKim, Meade, and White and deservedly a structure defined as a landmark. This is a view of the rotunda of the Library after Piano's project restored the Library to reflect the glamor of its architecture:


permission to publish granted by the Morgan Museum and Library
Piano agreed to accept the Morgan commission while he was still in the air because he found himself drawing. Piano later explained that as soon as he started drawing while still on the plane he realized he had accepted the project because the act of drawing meant that he was inspired and thus engaged.
++++
The first source for Piano's inspiration was the surrealist novel The Infinite Library by Jorge Luis Borges. Piano explained to interviewer Cynthia Davidson, a member of the editorial board of the MIT Press series Writing Architecture:
"The infinite library is a great concept. It is a library made of infinite–not infinite—because infinite is a concept that is humano, so it is almost infinite. Each room is a hexagon, and they touch each other and they go this way and that way, that way and that way and that way. So you are where you are where you were before in some way, in that mold where you see down and up. I immediately loved that idea when I came here.
"Manhattan is made of schist, and if you are lucky enough not to have a river under your foot, if you cut like a knife into it you have the best place to hold and conserve a secret or a treasure against time, weather, vandals, and all that."
++++
Aerial view: J.P. Morgan Library and Museum construction site during demolition:


photographer Moreno Maggi. Copyright © 2003 Renzo Piano Building Workshop
++++
Conserving a treasure became one of the two co-equal themes of Piano's master plan. Preserving the character of the neighborhood was the other. Shown above is the construction Piano directed applying the Borges theme to focus on the Morgan's actual buried art treasure.
One of the Program Goals the Morgan asked Piano to implement was: "State of the art collection center."
Art collection centeris a euphemism for what can be described as a very large safe. Piano designed the sophisticated safe which holds the Morgan's artistic treasures. He refers to the safe as a vault. Vault repeated over and over became the word Piano used most frequently to describe his creative concept. Piano designed his architecture in such a way as in effect to point to the Vault.
Here is a plot summary of The Infinite Library from the sadly disrespected source of so much; yes, Wikipedia:
"Borges's narrator describes how his universe consists of an enormous expanse of interlocking hexagonal rooms, each of which contains the bare necessities for human survival—and four walls of bookshelves. Though the order and content of the books is random and apparently completely meaningless, the inhabitants believe that the books contain every possible ordering of just a few basic characters….
"Though the majority of the books in this universe are pure gibberish, the library also must contain, somewhere, every coherent book ever written, or that might ever be written, and every possible permutation or slightly erroneous version of every one of those books. The narrator notes that the library must contain all useful information, including predictions of the future, biographies of any person, and translations of every book in all languages. Conversely, for many of the texts some language could be devised that would make it readable with any of a vast number of different contents."
++++
Now would be a good time to give you a sense of the size, beauty, rarity, uniqueness, and value of the Morgan art collection. In his prime, Morgan was the wealthiest man in the United States which he remained until the day he died. Morgan spent over half his wealth on his collection.
This is how Morgan's management describes the collection:
"Pierpont Morgan's immense holdings ranged from Egyptian art to Renaissance paintings to Chinese porcelains. For his library, Morgan acquired illuminated, literary, and historical manuscripts, early printed books, and old master drawings and prints. To this core collection, he added the earliest evidence of writing as manifested in ancient seals, tablets, and papyrus fragments from Egypt and the Near East. Morgan also collected manuscripts and printed materials significant to American history."
I would like to show you a close up view of the Guttenberg bible which is a treasure indeed. The Morgan website, not incidentally, is a great disability access vehicle—disability access being hitherto my primary professional concern.

screen shot by Joel Solkoff
The Internet display of the Guttenberg Bible makes the entire Latin-text version available with page-by-page viewing screens with easy to use zoom controls. Even if you have a computer resolution screen with an embarrassingly low pixel ratio, the eye dazzles before a mind blowing display of the beautiful details.
The introductory website section on the Guttenberg Bible states:
"The Morgan Library & Museum is the only institution in the world to possess three copies of the Gutenberg Bible, the first substantial book printed from movable type in the West. Nearly fifty copies survive today in varying states of completeness from an edition of around 180 copies, of which perhaps two-thirds were printed on paper, one third on vellum. One Morgan copy is on vellum, and two are on paper. All three display significant differences in composition, presswork, and decoration, distinctive features revealing the technical problems Gutenberg solved and the design decisions he made while this imposing two-volume work was in production."
++++
The second novelist who influenced Piano's design of the Morgan was Umberto Eco. Eco is widely known as a distinguished author. His best known book is Name of the Rose in which Ecco wrote: "Books always speak of other books, and every story tells a story that has already been told."
Piano and Eco are friends. Piano told Cynthia Davidson about the advice he received from Eco:
"Before leaving [to accept the Morgan commission], I called my friend Umberto Eco; because a long time ago, he was telling me about this funny place in the middle of Manhattan where he found a beautiful place that he was passionate about—the Morgan. …So I called him because I remembered that one day we spent an evening in a nice little restaurant in Genoa talking about this idea of exploring, going underground to look for things….So I called him to say that I was talking with the Morgan about a project. 'Oh, that's great, fantastic,' he said. 'Don't spoil that place. It's a great thing. Then we started to talk about this idea of the safe, of the treasure. And he said, 'You remember that piece from Borges? Read it again.' Then I read it again. It's beautiful."
++++
Read the rest of this article:
Joel Solkoff – regular guest editor at e-architect
New York City Architecture
Morgan Library and Museum Access


photo by Michel Denancé, provided by permission of the Morgan Library and Museum
New York Architecture Walking Tour
New York Times Company New Headquarters, New York, USA
2006
Design: Renzo Piano Building Workshop (RPBW) with Fox & Fowle Architects


photo by David Sundberg/Esto
New York Times Headquarters
Pompidou Centre, Paris, France
Date built: 1977; renovation 1995
Design: Richard Rogers / Renzo Piano Architects


photo © AJW
Pompidou Centre
Architectural Design
Disability Access Architecture – article by Joel Solkoff : Mar 18, 2013


photo from Joel Solkoff
American Building Developments
Comments / photos for the J.P. Morgan Library and Museum Disability Access Design – Renzo Piano New York City Building Article page welcome