Heroic Building middle East, Kuwaiti Home, Residential Design in Kuwait
Heroic Architecture : Heroic Maneuvers within a Straitjacket
S cube chalet – article for e-architect by Douglas Klahr
26 Jun 2012
Heroic Architecture
Heroic Maneuvers within a Straitjacket
My initial reaction to the plan of the S cube chalet by AGi Architects was a muffled groan: when a thick wall condition bifurcates a composition, why is it so often followed by the urge to incorporate a soupçon of slippage as well? Occasionally this Pavlovian design response has a substantially positive effect upon a composition, but in this instance the jury would deliver a mixed verdict.
Yes, this slippage creates receding planes along the entrance, providing some relief from the billboard-like street facade. And yes, to stagger the living rooms of the two lower residences looks good on a plan, but the opaque thick wall condition mitigates appreciating this effect in reality.
This was a design decision mired in a formalist mindset dictated by plan, as opposed to being rooted within an experiential standpoint. So, the results of the slippage are minimal, which leads one to suspect that the reason for its inclusion was to avoid bilateral symmetry, even though such symmetry rules on the level above.
S Cube Chalet, Kuwait
AGi architects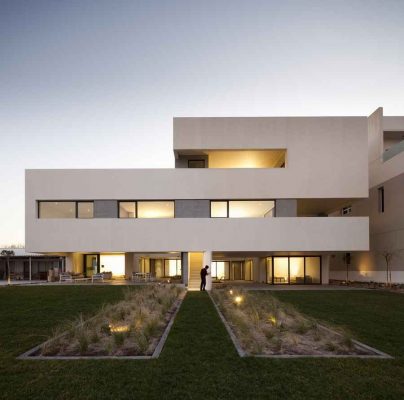 photograph : Nelson Garrido
Ironically, it is on that second level that I think one of the more successful juxtapositions occurs, especially when one places the project in the context of its clients. While the thick wall condition completely separates the dual courtyards of residences S2 and S3 on the ground level, on this floor their twin terraces ceremoniously meet where the thick wall condition has stopped.
Space triumphs over mass, and communion triumphs over separation, culminating in a shared visual experience only offered to members of these two residences: peering into the giant window that punctures the stone-clad block of the stairwell contained within the thick wall condition. Yet now a boundary has been crossed: we are voyeurs gazing down upon a staircase that belongs to neither of our residences, but to that of our sibling who has claimed the uppermost one.
Suddenly the intertwined, potentially messy dynamics of three siblings and their families living in close proximity come to the fore. Primus inter pares enters the equation yet is undermined: the age-old primacy of height that residence S1 commands is compromised by its staircase being exposed to visual scrutiny – from an omniscient vantage point, yet – by the relatives living in S2 and S3.
The series of tradeoffs continues. S1 has exclusive access to the highest roof terrace, enjoying a sense of unfettered expansiveness. Yet S2 and S3 enjoy the truly heroic moments of the building's architecture: the enormous spans of cantilevered ceilings that float over their outdoor living areas.
Why do I term these spaces heroic? They give the legacy of Le Corbusier's Villa Savoye – which can approach stultifying and suffocating dimensions at times – new lightness and life. The spatial emancipation that Corb's pilotis promised has been fulfilled by their elimination, imparting the building with a gently ironic sub text. This whiff of irony continues in the backward "S" that constitutes the garden façade, softly alluding to the switchback ramps that were a hallmark of Corb's building.
Yet once again, I utter a muffled groan: whereas Corb understood that unrelieved rectilinearity was a potentially deadening experience, the architects seem to have let their thick wall condition run the show, banishing any curve from the composition. One imagines how a thick wall that had a subtle curve or two in plan would have enlivened the courtyards, terraces, staircases and living spaces. The final result is a frustrating mix of boldness and timidity, fluidity and rigidity: heroic maneuvers performed within a rectilinear straitjacket.
Douglas Klahr, USA
Douglas Klahr

photo : Douglas Klahr
Born in Manhattan, Douglas Klahr has a Ph.D. in architectural history from Brown University and is an Assistant Professor in the School of Architecture at the University of Texas at Arlington. His research interests are bifurcated into two distinct areas: issues of German identity as expressed in late Nineteenth-Century German architecture, and contemporary issues concerning sustainability, ranging from slum housing in the developing world to teaching sustainability as an interdisciplinary topic. He has delivered papers at conferences in London, Paris, Berlin, Glasgow, Washington, Miami and Dallas and has authored the opening chapter of the forthcoming textbook "Teaching Sustainability and Teaching Sustainably".
Upcoming publications include an article about Munich as a Kunststadt scheduled to appear in the July 2011 issue of the Oxford Art Journal, and an article about fin-de-siècle housing in Berlin, scheduled to appear in the September 2011 issue of the Journal of the Society of Architectural Historians. His essay "Becoming Builders again in an Age of Global Crisis" appeared in the March 2011 issue of trans, published by the ETH in Zurich.
Location: 8 Spruce Street, New York City, NY, USA
Comments on this Heroic Architecture : Heroic Maneuvers within a Straitjacket article are welcome.
Architecture Articles
Articles by Douglas Klahr on e-architect:
8 Spruce Street
8 Spruce Street
Ambiguity, Vulnerability and Risk in a Home
Ambiguity, Vulnerability and Risk – 24 Apr 2012
A Challenge to our Profession
Slum Housing Discussion – 16 Mar 2011
International Architecture
Comments / photos for the Heroic Architecture – Architectural article page welcome