Michielli + Wyetzner Architects, Manhattan Architects, NYC Office, NY Building Projects Info
Michielli + Wyetzner Architects
Contemporary New York Architecture Practice, USA: Manhattan Architectural Office News
post updated Apr 23, 2021
Michielli + Wyetzner Architects – Key Projects
Key building by Michielli + Wyetzner Architects:
Delancey and Essex Municipal Parking Garage, New York, USA
Date built: 2011-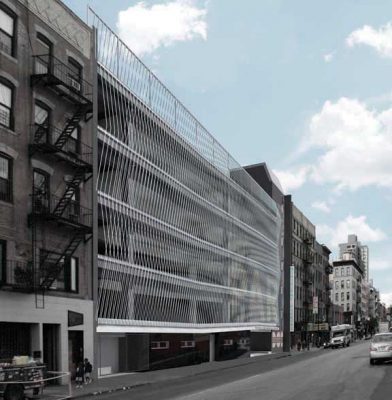 image from architects
Delancey Municipal Garage
A nearly 40-year-old municipal parking garage in downtown Manhattan is getting a remarkable cable façade as part of a $4 million renovation of the structure. Winner of a 2011 design award from the NYC Design Commission, the five-story, concrete Delancey and Essex Municipal Parking Garage is being completely rehabilitated in a project for the NYC Department of Transportation (DOT). The design, by Michielli + Wyetzner Architects, is part of Mayor Bloomberg's Design + Construction Excellence Program which has been led by the New York City Department of Design and Construction since 2004.
More architecture projects from Michielli + Wyetzner Architects online soon
Location: Manhattan, NY, USA
Michielli + Wyetzner Architects – Practice Information
Architect studio based in Manhattan, NY, USA
Michielli + Wyetzner Architects – Firm Profile
Michielli + Wyetzner Architects is a full-service design firm founded by architects who've created award-winning contemporary architecture for institutional and corporate clients across the United States and abroad. Our projects are distinguished by a clarity of form, elegance of execution and innovative use of materials. The thoroughness of our design approach has resulted in well-integrated solutions to often complex facility requirements.
Founded in 2004, Michielli + Wyetzner joins the enthusiasm and high-energy of a start-up with the discipline and expediency of a seasoned practitioner. With the combined experience of almost 40 years, we are knowledgeable in a wide variety of building types that range from a recreation center on the East End of Long Island, and a film archive for New York's Museum of Modern Art to an art center in Water Mill, New York and an Emergency Medical Services building for the FDNY, in Brooklyn, NY.
We are responsive, efficient, creative and resourceful. Our years of experience following projects through to completion of construction has refined our design sensibility, so that building sustainability, longevity, constructability, and operating cost are considerations as ingrained to our design process as aesthetics. We bring value to the projects we design by delving deep to solve our clients' problems and then appropriately detailing and documenting the results. The result is compelling architecture with the flexibility and craftsmanship to serve clients for years to come.
Design Philosophy
The Michielli + Wyetzner design methodology approaches each project on its own terms. We begin with an analysis of the owner's requirements and site to find those unique qualities that will define an organizing concept for their building. With this process we go beyond mere problem solving and deal with the experiential and tactile dimensions of architecture and resolve functional, formal and symbolic aspects as a coherent whole.
Our aim is to develop simple and natural solutions that are seemingly self-evident and inevitable. This is achieved by a high level of synthesis that smoothly integrates all components and results in forms that are a distillation of the many purposes they serve. Space, structure, skin and building systems are interdependent and tightly integrated. Formal modesty and material unity are integral to this method, which avoids over-expressive forms that are not the result of a rigorous and rational thought method. Like a natural organism, the result is functional and expressive.
Project Approach
Our design method is an iterative process of testing, evaluating and retesting multiple options before settling on a direction for development. Although we are comfortable switching back and forth between a number of design tools, including hand sketching, digital models and line drawing, we constantly rely on physical models to visualize and test alternative solutions. Our process is one of constant editing to refine and reduce our solution to its essential qualities. We aim to achieve formal simplicity without sacrificing spatial richness.
Each project is led by Frank Michielli or Michael Wyetzner who are the day-to-day client contacts. The partners, who work collaboratively, establish the design criteria for all projects and determine their implementation. They lead an open, inclusive process that is direct and efficient; linking the client needs to the design team solving the client's problems. Our integrated approach involves expert engineering consultants and specialists right from the start so that the building systems, structure, lighting and environmental issues are an integral part of the concept.
Commitment to Sustainability
We incorporate sustainable features in every project and design with local environmental conditions in mind. Passive solar principles are employed in all our projects; daylight is treated as a prized material; skylights, atriums and light wells are used whenever possible to bring natural light deep into structures and make spaces highly animated, efficient and livable. We strive to incorporate innovative technology to develop cost effective, high-performance buildings.
Michielli + Wyetzner Architects Partners
Frank Michielli, AIA, LEED AP
Partner
Frank Michielli started his firm Michielli + Wyetzner Architects with his partner Michael Wyetzner in 2004. Previously, Mr. Michielli worked at Davis Brody Bond, LLP Architects for fourteen years, and was named partner in 1999. He has designed a wide range of technologically innovative projects that are expressive of the functions within, including the Valeo Technical Center in suburban Detroit, which received an AIA National Honor Award, and a Business Week / Architectural Record Award. Mr. Michielli also was the design partner on the East Hampton Rec Center, which received a New York Chapter AIA Distinguished Architecture Award and Wood Design Award of Merit.
Mr. Michielli has recently completed a new six-story mixed-use building in Harlem. He is currently at work on an EMS building in Brooklyn for the New York City Fire Department, and a façade for a parking facility for the NYC DOT, both of which are part of the New York City Department of Design and Construction's Design Excellence Program.
He received his Masters in Architecture from The University of Virginia and his BS in Architecture from The Catholic University of America.
Michael Wyetzner, AIA, LEED AP
Partner
Mr. Wyetzner worked at Davis Brody Bond, LLP Architects for fifteen years where he became an Associate Partner in 1998 before founding Michielli + Wyetzner Architects with Frank Michielli in 2004. He was the team leader on a number of award-winning projects including the Museum of Modern Art Film Archives and the University Hall dormitory at New York University, which received an American Architecture Award from the Chicago Athenaeum and an Interior Design Award from Interiors Magazine.
In addition to the EDAW Inc. project, Mr. Wyetzner also recently completed projects for the Stern College for Women, The NYU Medical Center and the Mount Sinai School of Medicine. Currently he is working on The Delancey and Essex Municipal Parking Garage and a sustainable brownstone residence in Harlem.
He received his Master of Architecture degree from The University of Pennsylvania in 1986 and his Bachelor of Professional Studies in Architecture from The State University of New York at Buffalo in 1983.
From 2004 to 2008 Mr. Wyetzner was an Assistant Adjunct Professor in Architecture at the Columbia University Graduate School of Architecture Planning and Preservation participating in the Environments + Enclosures Studio.
Website: https://mwarch.net/
New York Architecture
New York Architect : Office Listings
New York State Architecture Designs
130 William, Lower Manhattan
Design: Adjaye Associates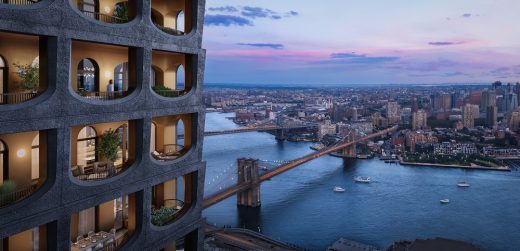 image : Binyan
130 William Manhattan Skyscraper Building
Lightstone, one of the largest and most diversified privately held real estate companies in the United States, is developing 130 William, a new luxury high-rise tower located in lower Manhattan.
American Architecture
Buildings / photos for the Michielli + Wyetzner Architects Manhattan page welcome