Michael Davis Architects, American Architect, New York Buildings, NYC Design Studio
Michael Davis Architects
Manhattan Architecture Studio: NY Design Office, USA
post updated May 18, 2021
Michael Davis Architects New York
Architect Michael Davis is the leading advocate and active participant in re-adaptive and restorative architecture.
The restaurant he's designed for chef Zak Pelaccio, Fish & Game, has opened in a re-adapted, restored former 19th century blacksmith building in Hudson, NY.
Fish&Game New York, NY, USA
Design: Michael Davis Architects + Interiors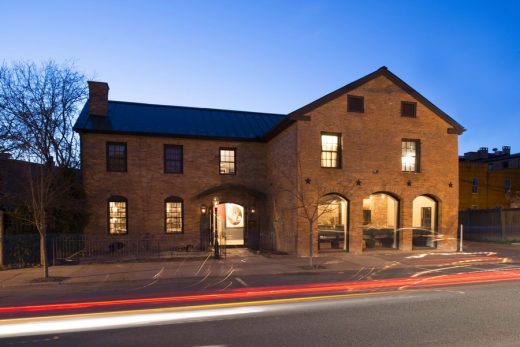 photo © Nick Wood Photo Michael Davis Architects + Interiors
Fish&Game New York – May 22, 2013
Architecture/Interior: Through the creative process of creating a home for Fish & Game, principal architect Michael Davis found that the notion of "preparing a meal and cooking a restaurant" persisted as a theme. As a chef crafts a dish using a little of this and a little of that, Davis allows the architecture and design project to take on a personality of its own in a wholly organic way, finding that the next steps unfold naturally and unexpectedly. Davis' goal is to create an environment that will look and feel like the food will taste.
Michael Davis Architects + Interiors
e-architect talked with Michael R. Davis
Principal, Michael Davis Architects + Interiors
Michael Davis:


photo © Nick Wood Photo Michael Davis Architects + Interiors
1. When did you first realise you wanted to be an architect?
The moment I became conscious of reading. My earliest fascination with architecture came long before I knew there was such a thing – any imaginative description of space or ambience captured my interest like nothing else. Later, the same held true for film and theatre.
2. Where did you study?
I did my undergraduate work in History of Art and Comparative Literature at Brown University and attended graduate school in Architecture at Harvard.
3. Which person inspired you?
My mother – I once overheard her tell a friend who asked about my future studies at a dinner party that I was going to be an Architect. The thought had never occurred to me, but she planted a seed in my mind.
4. Which architect inspired you?
The first was Daphne de Maurier, through her description of Manderley.
5. Which contemporary artist / architect inspires you?
At the moment, I am most interested in the work of Rick Joy and Mark Rothko.
6. What is your favourite building?
There are too many to love for entirely different reasons. Gaudi's Guell Palace comes to mind.
7. What was you first project?
My first built project was a Loft on Wooster Street in Manhattan.
8. What was your smallest project?
A Chicken Coop.
9. What was your biggest?
Sony Wonder, a children's museum on Madison Avenue with my dear friend, Production Designer Cabot McMullen, while working for Edwin Schlossberg.
10. Which was your favourite project?
That's like asking a parent to name their favourite child.
11. What is your favourite material?
Something old, patinated, and rich with the character of age – rusted steel comes to mind.
12. What is the most revolutionary material you have come across?
Spider silk.
13. How is your approach to the new restaurant for Zakary Pelaccio, Fish & Game, indicative of your design philosophy?
Most significantly in that it embodies an affectionate collaboration with the clients – Zak, his wife Jori, and their partner Patrick Milling Smith. I consider my work portraiture. In the example of Fish and Game, the space feels like the food tastes.
14. In which countries have you built?
The United States, England, and Norway with more to come.
15. Which was the most challenging?
Manhattan is the most challenging country in the world.
16. How do you feel about the ecological movement in architecture?
I embrace the intention and the motivation to do better, to do more with less.
17. How do you start a project?
Each is its own unique story, but usually there is a moment of panic at the impossibility of doing anything better than standard issue. Eventually, a system coalesces and the project begins to design itself. Once that happens, my job is to stay out of the way.
18. What role does the location play in your design?
Context is everything.
19. Would you say you are more inspired by local buildings or by the function of the project?
Both in equal measure.
20. What do you think of starchitects?
I try not to think of them.
21. What is your favourite holiday location?
Istanbul, Barcelona, Zurich, London – but living through long New York winters has found me in St. Barth's in late February for the past 20 years.
22. What is your favourite book / film?
Anything with Jeeves, and Dr. Strangelove.
23. Specifically, in relation to the current debate surrounding the former American Folk Art Museum, what might be your suggestion to MoMA on how to integrate one building into the other?
Demolition must always be a last resort. This is a building that has barely been born and deserves an opportunity to mature. Surely the MoMA Board can find a way to teach it to adapt to the future.
Restorative Architecture + Michael Davis
The recent outcry from architects surrounding MoMA's decision to demolish the former home of the American Folk Art Museum is a hot topic. Why not adapt existing buildings rather than tear them down?
Michael is the leading advocate and active participant in re-adaptive and restorative architecture.
The following notable individuals have all called upon Michael's services for their private homes because they share an interest in Restorative Architecture: Zack Braff, Matt Dillon, Heather Graham, Jonah Hill, Uma Thurman, Fisher Stevens, Billy Mann, Oscar Blandi, Patrick Milling Smith.
Beginning May 15th, the public will have an opportunity to experience what Michael does. Chef Zak Pelaccio is the latest notable to recruit Michael's services for his new restaurant in Hudson entitled Fish & Game, where a 19th century former blacksmith shop has been re-adapted and re-stored to original historic luster and architectural detail.
Michael Davis is an award-winning, internationally-recognized architect and interior designer known primarily for pioneering the adaptive reuse of architectural details, salvage, and industrial design into distinctive home environments. Davis has made his early influences, life experience, and personal philosophy of design cornerstones of his work.
As a young boy moving from New York to Los Angeles due to his father's burgeoning career as a writer and producer of several popular television programs (You are There, Naked City, Route 66), an unfortunate turn of circumstances left he and his older brother orphans, and the sense of home and place became a primary focus. In 1967, an uncle adopted the two boys and Davis found himself living in a distinctive brownstone on East 61st Street once owned by Montgomery Clift. A nostalgia for the comfort of home and how a physical structure can influence one's life are deeply-rooted beliefs which characterize Davis' working relationship with his clients and the eventual outcome of the design projects.
Upon completing his studies at Harvard's Graduate School of Design, Davis began to apply his belief that buildings have a responsibility to change people. He set out to explore how the continuity of structures and objects could influence commissioned architecture and interior design projects. A focus on re-imagined and re-purposed architectural details and industrial elements would become hallmarks of Davis' approach to historic renovations as well as new construction.
Michael Davis Architects information received 130513
Location: 435 Hudson Street, New York, NY 10014, USA
New York City Architects Practice Information
Design studio based in Hudson Street, Manhattan, NY.
Website: www.michaeldavisarchitects.com
New York State Architecture Designs
New York Architecture
New York Architecture Walking Tours
Stephen A. Schwarzman Building
Design: Mecanoo with Beyer Blinder Belle, architects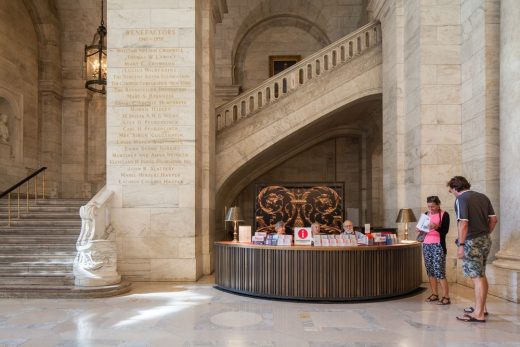 image courtesy of architects
New York Public Library Stephen A. Schwarzman Building
23 East 22nd Street, Flatiron district
OMA
23 East 22nd Street
Freedom Tower skyscraper
Museum of Contemporary Art New York – Extension
Comments / photos for the Michael Davis Architects – New York Architecture Office page welcome