Max Risselada TU Delft, Design, Dutch Architectural Theory, Thinker, Writer
Max Risselada Architecture
Dutch author, curator, editor & educator – Contemporary Architecture The Netherlands
18 Sep 2013
Max Risselada News
RIBA 2014 International Fellowship
The architects have been awarded a RIBA International Fellowship
RIBA International Fellows 2014 citation:
Max Risselada – author, curator, editor and educator, The Netherlands
Primarily a thinker and a writer about architecture Max Risselada was born in the former Dutch East Indies and trained as an architect at the Delft University of Technology, where he is now emeritus Professor of Architecture. For many years he directed the Faculty of Architecture's Department of Architectural Collections and Productions.
Through Risselada's four decades of work at the University, not only did the department of Architecture at Delft achieve international recognition, but Risselada became well known internationally for the depth and integrity of his research on Modern Architecture. He also lectures and gives master classes at, among others, the Berlage Institute and Madrid School of Architecture.
In a two year sabbatical in early 1970s he left Delft to join the office of Charles and Ray Eames – an experience that made a deep impression on his architecture and his thinking.
His best-known books have resulted from the major exhibitions that he has curated, such as the Raumplan versus Plan Libre exhibition (1987) in which he compared the work of Adolf Loos and Le Corbusier between the years 1919 – 1930. The book has become a staple of virtually all schools of architecture worldwide, and remains a treat in store for those who are yet to discover it.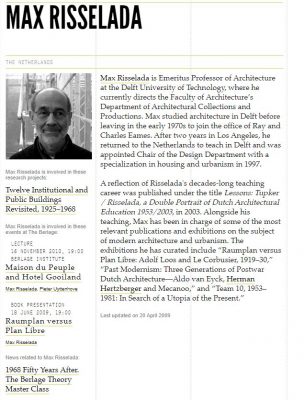 In 1999 Risselada published Fuctionalism 1927-1961 – Hans Sharoun versus die Opbouw. In 2004 he wrote with Dirk van den Heuvel and Beatrix Colomina Alison & Peter Smithson – From the House of the Future to a House of Today (a subject he returned to in 2011 with a collection of critical essays).
In 2005 he curated the exhibition and published the associated catalogue Team 10 – In Search of a Utopia of the Present – now a standard text on the work of team members Aldo van Eyck, the Smithsons, Giancarlo de Carlo and Candilis Josic Woods. In a further volume he updated the story of modern Dutch architecture in Past Modernism: Three Generations of Postwar Dutch Architecture – Aldo van Eyck, Herman Hertzberger and Mecanoo, which he wrote to accompany an exhibition that formed the Dutch contribution to 2000 Architecture Biennal in São Paulo.
More information about Max Risselada architect online soon
Location: TU Delft, The Netherlands, north western Europe
Max Risselada The Netherlands Practice Information
Max Risselada is based at Department of Architecture, TU Delft, in The Netherlands.
Buildings / photos for the Max Risselada – emeritus Professor of Architecture at Delft University of Technology page welcome
Website: n/a