MAD(E) IN MUMBAI Architects, Indian Buildings, Photos, News, Design Studio India, Projects, Office
MAD(E) IN MUMBAI, Architecture
Contemporary Indian Architects Practice: Information + Images
post updated 19 Apr 2021
MAD(E) IN MUMBAI – Latest Design
Upper Duncan Estates, Mumbai, India


image from architect
Upper Duncan Estates – 29 Nov 2012
The project deals with redevelopment of eighteen plots in the inner city of Mumbai, measuring almost 250m of length. The length of the site is expressed through a 250m long linear built form, which grows with acquisition of subsequent plots. The building expands over three phases leaving appropriate recreational grounds to handle the density of the development.
Major Building Design by MAD(E) IN MUMBAI
Barbecue Pavilion, Willingdon Sports club, Mumbai, India
Project Description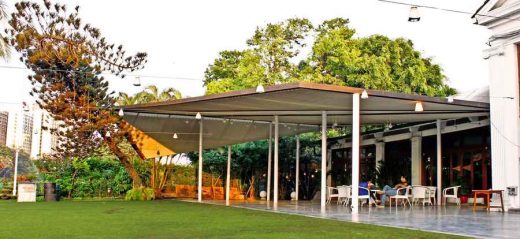 The project is a simple roof set in vast landscape of a Golf course in Mumbai. Being an extension to Willingdon Sports Club, it lies surrounded by cluster of old buildings with sloping roof-scape. The Project brief was to design a semi open pavilion, which extends the dining area of the club towards the landscaped Gardens. It was planned to house an informal Barbeque Pavilion where guests could gather for a quite meal and enjoy the breeze from Arabian Sea.
We imagined this piece of roof as a light fabric plane, almost about to take off towards the sky. It could be read as a bird, a kite, a floating feather, or just a roof. It leaves space for you to imagine the way you want. It continues the rhythm of surrounding sloping roof-scape, building a harmonious relationship with the existing built forms. The heaviness of the roof dematerialises into a translucent fabric plane, just about to float.
The roof is designed as four folding triangular planes that adapt to the edges of the patio. A magnificent Fur tree rises in the Patio, where the roof cranks to make space for its foliage to grow. The edge towards the Garden is kept free of columns leading to cantilevers that frame the view of the landscape. The structure spans white translucent fabric across the patio, filtering a milky light beneath.
Barbecue Pavilion Willingdon Sports Club – Building Information
Project Title: Barbeque Pavilion, Willingdon Sports club, Mumbai
Type: Landscape Architecture
Size: 2,200 sqft
Client: Willingdon Sports Club
Location: Mahalaksmi, Mumbai, India
Status: Completed
Date of Completion: Dec 2010
Project Cost: INR 15,00,000/-
Designed by: Made in Mumbai
Design Architects: Kalpit Ashar / Mayuri Sisodia
Project team: Kalpit Ashar, Mayuri Sisodia, Apurva Parikh and Rishi Barpujari
Structural Consultant: Satish Jain & Co Structural Engineers
Contractors: Vishwakarma Structural Works
Photo Courtesy: Sachin Vedak
Site of the pavilion at the Willingdon Sports club:


image from architect
Material Specifications
Frame work: M.S. Steel
Cladding: Ferrari E.T.F.E. Membrane
More architecture projects by MAD(E) IN MUMBAI online soon
Location: Wadala, Mumbai 400037, India
Architecture Practice Information
MAD(E) IN MUMBAI are based in Wadala, Mumbai, India.
MAD(E) IN MUMBAI architecture + urban design + landscapes + interior design
MAD(E) IN MUMBAI – Firm Profile
MAD(E) IN MUMBAI is a design firm working in the field of Art, Architecture & Urbanism. Mad(e) in Mumbai takes its shape in madness of Mumbai city. This crazy patchwork of ideas, experiences and materiality is our repository as well as laboratory. It is a point where we begin. It forms genetics of our perception, speculation and practice. Our design methods and processes get groomed in this complex palimpsest. Understanding of this city percolates down to our thinking and our ideology towards shaping of environments.
The chemistry of the city is meditated upon to discover potential fields for speculations and operations. The belief of our practice lies in looking beyond the visible for the unseen and for absurdities of things and places. Rather than confirming to good ways of building architecture/cities, it opens up avenue towards speculation and radical approaches that transcend the norms of design. It is a platform where ordinary and pragmatic reality is elevated to the heights of poetry and celebration through imaginative speculation.
Incepted by Kalpit Ashar and Mayuri Sisodia, the studio is a platform for rigorous analytical and intuitive processes. It is a place for nurturing curiosities, cultivating ideas and exploring imaginations. Plethora of ideas are tried and tested through parallel working of the hand and the mind. Alchemy of the joy of making things with one's own hand, using performative digital tools and delight of working towards highest standard of craftsmanship are cultivated. The designs are ruthlessly experimented and joyfully crafted through, models, experimental materials and drawings. The preconceived notions of using the materials are challenged to invent new possible physical realities. The works are celebrations of invented materials, building techniques and crafting skills.
The endeavor is to shape timeless places that are works of pleasure and are enjoyed over time.
About Kalpit Ashar / Mayuri Sisodia
Kalpit Ashar is an architect and an Urbanist based in Mumbai. He graduated with B. Arch (Gold Medalist) in 2005 from Kamla Raheja Institute for Architecture and Environmental Studies, Mumbai. He completed his master's education in Digital tectonics, self sufficient habitats and emergent territories from Institute of Advanced Architecture of Catalonia, Spain in 2009.
Kalpit Ashar's undergraduate dissertation was nominated for President's Medals Awards 2007, RIBA London. He has won J. N.Tata Endowment, Kamla Raheja Foundation and Rotary Club awards. He was also a winner for IAAC study grant.
After graduating, he was involved as a project architect with Charles Correa Associates working on various National & International projects. Through urban research and teaching at Kamla Raheja Institute he has continued his association with academic space.
Currently he is a director at MAD(E) IN MUMBAI, a young architectural practise involved with Architectural, Urban and Landscape design projects in Mumbai and as a design faculty at Kamla Raheja Institute for Architecture.
Mayuri Sisodia is an architect and an Urban Designer based in Mumbai. She graduated with B.Arch in 2006 from Kamla Raheja Institute for Architecture and Environmental Studies, Mumbai. She also undertook her master's education in Urban Design from Bartlett School of Architecture, University College London.
After graduating, she was involved with Charles Correa Architects for many national and International projects. Her academic involment includes teaching at Kamla Rahaeja Institute as a Design faculty.
Her undergraduate dissertation was presented to Maharashtra Police as a real alternative for Urban Police Stations. She has also exhibited her work at Cities Methodologies exhibition for Urban Laboratory, Slade School of Art, London. She won Charles Wallace India Trust award for arts, 2010. She was a winner for J.N.Tata Endowment and Kamla Raheja Foundation awards.
Currently she is also a director at MAD(E) IN MUMBAI, where she pursues her interest in Architecture and Urbanism through multi-scalar design projects.
Together they have participated in many national and International design competitions which include Evolo international housing design competition, New York, Mater Centro de Materiales del FAD matério, Barcelona, Freedom Park National Competition, Bangalore and Urban design competition for school of planning and architecture, Delhi.
Their Competition winning entries include Revitalisation of Banganga Crematorium and Jogeshwari Civic Centre, Mumbai. They have also won International Competition organised by International Association for Human Habitat.
Indian Architecture
Indian Architect : Office Listings
Comments / photos for the MAD(E) IN MUMBAI Architecture page welcome
Website: www.madeinmumbai.net