LDA.iMdA Architects, Building, Florence Design Studio, Archittetti Firenze, Pisa Practice
LDA.iMdA associated architects, Italia : Studio di Architettura
Contemporary Florence Architecture Studio: Design Firm in Firenze, Italy
post updated 21 Apr 2021
LDA.iMdA – architetti associati
Archittetti Italia, Firenze
Design studio located in San Miniato, Pisa, Italia
7 Feb 2012
LDA.iMdA associated architects – Latest Design
Artwood Showroom, Florence, Italy
Design: LDA.iMdA architects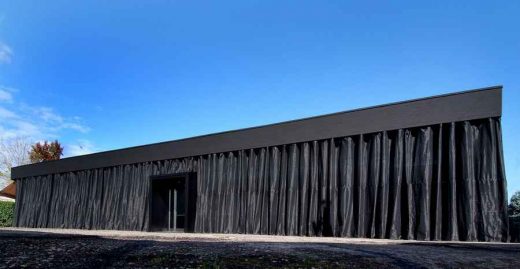 photograph from architecture office
Artwood Showroom
An abandoned warehouse and the need of bringing inside a new contemporary world are the reasons for a new reinterpretaion of the unused space.
"Second life" is a philosophical (but not only) reinterpretation that allows the use and the improvement of the neglected buildings inventing their new life, therefore giving them a second chance.
More LDA.iMdA associated architects projects online soon
Location: Via XXIV Maggio, 56024 San Miniato, Pisa, Italy
LDA.iMdA associated architects Practice Information
Design studio located in San Miniato, Pisa, Italia
Sub office in Belo Horizonte, MG, Brasil.
Biography LDA.iMdA

logo of LDA.iMdA associated architects
Gianni Bellucci _ associated architects (Empoli (Florence) 1972), Paolo Posarelli _ associated architects (San Miniato (Pisa) 1969), majoring in architecture at Florence University with honors where they are pursuing research (2000_2006) at the Department of Urban Design.
gianni bellucci ; paolo posarelli ; stefania catastini ; david nacci:


photographs from LDA.iMdA associated architects
In 2000 they founded LDA.iMdA associated architects.
LDA.iMdA activities include:
Competitions:
Prato: Recovery of degraded areas Prato five devices (2003) (1st prize);
Pisa: Architecture Award 2007 Chamber Commerce commissioned Pisa (1st prize)
Castelnuovo V. di C.: Competition for the realization of thermal lakes. (2007) (1st prize)
Pistoia: Competition for the realization of the seat of the orders. (2008) (4th ex aequo)
Milano: 5 Years Award – 30 years of Casaviva. Category villas and castles (2008) (2nd prize)
Nuoro: Polis city of culture International Competition for the redevelopment of the historic center. (2008) (3rd prize)
Castelnuovo V. di C.: Competition for the construction of the parking system. (2008) (3rd prize)
Montelupo F.no: City of the two shores (2009) (1st prize)
In the years 2002 -2004 are contractors in the engineering department of architecture at the University of Florence.
Members of the International Center for Studies on Urban Design.
Among the research work of the study intervention to the south-west of Florence, was exhibited on panels and on video at the Venice Biennale of 2004 (metamorph);
Bagnoli House was selected by TF1 (telefrance1) between various proposals for the creation of an Italian short film "cote du chez vous" which aired in 2002;
Turini House was published on almanac of Italian architects (Casabella 2007);
Turini House was broadcast on Sky Leonardo Homes for transmitting copyright (November 2009 – July 2010);
Manfredi House was aired on Italian TV (2011)
Turini House was aired on Italian TV (2011)
Summary of the newspapers and books in which we have been published:
Various journals of national and international (2010-2011)
Penetrations Catalog widespread biennial of contemporary architecture (November 2009)
Biennial Catalogue young architects (May 2008)
New Generation Architects Under 40 Porto_Pisa ( ETS – October 2008)
Almanac of Casabella Italian architects (November 2007)
Catalog Award in Architecture at the commission (October 2007)
Catalog and identity innovation _ Biennial of Venice (2002)
BIOGRAFIA LDA.iMdA
Gianni Bellucci_Associato (Empoli (Fi) 1972), Paolo Posarelli_Associato (San Miniato (Pi) 1969 ), si laureano in architettura all'Università di Firenze con lode ove svolgono attività di ricerca (2000_2006) presso la cattedra di Progettazione Urbana.
Nel 2000 fondano LDA.iMdA architetti associati.
Nella loro attività si segnalano:
Prato recupero di cinque aree degradate periferiche (2003) (1° premio);
Premio architettura committenza 2007 Camera commercio Pisa (1° premio)
Castelnuovo Val di Cecina. Concorso per la realizzazione di laghi termali. (2007) (1° premio)
Pistoia. Concorso per la realizzazione della sede degli ordini. (2008) (4° ex equo)
Premio quinquennale 30 anni di Casaviva. Categoria ville e castelli (2008) (2° premio)
Nuoro. Polis città della cultura Concorso internazionale per la riqualificazione del centro storico. (2008) (3° premio)
Castelnuovo Val di Cecina. Concorso per la realizzazione del sistema dei parcheggi. (2008) (3° premio)
Montelupo Fiorentino. Città delle due rive (2009) (1°premio)
Negli anni 2002 -2004 sono contrattisti presso il dipartimento di progettazione
dell'architettura dell'Università degli studi di Firenze.
Membri del Centro Internazionale di Studi sul Disegno Urbano.
Tra i lavori di ricerca dello studio l'intervento al margine sud-ovest di Firenze è stata esposta su pannelli ed in video alla Biennale di Venezia del 2004 (metamorph);
Casa Bagnoli è stata selezionata da TF1 (telefrance1) tra varie proposte italiane per la realizzazione di un cortometraggio "du cote chez vous" andato in onda nel 2002;
Casa Turini è stata pubblicata sull'almanacco degli architetti italiani di Casabella 2007;
Casa Turini è stata trasmessa da Sky Leonardo per la trasmissione Case d'autore novembre 2009;
sintesi delle testate e libri in cui siamo stati pubblicati :
Varie riviste di rilevanza nazionale e internazionale (2010-2011)
Catalogo Attraversamenti biennale diffusa di architettura contemporanea (novembre 2009)
Catalogo Biennale giovani architetti (maggio 2008)
New Generation Architetti Under 40 Porto_Pisa (ottobre 2008)
Almanacco di Casabella architetti italiani (novembre 2007)
Catalogo premio alla committenza in Architettura (ottobre 2007)
Catalogo identità ed innovazione_biennale di Venezia (2002)
Website: https://www.ldaimda.com/
Florence Building Designs
M7 Contemporary Apartments
Design: Pierattelli Architetture, Architects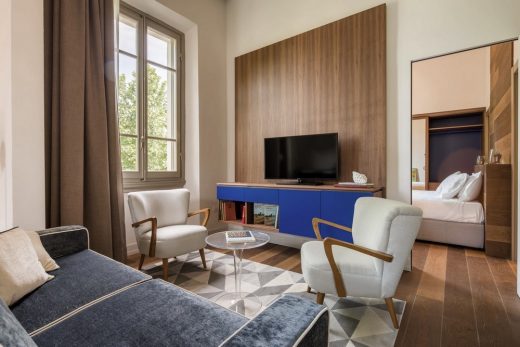 photograph : Max Lisi
M7 Contemporary Apartments
CENTRO*Arezzo Coop.fi
Design: Piuarch, Architects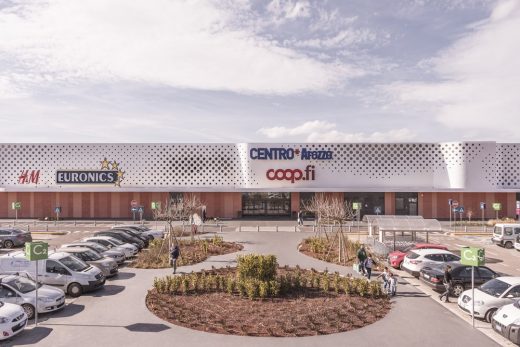 photo © Giovanni Hänninen
CENTRO*Arezzo Coop.fi
Italian Architecture
Italian Architect – Architect Listings
Buildings / photos for the LDA.iMdA architects page welcome